Why aren't some churches meeting on Christmas Sunday? Why have church at all?
Whatever the uproar over closing of churches on Christmas Sunday means, pastors and pundits are sure that it means something big. For people on both sides of the argument, the debate shows what's wrong with contemporary Christianity.
The debate has become an excuse for some to compile every criticism of what they think the megachurch movement is about. (Among the problems with such a critique is that many megachurches are having Sunday services, and many small churches are closing on Christmas, too). Closing church is seen as capitulation to a consumeristic, market-driven culture, a metaphor for placing cultural style above the substance of the gospel.
For some defenders, the criticism of the closings is representative of the judgmentalism and rigid dogma that has led so many away from "institutional" churches, and is the reason that "seeker-sensitive" churches exist. Those who insist that you go to church Sunday morning instead of Saturday night, they say, are akin to first-century Judaizers and are the ones missing the freedom of the gospel.
As Weblog wrote last week, this debate really is iconic. Both sides seem to agree that the story itself is a tempest in a teapot: more symbol and indication than a major development in itself. But what it symbolizes gets to the heart of many of the current intra-evangelical debates:
What is church? Is "real" Christianity about private devotional life or about ordered corporate life? Why do we meet as churches? What is the relationship between the church and church members, church attendees, and interested non-Christians? Is a church service where the majority of attendees are non-members or non-believers still called a church service? Can worship be evangelistic? Is evangelism the church's (and the Christian's) highest calling? What is the role of the family at church? Have American Christians made an idol out of family? How "pro-family" is Christianity? What happens when we use pro-family as a synonym for Christian? Why are pro-family groups making explicitly religious Christmas greetings a priority when the issue seems to have little to do with family relations? Is the church becoming too politicized? Too polarized? If one group says that another group is not really a church because of its policies, are the two groups still part of the same universal church? What makes a group a church? What might make a group that looks like a church not a church?
Whether to skip Sunday Christmas services is not a core issue. But the issues raised by doing so are foundational.
Unfortunately, rather than use the news as a springboard to discuss important issues, the conversation has devolved into name-calling and anathematizing. It's getting particularly bad in Lexington, Kentucky, where Southland Christian pastor Jon Weece is defending the decision by claiming that Christmas is largely a pagan holiday anyway, that critics are being manipulated by Satan, and by comparing himself to Jesus battling the Pharisees over the breaking of tradition.
To make matters worse, the Lexington Herald-Leader has decided to go beyond Frank Lockwood's fair and detailed reporting of the controversy  to editorializing against the church. "The judgmental have now discovered how it feels to be judged," the paper said yesterday, and suggested that Weece really cancelled services because "this is a time when people travel to be together, lightening the collection plates."
Weblog does not yet have a comments section (we do have a message board), but there are other blogs where the conversation on this topic hasn't completely devolved into pointlessness. Check out Out of Ur (from Christianity Today sister publication Leadership Journal), theologian Ben Witherington's blog, Scot McKnight's Jesus Creed, and Challies.com
More articles
Canceling church on Christmas | Christmas wars | Christmas wars blame game | Christmas consumerism | Can't we all get along? | Annoyed by Christmas wars | Christmas cynicism | Bush Christmas | Christmas in school | Christmas & state | Inclusive holidays | The reason for the season | Operation Christmas Child
Missions & ministry | Church life | Catholicism | Abuse | Vatican Instruction on seminaries | U.S. nun murder | Crime | Death penalty | Australian riots | Persecution | Human rights | CPT hostages | War & terrorism | Israel | Benny Hinn in Fiji | Church & state | Religion & politics | Alito filibuster | Abortion | Abortion vs. miscarriage | Morning-after pill | Mother gives life to save baby | Life ethics | Science | ID & evolution | KU prof fight | Education | Sexual ethics | Same-sex marriage | Homosexu ality | Spirituality | Narnia | Narnia money | Defending Lewis | Film | Television | Books | More articles of interest
Canceling church on Christmas (news):
Defense of canceling church on Christmas | Southland minister answers critics (Lexington Herald-Leader, Ky.)


Story of the season: canceled Christmas | Not holding services widely criticized as the news spreads (Lexington Herald-Leader, Ky.)


Family first, religion down the field | A survey of 1500 people by Sensis found 95 percent planned to celebrate Christmas Day with family. Three in four of those surveyed will eat a meal at home, and the same number will decorate the house. But only one in three will attend a religious service (The Sydney Morning Herald)


Meeting of the megachurches | Willow Creek Community Church in South Barrington may be closed on Dec. 25, but the megachurch's pastor has decided to preach on Christmas morning anyway. He'll share preaching duties with the Rev. James Meeks in the pulpit of his Salem Baptist Church, the area's largest predominantly black congregation (Chicago Sun-Times)


Christmas service DVD brings sermon to sofas | "I don't see it as canceling Christmas service," Pastor Jim Pelletier said. "I see it as putting it on a DVD and handing it to people." The DVD has a six-minute sermon, animated videos of carols like "Silent Night" and 30 minutes of a burning fireplace. (The Daytona Beach News-Journal, Fla.)


Churches keep their Christmas services | Local congregations not following trend (The Courier-Journal, Louisville, Ky.)


2 churches not holding services on Christmas | While some churches are embracing the rare occurrence that Christmas Day falls on Sunday this year, at least two Central Indiana churches have joined other megachurches across the United States in deciding not to hold Christmas Day services (The Indianapolis Star)


Church trend puts holiday focus on Christmas Eve | Many are adjusting schedules to reduce services on Dec. 25 (Rocky Mountain News, Denver)


No Sunday holiday service? | Some churches close for Christmas (The Journal Gazette, Ft. Wayne, Ind.)


Some churches will take off Christmas Sunday | New trend urges stay-at-home family celebrations. (The Orange County Register, Ca.)


Christmas surprise: services cut | This year some churches in the Inland area and elsewhere will cancel Sunday services, expecting significantly lower attendance or wanting to give volunteers more time with their families (The Press-Enterprise, Riverside, Ca.)


No church on Christmas? | Many services may be canceled (The Cincinnati Post)


Canceling church on Christmas (opinion):
Christmas lessons | Church closing debate takes strange turns (Editorial, Lexington Herald-Leader, Ky.)


Churches' split on Dec. 25 services raises big questions | It's not for us to say whether churches should skip holding services on an upcoming Sunday. But the controversy should spur debate on what Christmas Day means to people, on how different people worship their god and on the role of churches in this matter (Editorial, The Daily Local, West Chester, Pa.)


Faithful should worship on Christmas | I think the leaders who closed their churches for Christmas are dead wrong. But I do understand their dilemma (Alan Price, The Atlanta Journal-Constitution)


Churches closing this Christmas | But if Jesus' birth is the good news Christians say it is, why not take every opportunity to proclaim it? (Jim Ketchum, The Times Herald, Port Huron, Mi.)


No church on Dec. 25 because it's Christmas? | It's distressing that so-called "mega" churches are canceling services on Christmas Day just because it's on Sunday this year (Rose Russell, The Toledo Blade, Oh.)


Christmas wars: Right's fault:
The battle over Christmas | The American Civil Liberties Union, with whom we often find common cause, needs to mellow out on this one and enjoy what can be—if we keep it in perspective—a particularly satisfying time of the year, regardless of your religious faith (Editorial, The ToledoBlade, Oh.)


fight, all ye faithful | Because of ridiculous political correctness, today's Christians have a hard time holding on to Christmas (John Tierney, The New York Times)


Americans demanding end to generic holiday | Sensitivity has taken the fun from Christmas, many say (The Arizona Republic)


Holiday wishes? Happy holidays? | Humbug! Merry Christmas (John Sonderegger, St. Louis Post-Dispatch)


Putting 'Christ' back into 'holiday' season | This obsession to secularize a day - a federal holiday, by the way - that Americans have always set aside to honor the birth of Jesus Christ seems to have reached a frenzied pitch (Gregory J. Rummo, NorthJersey.com)


Christmas spirit of consumerism:
Whose holy day? | The public needs a thicker holiday season skin, as well as the courage to call holidays by their proper names, the courtesy to respect holiday atheists, and the wisdom to sidestep the hype of holiday hollering (Editorial, The Boston Globe)


What 'war on Christmas'? | There is an ugly, bullying aspect to this dispute, in which the pro-Christmas forces are not only asking, reasonably, that their religion be treated with equal status and respect but in which they are attacking legitimate efforts at inclusivity. (Ruth Marcus, The Washington Post)


Let's not make the Christmas season a 'holiday' battleground | God bless anyone who has a special time during this season that they want to celebrate. We should thank them for thinking enough about us to offer salutations (Cary Clack, San Antonio Express-News, Tex.)


Thou shall mention Christmas or be subjected to denunciations | Some of these manipulators make quite a nice living on the anger circuit (The Brownsville Herald, Tex.)


'Tis the season for all to take offense | Who'd have ever thought that "Merry Christmas" could turn into a political statement? (Ed Quillen, The Denver Post)


Bush meets St. Peter | As for the "war on Christmas," heaven has other priorities (Nicholas D. Kristof, The New York Times)


Bush not losing his religion | Now is the time to stand in defense of President Bush. The issue? Christmas cards. (Carlos Sanchez, Waco Tribune-Herald, Tex.)


Presidential tidings of great joy | I don't think that a cheery "Merry Christmas" in 1.4 million mass-produced cards goes nearly far enough (Henry Brinton, The Washington Post)


So much for peace on earth | Bush's ex-friends see a 'war' on Christmas (Katy Burns, The Concord Monitor, N.H.)


Humbug in Harrow | These days, no Christmas is complete without a multiculturalist Scrooge, in the shape of a public sector institution with advanced views about "celebrating diversity" (Editorial, The Telegraph, London)


Grinch causes scene | Another holy war erupted on Long Island yesterday after a Huntington lawyer filed suit arguing that a Nativity scene and menorah in the center of town violated the constitutional separation of church and state (New York Post)


Christian charity warning | Tasmania's public schools have been told not to raise Christmas funds for a Christian organization run by the son of the world's most famous evangelist Billy Graham (The Mercury, Tasmania, Australia)


Let children learn the art of giving | There is no need for anyone to be concerned about Samaritan's Purse (Editorial, The Cumberland News, U.K.)


Shoeboxes overseas, public schools at home | Evangelist Franklin Graham uses rally to reveal witness initiative (The Charlotte Observer, N.C.)


Minister awaits sex bias verdict … against God | Helen Percy, 39, was suspended from her job as an associate Church of Scotland minister in the Angus glens when, as a single woman, she was accused of having sex with a married elder (The Observer, London)


Physical changes to build spiritual future | Hollywood Methodist is one of many churches remodeling to better use worship space and accommodate more contemporary music (Los Angeles Times)


Opening church's doors first step to conversion | Churches understand that sports can be a powerful evangelical tool and are offering weekend warriors opportunities as a gateway to a deeper exploration of faith (Colorado Springs Gazette)


Also: Multitude of personal touches will build an expanded shrine | Cathedral will create a mosaic from broken bits of donated china in an enlarged niche for Our Lady of Guadalupe (Los Angeles Times)


Holy orders put their faith in cohabitation | Cohabiting monks and nuns—who have joined forces to pray, work and live together under the same roof - have hailed their mixed convent trial as a success (The Observer, London)


Also: The monks and nuns who found a new calling—to move in together | A mixed convent and monastery could offer a solution to the declining number of faithful joining religious orders in the Roman Catholic Church (The Times, London)


Vatican Instruction on seminaries:
How can Vatican think inner conflict makes a priest safer? | For the general Catholic population, appropriate reactions would seem to include concern about whether the instruction will or will not be enforced, anger at leadership that is so distant from the experience of its people, and wonderment about who will be affected when the Vatican drops the next shoe (Robert McClory, Chicago Tribune)


Brazilians convicted of killing U.S. nun:
Brazilians convicted of killing U.S. nun | Rayfran das Neves Sales and Clodoaldo Carlos Batista were found guilty of killing Dorothy Stang on Feb. 12 in the heart of the Amazon rain forest (Associated Press)


Friends of slain US nun vow to press Brazil fight | Stang's supporters said they were now ready to go after ranchers accused of offering the two men 50,000 reais to kill the activist, who blocked their advance on valuable, hard-wood rich rain forest (Reuters)


Stanley "Tookie" Williams & the death penalty:
Death penalty debate focuses on redemption | Whether Stanley "Tookie" Williams truly had found redemption—and many doubted his sincerity—prosecutors, victims' advocates and death penalty supporters said he still had to pay for the murders of four people in 1979 (The Baltimore Sun)


Death penalty: A moral debate | Rooted in many religions is the idea that sins must be atoned for. In California, juries occasionally require from murderers the ultimate payment: their lives (Los Angeles Times)


Protecting life by taking it away | Does God frown on the death penalty even when it comes to the worst killers in our midst? (Jeff Jacoby, The Boston Globe)


Blasphemy laws and church attacks fuel strife in Pakistani town, Christians say | Blasphemy laws are blamed for worsening sectarian relations in Pakistan, where Christians, Hindus and other minorities make up 3 percent of the overwhelmingly Muslim population (The New York Times)


Jharkhand's Christian minister opposes anti-conversion bill | Enos Ekka, Jharkhand's lone Christian minister, has reacted sharply to the proposed Anti-Conversion Bill announced by Chief Minister Arjun Munda (IANS, India)


Fearing Christmas in Sri Lanka | Sri Lanka's Christians have been the victims of little-noticed persecution (Roger Severino, The Wall Street Journal)


Liberian warlord reinvents self as senator | Once a powerful faction leader, more recently an evangelical preacher-in-exile, Prince Johnson helped drive Liberia into a catastrophic civil war (Associated Press)


Pope says war no excuse for human rights abuses | In the first peace message of his pontificate, he also appealed for worldwide nuclear disarmament and said countries considering acquiring such weapons should "change their course" (Reuters)


Rights group urges Darfur probe | Human Rights Watch has called for senior Sudanese officials—including the president—to be investigated for crimes against humanity in Darfur (BBC)


Also: Darfur 'abuses' blamed on leaders | Senior members of Sudan's government, including the president, are responsible for "widespread and systematic abuses" in Darfur, according to a report released last night by Human Rights Watch (The Telegraph, London)


In their hour of need, prayer | As the deadline regarding the fate of four hostages in Iraq passes, friends reflect (Los Angeles Times)


No disclosure on Benny Hinn | Whether American evangelist Benny Hinn will have his records checked will not be made public (Fiji Times)


Church wants Hinn banned | A church group has started a campaign to keep American evangelist Benny Hinn out of Fiji (Fiji Times)


Qarase backs man of God | If American evangelist Benny Hinn has a dubious background, then it is up to the Ministry of Home Affairs to decide on whether or not to investigate him, says Prime Minister Laisenia Qarase (Fiji Times)


Frist cautions senators against filibustering Alito vote:
Frist cautions senators against stalling Alito vote | Democrats don't plan filibuster (The Washington Post)


Frist says he's ready to block filibuster | Senate majority leader Bill Frist said Sunday he is prepared to strip Democrats of their ability to filibuster if they try to stall Samuel Alito's nomination to the Supreme Court (Associated Press)


Byrd warns Frist against 'nuclear option' | "If the senator wants a fight, let him try it," said Byrd, the Senate's senior Democrat (Associated Press)


Colombia's anti-abortion law challenged | A women's rights group challenged Colombia's strict anti-abortion law in a new lawsuit Monday, seeking to revive the issue days after the country's highest court decided not to rule on a previous lawsuit (Associated Press)


Also: New lawsuit in Colombia over abortion | Days after Colombia's highest court rejected a case challenging the country's prohibition on abortion, an international women's rights group plans to file another suit (The New York Times)


Embryo adoption | This year, opponents of abortion stepped up their use of a carefully chosen phrase (The New York Times Magazine)


Pass the buffer | Council's abortion protest bill strikes a fair balance (Editorial, Pittsburgh Post-Gazette)


Study: 'Anguish of abortion is worse than miscarriage':
'Anguish of abortion is worse than miscarriage' | Women who have an abortion can suffer mental distress, anxiety, guilt and shame at least five years afterwards, researchers say today (The Telegraph, London)


Post-abortion trauma seen as worse than miscarriages | The lingering distress, sadness and guilt brought on by an induced abortion is worse than that of a miscarriage and decreases much more slowly as time goes on, according to a five-year study of Norwegian women (The Washington Times)


The shame of our abortion laws | In the short term, more post-abortion counselling is needed. In the long term, the need for it should be reduced by a change in the law (Editorial, The Telegraph, London)


Confusion over new emergency contraception law deepens | A law requiring hospitals to offer emergency contraception to rape victims takes effect next week, but confusion about its legal implications lingered Friday, fueled by Gov. Mitt Romney's shifting interpretation of the law and opposition from some Catholics (Associated Press)


'Morning-after' access widened | About 200 New Hampshire pharmacists have taken the first step toward making emergency contraception more widely available in the state (The Concord Monitor, N.H.)


Political pill | Was the FDA caving to political pressure when it refused to make the morning-after pill available over the counter? (Shaunti Feldhahn and Diane Glass, The Atlanta Journal-Constitution)


Mother gives life to save baby:
The mum who died for this moment | Tributes were paid last night to the memory of a remarkable mother who refused life-saving cancer treatment to protect her unborn baby (Northern Echo, England)


Mother's life gift to unborn baby | Bernadette Mimura, 37, from Ingleby Barwick, was diagnosed with breast cancer one month into her pregnancy. Doctors urged her to try life-saving drugs, but this would have meant terminating the pregnancy (BBC)


A brave and tragic mum | In later years when Nathan is told of his mother's sacrifice, what a proud young man he will be (Editorial, Northern Echo, England)


South Korea's Hwang returns to hospital | South Korean stem cell pioneer Hwang Woo-Suk briefly left a hospital Monday and made a tearful return to work after being treated for extreme stress brought on by an ethics scandal over his groundbreaking research (Associated Press)


Cloning chaos | Misrepresentations, hype, and outright lies in the name of "science" (Richard Doerflinger, National Review Online)


Science friction | No wonder many Americans are leery of evolutionary theory. The leading lights of science today can be arrogant and condescending, and science is poorly taught in most schools (Pamela R. Winnick, Pittsburgh Post-Gazette)


Madness about a method | How did science become so contentious and politicized? (Jim Holt, The New York Times Magazine)


Intelligent Design & evolution:
KU's Mirecki fights being 'forced' from chair of religious studies dept.:
Conservative made postings public | Real estate broker controversial on political scene (Lawrence Journal-World, Kan.)


Harper warned on same-sex | Christian leaders want him to push on; Ontario Tory Leader urges him to back off (The Globe and Mail, Toronto)


Mainline Protestants must speak up for gays | It bothers me that our media report on the same-sex issue as if Christians are opposed and secular folks are for. A great many Christians support same-sex marriage (Kevin Little, The Toronto Star)


Pseudo-science and shoddy logic | The majority report recently released by the same-sex marriage commission is an embarrassment, 100-plus pages of homophobic claptrap based upon pseudo-science, junk statistics and shoddy logic (Hillary Nelson, The Concord Monitor, N.H.)


Spiritual changes common in U.S. | Half of U.S. adults have had a spiritual transformation experience, and 35 percent of those are not born-again Christians, according to research by the University of Chicago (The Washington Post)


Also: Half of us 'spiritually transformed' | Half of all Americans say they have experienced at least one "spiritual transformation" in their lifetime, according to an unprecedented study released late last week by the National Opinion Research Center at the University of Chicago (Chicago Sun-Times)


Alternatively blessed be this house | The tradition of house blessings stretches across Islam, Judeo-Christianity and beyond (The Washington Post)


Chapel gives airport travelers a lift | Travel and Christmas have been linked ever since Luke's account of the holy family's journey to Bethlehem, but the motif takes on a special meaning at Our Lady of the Airways, the Catholic outpost at Logan International Airport that in 1951 became the nation's first airport chapel (The Boston Globe)


But, Archbishop, this is the bleak mid-winter for many Christians | Although Koran and Bible are the most sacred scriptures of their respective religions, the comparison may be misleading (The Telegraph, London)


Who wants heaven? | It is still this world that matters most to the devout, however literally they appear to take scripture (Malachi O'Doherty, The Guardian, London)


For 'Narnia,' lots of believers | Disney's adaptation of the C.S. Lewis story with Christian themes opens with an estimated $67.1 million (Los Angeles Times)


'Narnia' bolsters box office in strong debut | "Chronicles of Narnia: The Lion, The Witch and The Wardrobe" scored a much-needed box office hit for Walt Disney Co, taking in $67 million for the second-biggest debut ever in a weekend in December (Reuters)


'Narnian' delight: Passion of the 'Lion' pays off | Playing on about 6,800 screens across 3,616 locations, Narnia drummed up an estimated $67.1 million, exceeding industry expectations in the $50 million range (BoxOfficeMojo.com)


Film:
Kissing cousins | What is it about watching young women being ravished by oversized middle-aged gorillas that presses so many buttons? (Clive D. L. Wynne, The New York Times)


Two guys and a camera | They started making films as teenagers, and now two brothers hope that they'll hit the big time by creating meaningful movies that won't compromise their faith as Christians (Minneapolis Star-Tribune)


How do you say 'D'oh!' in Arabic? | In Middle East translations of The Simpsons, Duff is a juice and Ned Flanders isn't religious (Los Angeles Times)


Uncouth Christian wins no converts | Marguerite Perrin, America's newest super-scary Christian has me cringing after seeing her on Fox's "Trading Spouses." (Wendi C. Thomas, The Commercial Appeal, Memphis)


I'm in Opus Dei … get me out of here | Mark Dowd, a former friar and the presenter of Opus Dei and The Da Vinci Code (Channel 4), seemed to have had no doors slammed in his face (Joe Joseph, The Times, London)


Alt-Jesus | Rock musician-turned-pastor takes his case for reinvigorating Christianity in surprising directions (South Florida Sun-Sentinel)


Q&A with Chuck Smith Jr. | Many young Americans don't find relevance in the church, says Chuck Smith Jr., because they can't accept the answers "that the church has been trained to give." (The Dallas Morning News)


Doubt, out from the shadows | Poor Doubting Thomas, so misunderstood all these years (Los Angeles Times)


Related Elsewhere:
Suggest links and stories by sending e-mail to weblog@christianitytoday.com
See our past Weblog updates:
December 12 | 9 | 7 | 6
December 2b | 2a | November 30
November 23 | 22 | 21
November 18 | 17 | 16b | 16 | 15
November 11 | 10 | 8
November 4b | 4a | 3
Weblog
Launched in 1999, Christianity Today's Weblog was not just one of the first religion-oriented weblogs, but one of the first published by a media organization. (Hence its rather bland title.) Mostly compiled by then-online editor Ted Olsen, Weblog rounded up religion news and opinion pieces from publications around the world. As Christianity Today's website grew, it launched other blogs. Olsen took on management responsibilities, and the Weblog feature as such was mothballed. But CT's efforts to round up important news and opinion from around the web continues, especially on our Gleanings feature.
Ted Olsen is Christianity Today's executive editor. He wrote the magazine's Weblog—a collection of news and opinion articles from mainstream news sources around the world—from 1999 to 2006. In 2004, the magazine launched Weblog in Print, which looks for unexpected connections and trends in articles appearing in the mainstream press. The column was later renamed "Tidings" and ran until 2007.
Previous Weblog Columns: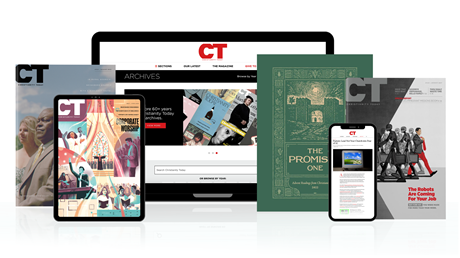 Annual & Monthly subscriptions available.
Print & Digital Issues of CT magazine
Complete access to every article on ChristianityToday.com
Unlimited access to 65+ years of CT's online archives
Member-only special issues
Subscribe
Megachurches on the Defensive
Megachurches on the Defensive