| | |
| --- | --- |
| | • |
Megachurches won't hold Sunday services December 25
While Christian groups are warring to make sure that business and government workers say "Merry Christmas" instead of "Happy Holidays," one place you won't hear either greeting this December 25 is at many of the largest churches in the country.
That's because, the Lexington Herald-Leader and Chicago Tribune report, the churches won't be open that day. Now, in most years, that wouldn't be terribly surprising: Protestant church offices have closed Christmas day since the time of the Puritans (who closed churches that day both to distinguish themselves from Roman Catholics and in protest of the bacchanal that Christmas celebrations had become in the early 18th century).
But this year, Christmas falls on a Sunday, the day when most churches (excepting those of Sabbatarians and a few others) hold services. Not this year.
Willow Creek Community Church (near Chicago), Southland Christian Church (near Lexington, Ky.), Mars Hill Bible Church (near Grand Rapids, Michigan), North Point Community Church (in Alpharetta, Ga.), and Fellowship Church (near Dallas) are among the churches hanging up a "closed" sign after their many Christmas Eve services. The five churches have a combined weekly attendance of more than 64,500.
And, yes, it's a conspiracy. "Megachurch officials around the country consulted with each other before deciding to take the day off," reports the Herald-Leader.
The reason?
"It's more than being family-friendly," Willow Creek spokeswoman Cally Parkinson told the Herald-Leader. It's being lifestyle-friendly for people who are just very, very busy."
Not offering services on a day that almost everyone has off is lifestyle-friendly how? They're so busy trying to fit in church that the solution is to cancel church? Parkinson explained further to the Chicago Tribune: "Christmas tends to be the one time of year when lots of those unchurched people show up at Willow; why not give them a gift?"
"So hang on," says the Chicagoist blog (not a Christian blog): "You reward people for coming to church by … not making them come to church?"
Let's try another Willow spokesperson.
"At first glance it does sound contrarian," Willow Creek senior pastor Gene Appel told the Tribune. "We don't see it as not having church on Christmas. We see it as decentralizing the church on Christmas—hundreds of thousands of experiences going on around Christmas trees. The best way to honor the birth of Jesus is for families to have a more personal experience on that day."
But if that holds true for Christmas, doesn't it hold true for every other Sunday? Why not decentralize the church every week by telling families "to have a more personal experience on that day"?
Folks at Willow Creek and Southland aren't upset, say the papers. But others sure are.
"What's going on here is a redefinition of Christmas as a time of family celebration rather than as a time of the community faithful celebrating the birth of the Savior," Fuller Theological Seminary theologian Robert K. Johnston told the Herald-Leader. "There is a risk that we will lose one more of our Christian rituals, one that's at the heart of our faith."
"It's a sign of how totally identified with the culture [evangelicals have] become," Calvin College historian James Bratt told the Tribune. "The church has subordinated to cultural icons, and family is one of them. … The logic of that is you should celebrate the holiday in its true sanctuary, which is the home."
The churches say they're being evangelistically sensitive.
"Studies would say the best opportunity to invite people is Christmas Eve. It's, for whatever reason, the least threatening service of the year to attend … . so what we do is really point all of our energy in that direction," says Glen Schneiders, pastor of Crossroads Christian Church in Lexington, another church closed this Christmas. "We don't think we're compromising. We're actually reaching more people by doing that."
Parkinson told the Tribune that Willow Creek is taking the money it would have cost to conduct a Sunday service and is instead putting it into producing and distributing a Christmas DVD, "potentially touching thousands more people than the same message from the stage on Sunday morning."
But again, the suggestion that the message is all that church is about, or that you can duplicate church on a DVD, is going to send those same critics howling.
There are so many angles to this story—the nature of church, the consequences of equating "pro-family" ideology with Christianity, the challenges of Christmas services' attendance (largely attended by non-Christians), the changing nature of Christmas, the subordination of religion to "family" at a time when "pro-family" groups are arguing for more explicitly religious Christmas greetings … .
But Weblog probably shouldn't go on at length. After all, Weblog's church isn't meeting Christmas morning, either. (Then again, our non-sabbatarian church never meets on Sundays, since we rent, rather than own, our church space.)
More articles
Christmas wars:
Suit filed over denied Nativity scene request | A local man's free speech rights were violated when the cities of Atlantic Beach and Neptune Beach refused his request to erect a Nativity display in a public park, according to a federal lawsuit filed in Jacksonville this morning (The Jacksonville Times-Union, Fla.)
True meaning of Xmas | Money Editor Anne Howland writes it's fine to put the 'X' in Christmas; what's not politically correct is the holiday's commercial craziness (Ottawa Sun)
Happy, er, Merry, er — oh, just 'Have a nice day' | Receive 'Happy Holidays' or 'Merry Christmas' greetings with the spirit in which they are intended (Editorial, The Arizona Daily Star, Tucson)
Oy to the world | There is a grave concern, on news shows and op-ed pages, that we are about to lose Christmas. Though no one outside the media is at all interested, I figure jumping in will make my editors think I'm smart (Joel Stein, Los Angeles Times)
The defense of Christmas is in the shopping bag | There was a time when falling on your knees was the suggested posture to "hear the angel voices." Now, apparently, it's the only way to hear the cash registers ring (Laura Billings, Pioneer Press, St. Paul, Minn.)
Selling Jesus isn't reason for season | Compulsory Christmas greetings by checkout clerks are just the beginning (Diane Carman, The Denver Post)
Xmas on the rocks | I don't hesitate to use the word "Christmas." Even in mixed company. But I do wonder about the self-described Christians who become highly agitated upon failing to detect the "Christmas" spirit during their shopping sprees (Dan Bernstein, The Press-Enterprise, Riverside, Ca.)
Joy to the world—now start spending | What religious person would enter a float celebrating the birth of Christ in a parade alongside marching bands, flaming hula hoops and a giant balloon kangaroo named Jumping Jack Cash? (Mike Littwin, Rocky Mountain News, Denver)
Season could use a bit more good will | Chalk up 2005 as the year Christmas got off to a rocky start in Roanoke (Shanna Flowers, The Roanoke Times, Va.)
Church and state:
Church loses bid for faithful | A Melbourne charity has lost its legal bid to hire only Christian staff (Herald Sun, Melbourne, Australia)
School ban on girl wearing cross 'discriminatory' | A mother accused her daughter's school of discriminating against Christians yesterday after the teenager was suspended for refusing to take off a crucifix necklace (The Telegraph, London)
Program for ex-convicts loses US grant | Police-clergy group to hunt new funding (The Boston Globe)
Alleged satanic church challenges Zambian ban | An evangelical church that was banned in Zambia last week for allegedly practising satanism, including human sacrifice, has decided to challenge that decision in court, an official said Tuesday (SAPA, South Africa)
Politics:
Senate race may bring religion into voting booth | An anticipated electoral showdown next year between U.S. Sen. Rick Santorum and Pennsylvania Treasurer Bob Casey Jr. will produce lots of talk about faith (Pittsburgh Tribune-Review)
3 D.C. hopefuls back civil unions | Candidates Cropp, Orange oppose same-sex marriage (The Washington Post)
Ubiquitous porn: Alive on the net | It's a warning label, not a platform! It's isolation. It's zoning. Would you allow locating adult bookstores next to churches? It seems that Concerned Women for America would demand doing so (John C. Dvorak, PC Magazine)
Alito:
Focus on the Family takes shot at Salazar | Newspaper ads today center on nomination of Alito to high court (Rocky Mountain News, Denver)
Ads portray nominee as protector of Christmas | Conservative groups are hoping to rally support for Supreme Court nominee Samuel A. Alito Jr. with ads depicting him as a supporter of public Christmas displays (The New York Times)
Conservatives air ads praising Alito | Conservatives began airing two ads this week aimed at rallying support for the Supreme Court nomination of Judge Samuel A. Alito Jr. during the holiday season (The Washington Times)
For foes of Roe v. Wade, Alito's fuzziness comforts | Most Alito backers are adopting the same line: Alito wouldn't necessarily vote the way they, the conservative activists, believe is the best way (Peter S. Canellos, The Boston Globe)
Dodging debate on Alito | Whatever Alito said in the past that proves conservatives are right in seeing him as a comrade in arms is supposed to be irrelevant to the Senate's debate over his confirmation (E. J. Dionne Jr., The Washington Post)
Winning the battle, losing the war? | The president is losing the intellectual war over constitutional interpretation (Bruce Fein, The Washington Times)
Pharmacist agrees to dispense morning-after pill:
Three pharmacists still out after 4th agrees to policy | Conscience question may stir legal action (Belleville News-Democrat, Ill.)
Pharmacists' firing spurs call for Walgreens boycott | Catholic diocese will back it with mailing, abortion foe says (Belleville News-Democrat, Ill.)
Blagojevich drug rule is questioned | Southern Illinois lawmakers question the merit of Gov. Rod Blagojevich's order that pharmacists cannot refuse to dispense the morning-after pill (Belleville News-Democrat, Ill.)
Local pharmacists see room for middle ground | Local pharmacists spoke out Wednesday about Gov. Rod Blagojevich's rule after four Walgreens Co. pharmacists essentially lost their jobs when they refused to agree with store policy to dispense the morning-after pill (Belleville News-Democrat, Ill.)
Suspended workers mull legal action | Five metro-east Walgreens Co. pharmacists met with a lawyer Tuesday to see what their rights are if they choose not to dispense the morning-after pill (Belleville News-Democrat, Ill.)
Be the governor, not a lawmaker | Gov. Rod Blagojevich's ill-advised decision to tell pharmacies how to run their business has a lot of people in Illinois calling for Plan B. And we don't mean the morning-after pill (Editorial, Belleville News-Democrat, Ill.)
Life ethics:
Labs unsure whether to join stem cell bank | The Bush administration's plan for a bank of federally approved stem cells unveiled two months ago is being met with apathy, confusion and derision (Associated Press)
The silent bias | How the media quietly gives cloning advocates a pass (Wesley J. Smith, The Weekly Standard)
Umbilical accord | Senate Democrats resist a stem cell solution (Wesley J. Smith, The Weekly Standard)
Are sonograms dangerous? | Mr. Cruise, get your hands off that ultrasound machine! (Daniel Engber, Slate)
War and violence:
Catholic leader criticizes IRA amnesty plan | A leader of Northern Ireland's moderate Catholics criticized government plans to offer amnesty to IRA fugitives, saying Monday they will allow fugitives guilty of killings and bombings to avoid taking responsibility for their crimes (Associated Press)
Aid group pins hopes on Muslim pleas to captors | A Christian aid group said on Tuesday they prayed that appeals by Muslim leaders to kidnappers of four of their aide workers would put a strong moral burden on their Iraqi captors to release them soon (Reuters)
Bush rules out ransom for captives in Iraq | "We, of course, don't pay ransom for any hostages," Bush said (Associated Press)
The defining of torture in a new world war | The US Secretary of State Condoleezza Rice's defence of the practice of transferring prisoners around the world for interrogation relies a great deal on a definition of torture (BBC)
Illegal trip protests Guantanamo prison | Baltimore activists will join others in march through Cuba to U.S. base (The Baltimore Sun)
Dead end in Darfur? | Robert Zoellick's frustrating mission to end the genocide in Sudan (Jonathan Karl, The Weekly Standard)
KU professor alleges attack:
Mirecki treated after roadside beating | Douglas County sheriff's deputies are investigating the reported beating of a Kansas University professor who's gained recent notoriety for his Internet tirades against Christian fundamentalists and Catholics (Lawrence Journal-World, Kan.)
KU professor reports attack | At center of e-mail furor, Mireki tells police his car was forced off road before beating (The Kansas City Star, Mo.)
Kan. professor attacked along rural road | A college professor whose planned course on creationism and intelligent design was canceled after he derided Christian conservatives said he was beaten by two men along a rural road early Monday (Associated Press)
Evolution and Intelligent Design:
At forum on evolution, beliefs remain static | The conference drew 175 high school students from public and private schools throughout the Washington area, all selected by their schools for their scientific achievement -- if not for their personal beliefs in evolution (The Washington Post)
The hubris of the humanities | The evolution debate is a symptom of something more serious: a profound illiteracy about science and math as a whole (Nicholas D. Kristof, The New York Times)
Religion, science, both can evolve | Clearly, some of us can embrace both God and all, or almost all, of the theory of evolution. But, for everyone else, it's either Intelligent Design, or it's evolution. One thing is certain - the issue should not be debated in science textbooks and classrooms (Montie Rainey, The Jackson Sun, Tenn.)
In the biology class | Intelligent Design is about faith, not science (Editorial, The Miami Herald)
Therapy:
Help from above | In times of trouble, growing numbers of people take comfort in faith-based therapy (The Washington Post)
Having faith, demanding credentials | In most parts of the United States, anyone can claim to be a "pastoral counselor" or even a "licensed pastoral counselor," because the use of these terms is not legally protected (The Washington Post)
Encouraging marriage:
Anti-marriage policies a social ill, says judge | The government was accused by a retired senior judge last night of downgrading marriage and doing too little to encourage couples to wed and to stay married (The Guardian, London)
Save marriages and taxes | A major new study, "With This Ring … A National Survey on Marriage in America," provides powerful evidence legislation pending in Congress reallocating $200 million to promote healthy marriages would be an excellent investment. (Michael McManus, The Washington Times)
Homosexuality:
Methodist clergy blast gay exclusion | More than 100 clergy members from the Rocky Mountain region of the United Methodist Church have signed a statement protesting a national church ruling that effectively bars a gay man from membership (Rocky Mountain News, Denver)
Boston College rejects proposed gay theme for dance | Boston College has asked a student group to adopt a "less gay" theme for an AIDS benefit dance, saying the proposed "A Night in Gay Paris" defies the teachings of the Roman Catholic Church (Associated Press)
Benefactor's group to fight effort to ban gay marriage | Denver philanthropist Tim Gill has formed a political nonprofit group to get more involved in candidate races and fight constitutional amendments barring gay marriage, including one anticipated on the Colorado ballot next fall. (The Denver Post)
Under pressure, Ford will cut its ads in gay publications | After a threatened boycott from a conservative religious organization, the Ford Motor Company has said it will cut back on advertising in gay-oriented publications (The New York Times)
Also: 2 Ford brands stop ads in gay publications | Ford says its Jaguar, Land Rover brands will no longer advertise in gay publications (Associated Press)
When role of Catholic priests becomes a bundle of clichés | Until we begin our discussions at a level much deeper and more theological than simply that of functionality (though I really don't think we're able to do so any longer), both sides will continue to aim wide of the mark (David Lewis Stokes Jr., The Providence Journal, R.I.)
Coming out of the Catholic closet | Gay professors strive — some more overtly than others — for acceptance at Roman Catholic colleges (The Chronicle of Higher Education, sub. req'd.)
Catholicism:
Don't make John Paul saint: dissident theologians | While the theologians acknowledged John Paul's papacy had "positive aspects," their seven-point appeal included criticism of his rigidly conservative stand on issues such as contraception, limitations on the role of women, and of scandals in the Church (Reuters)
Brazilian singer blasts Vatican in condom dispute | Brazilian singer Daniela Mercury, who was banned from performing in a Vatican Christmas concert, said on Monday she was outraged at a Vatican claim that she had threatened to promote condom use during the show (Reuters)
Pope given Schumacher's Ferrari steering wheel | Italian carmaker Ferrari gave Pope Benedict the steering wheel to one of their Formula One racing cars on Monday, honouring the man in the driving seat of the Roman Catholic Church (Reuters)
Business:
Tyson launches faith-friendly campaign | Tyson Foods Inc. of Springdale is offering free downloadable prayer booklets on its Web site, part of an overall strategy to appear faith friendly to its workers and customers (Arkansasbusiness.com)
Major leadership shortage in nonprofit world expected in next two decades | Nearly three-fourths of all nonprofit executives will reach retirement age over the next two decades, and charities will be hard pressed to replace them, according to a new survey (The Chronicle of Philanthropy)
Film and TV:
Mel Gibson plans TV miniseries on Holocaust | The project is being developed by the production company of Mel Gibson, whose The Passion of the Christ was assailed by critics as anti-Semitic (The New York Times)
Heavenly features | Moving into the mainstream, the Christian right tells Hollywood to have a little faith (Village Voice)
In world of 'Left Behind,' end is weird | Plot reflects conservative Christian interpretation of biblical Book of Revelation (Chicago Tribune)
Trapped in the closet: Robust rendering of a fantasy classic | Visiting the land of Narnia as a young heathen, I found Lewis's theology an only mildly obtrusive part of the landscape (J. Hoberman, The Village Voice)
Books:
Two reference works are year's best religion titles | The newly revised third edition of the Oxford Dictionary of the Christian Church and the companion Encyclopedia of Christianity rank as 2005's books of the year in religion (Associated Press)
A 'Good to Great' second act | Jim Collins's best seller is that rare business book that finds an audience beyond corporations. Now he's got a sequel for organizations not ruled by the bottom line (Newsweek)
Leaving the dark side | Anne Rice recently finished reading C.S. Lewis' "Mere Christianity" (The Washington Times)
Is God in the details? | The Archbishop of Canterbury looks backward. Edward Short reviews Why Study the Past? by Rowan Williams (The Weekly Standard)
Other stories of interest:
Civil rights leader to retire from ministry | The Rev. Fred Shuttlesworth, who worked with the late Rev. Martin Luther King Jr. in the fight against segregation, said he will retire from the ministry but will not stop fighting racial injustice (Associated Press)
Russian Archbishop calls Lord Krishna 'Satan' | Hindus are shocked and outraged to read the views of the Russian Orthodox Church on Lord Krishna, who is revered by over one billion Hindus worldwide as the Supreme Lord, said an ISCKON press statement (Hindustan Times, India)
Due to a mathematical error, an earlier version of this weblog gave the wrong number for the combined weekly attendance for the five listed megachurches skipping Sunday morning Christmas services. We apologize for the error.
Related Elsewhere:
Suggest links and stories by sending e-mail to weblog@christianitytoday.com
See our past Weblog updates:
December 6 | 2b | 2a | November 30
November 23 | 22 | 21
November 18 | 17 | 16b | 16 | 15
November 11 | 10 | 8
November 4b | 4a | 3
October 31 | 27 | 24 |
October 19 | 12 | 11
Weblog
Launched in 1999, Christianity Today's Weblog was not just one of the first religion-oriented weblogs, but one of the first published by a media organization. (Hence its rather bland title.) Mostly compiled by then-online editor Ted Olsen, Weblog rounded up religion news and opinion pieces from publications around the world. As Christianity Today's website grew, it launched other blogs. Olsen took on management responsibilities, and the Weblog feature as such was mothballed. But CT's efforts to round up important news and opinion from around the web continues, especially on our Gleanings feature.
Ted Olsen is Christianity Today's executive editor. He wrote the magazine's Weblog—a collection of news and opinion articles from mainstream news sources around the world—from 1999 to 2006. In 2004, the magazine launched Weblog in Print, which looks for unexpected connections and trends in articles appearing in the mainstream press. The column was later renamed "Tidings" and ran until 2007.
Previous Weblog Columns: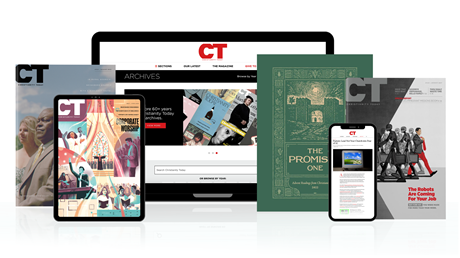 Annual & Monthly subscriptions available.
Print & Digital Issues of CT magazine
Complete access to every article on ChristianityToday.com
Unlimited access to 65+ years of CT's online archives
Member-only special issues
Subscribe
Megachurches Cancel Christmas
Megachurches Cancel Christmas