| | |
| --- | --- |
| | • |
If you go to Amazon.com to purchase Harper Collins's recently released picture book, The Giant Surprise, you will find that C. S. Lewis gets first billing under the "About the Author" header. That's accurate only insofar as God, having created the world, can said to be the author of Julian Barnes's A History of the World in 10 ½ Chapters. For this "Narnia story," "inspired by the stories of C. S. Lewis," is Harper Collins's first sally into Narnia spin-off picture books. The author of The Giant Surprise is Hiawyn Oram, whose books include In the Attic (about a boy who climbs a ladder and discovers an attic full of wonderful creatures—shades of a certain wardrobe here). The jacket copy bills The Giant Surprise as a "brand new story," and the adjectival "brand" is fitting indeed. For The Giant Surprise is not really an exercise in children's literature; it is an exercise in branding.
In The Giant Surprise, we are plunged straight into the marsh-wiggle corner of Narnia. Puddleglum is fishing, and his niece Lally is playing nearby, when some nearby mice alert them to a "terrible roaring" and "sloshing and galoshing." Who's behind the roars and sloshes? Giants! The giants swoop up the friendly mice and run off, with Puddleglum and Lally in fierce pursuit. When the marsh-wiggles arrive at the giants' gorge, their little mice friends are nowhere in sight. So Lally entertains the giants with a game—making rock sandwiches—while Puddleglum searches for, and of course rescues, the missing mice. The end of the picture book sets us up for subsequent Narnia adventures: "Nothing like adventure to remind us life isn't all fishing and mud-winkle stew," sighs Puddleglum. "So what's next, I wonder. Ogres? Dragons?"
Who is this Puddleglum? One must turn to Lewis's The Silver Chair (1953) for his biography. In The Silver Chair (which, though now listed as the sixth installment in the Chronicles of Narnia, was the fourth Narnia novel to be published), Eustace and Jill are out to rescue Prince Rilian. Early on, it is decided that they better have a marsh-wiggle as a guide, for marsh-wiggles—tall, scrawny creatures reminiscent of growth-spurting teenagers—know the lay of the land. So Jill and Eustace come under the care of a marsh-wiggle called Puddleglum who has webbed fingers, whose clothes are the color of soil, and who "seemed to be all legs and arms."
Puddleglum is, well, glum, kind of like Eeyore. He frequently says things like, "I'm trying to catch a few eels to make an eel stew for dinner … but I shouldn't wonder if I didn't get any. And you won't much like them if I do." (Of course, he catches plenty of eels, and Jill and Eustace adore the stew.) Eventually, the motley band finds Rilian, but before they can rush him to safety, they are enchanted by an evil queen who lulls them into a stupor with her music and magical fire. It is Puddleglum who, finally, is able to rouse himself from his trance, stamp out the queen's fire, and destroy her hold over them.
On the most superficial level, The Giant Surprise echoes The Silver Chair. On their trek through Ettinsmoor, Jill, Eustace, and Puddleglum do encounter giants playing a game that looked like stone-throwing. And certainly Puddleglum proves himself to be courageous and heroic in his dealings with the wicked queen. While stomping out the queen's fire in The Silver Chair, Puddleglum burns his foot. His heroism, in other words, is costly, as all Christian, self-sacrificial love is costly. Puddleglum's courage in The Giant Surprise, by contrast, is two-dimensional. There is no cost, just the fun of an exciting adventure.
Testing the market
Weighing in on contemporary debates about revising the English prayer book, Lewis opined that until the Church of England had a poet with the skill of Thomas Cranmer, it ought to leave well enough alone—and no poet like Cranmer, he continued, had presented himself. Perhaps we'd do well to wait until a writer the likes of Lewis emerges to think about making new Narnia tales.
But I decided to give Oram the benefit of the doubt. Last night, in front of a crackling (but not enchanted) fire, I read The Giant Surprise to my five-year-old friend Susie. Susie seemed a little bored, and who can blame her? Too young to have read the Chronicles, she has no acquaintance with the real Puddleglum—and the Puddleglum we meet in The Giant Surprise is pretty bland. Susie liked the bumbling giants best of all. She said they reminded her of the giant in Jack and the Beanstalk. And she liked the picture of niece Lally turning cartwheels in an effort to distract the giants. Indeed, Tudor Humphries's illustrations carry the book. They are more faithful to the spirit of Pauline Baynes's original Narnia illustrations than the text is to the spirit of Lewis's invented world.
Is the problem with The Giant Surprise that it isn't especially Christian? Well, maybe, maybe not. For Lewis never intended the Narnia chronicles to be taken as thinly veiled apologetics. He said that Narnia began with images: a faun, a lion. The story, with its echoes of the biblical story, came second. On the other hand, Lewis also said that Narnia is something of a "supposal"—suppose there were a place like Narnia, and suppose God became incarnate there, what would happen? In this way Lewis said, "The whole Narnian story is about Christ." So perhaps a Narnia picture book with no hint of the stakes—no hint of creation, fall redemption, magic and deeper magic, death running backward—is a contradiction in terms.
Since we're supposing, I suppose that what would bother Lewis (and what should bother us) is not that the book isn't "Christian," but that it isn't any good. It's flat, predictable, and utterly undistinguished. It is hard to imagine that a story this lifeless would have been published had there been no Narnia hook.
Lewis always insisted that his Narnia tales weren't children's stories per se. "I am almost inclined to set it up as a canon that a children's story which is enjoyed only by children is a bad children's story," he wrote. "[I]t certainly is my opinion that a book worth reading only in childhood is not worth reading even then. … I put in [my children's stories] what I would have liked to read when I was a child and what I still like reading now that I am in my 50s."
In other words, good children's stories—like The Wind in the Willows, which Lewis himself applauded, and the Narnia chronicles—are multi-layered and can be appreciated by adults. By these lights, The Giant Surprise fails doubly. Its shallowness guarantees it no audience with adults. And, frankly, it would be a giant surprise if it were enjoyed by many children.
Lauren F. Winner is the author of Girl Meets GodandReal Sex: The Naked Truth About Chastity. You can find her on-line at www.laurenwinner.net.
Related Elsewhere:
Collections of articles about C.S. Lewis and the film The Chronicles of Narnia: The Lion, The Witch and The Wardrobe are available from Christianity Today and Christianity Today Movies.
More from Lauren Winner includes:
Sex in the Body of Christ | Chastity is a spiritual discipline for the whole church. (May 13, 2005)
Deeper Into Chastity | It was the failures of my sexual history that brought me to see it as sin. (May 13, 2005)
The Dick Staub Interview: Lauren Winner's Faith Still a Bit Jewish | The author of Girl Meets God discusses the Jewish habits that inform her Christianity (Jan. 20, 2004)
Article continues below
meetingGod@beliefnet.com | I thought the high-powered, heady world of dot-coms—even dot-coms devoted to religion and spirituality—was far removed from my own walk with Christ. (Nov. 16, 2001)
Solitary Refinement | The church is doing better than ever at ministering to single people. But some evangelical assumptions still need rethinking. (June 4, 2001)
The Wright Stuff | Vinita Hampton Wright is leading a quiet transformation of Christian fiction. (April 20, 2001)
Truth, Suitable for Framing | Before there was the Internet, there was the Talmud. And they have a lot in common. (Feb. 20, 2001)
The New Ecumenists | At the Vine, emerging Christian leaders are reinterpreting the meaning of church unity. (Feb. 5, 2001)
Policy Wonks for Christ | At Civitas, grad students learn to think Christianly about public life. (Nov. 16, 2000)
The Man Behind the Megachurch | There would be no Willow Creek—no small groups, no women in leadership, no passion for service—without Gilbert Bilezikian. (Nov. 6, 2000)
Recipes for the Soul | Phyllis Tickle thinks cookbooks and prayerbooks have a lot in common. (Aug. 15, 2000)
Something Old, Something True | With The Story of Us, released on video today, Hollywood offers a rationale for sticking with marriage. (Feb. 14, 2000)
T. D. Jakes Feels Your Pain | Though critics question his theology, this fiery preacher packs arenas with a message of emotional healing. (Feb. 7, 2000)
Whoa, Susannah! | It's great music, but its portrayal of Christian hypocrisy will make you wince. (Oct. 4, 1999)
Eternal Ink | A growing movement of Christian tattooists is leaving its mark on both body and soul. (Oct. 4, 1999)
New Song, Familiar Tune | Jan Karon's latest Mitford installment changes locales to talk about living where you're at. (July 12, 1999)
Death, Inc. | What the funeral industry doesn't want you to know. (April 26, 1999)
Sword Drills and Stained Glass | What children really learn in Sunday school. (April 5, 1999)
Tales of a Reluctant Convert | Anne Lamott despised Christians but couldn't resist becoming one. (Feb. 8, 1999)
Finding Power in Submission | Two feminist scholars write about women you'll recognize. (April 27, 1998)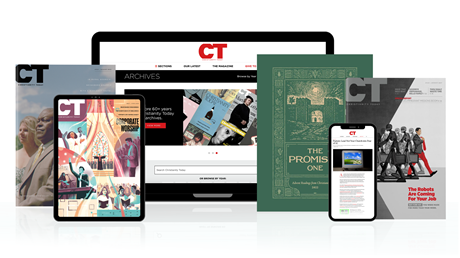 Annual & Monthly subscriptions available.
Print & Digital Issues of CT magazine
Complete access to every article on ChristianityToday.com
Unlimited access to 65+ years of CT's online archives
Member-only special issues
Subscribe
A Narnia Without Lewis or Aslan
A Narnia Without Lewis or Aslan