"Are you born again?" Bill Moyers asked me in 1976 for a television program on a term that most Americans were first learning. My answer: "Yes." When? February 26, 1928. Moyers, "You don't look old enough for that early date?" He was thinking Baptistically; I was talking about my baptism at three weeks of age. "And that does it for life?" he asked. I answered, "'Yes' and 'no.' I was also 'born again' this morning."
This plunge to the heart of Luther's theology summarizes my changed life. These lines in his Small Catechism hit me forcefully when I was in my twenties: "In the morning, as soon as you get out of bed, you are to make the sign of the holy cross and say: 'God the Father, Son, and Holy Spirit watch over me. Amen." Further directions follow: say the Apostles Creed, pray the Lord's Prayer. … Then "you are to go to your work joyfully."
Those who come to baptism at the age of personal accountability will have other ways to greet each day, and can have analogous experiences as children of God. For Luther, baptism "signifies that the old creature in us … is to be drowned and die through daily … repentance, and … that daily a new person is to come forth and arise up to live before God in righteousness and purity forever." Luther cited Romans 6:4, and added his own accent on daily, as I have done with italics here.
Early on, the brunt of this call by Luther to be born again daily and his citation of Romans 6 did not shake or shape me. Nurtured in a home where this way of life was taken for granted; daydreaming through an overly scholastic Lutheran pre-theological school, I later understood Luther's "tower experience" of grace from reading Paul's epistles. This came suddenly in 1947 in seminary studies under passionate "neo-Lutheran" scholars, and gradually (after summer 1952) when as a pastor I related this teaching to the lives of others.
This signing of the cross "signifies;" it involves no hint of superstition or magic. What follows it is a demand for the gift of repentance. I did not and do not seek a Luther-like emotional trauma and a shattering onrush of new experience. Still, I learned from Luther to put to work this understanding of dailiness. When he was tempted, in doubt, depression, or near-despair, he would remind himself: baptizatus sum, "I am baptized," and recognize a change.
The urgent call to baptismal repentance means a drastic turn from the old ways of yesterday and to new ways for tomorrow, with the gift of strength for today. The public image of Lutherans, as fostered by radio's Garrison Keillor types, finds a timid, do-I-dare-thinking people. It frustrates me to observe fellow Lutherans unnecessarily carrying the weight of yesterday's wrongs and burdening themselves with worries over tomorrow. Jesus would have none of either, nor would Luther, nor should I.
In pastoral theology and care I would turn this discipline into a virtual therapy. I would tell stories about Luther, who asked "Is God gracious?" while theologians today say people ask "Is God … ?" Most contemporaries cannot identify with the pious monk and virtuoso repenter who bored his superior with six-hour monologues about his sin. Fortunately this confessor, John Staupitz, would not let him wallow in his petty follies. He was to realize that he was free to be an "alter Christus," an "other" Christ to his neighbor, making faith active in love. Luther's discovery and teaching move me still. Daily.
Martin E. Marty is the Fairfax M. Cone Distinguished Service Professor Emeritus at the University of Chicago and author ofMartin Luther (Penguin Putnam, 2004). He is an ordained Lutheran minister. More Christian history, including a list of events that occurred this week in the church's past, is available atChristianHistory.net. Subscriptions to the quarterly print magazine are also available.
Related Elsewhere:
Our sister publication, Books & Culturerecently reviewed Martin Marty's Martin Luther.
Christian History Corner, a weekly column from the editors and writers of Christian History & Biography, appears every Friday on Christianity Today's website. Previous editions include:
Where Wesley's Followers Went Awry | Three new books by scholars of American Methodism explain why Methodists flourished in the 19th century and faltered in the 20th. (Aug. 05, 2005)
The Man Who Wouldn't Give Up | No matter how great the obstacles, William Carey expected great things and attempted great things. (July 29, 2005)
5 Christian History Books for the Beach | Christian History & Biography staff suggest books for your summer reading list. (July 15, 2005)
When Theology Comes Alive | Living theology: that's what the 17th-century Pietists wanted to see. And so they invented church history. (July 08, 2005)
The Man Behind the Missions | A. T. Pierson who? Dana Robert's biography sheds light on a forgotten ancestor of the modern evangelical missionary movement. (June 10, 2005)
Article continues below
The Secrets of Spurgeon's Preaching | Why would thousands come to hear him speak? (June 03, 2005)
Preaching Augustine | The Christian Classics Ethereal Library came to my rescue in a homiletical emergency. (May 27, 2005)
Victorian Skeptics on the Road to Damascus | Former atheist Antony Flew's admission of the existence of God shocked believers and skeptics alike, but such a turnaround is far from unique. In the 19th century, many leading intellectuals who had once lost their faith ended up reconverting. (May 20, 2005)
In Search of the Real Balian | In Kingdom of Heaven, Sir Ridley Scott turns Balian of Ibelin into an agnostic, but what do we know of the Balian of history? (May 13, 2005)
How Could Christians Crusade? | Why followers of the Prince of Peace waged war. (May 06, 2005)
Uwe Siemon-Netto: Ignore History at Your Own Peril | UPI religion columnist decries the shallow Christianity of those who neglect the past. (April 15, 2005)
Signs of the Reformation's Success? | Reformation scholar Timothy George discusses Pope John Paul II's historical significance and this 'momentous' era of Catholic-evangelical dialogue. (April 8, 2005)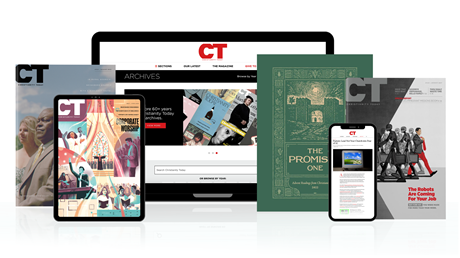 Annual & Monthly subscriptions available.
Print & Digital Issues of CT magazine
Complete access to every article on ChristianityToday.com
Unlimited access to 65+ years of CT's online archives
Member-only special issues
Subscribe
Changed Lives: Luther
Changed Lives: Luther