Next week, South Koreans will commemorate their liberation from Japan and the subsequent founding of the Korean nation. As much as any other civil holiday, Liberation Day, celebrated on August 15, symbolizes the Korean peninsula's self-determination and political strength. Yet without the Protestant church, it's worth wondering if Korean independence would ever have been achieved.
Indeed, the tie between Korea's church and its freedom movement makes for one of the most remarkable stories in modern missions.
When Protestant missionaries first arrived in the "hermit nation" in the mid-1880s, Korea was still heavily influenced by its historic patron and former occupier, China. Educated Koreans spoke and wrote Chinese alone. Although a 15th-century Korean king had invented an alphabet for Korea's indigenous language, Hangul, it was rarely used. Many considered Hangul to be the language of children and illiterates.
One of the missionaries' earliest decisions was to translate the Bible into Hangul. Throughout the 1890s, Korean colporteurs worked with missionaries to distribute Scripture portions throughout the country. These Scriptures were highly contextualized, using Korean spiritual terms infused with new, Christian meanings. By the time Japan colonized Korea in 1910, the British and Foreign Bible Society alone had distributed more than one million Scripture portions.
As the first piece of Hangul literature, the Korean Bible proved to be a thorn in the side of imperial Japan. It sparked a "Hangul movement," leading to the publication of newspapers, poems, and novels in the indigenous tongue. Throughout Japanese occupation, the Koreans' desire for independence became closely linked with their desire to use their own language. As one student of Korean nationalism, Vernon Blake Killingsworth, has written, "The Bible did more than just sustain hope; for Christians and non-Christians alike, the Hangul Scriptures served as a symbol of Korean culture."
Sometimes the Hangul Scriptures were directly cited in cries for revolution. Sun Chu Kil, for example, believed the Book of Revelation predicted an apocalypse that would end Japanese rule. He contrasted the kingdom of Satan (a country under foreign domination) with the kingdom of God (a free and peaceful county). In 1919, Kil's teaching helped inspire Korea's March First Movement, a series of independence demonstrations that lasted for three months and mobilized nearly two million Koreans.
Other missionary decisions further strengthened Korea's church to stand for independence, particularly the widespread adoption of the Nevius methods.
A veteran missionary to China, John L. Nevius had long promoted a mission strategy based on the "three-self" principles of Henry Venn and Rufus Anderson, 19th-century home-office leaders who argued that native churches should be self-supporting, self-governing, and self-propagating. Although Nevius's methods were rejected by his mission, they caught the attention of the young Western missionaries in Korea whom he visited in 1890. As a result, these missionaries sought to create independent, indigenous churches from the beginning, stressing especially the importance of self-support.
Since Nevius believed that evangelism was best done within the context of everyday life, Korean believers evangelized friends and family members while remaining in their vocations. Lay ministers oversaw Korean congregations until the members could afford to support them. As the Korean church grew, it began investing in home and foreign missions—another Nevius principle. By 1897, the native-led Seoul Presbyterian Church was already sending out members for evangelistic work and paying their expenses.
With the expectation that every Christian be involved in ministry, Korean congregations also encouraged women to teach and to lead outreach. Early on, mission historian Charles Allan Clark credited the opportunities Christianity gave women as a leading reason for its success in Korea.
Reflecting on the wide-ranging results of self-support, L. George Paik, a Korean statesman and longtime president of Yonsei University, has written, "The persistence of the principle gave the Koreans the feeling that the whole enterprise was theirs. The teachers who taught them were their own servants and the churches in which they worshiped were theirs. … It is the self-support principle that created the self-respect, self-reliance, and independent spirit which are necessary for any successful movement."
The independence nurtured by Korea's indigenous church stood directly opposed to Japan's imperial policies. Indeed, many congregations took risks to promote Korean freedom. Unlike other countries, where missionary congregations sometimes found themselves entangled with colonial powers, Korea's church was always allied with Korean nationalism—an alliance that proved beneficial for both church and state.
Although Korea's missionaries cannot take credit for the church's courageous stand for independence, a distinction that belongs to Korean believers alone, their decisions did reflect a cultural sensitivity remarkable for the time. In light of the many instances where foreign missionaries subjugated a culture rather than honoring it—from Portuguese Catholics in Sri Lanka to American Protestants in Hawaii—it's nice to notice where missionaries got it right.
For Christians with an interest in missions, that alone makes August 15 worth celebrating.
For further reading:
L. George Paik, The History of Protestant Missions in Korea (Seoul: Yonsei University Press, 4th edition, 1987)
Charles Allan Clark, The Korean Church and the Nevius Methods (Chicago: Fleming H. Revell, 1930)
More Christian history, including a list of events that occurred this week in the church's past, is available at ChristianHistory.net. Subscriptions to the quarterly print magazine are also available.
Related Elsewhere:
Yale historian and missiologist Lamin Sanneh praises missionary Bible translation and language work, saying, "The overwhelming majority of the world's languages have a dictionary and a grammar at all because of the modern missionary movement. With such systematic documentation the affected cultures could promote themselves in unprecedented and unsuspecting ways."
CT also reviewed Sanneh's book, Whose Religion Is Christianity?
CT has focused on persecution and human rights in articles on North Korea.
Christian History Corner, a weekly column from the editors and writers of Christian History & Biography, appears every Friday on Christianity Today's website. Previous editions include:
Where Wesley's Followers Went Awry | Three new books by scholars of American Methodism explain why Methodists flourished in the 19th century and faltered in the 20th. (Aug. 05, 2005)
The Man Who Wouldn't Give Up | No matter how great the obstacles, William Carey expected great things and attempted great things. (July 29, 2005)
5 Christian History Books for the Beach | Christian History & Biography staff suggest books for your summer reading list. (July 15, 2005)
When Theology Comes Alive | Living theology: that's what the 17th-century Pietists wanted to see. And so they invented church history. (July 08, 2005)
The Man Behind the Missions | A. T. Pierson who? Dana Robert's biography sheds light on a forgotten ancestor of the modern evangelical missionary movement. (June 10, 2005)
The Secrets of Spurgeon's Preaching | Why would thousands come to hear him speak? (June 03, 2005)
Article continues below
Preaching Augustine | The Christian Classics Ethereal Library came to my rescue in a homiletical emergency. (May 27, 2005)
Victorian Skeptics on the Road to Damascus | Former atheist Antony Flew's admission of the existence of God shocked believers and skeptics alike, but such a turnaround is far from unique. In the 19th century, many leading intellectuals who had once lost their faith ended up reconverting. (May 20, 2005)
In Search of the Real Balian | In Kingdom of Heaven, Sir Ridley Scott turns Balian of Ibelin into an agnostic, but what do we know of the Balian of history? (May 13, 2005)
How Could Christians Crusade? | Why followers of the Prince of Peace waged war. (May 06, 2005)
Uwe Siemon-Netto: Ignore History at Your Own Peril | UPI religion columnist decries the shallow Christianity of those who neglect the past. (April 15, 2005)
Signs of the Reformation's Success? | Reformation scholar Timothy George discusses Pope John Paul II's historical significance and this 'momentous' era of Catholic-evangelical dialogue. (April 8, 2005)
'Hymn for Easter Day' | Charles Wesley's 'Christ the Lord Is Risen Today' brings alleluia's historical significance to modern audiences. (March 24, 2005)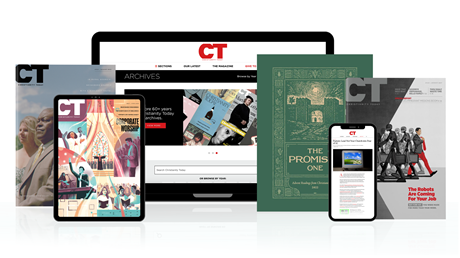 Annual & Monthly subscriptions available.
Print & Digital Issues of CT magazine
Complete access to every article on ChristianityToday.com
Unlimited access to 65+ years of CT's online archives
Member-only special issues
Subscribe
Liberating Faith
Liberating Faith