Was seminary obligated to report graduate's molestation history?
One week after settling a lawsuit brought by the victim of one of its former students, Dallas Theological Seminary officials will go to court Monday to face another of that student's victims.
As Weblog noted in 2001, Jon Gerrit Warnshuis was apparently expelled from the seminary in 1988 when, the Ft. Worth Star-Telegram reports, "a prominent Dallas man confronted seminary officials about the molestation of his son, who was then 12 or 13."
After four years of counseling, the seminary let Warnshuis back in. "We believe that people should be given a second chance if they turn their lives around," former seminary president Donald Campbell explained to the Star-Telegram in 2001. He graduated in 1992 and eventually became a pastor at Oak Hills Evangelical Free Church.
In December 2001, Warnshuis pled guilty to molesting three minor boys while at Oak Hills, including Aaron Babb, and is now serving a 40-year sentence.
"Police believe that Warnshuis victimized dozens of children from Grapevine, Dallas, Laredo, Argyle, California, and elsewhere," the Star-Telegram's Darren Barbee wrote yesterday.
Seminary officials never told the churches where Warnshuis worked what they knew about him. They said they weren't clear what their obligations were, both to the churches and to Warnshuis. Babb and at least one other victim say the seminary was obligated to say something. The other victim settled his case out of court under undisclosed terms. But Babb apparently rejected a monetary settlement and wants the case to go to court.
Seminary spokesman A. Larry Ross told the Star-Telegram that the seminary had acted appropriately given the information it had at the time.
The judge's decision in that matter may have broad implications on the responsibilities of seminaries.
Calvary Chapel school sues University of California system
Calvary Chapel churches sure are making a lot of headlines this month. The latest is the Long Beach Press Telegram's report that Calvary Chapel Christian School in Murrieta is suing the University of California system, alleging free speech and religious freedom violations.
The high school recently received a letter from the college system, saying that its classes on science, English, and history do not meet requirements for entry. Specifically, the letter took issue with the courses "Christianity's Influence on American History," "Christianity and Morality in American Literature," and "Special Providence: American Government."
The university system also said that the biology textbooks used by the school are "not consistent with the viewpoints and knowledge generally accepted in the scientific community … As such, students who take these courses may not be prepared for success if/when they enter science courses/programs at UC."
The high school's lawsuit says it objects "to government officials and bodies dictating and censoring the viewpoints that may and may not be taught in those courses, and regulating viewpoints and the content of private schools."
If the University of California system (which includes 10 campuses) is saying it won't take students from a school that doesn't teach Darwinian evolution as unquestionable fact, expect this case to get extremely prominent.
More articles
Pat Robertson (news):
Finnish Christian digital TV channel stops broadcasts of US televangelist Pat Robertson | Mixing religion and politics seen as "foreign to Finnish culture" (Helsingin Sanomat, Finland)
Pat Robertson apologizes for suggesting assassination | "I spoke in frustration," he said (The Virginian-Pilot, Hampton Roads, Va.)
Robertson apologizes for calling for assassination | The Rev. Pat Robertson apologized yesterday for calling for the assassination of Venezuelan President Hugo Chavez, saying he spoke "in frustration" over the U.S. government's inaction toward a man who has "found common cause with terrorists." (The Washington Post)
Robertson apologizes for Chavez remarks | Religious broadcaster Pat Robertson apologized Wednesday for calling for the assassination of Venezuelan President Hugo Chavez, only hours after he denied saying Chavez should be killed (Associated Press)
Robertson assassinations remarks not new | The Rev. Pat Robertson's suggestion that the United States assassinate Venezuelan President Hugo Chavez was the latest in a long line of incendiary remarks by the religious broadcaster, including at least one other call to "take out" oppressive world leaders (Associated Press)
Broadcaster offers apology for calling for assassination | The conservative broadcaster Pat Robertson apologized for calling for the assassination of President Hugo Chávez of Venezuela (The New York Times)
Newsview: White House distances Robertson | An article that seems to suggest (wrongly) that Robertson was somehow responsible for Bush's election, or that he represents evangelicals in some way (Associated Press)
Ted Haggard tries to apologize to Chavez:
Ted Haggard will offer apology to Chavez | Senior pastor for Colorado Springs' New Life Church and president of the National Association of Evangelicals plans to fly to Mexico City today to try to set up a meeting with the South American leader (The Gazette, Colorado Springs)
Springs pastor reaches out after assassination remarks | A Colorado Springs-based evangelical leader will try to meet with Venezuelan President Hugo Chavez to apologize for broadcaster Pat Robertson's call for Chavez's assassination (Rocky Mountain News, Denver)
US evangelical seeks Chavez talks | Mr Haggard says he wants to meet Mr Chavez face to face and apologise for Mr Robertson's remarks (BBC)
Also: Springs evangelist meets with Venezuelan advisor | Ted Haggard seeks meeting with Chavez (KOAA, Denver, video)
Editorials on Robertson:
Judgment malfunction | Common decency, not to mention a rational sense of the national interest, demands condemnation of Pat Robertson's remarks calling for the assassination of Venezuela's president (Editorial, The New York Times)
Pat Robertson's gift | It is curious how some of Mr. Robertson's fellow travelers have not been able to locate their tongues over this latest Robertson-inspired international disturbance (Editorial, The Washington Post)
Religious right and wrong | It's not everyday you hear a Christian activist advocating murder (Editorial, USA Today)
Extreme politics: American fatwa | Mark his broadcast XXX for its explicit depiction of extremist influence in American political life (Editorial, Seattle Post-Intelligencer)
Observer: Round two | The worlds of evangelical Christianity and intercontinental Bolivarian revolution rarely collide, but this week the two poles of political extremism in the Americas put on a serious heavyweight bout (Editorial, Financial Times)
Jerry, Pat and a slow news week | You know it's been a slow news week when either the Rev. Jerry Falwell, the Rev. Pat Robertson or the Rev. Jesse Jackson pop up on the national radar. In the past 10 days, we've had two out of three (Editorial, Lynchburg News & Advance, Va.)
Robertson gives religion bad name | Robertson's advocacy of violence, and his absolute belief that he is right, make him no better than the religious nuts from the other side of the world who are plotting against us (Editorial, The Daily News, Jacksonville, N.C.)
What Pat Robertson said | What the world really needs to hear, though, is a vigorous repudiation of Robertson from the Bush administration (Editorial, The Oregonian)
Go away, ye of vile rhetoric | It's easier to cover this mysterious religion stuff if you can boil all its nuances down to the colorful views of a couple of quote machines, whose cell numbers are on your Palm Pilot (Editorial, The Philadelphia Inquirer)
Robertson's latest rant | Young seminarians take note: This is not the way to persuade anybody to convert to Christianity (Editorial, The Toledo Blade, Oh.)
Robertson's words | What is it about high-profile evangelism that every now and then leads a prophet of the airwaves to forget about the Ten Commandments? (Editorial, The Globe and Mail, Toronto)
Extremism here at home | Despite his stated Christian beliefs, Robertson apparently has no qualms about violating one of the Bible's 10 Commandments - the one about not committing murder (Editorial, Santa Maria Times, Ca.)
Unchristian | Pat Robertson's call for assassination should mark the end of his credibility as a minister or politician (Editorial, Houston Chronicle)
Thank God Americans didn't elect Robertson | In the Robertson gospel of gaffes, this ranks below his explanation of the 9-11 attacks (Editorial, San Antonio Express-News, Tex.)
Robertson's wrong | In these sensitive times, the pronouncements of religious leaders on foreign affairs cannot be taken lightly (Editorial, The Boston Globe)
Robertson's fatwa | TV evangelist has lost any credence in religion and in politics (Editorial, The Huntsville Times, Ala.)
Lie says a lot about him | It suggests something about the nature of one's character when a person, confronted with an accusation easily confirmed, denies the action and instead seeks to blame someone else, in this case a wire service, saying it didn't get it right (Editorial, Macon Telegraph, Ga.)
Pat Robertson purports to be a patriot, yet hurts our cause with foolish remarks | Robertson's doing real damage to us —with capital letters, as in U.S. (Editorial, Ashville Citizen-Times, N.C.)
Wary of US motives | In one respect, the furor that has erupted over a US talk show host's call for the assassination of the President of Venezuela seems a grotesque over-reaction (Editorial, Cape Times, South Africa)
Robertson rhetoric adds fuel to fire | Many well-meaning Christians are beginning to see the man for what he really is: A doctrine of hatred, murder and discord points to the worship of someone else entirely (Editorial, Tahlequah Daily Press, Ok.)
Robertson's rhetoric too scary for laughter | Pat Robertson says lots of crazy stuff (Editorial, Quad City Times, Davenport, Ia.)
Patty whack | Call to kill Chavez foolish, counterproductive (Editorial, The Daily Camera, Boulder, Co.)
Getting fit to kill | Anyone shocked by what Robertson said Monday must not have listened to Pat before (Editorial, Ledger-Enquirer, Columbus, Oh.)
Open mouth, insert foot, Rev. Robertson | We look to reasonable Muslims to condemn imams who incite acts of violence; just so the evangelical community should rebuke Mr. Robertson (Editorial, The Free Lance-Star, Fredericksburg, Va.)
More opinion on Robertson:
Pat Robertson editorial cartoons (Slate)
Does Pat Robertson matter? | Many conservatives would say no. But it's not that simple (Byron York, National Review Online)
The South's 'trash-talk' factor | Not to downplay the sanctity of foreign government officials and their dislike of being an announced target, but for pity sake, it's "Old Pat." (Lisa Suhay, The Christian Science Monitor)
Who would Jesus assassinate? | The Bible offers no warrant for Pat Robertson's fatwa (Marvin Olasky, World)
America's image takes another hit | Despite his waning influence, Robertson is not just an "average citizen," as Rumsfeld described him (Dan K. Thomasson, Scripps Howard News Service)
Pat Robertson: God's practical joke | There's comedy afoot here all right, but is the idea just to provide comic relief for an ever-troubled world or is this a practical joke on the gulls who keep falling for Robertson and his ilk, the divine equivalent of pulling the chair out from under someone who's about to sit down? (Tom Teepen, Cox Newspapers)
Robertson just can't say he's sorry | Properly spanked for saying something so ludicrously stupid, Robertson, you'd think, would issue the obligatory public apology and retreat to the safe confines of the cloister (Peter Reuell, MetroWest Daily News, Ma.)
'Martyr' or 'nut job'? | It's tempting to turn radio talk host Michael Graham into a martyr -- saying he was fired to appease a radical Muslim pressure group. But this self-described "right-wing nut job" should not be the poster boy for victims of political correctness (Dimitri Vassilaros, Pittsburgh Tribune-Review)
Thou shalt kill? | Robertson had better be glad he's white. I'm pretty certain that an Arabic religious leader who called for the death of so many people would be arrested faster than you can say "amen" (Ray Watters, Rocky Mount Telegram, N.C.)
Robertson's remark over the top - even for him | While some of Mr. Robertson's conservative Christian allies moved to distance themselves from his statement condoning assassination, other conservative Christian organizations like the Traditional Values Coalition, the Family Research Council, and the Christian Coalition were noticeably silent (Marilou Johanek, The Toledo Blade, Oh.)
Pat Robertson's hit list | It isn't only Chavez he wants gone (Timothy Noah, Slate)
Bumbling in where angels fear to tread | Is deporting radical Muslim clerics and calling for the assassination of world leaders Christian? (Ron Ferguson, The Herald, Glasgow)
Politics (U.S.):
Faithful hope to sway King | About a half-dozen Long Island religious leaders prayed outside the Massapequa Park office of Rep. Peter King yesterday, asking the congressman to oppose efforts to privatize Social Security (Newsday)
Pennsylvania candidate lies low in race | Like Santorum, Bob Casey Jr. is Roman Catholic, fortysomething and opposed to abortion. But Casey is nowhere near as outspoken as Santorum, and that appears to be helping him the most in a race that is sure to be one of the most expensive and hard-fought elections in 2006 (Associated Press)
Nuns defending their right to a silent night find surprise answer to their prayers | How do you balance the needs of the weary in search of a good night's sleep, against night hawks, party-people and the Government's new law encouraging "cafe-society" drinking hours? God yesterday had the advantage of size (The Times, London)
'Patriot pastors' recruited | Churchgoers will be urged to vote (The Cincinnati Enquirer)
Religious advocate who reaps funds where Bush has sown | It is hard to ignore the giant picture of President George W. Bush praying - head bowed, fingers clenched - in Jim Towey's office (Financial Times)
The parable of Jesus and the rubber chicken | What if Christ spoke at a Republican Party fund-raiser? (Tom Peyer, Slate)
Politics (non-U.S.):
Priest wants Aristide's blessing to run | A jailed priest in Haiti said he would run for president if he gets the support of ousted leader Jean-Bertrand Aristide (The Miami Herald)
Church leader calls for partnership between Church and govt | The Evangelical Presbyterian Church would continue to seek ways to strengthen its partnership with government in fulfilling their collective responsibility of providing for the welfare and development of the people (GNA, Ghana)
Christian nation declaration debate rages on | The past few weeks have raised dust over whether the Christian Nation declaration should be squashed off or be preserved in the Zambian Constitution. Why Christians argue that Zambia needs a state religion or philosophy to determine its future (Nicholas Kaponda, The Times of Zambia)
Kenya constitution:
Muslim and Christian leaders against religious clause | The Government yesterday said the religious courts were a compromise (The Nation, Kenya)
Bishops speak out against religious courts clause | Two Catholic bishops yesterday spoke against the provision for Christian courts in the proposed Constitution (The Nation, Kenya)
Churches group says 'no' as Kibaki endorses bill | Thirteen leading Protestant churches yesterday launched a "No" campaign against the proposed new constitution as President Kibaki endorsed it in Mombasa (The East African Standard, Kenya)
41 churches reject draft and vow to rally Kenyans to vote against it | They are opposed to the inclusion of religious courts in the constitution and the legalisation of abortion and gay marriages. But the Draft prohibits same-sex marriages (The Nation, Kenya)
Iraq:
Islamic slant in charter decried | Iraqi secularists fear that religious hard-liners will gain strength, and rights may erode, from the draft constitution's endorsement of Islam (Los Angeles Times)
In new Iraq, shaken faith | Christians, Jews and other religious minorities live in fear of harassment or death (Newsday)
Pope meets with Iraqi foreign minister | Pope Benedict XVI and Iraq's foreign minister met Thursday and discussed the country's draft constitution, as well as the importance of ensuring religious freedom in Iraq, the Vatican said (Associated Press)
Churchgoers back Bush foreign policy | Americans who attend church services regularly tend to support President Bush's foreign policy, including the war in Iraq, according to an analysis by Public Agenda, a public policy think tank (Religion News Service)
Persecution:
VHP demands law to ban religious conversions | Vishwa Hindu Parishad wants laws in states like Orissa, Madhya Pradesh, and Chhattisgarh, to go national (NewKerala.com)
Documentary disinformation | Russia's Orthodox Church spearheads a televised, nationwide smear campaign (World)
Rick Warren in Rwanda:
A purpose-driven nation? | Rick Warren goes to Rwanda (Alan Wolfe, The Wall Street Journal)
Rick Warren, 'America's pastor' | His best-selling The Purpose-Driven Life has made him a superstar, but is mega-pastor Rick Warren's true purpose strictly political? (Wendy Kaminer, The Nation)
Less Christ, more right | Rick Warren unveils his strategy to fight AIDS: the gospel of the GOP (Gustavo Arellano, OC Weekly)
Zimbabwe church trial collapses:
Trial of Harare bishop collapses in farce | The ecclesiastical trial of an Anglican bishop who is an ardent supporter of President Robert Mugabe ended in farce yesterday when the presiding judge withdrew from the case before a plea had been heard (The Telegraph, London)
Kunonga trial: Judge storms out in protest | A judge presiding over the trial of the Anglican Bishop for Harare Diocese, the Right Reverend Dr Nolbert Kunonga, yesterday stood down from hearing the case. At least 36 of the 38 charges Rev Kunonga had been facing were dropped, leaving him facing only two charges (The Herald, Zimbabwe)
Pro-Mugabe bishop's trial hits a snag | The trial in Zimbabwe of a controversial Anglican bishop hit a snag on Thursday when defence lawyers requested further particulars on the charges he faces (The Mail & Guardian, South Africa)
Bishop Kunonga on trial | After a one-day adjournment, the trial of Anglican Bishop for Harare Diocese Dr Nolbert Kunonga resumes this morning at the ecclesiastical court sitting at the Royal Harare Golf club (The Herald, Zimbabwe)
Church life:
Petty squabbles cause empty pews | Research suggests that people leave the Church because of trivial issues rather than religious doubts (The Times, London)
The missing men | Churches work to get males involved (The Express-Times, Easton, Pa.)
Church in Seoul full of Korea's faithful | The Yoido Full Gospel Church has 800,000 members throughout South Korea and other countries. It claims to be the biggest church in the world (All Things Considered, NPR)
Lutherans invoke their inner jokester | Move over Garrison Keillor. Lutheran theologians are claiming their own place in the comic spotlight (The Oregonian)
Churches still open; future in doubt | In essence, the archdiocese told the parishes to go back to the drawing board and decide which parish would close (The Boston Globe)
Pastor reaches out with help of golden retriever | Man's best friend can be God's ideal servant (Morning Sentinel, Waterville, Maine)
Trust busting | "Momentous" ruling may give local churches a trump card with liberal hierarchies: their property (World)
From sheriff to reverend not a big stretch | Anecdotal evidence indicates that the same personality types that are attracted to the law, police work and the military also enter religious ministry (Steve Gushee, Palm Beach Post, Fla.)
Houses of worship reborn | Former churches, synagogues transformed for alternative uses (Pittsburgh Post-Gazette)
Who will be the fastest pastor? | They'll be racing cars, sharing their faith at East Lincoln Speedway (The Charlotte Observer, N.C.)
Faith, hope, and parity | One recent Saturday afternoon, in the enervating heat and noise of Istanbul, the holiest man in the Orthodox Christian Church joined a queue to catch a ferry (Financial Times, U.K.)
Catholicism:
Israel, Vatican mend fences after dispute | A dispute between Israel and the Vatican over Pope Benedict XVI's comments on terrorism appears to have been resolved, after Israeli Prime Minister Ariel Sharon sent a letter calling the pontiff "a true friend of Israel," Israel's ambassador said Friday (Associated Press)
Pontiff carries messages of hope, peace | "Freedom is not simply about enjoying life in total autonomy, but rather about living by the measure of truth and goodness so that we ourselves can become true and good." (Editorial, Billings Gazette, Mt.)
Papal outreach | The pope's focus on terrorism may have seemed appropriate, but his speech did little to advance the interreligious conversations begun by Pope John Paul (Editorial, The Baltimore Sun)
Rewriting history in the name of the Father | Given the Church's past record of relations with Jews and other minorities, one should not minimize the significance of Benedict's words (Adi Shwartz, Haaretz, Tel Aviv)
China pilgrims reflect Vatican-Beijing thaw | A single delegation of Chinese pilgrims attending the Catholic Church's World Youth Day in Cologne, Germany, last week marked the latest breakthrough in relations between the Vatican and Beijing (UPI)
Vocations to priesthood on rise | Following years of decline in vocations to the priesthood in Ireland, this year sees the highest number of Catholic seminarians in 10 years (BBC)
Missions & ministry:
Mother of missing missionary hopes her son is alive | Twenty-six-year-old James Coulter, a missionary for African Enterprise, was reported missing by a friend after falling from his bike over a steep river bank and into a waterfall on Monday (The Sydney Morning Herald)
Pastor's secret revealed after death | Muskegon native smuggled Bibles into Communist countries (Muskegon Chronicle, Mi.)
Feminine focus | Eldredges urge 'captivating' women to join wild-hearted men on Christian path (The Dallas Morning News)
Answering Jews for Jesus | Howard County's rabbis are well aware of the Hebrew-Christian movement that has taken root in the county. Their concerns and the concerns of the Jewish federation were behind the town hall meeting on Aug. 17 at Temple Isaiah, attended by close to 100 people (Baltimore Jewish Times)
Minister reaches out to Muslims | New Lutheran pastor takes his outreach to a diverse Montreal neighborhood (Kevin Leininger, The News-Sentinel, Ft. Wayne, Ind.)
Urban renewal:
Coalition has faith in city's economic revival | Members of the faith-based local black community are taking a holistic approach to revitalizing the economy not only in Trenton, but also in other cities throughout New Jersey (The Times, Trenton, N.J.)
Movement aims to put community back at heart of ministry | New Urbanism gets religion (Chicago Tribune)
Higher education:
U. of C. seeks to give home to all of its faiths | Rockefeller Chapel renovating basement (Chicago Tribune)
Lutheran seminary marks 175 years | Worship service begins yearlong celebration of anniversary (The State, Columbia, S.C.)
Christians and college | As school year begins, evangelicals re-examine the role of Christian education (The Daily Citizen, Searcy, Ark.)
Evolution:
Intelligent debate according to Ernie | Up until recently I thought "intelligent design" had something to do with the arrangement of parking spaces in the basement of large buildings. It took my cat to straighten me out (Al Martinez, Los Angeles Times)
A natural selection: intelligent design | As a critique of science, intelligent design could have a place in the classroom too — but not as an alternative to the theory of evolution. Rather, good biology teachers could use issues raised by the intelligent design movement to help their classes better understand Darwinism. (Edward J. Larson, Los Angeles Times)
New school year, new battle over evolution | Is intelligent design science or religion? That's the question a U.S. district court judge in Harrisburg will consider starting Sept. 26, and Dover voters will weigh Nov. 4 (USA Today)
Intelligent donation? | Why the Bill and Melinda Gates Foundation gave more than $10 million to the Discovery Institute, champions of "intelligent design" (Salon.com)
Science fiction | With intelligent design, conservatism has gone postmodern (Noam Scheiber, The New Republic)
Education:
School shows how to smack | An Auckland Christian school is unrepentant about sending a pamphlet to parents explaining how to spank children effectively (The New Zealand Herald)
A tolerant, scientific approach to sex ed | In America we are free to worship as we choose, but our public schools need to teach scientific views (Jim Kennedy, The Washington Post)
Public favors voluntary prayer for public schools | But strongly supports moment of silence rather than spoken prayer (Gallup Poll News Service)
Plaintiff in 1962 landmark school-prayer case reflects on his role | 'I knew it was unconstitutional,' says Steven Engel of one-size-fits-all prayer in his kids' school that led to Supreme Court's Engel v. Vitale ruling (David L. Hudson Jr., First Amendment Center)
Remnant school plan deferred | Gwen Shamblin's Remnant Fellowship church in Brentwood failed to get approval from the Brentwood City Commission this week to rezone its property to open a kindergarten (The City Paper, Nashville)
Silver Ring Thing:
Silver Ring fling | When teaching abstinence is an act of faith (Pittsburgh Post-Gazette)
Event touts advantages of abstinence | It's becoming cool again to wait until marriage to have sex thanks to the Silver Ring Thing (News-Press, Fort Myers, Fla.)
Sexual ethics:
Churches confront an 'elephant in the pews' | XXXchurch.com leaders' frank talk about the struggles many Christians are having with pornography has drawn huge crowds in several churches across the country, and now the Revs. Craig Gross and Mike Foster are planning National Porn Sunday for Oct. 9 (The Christian Science Monitor)
Adult virgins speak out about their lifestyle | The hit comedy The 40-Year-Old Virgin has sparked conversations about adult chastity—and some adult virgins (including Christianity Today Movies reviewer Peter Chattaway) are coming out of the closet to defend their lifestyle (Day to Day, NPR)
What? Condoms can prevent AIDS? No way! | Any doctor with sense knows that while abstinence may be a surefire way to prevent AIDS, teaching condom usage to prostitutes isn't far behind (Helene Cooper, The New York Times)
Argentine cleric caught on tape | Bishop Juan Carlos Maccarone resigns after video of a sexual encounter with a young man surfaces; church officials don't deny it happened but say he was set up (Chicago Tribune)
Homosexuality:
Church panel urges gay-clergy change | Presbyterians to consider exceptions (The Boston Globe)
Straight and narrow: church's 'gay cure' | Alarm raised over Memphis evangelicals' therapy (The Guardian, London)
Junaluska event stirs protest | Some Methodists oppose group advocating homosexual participation in UMC (Ashville Citizen-Times, N.C.)
Also: Security concerns mount as Junaluska event nears | Law enforcement agencies in Haywood County are concerned about public safety on Labor Day weekend during a gay Christian conference at Lake Junaluska (Ashville Citizen-Times, N.C.)
The plight of African Christians | Despite their opposition to the consecration of gay bishop Gene Robinson, there is nothing much the African and other non-white Anglicans can do to reverse this milestone in the Christian history, although they outnumber their white counterparts by far - clearly a master-servant relationship (Bugalo Chilume, Mmegi, Botswana)
Gays unimpressed by minister's Salt dinner | A dinner with a Christian group known as Salt Shakers has landed the federal Special Minister of State Eric Abetz in trouble with gay activists (The Age, Melbourne, Australia)
Danforth gives views on gay issues | Retired U.S. Sen. John C. Danforth, who is an ordained Episcopalian minister, said he wouldn't perform a gay marriage but he would be open to blessing a committed gay couple (St. Louis Post-Dispatch)
'March of the Penguins' and homosexuality | Marriage advocate and conservative columnist Maggie Gallagher praised the recent surprise hit documentary March of the Penguins for extolling the values of love and devotion. But instances of homosexuality in the penguin world might add an unwanted twist to her analogy (Day to Day, NPR)
DiMasi sees defeat of ban on gay marriage | Amendment losing votes, lawmakers say (The Boston Globe)
Thursday: Focus turns to Reilly in gay-marriage fight | Lawyers urge the AG to bar ballot question (The Boston Globe)
Marriage amendment stirs governor, Austin foes | Perry plans private briefing with pastors (Austin American-Statesman, Tex.)
Abetz accuses gay activist of hypocrisy | Tasmanian Liberal Senator Eric Abetz has accused a gay rights activist of spreading the intolerance he often complains about (Australian Broadcasting Corp.)
John Roberts:
Liberals expand scope of attack on Roberts | Liberals have broadened their attack on federal Judge John G. Roberts Jr. beyond just his position on abortion to include accusations of a more general hostility toward women and privacy (The Washington Times)
Gay advocacy groups oppose Roberts' nomination to high court | The judge's record shows that he would not protect their civil rights, they say in a statement (Los Angeles Times)
Roberts' faith is not the issue | In the end, does any of it infallibly — or even reliably — predict his performance as a Supreme Court justice? (Tim Rutten, Los Angeles Times)
Put a little faith in Roberts | Go ahead, ask him about his religious beliefs. As long as he puts the Constitution first, there should be no problem (Mario Cuomo, Los Angeles Times)
John the evangelist? | Opponents and proponents alike are trying to discern what John Roberts thinks about relations between church and state (The Economist)
Gay rights groups urge defeat of nominee | appeals court judge's ideology is called 'a mortal danger to equal rights' (The Washington Post)
Life ethics:
Abortion battles waged mostly at the edges | In a nation where most people support abortion rights but believe there should be some limits on the procedure, the question is this: With abortion legal, precisely how far can states go in restricting it? (USA Today)
Texas abortion consent specifics up to doctors | Physicians won't have state forms, but parents still must give written OK for procedure (Houston Chronicle)
More abortions than births in Russia — health official | Russians, whose lives are shorter and poorer than they were under communism, have more abortions than births to avoid the costs of raising children, Bloomberg.com reported Tuesday quoting the country's highest-ranking obstetrician (MosNews.com)
Parents fail in baby Charlotte appeal | The parents of a terminally-ill baby, Charlotte Wyatt, yesterday lost an appeal to force doctors to resuscitate her if she suffers respiratory failure (The Guardian, London)
Also: Charlotte keeps up fight as appeal fails | The Court of Appeal has refused to overturn a judgment allowing doctors to let a desperately ill baby girl die (The Times, London)
Also: Parents lose right-to-life appeal | The parents of a brain-damaged baby have failed to overturn a court order that rules she should be allowed to die if she stops breathing (BBC)
Fetal pain study:
Fetal-pain study omits an abortion-rights link | Scientists weigh in on planned legislation (The Philadelphia Inquirer)
When science, politics collide | Abortion foes say experts' affiliations affected their study of fetal pain--and should have been disclosed (Chicago Tribune)
Study authors didn't report abortion ties | Two of five authors of an article on fetuses had abortion-related activities that might be seen as a conflict of interest (The New York Times)
JAMA gets angry e-mails from abortion foes | Editor Catherine DeAngelis said JAMA will publish properly submitted critics' comments in an upcoming edition and will give the authors a chance to respond. But she stood by her decision to publish the article (Associated Press)
Stem cell research:
A stem cell breakthrough? | Harvard scientists claim that they can create embryonic stem cells without the controversial use of human embryos. The technique -- fusing existing embryonic stem cells with skin cells -- is still in the development stages (Day to Day, NPR)
Stem cells without guilt | There is no embryo research "ban." There isn't even a "ban" on funding. In fact, President Bush is the first president ever to use federal funds for research on embryos (Nigel M. de S. Cameron, The Washington Times)
Money & business:
Sea of faith washing over the workplace | Religion-based complaints to the federal Equal Employment Opportunity Commission have nearly doubled in the past 10 years (Minneapolis Star-Tribune)
Religion in the News: Houses of God | Building homes with a Bible in the foundation is not something Possibility Custom Homes advertises, but they do not hide the practice from buyers (Associated Press)
Marketplace ministry | Groups aim to connect Christian companies, clients (The Huntsville Times, Ala.)
Evangelicalism:
Religion Today: Are evangelicals dominant or persecuted? | Perceptions vary widely (Associated Press)
Evangelical bookstores open to Catholic materials | Ecumenical outlook lowers traditional barriers (Western Catholic Reporter, Ottawa)
Mags going mainstream | Christian periodicals fanning out (Religion News Service)
Media;
NPR's religion reporting too much for some | A number of listeners have written to protest what they perceive as an increase in stories about religion (Jeffrey A. Dvorkin, NPR)
Video games where prayer triumphs over sword | The evangelizing nature of the games tends to be subdued, and several have received rave reviews from the secular press for their game play (The Christian Science Monitor)
Music:
Ain't nothing like the real thing: soaring hallelujahs of the original gospel music | Two CD's recently released on the Shanachie label document the golden age of gospel music (The New York Times)
Hymns don't make the cut for seniors | Not wanting to offend non-Christians, organizers of Senior Citizen Awareness Day cut the group's playlist (The News Tribune, Tacoma, Wa.)
Hollywood takes notice of Christian tunes | With Christian music being such a huge success, you would think that Hollywood directors would try using more of it in their films. Yet, in the past five years or so, it seems that only a handful of Christian artists have managed to work their way into big-budget movie soundtracks (Tim Sinclair, The Huntsville Times, Ala.)
People:
Appeals court okays Jerry Falwell website | The owner of a Web site critical of the Rev. Jerry Falwell's views on homosexuality did not violate trademark laws by using a misspelling of the evangelist's name as the site's domain name, a federal appeals court ruled Wednesday (Associated Press)
Roger Schutz, the founder of Taizé | Brother Roger offered, to anyone who wanted it, a way to the spirit of the risen Christ through light, music and silence (The Economist)
Other religions:
Life among the neo-pagans | Our reporter visits a "a magickal, psychedelic & multi-cultural" forest outing and asks, Are New Age, Old Religion believers an endangered species in Born Again America? (Paul Krassner, The Nation)
Infidel talk 'foolish' | Muslims who denounce Christians and Jews as infidels are "foolish" -- but they should be tolerated if that's the worst they do, John Howard said yesterday (Herald Sun, Melbourne, Australia)
Crime:
Threat to Vatican in Arabic fax is investigated | The Italian authorities are investigating a fax, allegedly signed by al-Qaida, which makes veiled threats against the Vatican (The Guardian, London)
Father Kaiser was shot, court is told | He was probably sitting, says police superintendent (The Nation, Kenya)
Court orders Locati accused to be examined | The High Court has ordered that a priest and five others accused of murdering a Catholic bishop be examined by a doctor to prove allegations of torture (The Nation, Kenya)
Also: Kenya bishop suspects 'tortured' | A Kenyan judge has ordered doctors to investigate allegations that police tortured six people suspected of killing a Roman Catholic bishop (BBC)
Police foil fresh robbery at Catholic church | It would have been the seventh armed robbery attack on Catholic Churches in the metropolis (Vanguard, Lagos, Nigeria)
Stranger at the door, a violent struggle | A Bronx mother tells of a child-snatching attempt (The New York Times)
Judge ordered to rethink Vt. case ruling | A federal appeals court has ordered a lower court judge to reconsider his decision to dismiss a lawsuit that claims police used excessive force when they killed a knife-wielding man inside a Vermont church (Associated Press)
Police: Custodian making meth in church | "If you read the scriptures, there are worse things than this," says pastor. "Although, at the moment it doesn't seem like it" (Associated Press)
Police puzzled by theft of Communion wafers from Lynn church | The thief did not take the gold chalices or other valuables in the vestry, although apparently he opened each cabinet and searched it (The Boston Globe)
Minister gets term and fine for fraud | Salvadoran who sought passport for girl gets credit for time served, put on supervision (Houston Chronicle)
Giving justice time | Legislators seek looser statutes of limitations (The Denver Post)
Church angered over altered sign | The message - "God hates you" - was the work of vandals who found a way either to break or to pick locks on the sign before manipulating the letters of a phrase posted by church staff (The Intelligencer, Pa.)
Other stories of interest:
Divinely naïve | A Duke University medical study fails to understand the purpose of prayer (Paul Chesser, The American Spectator)
Minimalist art and articles of faith | Why in this fashion-obsessed age are so many drawn to Shaker antiques, which are, almost by definition, style-free? (The New York Times)
How to lose friends and alienate allies | Ariel Sharon is the first Israeli prime minister in Israel`s history to have caused Israel`s staunchest allies — America`s evangelical Christians — to come out against the Israeli government (Shmuley Boteach, The Jewish Press)
Getting to know Thomas More | A more seasoned Man for All Seasons (Matthew Mehan, National Review Online)
Religion news in brief | Florida Anglicans ask for alternative oversight; Appeals court reverses Nebraska Ten Commandments ban; New Mexico archbishop to become talk show host; and other stories (Associated Press)
Related Elsewhere:
Suggest links and stories by sending e-mail to weblog@christianitytoday.com
See our past Weblog updates:
August 24 | 23
August 19 | 18 | 16
August 12b | 12a | 9b | 9a
August 4 | 3 | 2b | 2a
July 29 | 28 | 27 | 26b | 26a
July 22b | 22a | 21 | 20 | 19 | 18
Weblog
Launched in 1999, Christianity Today's Weblog was not just one of the first religion-oriented weblogs, but one of the first published by a media organization. (Hence its rather bland title.) Mostly compiled by then-online editor Ted Olsen, Weblog rounded up religion news and opinion pieces from publications around the world. As Christianity Today's website grew, it launched other blogs. Olsen took on management responsibilities, and the Weblog feature as such was mothballed. But CT's efforts to round up important news and opinion from around the web continues, especially on our Gleanings feature.
Ted Olsen is Christianity Today's executive editor. He wrote the magazine's Weblog—a collection of news and opinion articles from mainstream news sources around the world—from 1999 to 2006. In 2004, the magazine launched Weblog in Print, which looks for unexpected connections and trends in articles appearing in the mainstream press. The column was later renamed "Tidings" and ran until 2007.
Previous Weblog Columns: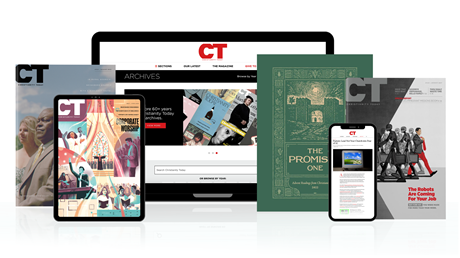 Annual & Monthly subscriptions available.
Print & Digital Issues of CT magazine
Complete access to every article on ChristianityToday.com
Unlimited access to 65+ years of CT's online archives
Member-only special issues
Subscribe
Dallas Seminary Sued Over Abuse Claims
Dallas Seminary Sued Over Abuse Claims