This article was originally published Dec. 13, 1985
A new breathing of the Spirit of God in church music—emanating from a monastic-style community in the town of Taize (pronounced teh‑zay) in eastern France—is fast becoming an international role model for meaningful congregational singing.
"Singing is the highest moment of prayer," writes Taize founder Brother Roger. And at Taize, prayer and singing are considered inseparable. The truly praying heart continues to sing long after the service is ended.
Taize's unique transdenominational ministry began in 1940 when Roger Shultz, a newly ordained minister of the Swiss Reformed Church, founded a ministry to help Jews escape Nazi persecution at Taize near Cluny. He and his friends subsequently cared for orphans who had been abandoned nearby.
Placing its emphasis on reaching the young (its Council of Youth attracted 40,000 young people a decade ago) and the desperately poor (of the 90 brothers, about 50 are located in fraternities among the poorest of the poor in many countries), Taize is reaching deeply into individual lives and communities in many countries. And thousands of people on serious spiritual quests are finding at Taize answers that have eluded them elsewhere. Taize is a giving community, without any commercialization, a place of visible spiritual communion for all humanity where individuals can "confront their lives with the Gospel in the solitude of silent retreat."
"People do not come to Taize for the liturgy, but for the silence," says one church renewal leader. Taize teachings emphasize attentive listening to God speak, learning to become spiritually intuitive. Writes Brother Roger: "It is essential that a flow of inner life animate the singing."
Accessible
Since congregational singing is an essential part of prayer at Taize, this music is not for listening to, but for participating in. It is accessible to all, yet aesthetically satisfying. "These elements had to be of real musical quality," writes Brother Roger, "so that genuine prayer could be expressed through them."
Made up of short musical segments, generally from 2 to 8 measures, with a simple Latin text of few words (such as "Jubilate Deo," ["Rejoice in God"] or the title of a psalm with an "Alleluia"), this simple music transcends in both text and music the comparable materials usually used in American churches.
The music avoids vocal difficulties, and borrows stylistically from chant and Renaissance church music. Unison congregational responses alternate with vernacular stanzas sung by a cantor.
The singing is never hurried. People sing until they feel the Spirit terminates the piece, so it never loses its vitality. Appropriate for liturgical worship, the length of any selection can be tailored to fit a specific time slot.
According to Robert Batastini, editor for the music's American publisher, the form was conceived by Brother Roger who took his idea to Jacques Berthier, a Paris organist. Berthier developed the idea and has now composed over 150 separate pieces (available in two volumes from G.I.A., 7404 S. Mason Ave., Chicago, IL 60638).
Taize emphasizes singing well. Worshipers are encouraged to be careful about diction, stay in tune, sing exact note values, and avoid forcing the sound. Whereas congregational singing in churches that use song leaders often tends more toward group sensation than spiritual expression, the singing at Taize is a spontaneous and natural manifestation of an inner reality.
This article was originally published Dec. 13, 1985. At the time, Richard Dinwiddie was music director and conductor of the Chicago Master Chorale.
Related Elsewhere:
Also available is a profile of Taize: Learning the Ancient Rhythms of Prayer | Why charismatics and evangelicals, among others, are flocking to communities famous for set prayers and worshiping by the clock. (Jan., 2001)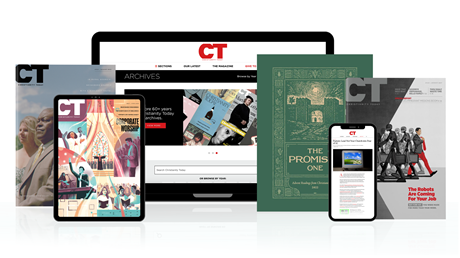 Annual & Monthly subscriptions available.
Print & Digital Issues of CT magazine
Complete access to every article on ChristianityToday.com
Unlimited access to 65+ years of CT's online archives
Member-only special issues
Subscribe
A New Song
A New Song