Calvin Bremer resigns from Back to God Hour, Christian Reformed Church
Calvin Bremer, executive director of the radio, print, and television ministry Back to God Hour, was due to become executive director of the Christian Reformed Church in North America on August 22. This week, he announced his resignation from both positions.
"I regret that my lack of good judgment to maintain appropriate boundaries with a colleague in ministry has caused pain to the church of our Lord Jesus Christ and to many of you both personally and professionally," he wrote in his letter of resignation. "Please forgive me for the pain and injury that my actions have caused to you and to the witness of the church."
The Grand Rapids Press said officials felt Bremer "had acted inappropriately in recommending an employee of a closely related fund-raising organization to be director of development for the CRC."
Bremer stressed to the newspaper that "he had not done anything morally wrong but admitted to poor judgment."
"If your employer says you lack good judgment," he said, "by definition you lack good judgment."
Peter Borgdorff, executive director of ministries for the Grand Rapids-based CRC, told the Press, "The information we dealt with caused an erosion of confidence in Cal's leadership ability, to the point where we felt he could not function as the executive director."
The woman resigned her position at the fundraising organization, RACOM Associates, the same day Bremer resigned his positions.
Pastor, professor, author, and counselor David Seamands apologizes for "breach of trust and moral failure"
David Seamands is a longtime friend of Christianity Today, where he has long served as a consulting editor, so it is with particular sadness that we note his admission of a "breach of trust and moral failure." The 83-year-old retired pastor of Wilmore (Ky.) United Methodist Church served as professor emeritus of pastoral ministries and counselor in residence at Asbury Theological Seminary, and is the author of several influential books, including Healing for Damaged Emotions. He has also been a key figure in United Methodist Church debates on the integrity and sanctity of marriage.
"One of the roots of my sin has been the sin of pride," Seamands told Wilmore United Methodist Church on Sunday. "In response to a complaint filed against me of sexual misconduct with an adult female occurring over a number of years, I admit that I have broken my covenantal relationships and have abused the trust of those I have harmed."
As a part of the Methodist disciplinary process, overseen by Kentucky Bishop James King, Seamands will take a one-year leave from all ministerial functions.
Christianity Today's August cover story focused on church discipline, an area of deep concern for us here at the magazine. Frankly, aspects of that cover story were a bit pessimistic about the practice of church discipline in this country; it seems it's hardly practiced today. But both the Bremer and Seamands situations, as sad as they are, are signs of hope. There are places where church discipline is being carried out, and it's working.
More articles
Bush remarks on Intelligent Design:
Bush remarks roil debate over teaching of evolution | President Bush on Monday appeared to endorse the push by many conservatives to give intelligent design equal treatment with the theory of evolution in public schools (The New York Times)
Bush remarks on 'Intelligent Design' theory fuel debate | President Bush invigorated proponents of teaching alternatives to evolution in public schools with remarks saying that schoolchildren should be taught about "intelligent design," a view of creation that challenges established scientific thinking and promotes the idea that an unseen force is behind the development of humanity (The Washington Post)
Inspiration for doubters of Darwin | Bush appears to give moral support to the 'intelligent design' camp by again backing public schools' teaching of an alternative to evolution (Los Angeles Times)
Bush adds to evolution buzz | The Dover school board has 'powerful friends in Washington,' its attorney joked (York Daily Record, Pa.)
Leave no God behind | Bush comes out for "intelligent design." (Katrina vanden Heuvel, The Nation)
Also: Dear old golden rule days in Texas | As President Bush arrives home for vacation, he may want to sample a school struggle about science versus scripture that's brewing in West Texas (Editorial, The New York Times)
Church & state:
Utah commandments case sent back to lower court | Federal judge had dismissed lawsuit, but 10th Circuit panel says court should reconsider case based on recent Supreme Court rulings (Associated Press)
Sect sues, asks equal space for 'Aphorisms' | Followers of the Summum faith say Moses made two trips down from the mountain (The Salt Lake Tribune)
Academy General off promotions list | The Senate has put off an Air Force proposal to promote the No. 2 officer at the Air Force Academy, a born-again Christian who has been criticized for proselytizing in memos and speeches (Associated Press)
Navajo leader signs peyote bill into law | Navajo Nation President Joe Shirley Jr. has signed a law that makes it legal for Navajos to transport and possess peyote for ceremonial purposes on Navajo Nation land (Associated Press)
Weird science | Learning evolution no threat to kids' faith (Editorial, Daily Camera, Boulder, Co.)
Religion & politics:
Shaping politics from the pulpits | Ohio race shows how Christian right is changing the GOP (USA Today)
A religious test? Let's not | The Democrats risk offending not only Catholics but also millions of conservative Christians, Orthodox Jews and Muslims who have deeply held religious views opposing abortion. To suggest that their views should rule them out for judicial office would turn them all into second-class citizens. (James P. Gannon, USA Today)
Justice Sunday II:
DeLay to be on Christian telecast on courts | DeLay's planned appearance adds the imprimatur of a top Republican elected official to the event, which seeks to call attention to what its organizers say is the Supreme Court's hostility to Christianity and traditional families (The New York Times)
Frist not invited to evangelical rally | Senate Majority Leader Bill Frist spoke by video to the first "Justice Sunday" evangelical rally in April, but he wasn't invited to address "Justice Sunday II," even though it's in his home state of Tennessee (Associated Press)
Frist & stem cells:
Bush reiterates stem cell study position | "I am confident I have achieved the right balance between science and ethics," Bush said during a White House interview with reporters from eight newspapers (Associated Press)
New Jersey prepares for stem cell research | Trying to jump-start New Jersey's lagging bid to build a major stem cell research center, Acting Gov. Richard J. Codey said on Tuesday that he would spend $10.5 million already budgeted to recruit a staff for the institute and finance initial research grants (The New York Times)
Bearing down on the stem cell | It is easy to mobilize public sentiment in behalf of advances in health for full-blown citizens, much less easy to mobilize opposition to the exploitation of inchoate human beings. What is especially difficult is -- to say it in plain language -- that legislators who do not see the importance in affirming life in the womb are not likely, when all is said and done, to affirm the sacredness of the embryonic stem cell (William F. Buckley Jr.)
Funding hope | Frist's support of stem-cell research puts healing ahead of politics (Editorial, The Arizona Republic)
Religion & homosexuality:
D.C. pastor again assails lesbianism | Web posting describes 'severe crisis' for blacks (The Washington Post)
Gay-marriage ban group sues Calif. AG | The sponsors of a proposed constitutional amendment that would ban gay marriage sued California's attorney general Tuesday over the summary the state prepared for the group's signature-gathering petitions (Associated Press)
New plan proposed to halt gay marriages | Massachusetts opponents of gay marriage filed a ballot initiative with the state yesterday that, if passed, would amend the state constitution to ban gay marriages, an expected move that casts doubt on the future of another ballot initiative pending in the Legislature (Associated Press)
Crime:
Prosecutors end Wis. church service shooting probe | Motive still unclear (Associated Press)
Church suspends drink-drive vicar | A vicar convicted of driving while nearly four times over the legal alcohol limit has been suspended from his duties by the Church in Wales (BBC)
Bishop Luigi's murder suspects given mental check | Investigations into the death of Isiolo Catholic Bishop Luigi Locati drew closer to a conclusion after six suspects were examined by a psychiatrist (The Nation, Kenya)
Former choir director gets 30 years for boys' abuse | After pleading guilty, he's told to 'rot in hell' by 1 of 3 brothers sexually assaulted (Houston Chronicle)
Human rights & religious freedom:
Women the most vulnerable of North Korea refugees | Sitting on the floor in a virtually empty safe house in northeast China, North Korean refugee Rhee Mee-ha works about 10 hours a day embroidering tiny crosses for Christian donors abroad (Reuters)
Hate crimes soar after bombings | There were 269 religious hate crimes in the three weeks after 7 July, compared with 40 in the same period of 2004 (BBC)
Also: Religious hate crimes soar by 600% since July 7 bombings | They include verbal and physical attacks and criminal damage to property, including mosques (PA, U.K.)
Operation Hope heads for Zimbabwe | A convoy of trucks carrying aid for Zimbabwe left Johannesburg yesterday as part of the South African Council of Churches' (SACC's) Operation Hope for Zimbabwe (Business Day, South Africa)
Of guns and Gods | I'm not suggesting that all Muslims should apologize for last month's bombings in London or the events of Sept. 11, 2001, in New York and Washington. Neither should all Christians assume a share of the blame from the horrors of the Crusades and the Inquisition. What I would like to see, however, is a more skeptical approach by all peoples of faith to the role of scriptures in their lives, an approach that emphasizes the mythic and figurative value of the texts (James Hrynyshyn, CBC, Canada)
Sudan:
Senate OKs bill to pull investments from Sudan | Ending ventures would aid terrorism fight, some legislators say (Statesman Journal, Salem, Ore.)
Sudanese clash for third day after Garang death | At least 84 people dead so far (Reuters)
Zambia official request for prayer refused:
Chiluba asks for prayers and appeals to Catholics to pray for him so that his court cases can close | But Mansa Diocese Bishop Aaron Chisha has said the government has disappointed them every time they asked for help (The Post, Zambia)
Pray for Chiluba | Frederick Chiluba's request to the Catholics to pray for him over his court cases deserves a favourable consideration (Editorial, The Post, Zambia)
Update: Catholics refuse to pray for Chiluba over his cases | "As Catholics, we pray for national causes that will enhance the majority of people's interest instead of individual politicians," Zambia Episcopal Conference spokesperson Fr Paul Samasumo said (The Post, Zambia)
Clergy shouldn't castigate elected leaders—Manjata | The clergy should not wear a reverend's collar and at the same time castigate an elected leadership, community development minister Stephen Manjata has said (The Post, Zambia)
Church life:
With bats gone, history trumps science on Cape | Wampanoags now look toward restoring 321-year-old church (The Boston Globe)
Huge crowds, rabid devotees and no Mick Jagger in sight. Are you afraid? | I have never been to a big creepy megachurch. This is my first confession (Mark Morford, San Francisco Chronicle)
Alpha 'feeds modern spiritual hunger' | There is an element of the Christian faith in the UK that is trying to buck the long-term trend of decline in the number of followers (BBC)
Missions & ministry:
Three national conferences kick off downtown | MegaFest, the Rev. T.D. Jakes' four-day Christian festival, combines three conferences — Woman Thou Art Loosed, ManPower and Mega Youth Experience — at the Georgia Dome, Georgia World Congress Center and Philips Arena (The Atlanta Journal-Constitution)
Preaching for points | Teenagers compete in short sermons at church gathering (Rocky Mountain News, Denver)
Pastor built shelter, now must live there | Two years ago, Dan Garvin and his wife started work on a homeless shelter in Allendale, Ill. Now, the Methodist pastor is preparing to move into it himself. Garvin, who heard in May he would not receive an assignment for the coming year, will be evicted from his parsonage home Tuesday (Courier & Press, Evanston, Ind.)
The 'Faster Pastors' make waves for youth | All in good fun, for a good cause (Storm Lake Pilot Tribune, Ia.)
More articles of interest:
'I witness' news | Scholar Ben Witherington III is a regular TV media source (The Lexington Herald-Leader, Ky.)
Mormons revisit sacred place | An outdoor pageant tells the life of Joseph Smith, who founded a once-booming town on the Mississippi River in western Illinois (Chicago Tribune)
Faithful furious over tactic | Catholics express shock over lawyer's arguments that a woman who sued Portland archdiocese for child support should have used birth control (Los Angeles Times)
Mysterious ways | How do Christians explain a tsunami? Paul J. Griffiths reviews David Bentley Hart's The Doors of the Sea (The Wall Street Journal)
Oldest known Bible to go online | A team of experts from the UK, Europe, Egypt and Russia is currently digitising the parchment known as the Codex Sinaiticus, believed originally to have been one of 50 copies of the scriptures commissioned by Roman Emperor Constantine after he converted to Christianity (BBC)
Related Elsewhere:
Suggest links and stories by sending e-mail to weblog@christianitytoday.com
See our past Weblog updates:
August 2b | 2a
July 29 | 28 | 27 | 26b | 26a
July 22b | 22a | 21 | 20 | 19 | 18
July 15 | 14 | 13 | 12
July 8 | 7
July 1 | June 30 | 27
Weblog
Launched in 1999, Christianity Today's Weblog was not just one of the first religion-oriented weblogs, but one of the first published by a media organization. (Hence its rather bland title.) Mostly compiled by then-online editor Ted Olsen, Weblog rounded up religion news and opinion pieces from publications around the world. As Christianity Today's website grew, it launched other blogs. Olsen took on management responsibilities, and the Weblog feature as such was mothballed. But CT's efforts to round up important news and opinion from around the web continues, especially on our Gleanings feature.
Ted Olsen is Christianity Today's executive editor. He wrote the magazine's Weblog—a collection of news and opinion articles from mainstream news sources around the world—from 1999 to 2006. In 2004, the magazine launched Weblog in Print, which looks for unexpected connections and trends in articles appearing in the mainstream press. The column was later renamed "Tidings" and ran until 2007.
Previous Weblog Columns: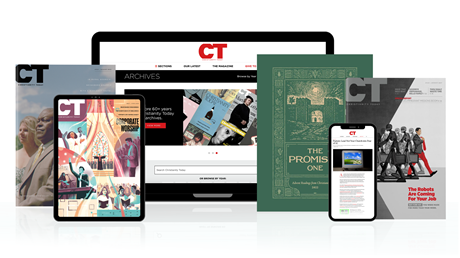 Annual & Monthly subscriptions available.
Print & Digital Issues of CT magazine
Complete access to every article on ChristianityToday.com
Unlimited access to 65+ years of CT's online archives
Member-only special issues
Subscribe
Two Sad Resignations
Two Sad Resignations