Earlier this month, Habitat for Humanity announced that its new CEO, Jonathan Reckford, would replace fired founder and president Millard Fuller. For the last two years Reckford has served as executive pastor of Christ Presbyterian Church of Edina, Minnesota. Before that, he held senior positions at Best Buy, Circuit City, and Disney.
How did you transition from the business world to the church world?
I would describe it as an evolution. I started about 15 years ago with what grew into an avocation of helping priests and pastors on the management side of church work. Actually the process really started when I was the senior warden at an Episcopal church in Florida while I was working with Disney.
Later, I worked closely with a priest in a mission church in Richmond, Virginia, and we became great friends. The church was growing very fast, and we spent a lot of time praying together and talking about how to handle all that growth. That continued when we moved to Minnesota, and I started as a lay volunteer with the church staff and elders at Christ Presbyterian, a very large Presbyterian church.
On the business side, my company was acquired by Best Buy. After a year of helping with the transition, I came to a crossroads, and we had a sense that God was calling our family to move into some more direct area of ministry, though in an undefined direction. While doing the discernment and listening process, I started doing more and more volunteer work at Christ Presbyterian. And that led to a conversation with the senior pastor, who had become a good friend, and the church created the role of executive pastor and asked if I'd be willing to serve in that role.
I want to be very clear that I'm not an ordained pastor. I came from the marketplace. But they created the role and inserted me between the senior pastor and rest of the staff to help with the day-to-day leadership of the church. It was more of a sense of call than my own plan. It felt as if that's what we were supposed to do.
Your new position at Habitat seems to be the fulfillment of that redirection in your life.
Very much so. I've loved and still love working at Christ Presbyterian and was not looking for a next thing. When Habitat called, I honestly never thought I would be a serious candidate. But it's an organization I have long admired, and we have supported them both from volunteer perspective and a giving perspective for a long time. I love what they do, and so I was just excited about the chance to learn more about the organization. It seemed to combine both the chance to use the skills I acquired in the marketplace with the new skills I learned serving in the church world.
You'll use a lot of the same skills, but I would think there are some significant differences between working in business, Christ Presbyterian, and Habitat?
Both the church and Habitat are ministries and not businesses, and I think it's important always to keep that in mind. That being said, I think the principles of leading an organization are often transferable. So what I tried to do at the church is to transfer the leadership principles but get away from business jargon and speak more in ministry language. I hope to do much the same thing at Habitat. I think there's a stewardship component—whether you're leading a church, a parachurch organization, or a not-for-profit—where we need to be highly accountable and transparent in how we manage both people and all the resources of the ministry. I think my experiences from the marketplace of managing large organizations has been helpful.
Habitat's founder, Millard Fuller, had said that he was ousted because the board wanted to distance Habitat from its Christian foundation. Do you have any response to that?
The board is made up of followers of Jesus and who are steadfast in their commitment. The first criterion for selection of a new CEO was that that would be a person of demonstrable faith. I think in some ways their choosing me from the church would certainly reinforce that. But no, there's no discussion whatsoever of moving Habitat away from being a Christian ministry.
Do you have any plans to make sure that's clear to the people who have been frustrated with Fuller's leaving?
We would reinforce that hopefully in everything we're doing and saying. But I certainly made those comments to the staff when I met with them. And I made those comments to Mr. Fuller as well when I met with him last week.
How did your meeting go?
The first thing I did when the board approved me on Thursday was to call Millard and introduce myself. I didn't reach him but ended up spending a couple of hours with him Thursday night at his offices down in Americus, and I felt it was a good first meeting. I was pleased to begin a relationship, and we acknowledged that it's been complicated. I expressed my hope that we're all on the same mission and that I have every desire to have a positive relationship with him.
Fuller started a new organization to support local Habitat chapters. Do you think healing needs to go on there? Do you have any plans to address that?
I think we're going to take it one step at a time. But our view has been that the need is so great that there's certainly room for more than one organization trying to solve the problems of poverty housing.
What direction would you like to take Habitat?
We are committed to continuing the core role of Habitat, which is to partner with communities and people around the world to try to eradicate poverty housing. So we will be building more homes than ever. In its first 24 years, Habitat built 100,000 homes. In the last four and a half years, Habitat built another 100,000 homes. In fact we're about to cut the ribbon this weekend on the 200,000th Habitat house, in Knoxville, Tennessee, and the 200,001st, in India. We hope to exponentially increase the building, but we also hope to broaden Habitat's role into more of an advocacy role, partnering with other NGOs and other partners to work more systemically to address the issues around poverty housing.
I think Fuller's goal was to end homelessness. Is that right?
We said ending or eradicating poverty housing in the world. So that's the big vision. There's work left to do, but that goal is still in place.
Related Elsewhere:
Habitat for Humanity has a press release about its new CEO.
Our past coverage of Habitat for Humanity includes:
Fuller Creates Another 'Habitat' | New organization will focus on housing, too. (May 09, 2005)
Questions Follow Fuller's Firing from Habitat for Humanity | Changing corporate culture, not harassment allegations, reportedly led to founder's dismissal as president. But some say the leadership battle isn't over. (Feb. 07, 2005)
How to Build Homes Without Putting Up Walls | Habitat for Humanity strives to keep its Christian identity—a tricky task, when everybody wants to join. (May 31, 2002)
Sidebar: Evangelism of the Hammer | How Habitat's Christian identity gets translated in Costa Rica. (May 31, 2002)
Sidebar: Keeping the Faith | How other Christian organizations stay true to their mission. (May 31, 2002)
God's Contractor | How Habitat for Humanity's Millard Fuller persuaded corporate America to do kingdom work. (June 14, 1999)
Habitat Builds 50,000th Home | Habitat for Humanity had its busiest week ever starting September 8, constructing 150 homes in 70 cities. (Oct. 26, 1998)
Building Straw Houses on a Firm Foundation | Habitat for Humanity goes low-tech with big results. (Feb. 3, 1997)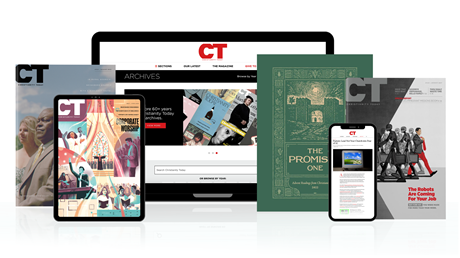 Annual & Monthly subscriptions available.
Print & Digital Issues of CT magazine
Complete access to every article on ChristianityToday.com
Unlimited access to 65+ years of CT's online archives
Member-only special issues
Subscribe
Habitat's New President Reaffirms Christian Identity, Ministry
Habitat's New President Reaffirms Christian Identity, Ministry