Pittsburgh station fires talk host for caller's questioning papacy
Just how crazy in love with John Paul II are evangelical Protestants? They're punishing people for questioning the papacy.
Pittsburgh's WORD, an affiliate of Salem Broadcasting, has announced the firing of afternoon drive talk show host Marty Minto. His offense? He "entertained a caller's question about whether the late Pope John Paul II would go to heaven."
"WORD-FM needs to function in this city in support of the entire church — that means everybody — and not focus on denominational issues," general manager Chuck Gratner explained to the Pittsburgh Tribune-Review.
Minto told the paper, "I made it clear that the discussion was not an attack on the character of the pope but, rather, a look at the teachings — not only of John Paul, but the Catholic Church in general." Shows last week had discussions on Marian devotion, purgatory, and other Catholic doctrines. It was the kind of stuff that pretty much everyone was talking about.
But WORD was apparently distressed mostly about that heaven question.
"I said the question of whether a person is born again is something personal, something between an individual and the Creator," said Minto, who also pastors a small storefront church. "I believe it was a legitimate topic to discuss. … As far as I'm concerned, I was doing what I've always done on the radio — look at events around the world from a biblical perspective. I've always been willing to talk about controversial subjects."
His bosses disagreed. "I was called into the office after my show Friday and told that I was being let go because I was alienating the listeners."
The Tribune-Review notes that the archdiocese didn't complain, but that WORD did call to let them know that Minto had been fired.
Baptist sign offends many, including Southern Baptists
So far, there's no talk of pastor Cline Franklin losing his weekly radio slot on WLIK-AM in Newport, Tennessee. But Knoxville media, including The Knoxville News-Sentinel, report that some folks aren't too pleased with the sign on his Hilltop Baptist Church, which read: "No truth, No hope Following a hell-bound pope!" and "False hope in a fake pope."
Jesus is the real pope, Franklin says. "What does 'pope' mean? It means father. We have a heavenly father, and the Bible says we shall call no man a father."
A leader at the local Methodist church, however, calls the sign "very degrading. … It's tragic that any church group would stoop to this posture."
Even the town's mayor was distressed. "It doesn't behoove any of us to determine who is going to heaven or hell," Roland Dykes Jr. told the paper. "I think the pope is a highly, highly respected person."
Yesterday, the sign changed. It now says, "Censured. Thanks TV 6." (WATE, Knoxville's ABC affiliate, has covered the sign daily.)
Perhaps one of the most interesting aspects of the Hilltop story is that, according to WATE, the Southern Baptist Convention went on record saying the Independent Baptist church's sign should have been taken down. "It's highly presumptuous for any person or church to assume they know for certain the eternal destination of any person," an unnamed spokesman told the station.
Mark Noll: Why evangelicals love the pope
With the Southern Baptist Convention and Salem Communications rushing to the pope's defense, evangelical public intellectual Mark Noll's comment seems vastly understated: "The deep suspicion that in 1960 characterized evangelical attitudes toward Catholics — and Catholic attitudes toward evangelicals — has moderated considerably." His Boston Globe analysis of his this happened is a must-read for many reasons, but especially for his debunking of the claim that it's all about political alliances.
"To see evangelicals and Catholics making common cause politically represents dramatic change," he admits. But he adds, "To see these former antagonists talking to each other once again about prayer, the Bible, and the person of Jesus Christ is of much greater importance for the whole history of Christianity."
Siemon-Netto: The Protestants' revenge
We're talking, but don't let the "end of Protestantism" claims fool you, suggests Lutheran scholar-journalist Uwe Siemon-Netto. He quotes Reformed theologian Harold O.J. Brown and others saying there's still much lamentable in Roman Catholicism. And not all of it is the stuff of Luther and Calvin. "The Roman Church also is threatened by implied universalism to which even the late pope appeared to succumb," Brown says. Siemon-Netto says Brown has his facts wrong, but the larger point stands: The Roman Catholic Church is faced with almost all the same problems facing Protestants, and then some.
He paraphrases Tuebingen theologian Peter Beyerhaus: "Like mainline Protestantism, Catholicism is threatened by a schism between its orthodox and its progressive, pluralistic wings; like Protestantism, it is threatened by utopians within its ranks." The election of the next pope," Beyerhaus says, "is bound to show which side will win out."
Other papal messages
If you're still a pope-crazy Protestant—either because you loved John Paul the Great or are outraged about his office —then you'll also want to know about Richard John Neuhaus's not-quite-a-blog Rome Diary over at First Things, and Stanley Hauerwas's comparison of John Paul II to John Howard Yoder in Commonweal. If you're ready to move on from all things Roman—at least until the conclave is done, there are plenty of links below to keep you busy.
More articles
Religion & politics:
Duncan's faith may not follow church | When it comes to the issue of embryonic stem cell research, County Executive Douglas M. Duncan has made a clear split from the church's teachings (The Washington Post)
Church leaders cheer speech by Johnson | Prince George's County Executive Jack B. Johnson visited Ebenezer AME Church in Fort Washington on Sunday and told nearly 200 church and community leaders that he disagrees with the view held by some County Council members that the county's mega-churches are snatching up prime tax property (The Washington Post)
Bankruptcy reform close to okay in Congress | Bankruptcy legislation that could make it impossible for thousands of people to wipe away their debts is nearing passage by Congress (Associated Press)
Boca mayor angered after mosque uses name to promote controversial event | Two mayors got angry e-mails this week berating them for planning to attend an event with a speaker a civil rights group says has a history of anti-Semitism (South Florida Sun-Sentinel)
Brentwood election may have church tie | Gwen Shamblin's Remnant Fellowship, a controversial Brentwood church, is believed to be importing voters to the city and housing them — sometimes eight to a dwelling — in an attempt to influence the Brentwood City Commission election, which begins today with early voting in Franklin (Nashville City Paper)
Faith-based activities:
Bill over group fees endorsed | A consortium of superintendents and trustees from county school districts gave their support Wednesday to a Senate bill that will treat faith-based groups and secular groups that use school facilities equally (San Bernardino Sun, Ca.)
County looks at faith-based initiatives | Federal and county officials invited various religious groups and faith-based charities on Tuesday to work with them on housing, health care and other services for the needy (Sarasota Herald-Tribune, Fla.)
Church aids family in deportation fight | An Anglican congregation is helping pay for a Nigerian family to fight deportation because of what they say is an Immigration Department blunder (The Age, Melbourne, Australia)
Abortion:
Actress Heaton speaks out on alternatives to abortion | The "Everybody Loves Raymond" star says Hollywood is receptive to both children and to those who fight for unborn children. At least when the attractive brunette does the talking about the latter (The Washington Times)
Eugenics by abortion | Is perfection an entitlement? (George F. Will, The Washington Post)
Persuading with a look at life | Ultrasounds are part of a nationwide push by evangelical organizations (The Press-Enterprise, Riverside, Ca.)
The saga of Roe vs. herself | Until Norma McCorvey surfaced 10 years after Roe v. Wade, I was the only reporter who knew who she was (Joseph N. Bell, Daily Pilot, Newport Beach, Ca.)
Eric Rudolph, abortion clinic bomber:
Bomber offers guilty pleas, and defiance | Declaring himself "bloodied but emphatically unbowed," Eric Rudolph issued an explanation for bombings at abortion clinics and the 1996 Olympics (The New York Times)
Excerpts from Eric Rudolph statement | "Abortion is murder. And when the regime in Washington legalized, sanctioned and legitimized this practice, they forfeited their legitimacy and moral authority to govern" (Associated Press)
Contraception wars:
France adopts 'end of life' law | The French senate has approved a law granting terminally ill patients the right to end their life (BBC)
Ariz. Gov. nixes contraception refusals | Gov. Janet Napolitano vetoed a bill Wednesday that would have allowed pharmacists to refuse to provide abortion-related medications if doing so conflicts with their moral or religious beliefs (Associated Press)
No birth-control pills for you! | When pharmacists substitute their morality for yours (Editorial, Philadelphia Daily News)
State birth-control rule challenged | Pharmacists seeking right to deny pill sales (Chicago Tribune)
Mass. lawmakers hear testimony on emergency contraception | For two years, lawmakers and supporters have been pushing legislation to increase access to emergency contraception. Last year, the Senate approved legislation, but it stalled in the House and never came to a vote (Associated Press)
Louisiana can offer 'Choose Life' license plates:
'Choose Life' tag challenge halted | Federal judges say case is for state courts (The Times-Picayune, New Orleans)
La. license plate lawsuit rejected | Court: State can offer 'Choose life' tags (The Advocate, Baton Rouge, La.)
Life ethics:
France lets terminally ill refuse care, but still bans euthanasia | French legislators approved a law that would permit terminally ill patients to refuse treatment in favor of death (The New York Times)
End-of-life legislation planned by Va. delegates | Legislation addressing the sort of end-of-life struggles that surrounded Terri Schiavo's death in Florida will confront the General Assembly next year, conservative lawmakers said (Associated Press)
The right went wrong on Schiavo because law trumps life | Conservatives believe that sound law depends on predictability and finality—or they did before Schiavo. (Jonathan Rauch, National Journal)
Religion & homosexuality:
Silence speaks volumes about gay support | Students at T.C. Williams, elsewhere quietly participate in national protest (The Washington Post)
Area students offer silent support for gay rights (The Washington Post)
Oregon court tosses gay marriage licenses | The Oregon Supreme Court on Thursday nullified nearly 3,000 marriage licenses issued to same-sex couples by Multnomah County a year ago, saying a single county couldn't take such action on its own. (Associated Press)
A house divided | When Reverend Benjamin Reynolds opened his church to gays, some called it a sin. He calls it a mission from God (Westword, Denver)
Preacher ordered to hand over anti-gay sign | A preacher currently running for Parliament was today convicted of breaching the peace by towing a large sign displaying the words: "Reject God and you may become a homosexual" (PA, U.K.)
Connecticut House allows same-sex unions:
Connecticut House votes to allow gay unions | Governor expected to sign legislation (The Washington Post)
Connecticut House backs gay civil unions | But amendment defines marriage as the union of a man and a woman (The New York Times)
Conn. House okays same-sex civil unions bill (Associated Press)
Episcopal church:
Connecticut Episcopalians defy bishop over gay issues | Six Episcopal churches have rejected the authority of the bishop of the Connecticut Diocese because of the bishop's liberal views on homosexuality (The New York Times)
Episcopalians accept no-delegates request | Leaders of America's Episcopal Church decided Wednesday to withdraw delegates from an upcoming conference of the international Anglican Communion, a move that heads of other Anglican churches had requested because of a running dispute over homosexuality (Associated Press)
U.S. church withdraws from key Anglican body | The bishops had been under pressure to withdraw from the Anglican Consultative Council earlier this year when Anglican leaders met in Northern Ireland (Reuters)
Sacred vs. secular:
Once upon a time, Paris was worth a Mass | Why Europe's great churches are empty. Brian M. Carney reviews The Cube and the Cathedral by George Weigel (The Wall Street Journal)
Why Bush threatens secularism | Freedom from Religion Foundation sees Christianity and other religions as essentially harmful, but religionists see a growing threat that group and allies are intent on loosing the nation from its Judeo-Christian moorings (The Washington Times)
Strange bits and pieces on the religion front | For the life of me, I cannot understand why some people think religion news is boring (Terry Mattingly, Scripps Howard News Service)
Christians take the blame for the actions of churches | It seems to me that the churches by their actions and inactions and pronouncements and lack of them in the latter part of the last century contributed much to the contempt in which Christians are held today (Garth George, The New Zealand Herald)
Blasphemy cartoon sentence suspended:
Greek court lifts ban on Jesus cartoon book | Austrian cartoonist Gerhard Haderer had been found guilty by a Greek court of "malicious public blasphemy" earlier this year and given a six-month suspended prison sentence for his take on the life of Christ (Reuters)
Court laughs at cartoonist's trial (Kathimerini, Athens)
Human rights & religious freedom:
What do we do about Darfur? | The answer is clear, but we don't have the will (Max Boot, Los Angeles Times)
The Supreme Court considers legislation on prisoners' religious requests | Interpreting the Religious Land Use and Institutionalized Persons Act (Marci Hamilton, FindLaw.com)
The priest who alerted world to Khmer Rouge genocide speaks | Francois Ponchaud, a Roman Catholic priest who witnessed the takeover and alerted the world that genocide was under way in a 1977 book, has since returned to live in Phnom Penh (AFP)
Villagers ostracised for not converting to Christianity | High Court issues show-cause notice to Orissa government (SAR News, India)
Funds on table for students with religious dietary needs | Program would cover extra costs for low-income pupils' meals (Pioneer Press, St. Paul, Minn.)
Christianity in Africa:
The growing continent of Christians | As misery and warfare persist in Africa, millions are turning to Christianity for comfort. Now, however, the Catholic Church and fiery Pentecostalism are locked in a battle for souls. It's a battle that the Pentecostals, with promises of miracles and material wealth, may be winning (Der Spiegel, Germany)
Evangelical sects, Catholics vie for African souls | Africa may have the world's fastest-growing Roman Catholic population, but the pope's faith here faces stiff competition for souls from thriving Pentecostal and evangelical churches (Reuters)
Religion in German schools:
Row erupts over ethics and religion ruling | Conservative politicians in Germany are up in arms over the decision made by the ruling SPD-Green government to make lessons in ethics and religion compulsory in Berlin (Deutsche Welle, Germany)
Back to belief in German schools | Last week's emotional outpouring following the pope's death has sparked excited calls from the faithful that Christianity is back 'in'. A trend towards Christian schooling in Germany might just substantiate that belief (Deutsche Welle, Germany)
Teaching religion the European way | As the Bundestag discusses introducing compulsory religion and ethics classes, we take a look at how the topic is dealt with across Europe (Deutsche Welle, Germany)
College freshmen are spiritual:
Students seeking answers on faith | College students today are unlike any previous generation in their quest to lead spiritual lives and achieve economic success, authors of the nation's largest study ever of spirituality and religion on American campuses said Wednesday (The Press-Enterprise, Riverside, Ca.)
Poll: University students seek spirituality | Florida State one of universities in study (Tallahassee Democrat, Fla.)
God and freshmen | Students are deeply committed to exploring their spiritual and religious lives, but don't get much help from colleges, researchers say (Inside Higher Ed)
Most freshmen believe in God but faith is fragile | Eight out of 10 college freshmen "believe in God" and have "an interest in spirituality," according to a study of their religious views. But less than half of them are "secure" in matters of faith and follow religious teachings in everyday life (The Washington Times)
Surveys: Young adults search spiritually | For some young adults, spirituality goes hand in hand with religious practice. For others, it is a substitute. Regardless, young Americans are actively engaged in spiritual questions, two new surveys indicate, even if they may not be exploring them in traditional ways (Associated Press)
US freshmen reveal their spiritual side | Whether students prefer meditation or grappling with meaning-of-life questions, many schools are responding (The Christian Science Monitor)
Religiosity rising on campus | Survey finds large majorities who pray, attend services, believe in God (Pittsburgh Post-Gazette)
Catholicism:
In Neb., heartland of orthodoxy | Conservatism rules Lincoln Catholics (The Boston Globe)
China asks Vatican to help improve ties | "We hope the Vatican will take concrete action to create conditions for the improvement for China-Vatican relations instead of setting up new barriers," said Foreign Ministry spokesman Qin Gang (Associated Press)
Young Catholics seek to restore old values on sex | Pope John Paul II has left behind a generation of committed young Roman Catholics who are shaping the church in a more conservative mold than did their parents (The New York Times)
Cardinal calls for return to Christianity | The dean of the College of Cardinals that will choose the next pope published a new book Wednesday calling on Europe to return to its Christian roots and condemning gay marriage, divorce and the possibility of human cloning (Associated Press)
Brazil's priests use song and dance to stem Catholic Church's decline | The Rev. Marcelo Rossi uses aerobics, films, and rock music to reach the young (The Washington Post)
Hollow homage to John Paul | Boo to the man who stood against "moral relativism" (Ellen Goodman, The Boston Globe)
Abuse:
Victims of priest win $1.9 million | The amount is much less than sought by lawyers for two brothers, but it is the first time punitive damages have been awarded in such a case (Los Angeles Times)
Brothers net nearly $2M over church abuse | A jury Wednesday awarded nearly $2 million to two brothers and former altar boys who were molested by a parish priest more than two decades ago (Associated Press)
Sex abuse victims target fugitive priests | American victims of clergy sex abuse urged church officials Wednesday to help extradite accused priests who fled to their religious orders in Rome or to foreign countries to escape punishment (Associated Press)
Marriage & family:
Utah judge to decide on polygamist custody | A judge ruled Wednesday that a wife of a prominent polygamist can begin to be reunited with nine of her children, who have been in state custody or foster care since allegations of abuse and neglect surfaced last year (Associated Press)
Love and happiness | An insider's guide to being the perfect wife (Westword, Denver)
Music:
Switchfoot, Crabb family top Dove Awards | Switchfoot did not attend the show. Casting Crowns won three awards (Associated Press)
Christian rock is on a mission | It's about new audiences and a stronger genre, the promoter of Fishfest says (Los Angeles Times)
Donnie McClurkin puts focus on gospel | Few gospel acts are as welcome in the secular music world as Donnie McClurkin (Associated Press)
Remembering Jonestown:
Healing hurts | The ghastly Peoples Temple deaths shocked the world. Berkeley Rep takes on the challenge of coming to terms with it (San Francisco Chronicle)
Silenced voices of Jonestown speak in new book | Denice Stephenson has recently edited "Dear People: Remembering Jonestown," a selection of letters and poems, documents, government records, transcripts and commentary about Peoples Temple (San Francisco Chronicle)
More articles of interest:
Calif. boy says he's suspended for makeup | James Herndon says his black lipstick and red eye makeup express the Wiccan religious beliefs he shares with his mother, a priestess in the neo-pagan faith (Associated Press)
Disgraced Greek bishop faces trial | A senior Greek Orthodox bishop who is being investigated by church and state authorities has been ordered to stand trial on money laundering charges, court officials said Wednesday (Associated Press)
Strife spurs slow exodus of West Bank Christians | The group's decline in the biblical region has accelerated amid political and economic upheaval and Israeli- Palestinian hostilities (Los Angeles Times)
Ready to preach in space | The Liverpool-born cleric known as the Bishop of the Moon returns to Houston later this year on his quest to preach the first sermon in space (Daily Post, Liverpool, England)
Related Elsewhere:
Suggest links and stories by sending e-mail to weblog@christianitytoday.com
Check out Books & Culture's weekly weblog, Content & Context, and the Christianity Today Movies weekly weblog, Reel News.
See our past Weblog updates:
April 13 | 11
April 5 | 1 | March 31 | 30
March 24 | 23 | 21 | 16 | 11
March 9 | 8b | 8a 7 | 2
February 25 | 24 | 23 | 22
February 18 | 17 | 16 | 15
February 11 | 10 | 9b | 9a
Weblog
Launched in 1999, Christianity Today's Weblog was not just one of the first religion-oriented weblogs, but one of the first published by a media organization. (Hence its rather bland title.) Mostly compiled by then-online editor Ted Olsen, Weblog rounded up religion news and opinion pieces from publications around the world. As Christianity Today's website grew, it launched other blogs. Olsen took on management responsibilities, and the Weblog feature as such was mothballed. But CT's efforts to round up important news and opinion from around the web continues, especially on our Gleanings feature.
Ted Olsen is Christianity Today's executive editor. He wrote the magazine's Weblog—a collection of news and opinion articles from mainstream news sources around the world—from 1999 to 2006. In 2004, the magazine launched Weblog in Print, which looks for unexpected connections and trends in articles appearing in the mainstream press. The column was later renamed "Tidings" and ran until 2007.
Previous Weblog Columns: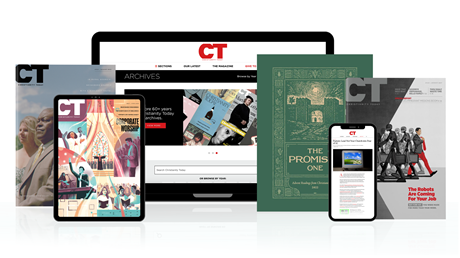 Annual & Monthly subscriptions available.
Print & Digital Issues of CT magazine
Complete access to every article on ChristianityToday.com
Unlimited access to 65+ years of CT's online archives
Member-only special issues
Subscribe
Christian Radio Host Fired For Discussing Pope's Salvation
Christian Radio Host Fired For Discussing Pope's Salvation