No commentary today. Here's a roundup of some of the religion news from this weekend.
Spain wants wall of separation between state/Catholic Church:
Church and state clash, noisily, in Spain | Summarizing the country's mood, José Luis Rodríguez Zapatero, the new Socialist prime minister, said the other day that Spaniards wanted more freedom, less dogma and a greater separation of church and state. "They want more sports, less religion,'' he said. (The New York Times)
Vatican cardinal denounces Spain proposal | The Vatican (news - web sites)'s top official for family issues decried as a "sad step" Saturday the Spanish government's proposal to allow homosexuals to marry and adopt children. (Associated Press)
Lay fundamentalism hits Spain | Relations between the Spanish government and the Roman Catholic church are tense as the socialist cabinet prepares to take action on a number of issues which are "holy" ground to the church authorities. (Radio Netherlands)
Catholicism:
Communion and illness in conflict | Haley Waldman, 8 years old, with stringy brown hair and a sensitive stomach, comes from a Roman Catholic family, and her mother is on a quest for her to take holy communion the same way as any other Catholic girl. But Haley cannot eat wheat. (The New York Times)
Spiritual sister aids cancer patients | Modesty is something that Sister Christiane Lehair has in bagfuls, under-playing the importance of her new role as the first chaplain to be appointed by Macmillan Cancer Relief. (BBC)
The faithful commemorate pope's visit to city in 1979 | Larry Kulik believes the Holy Spirit descended on Chicago 25 years ago--the day Pope John Paul II conducted mass at Five Holy Martyrs Church. (Chicago Tribune)
Pope's beatifications:
Pope beatifies last emperor of Austria; reaction mixed | Pope John Paul II put the last Austro-Hungarian emperor on the road to sainthood on Sunday in a solemn beatification ceremony in St. Peter's Square, a move that has sharply divided opinion in Austria. He also beatified the 19th-century German mystic whose visions helped inspire Mel Gibson's film "The Passion of the Christ." (The New York Times)
Pope beatifies emperor, nun, three others | Pope John Paul II on Sunday moved five Catholics closer to sainthood, including Austria's last reigning emperor and a German nun whose graphic visions of Christ's suffering helped inspire the blockbuster movie ``The Passion of the Christ.'' (Associated Press)
Pope beatifies nun who inspired parts of 'Passion of the Christ' | It isn't often that a potential saint has a resume that could include a Hollywood screenplay. (Los Angeles Times)
Pope beatifies nun who inspired Mel Gibson | The Pope, looking tired and speaking with difficulty, yesterday ploughed into fresh controversy by announcing two startling beatifications. (The Independent, UK)
Emperor and mystic nun beatified | Pope John Paul II has declared five Roman Catholics blessed, including the last Austro-Hungarian emperor and a nun who inspired a Hollywood film. (BBC)
Oh when the saints … | The Pope's decision to beatify Karl I, the last Austro-Hungarian emperor, has caused uproar in Vienna, but others have seen it as an opportunity to put their hats in the ring (Times, London)
Statue of Christ found in Rio Grande:
Lost and found: statue of Christ saved from river | For a month, the faithful have been filing into the evidence room of the Eagle Pass Police Department from sunup to sundown, some in wheelchairs and others on crutches; some on their knees and others so overcome by emotion they have wept aloud at the sight of the life-size Christ. (The Washington Post)
'Miracle' in Rio Grande after Christ of the Undocumented is saved | When Christ was washed up, it was the officers from the town of Eagle Pass, Texas, who came to His rescue. Little did they know their actions would have such an impact. (The Independent, UK)
Blessing the beasts:
Beasts get blessed at Philippines church | A grumpy-looking iguana, a slithery python, and an enormous turtle were among a church full of animals blessed in an annual ceremony in the Philippines on Sunday. (Associated Press)
Give animals a prayer at Sunday lunch | In an unprecedented initiative intended to raise consciousness of animal welfare among churchgoers, 6,500 Anglican clergy have been sent the new liturgy to use for animal welfare Sunday. (Times, London)
Parishioners' pets are blessed | Services were attended by 58 dogs, 32 cats, 3 ferrets, 5 guinea pigs, a lop-eared bunny, an 8-inch millipede and a newt named Gingrich (Chicago Tribune)
Abuse:
Pastor denies church knew of child sex abuse on Pitcairn | A succession of pastors served two-year terms on the South Pacific island throughout a time when child rape and abuse were allegedly rampant, but none reported concerns about child welfare on Pitcairn, where the population was converted en masse to Seventh Day Adventism in the 19th century. (The Independent, UK)
Ex-chaplain 'abused teenage boy' | A former chaplain at a Birmingham boarding school has been arrested in Thailand in connection with child sex abuse allegations in Australia. (BBC)
Chaplain is held on child sex charges | A former chaplain of the Blue Coat School in Birmingham was remanded in custody in Bangkok on paedophile charges yesterday. (Times, London)
Protest focuses on nuns in abuse | Members of an advocacy group for victims of clergy abuse told their stories Sunday in Chicago about being sexually molested by nuns. (Chicago Tribune)
Church life:
Leading the fold | Historic Copley church picks first female pastor (Boston Globe)
New Salvation Army worship center opens | Hymns seemed to resound a little more sweetly Sunday at the dedicatory service for an expanded Salvation Army worship center that offers to provide "health, healing and spiritual growth to all who enter its doors." (Salt Lake Tribune)
Vicar plans to sell land left in will for village graveyard | One of the Church of England's largest dioceses has agreed to sell some land left in a legacy to be used as a village burial ground. (Telegraph, UK)
Keeping faith in the future | Dr Alison Elliot, the Church of Scotland's first female Moderator, has also just returned from what many thought would be her toughest test, the Presbyteries of Lewis and Uist, where the church's 35-year-old practice of ordaining female ministers has been largely ignored, and where observers struggle to tell the Kirk from its more conservative counterparts among the often bewildering assortment of small Calvinist churches. (Scotland on Sunday)
Anglicanism:
Rupture in U.S. Episcopal Church | Since its founding in this affluent town 55 years ago, St. James Church has turned to the Episcopal bishop of Los Angeles 50 miles north to confirm its worshipers, ordain its priests and give it guidance. Now, St. James has decided to follow a bishop in Uganda, more than 9,000 miles away. (The New York Times)
The word on Gene Robinson | Are not those threatening schism actually sectarian, and breaking away of their own volition? (Colin Slee, The Guardian)
Bishop says that red tape cannot save dull church | A bishop has criticised the Church of England's obsession with "carousels of consultation" and says that the decline in attendance will carry on while the institution continues to be perceived as "pedestrian and dull". (Times, London)
Education:
Religion colors goals for schools | Giving out Bibles among suggestions (The Washington Post)
Catholic U. ban on contrary speakers protested | Faculty and students at the typically placid Catholic University are mounting protests of recent moves by the school president to bar prominent people who have advocated for abortion rights from speaking on campus. (The Washington Post)
War & terrorism:
City faiths pray for Ken Bigley | A multi-faith walk which is part of Liverpool's build up to being Capital of Culture is being dedicated to Iraq hostage Kenneth Bigley. (BBC)
Social bonds pull Muslim youth to jihad, expert says | After examining 172 case studies, a CIA veteran turned forensic psychiatrist argues that religion isn't the main factor in radicalization. (Los Angeles Times)
Life ethics:
I'm hoping for a miracle, says Charlotte's father | The father of a desperately ill premature baby told a High Court judge yesterday that he believes that a miracle from God could save his child's life. (Times, London)
Kerry promotes expanded federal research | John Kerry, arguing that President Bush ignores scientific facts, is promoting his plan for expanding federal stem cell research with a television celebrity and a new campaign ad. (Associated Press)
Bishops' plea over suicides | The Catholic Church is sending out letters to households throughout Ireland appealing for help in reducing the levels of suicide in the country. (BBC)
Attack on Shiites in Pakistan:
Shiites in Pakistan riot after a funeral | Angry Shiite Muslims set vehicles and the mayor's office on fire in this eastern city on Saturday after a funeral procession to bury victims of a suicide bomb attack that killed 30 people on Friday. (Reuters)
Possible suicide bombing kills 23 at a mosque in Pakistan | A powerful explosion detonated by someone suspected of being a suicide bomber ripped through a Shiite mosque filled with hundreds of worshipers in the eastern city of Sialkot on Friday, killing at least 23 people and wounding more than 60, Pakistani officials said. (The New York Times)
Sudan:
Looking at Darfur, seeing Rwanda | Each day the world is confronted by new reports of atrocities in the Darfur region of Sudan. But I am afraid that moral condemnation, trade penalties and military efforts by African countries are simply not going to be enough to stop the killing - not nearly enough. A decade ago, I was the Canadian general in command of the United Nations forces in Rwanda when that civil war began. (Roméo Dallaire, The New York Times)
US 'hyping' Darfur genocide fears | American warnings that Darfur is heading for an apocalyptic humanitarian catastrophe have been widely exaggerated by administration officials, it is alleged by international aid workers in Sudan. Washington's desire for a regime change in Khartoum has biased their reports, it is claimed. (The Observer, UK)
Spirituality:
By removing the clutter, many find path to clarity | A few years ago, Kent began rising earlier than her four children and husband in order to have quiet time for spiritual reflection. And something clicked. "The catalyst for this was my faith," said Kent, a Greek Orthodox Christian. "My consumption of things was my greed, me wanting more than my fair share." (The Washington Post)
Believers bring their aches to bathe in the city's water | Maria de la Cruz uses two disinfectants to mop her Bronx apartment floor. One she buys at the drug store. The other, she believes, comes from God. (The New York Times)
Thinking about the afterlife will help our lives right now | "Who will give life to the bones when they are decayed and rotten (Koran 36:78)?" This was the critical question posed by many of the Makkan contemporaries of the Prophet Muhammad, who found his teaching about the Day of Resurrection (Yawm al-Qiyamah) incredible — and, frankly, unbelievable. (Times, London)
Teaching children the art of prayer and contemplation | Young pupils are learning complex truths through simple language (Times, London)
Books:
No genius, but Graham Greene was master of his craft | The centenary of Graham Greene's birth invites a consideration of where he stands in the pantheon of modern English literature. It is not an easy question to answer. In the early 1950s, as a sixth-former at a Roman Catholic grammar school nurturing literary ambitions of my own, I was greatly encouraged by the fact that the most famous living English novelist was a Catholic convert. (David Lodge, Times, London)
Hear, all ye faithful | The day before Yom Kippur, Little Horse was selling books. They were lined up in front of him on the sidewalk on Fourth Avenue by the big Brooklyn subway station at Atlantic and Flatbush, about eight worn paperbacks. (The New York Times)
Related Elsewhere:
Suggest links and stories by sending e-mail to weblog@christianitytoday.com
Check out Books & Culture's weekly weblog, Content & Context.
See our past Weblog updates:
October 1 | September 30 | 29 | 28 | 27
September 24 | 23 | 22 | 21 | 20
September 17 | 16 | 15 | 13
September 10 | 9 | 8 | 7
September 3 | 2 | 1 | August 31 | 30
August 27 | 26 | 24 | 23
and more, back to November 1999
Weblog
Launched in 1999, Christianity Today's Weblog was not just one of the first religion-oriented weblogs, but one of the first published by a media organization. (Hence its rather bland title.) Mostly compiled by then-online editor Ted Olsen, Weblog rounded up religion news and opinion pieces from publications around the world. As Christianity Today's website grew, it launched other blogs. Olsen took on management responsibilities, and the Weblog feature as such was mothballed. But CT's efforts to round up important news and opinion from around the web continues, especially on our Gleanings feature.
Ted Olsen is Christianity Today's executive editor. He wrote the magazine's Weblog—a collection of news and opinion articles from mainstream news sources around the world—from 1999 to 2006. In 2004, the magazine launched Weblog in Print, which looks for unexpected connections and trends in articles appearing in the mainstream press. The column was later renamed "Tidings" and ran until 2007.
Previous Weblog Columns: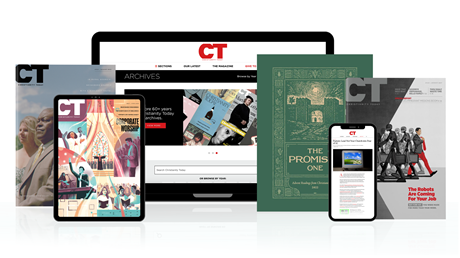 Annual & Monthly subscriptions available.
Print & Digital Issues of CT magazine
Complete access to every article on ChristianityToday.com
Unlimited access to 65+ years of CT's online archives
Member-only special issues
Subscribe
Spain Wants to Be Free of Catholic Church
Spain Wants to Be Free of Catholic Church