Palestinian Christians, Jews, and scholars see Yasser Arafat variously as hero, impediment to peace, freedom fighter, or one of the 20th century's most diabolical rulers. After nearly four years of confinement to his Ramallah compound, Arafat died Thursday after falling into a coma in a Paris hospital. He was 75.
Arafat was a gun smuggler, fighting Jews in what is now Israel even before the founding of the modern state of Israel amid the 1948 war. For Gary Burge, professor of New Testament at Wheaton College and author of Who Are God's People in the Middle East? What Christians Are Not Being Told About Israel and the Palestinians understanding Arafat requires understanding the fight that defined his life. "There is a generation of Palestinian leaders whose worldview was shaped by war and occupation," Burge says. Among his spectacular terror exploits was the murder of Israeli athletes during the 1972 Munich Olympics
After being driven out of Lebanon in 1982, Arafat and the Palestine Liberation Organization eventually returned to Gaza. Officially giving up terrorism, Arafat began negotiating with Israel, and the 1993 Oslo agreement began Palestinian autonomy in Gaza. Arafat became the head of the Palestinian Authority. "But the occupation continues," says Burge. "The war has stopped, but occupation has continued. So, in his mind resistance had continued to be a necessary part of Palestinian life."
Camp David disillusionment
To Jews, Arafat's inability to forsake "resistance" made him the major impediment to peace. "Arafat was never to be trusted in the eyes of most Israelis," says Rabbi Yechiel Z. Eckstein, founder and president of the International Fellowship of Christians and Jews.
Eckstein says Arafat created modern Islamic terrorism, with high profile attacks. "The first suicide bombings came from the Palestinians. … They taught the world about terrorism in terms of hijacking planes, killing innocent civilians like at the Olympics. These weren't the radical groups, these were Arafat."
Still, many hoped he would be able to help bring peace, Eckstein says, until Arafat disillusioned Israelis following the 2000 meeting with Israel Prime Minister Ehud Barak and President Bill Clinton.
At the Camp David Accord of 2000, Barak offered Arafat and the Palestinians "97 percent of the territories, half of Jerusalem, essentially everything that he could want. And he turned it down and started this whole jihad against Israel," Eckstein said.
But Burge says the offer would have been unacceptable to any Palestinian. "It turned the West Bank into Swiss cheese" and made a Palestinian state impossible. Also, "Arafat had to always walk on a tightrope because there are extreme voices in the Palestinian world and moderate ones." Burge says radical groups would not have allowed Arafat to surrender their two most important demands: the right of return of Palestinian refugees, and Jerusalem as the capital.
Palestine's icon and friend to Christians
Palestinian Christians view Israel, not Arafat, as the problem. Arafat loved and cared for the Palestinian people, says Bishara Awad, president of Bethlehem Bible College. He described Arafat as someone who was "sincere about trying to work for peace and justice for his people, for the liberation of the Palestinian territory."
"He has been on the scene since 1965 as a leader of the Palestinians—first the PLO and then of the Palestinian Authority after 1993 and the Oslo agreement," Bishara Awad says. "The Palestinians have not known any other leader."
Alex Awad, brother of Bishara and pastor of Peace Jerusalem Baptist Church says, "The Christian community particularly will regret the departure of Arafat because he was very, very much at peace and also in solidarity with the Christian community in the Holy Land."
"Arafat went out of his way to accommodate the Christian community," Alex Awad says. "He surrounded himself with Christians that he trusted very much. Many of his advisors, many of his councilors also were Christians."
In Bethlehem, Israel has made life extremely difficult. "We have the [security] wall around us," Bishara Awad says. "We are people in a jail." On the other hand, Arafat "has been protecting the Christian church and the defender of the church."
Possibility of peace, two scenarios
With Arafat's death, Bishara and Alex Awad say there will be a greater chance for peace as Israel had refused to talk to Arafat. "You can't have peace when you don't talk with your enemy," Alex Awad says. With new leaders to negotiate with, they believe it may be possible to move toward peace.
Others are less optimistic. "I don't believe in this fiction of a moderate group of courtiers who are being prepared for the role of statesmen," says Paul Merkley, a retired history professor from Carleton University in Ottawa, Canada, and author of American Presidents, Religion, and Israel.
Arafat is "near the top of my list of diabolical political figures of the 20th century," he says. "He's been a diabolical influence." After being in Arafat's inner circle for so long, the second tier of Palestinian leadership is as corrupt as Arafat was, Merkley says. "They're a group of courtiers who've been in the tyrant's court for 30 years. And they've been bowing and scraping before this Nebuchadnezzar."
"After all these years of bowing and scraping … they're not real men. They have no real moral authority of their own," Merkley adds.
But Burge sees some hope among the younger leaders "who are well educated, carry Western values, and have a vision for a different kind of Palestine." Burge says Michael Tarazi, a Christian, and other younger leaders would bring a new spirit to negotiations with Israel.
"However, they are only going to be successful as representatives of the Palestinians if they are able to win the hearts of the Palestinians vis-a-vis Hamas," Burge says. "If they can't beat Hamas for the hearts and minds of the Palestinians, their negotiating power is going to evaporate."
Burge adds, "Some of the more extreme groups like Hamas would assert their own dominance in the occupied territory and it would be virtually impossible for Israel to negotiate with them."
But Hamas's appeal is limited. "I don't think Hamas will gain control," says Bishara Awad. "With Arafat being out of the picture, I think Israel will come out of this and say 'we can now talk to people.'"
Alex Awad doubts Arafat's death will lead to turmoil, bloodshed or civil war. "I think the Palestinians will find a peaceful way to replace Yasser Arafat," he says. Though he worries about a radical Islamist takeover, and what it would mean for Palestinian Christians.
Whoever takes leadership of the Palestinian people will have a tough time negotiating with Israel. Bishara Awad says Israel will ask any negotiating partners to take care of the terrorists. "People are not willing to do that. To the people of Palestine, these people are not terrorists. They are people who want liberation, who want freedom."
If the Palestinian leadership can gain control before terrorist groups, there may be a greater hope for peace following Arafat's death, Eckstein said. "I am not depressed or upset with his demise because he is in our eyes responsible for the death of thousands of Israelis and Jewish lives, innocent civilian lives," Eckstein says.
"What's ahead is what's in front of us now—chaos," Merkley says. "I was one of the people who in 1993 said that the Oslo Accords were a serious mistake. It does not embarrass me for people to say that I paint a bleak picture today because the bleak picture is the real picture." Hoping for peace in the current situation and depending on Arafat's associates is "criminal naiveté," he says.
But Burge sees hope in Palestinian moderates. "The majority of the Palestinians, they would like a job and a roof over their head," he says. "They want to see their kids get married. That's what they want, they want a future."
Related Elsewhere:
More Christianity Today articles on Israel and Palestine include:
'Assault on the Jewish People' | New Presbyterian policy on Israel raises hackles. (Nov. 04, 2004)
Spitting on God's Image | Christians complain of assaults in Old City. (Nov. 03, 2004)
Speaking Out: The Resolution That Put the 'PC' in PCUSA | In its anti-Israel resolution, the Presbyterian General Assembly isn't speaking on behalf of members. A rabbi's opinion. (Aug. 05, 2004)
O Jailed Town of Bethlehem | How eerily still we see thee lie. (May 11, 2004)
Rush to Judgment? | Israel Antiquities Authority's 'findings' bother many archaeologists. (April 29, 2004)
Listening to the Fifth Gospel | The sun-baked ruins of the Holy Land have a story to tell. (Sept. 25, 2003)
What Do the Stones Cry Out? | Beware of claims that archaeology disproves—or proves—the Bible is true. (Sept. 24, 2003)
Top Ten New Testament Archaeological Finds of the Past 150 Years | How do shrouds, boats, inscriptions, and other artifacts better help us understand the Christ of the Ages? (Sept. 23, 2003)
Bones of Contention | Why I still think the James bone box is likely to be authentic. (Sept. 22, 2003)
Biblical Archaeology's Dusty Little Secret | The James bone box controversy reveals the politics beneath the science. (Sept. 19, 2003)
Uneasy Unity | Christians take different paths as "road map" hits impasse. (Sept. 11, 2003)
West, Meet East | Who Are the Christians in the Middle East? examines millions of forgotten believers. (Sept. 11, 2003)
Row Seethes in Bethlehem Over Keys to the Birthplace of Jesus | Greek Orthodox monks changed locks, refuse to share keys with Catholics and Armenians. (Aug. 14, 2003)
Roadblocks and Voting Blocs | Today's evangelicals are committed to peace—not just security—for Israel. (Aug. 01, 2003)
Opinion Roundup: The Evangelical View of Israel? | Evangelicals are more diverse on the Israeli-Palestinian conflict than we are led to believe. (June 11, 2003)
War Could Reduce Holy Land's Christian Presence | Palestinian bishop fears current hostilities could continue a trend that sees Christians forced out of the area altogether. (March 21, 2003)
Darkness at Jesus' Tomb | A fight breaks out on the roof of the Church of the Holy Sepulchre. (Sept. 12, 2002)
American Presidents, Religion, and Israel and Who Are God's People in the Middle East? are available from Amazon.com and other book retailers.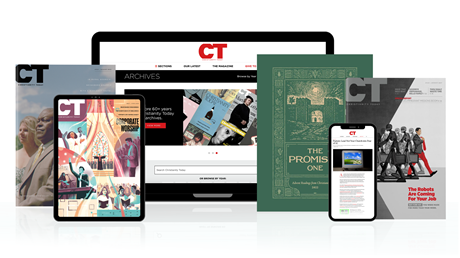 Subscribe to Christianity Today and get access to this article plus 65+ years of archives.
Home delivery of CT magazine
Complete access to articles on ChristianityToday.com
Over 120 years of magazine archives plus full access to all of CT's online archives
Subscribe Now
Arafat Seen As Hero and Terrorist
Arafat Seen As Hero and Terrorist