Indian-born apologist notes differences with LDS, Fuller head offers apology
On Sunday night, evangelical apologist Ravi Zacharias gave one of his frequent messages on defending Jesus as the Way, the Truth, and the Life in a culture that rejects truth claims. But the pulpit differed radically from Zacharias's usual lecterns, for it was in the Mormon Tabernacle in Salt Lake City.
Zacharias is actually the last person, Mormon or not, who will speak at the Tabernacle for at least 18 months—the building, which was constructed between 1853 and 1893, is undergoing substantial renovations.
Asked to speak on "Who is the Truth?" Zacharias was not expected to highlight many differences between historic Christian theology and Mormonism, but apparently he did mention them. The Deseret Morning News reports:
He spoke of the "exclusivity and sufficiency of Jesus Christ," noting that he asserted an exclusive truth claim in his declaration as "the Way, the Truth and the Life." While he acknowledged that members of The Church of Jesus Christ of Latter-day Saints differ in many of their views from historic Christianity, he emphasized much of what they share in reverence for a being both consider the divine Savior of mankind.
The Salt Lake Tribune offers a similar summary, saying Zacharias
acknowledged there are doctrinal differences—including some that are deep—between traditional Christianity and the LDS faith.
His hour-long sermon emphasized aspects of Christian doctrine for which Mormons have a different understanding, such as sin, salvation through the Cross, and the Trinity.
But his overarching message—that Jesus Christ is the answer to the longing in all human hearts—was one that resonated with both evangelical Christians and Mormons … .
The sermon, which filled the Tabernacle to capacity with about 7,000 evangelical Protestants, Mormons, and others, received a standing ovation.
But Zacharias, who spoke elsewhere in Utah last week, wasn't the only evangelical on the platform. Michael Card led music, and Fuller Seminary president Richard Mouw gave an introductory sermon.
And it'll be Mouw, not Zacharias, that Utahns will remember, says The Deseret Morning News. He offered "a stunningly candid apology to members of The Church of Jesus Christ of Latter-day Saints and [noted] that 'friendship has not come easily between our communities.' He dubbed the evening 'historic' and apologized that evangelicals 'have often misrepresented the faith and beliefs of the Latter-day Saints.'"
Mouw's full remarks are not available online (neither are Zacharias's, but Standing Together Ministries, which organized the talk, is selling CDs and DVDs). But here are the full quotes that made the papers:
"Let me state it clearly. We evangelicals have sinned against you."


"We've often seriously misrepresented the beliefs and practices of members of the LDS faith."


"It's a terrible thing to bear false witness. … We've told you what you believe without first asking you."


"I'm not being melodramatic when I say this is an historic occasion."


"I remain convinced there are serious issues of difference that are of eternal consequence, but now we can discuss them as friends."


The best quote, however, is from an unnamed pastor quoted in The Deseret Morning News. Saying he wanted to see the evangelical-Mormon meeting become an annual event, the pastor added, "Don't you all have a bigger place right across the street?" That'd be the Mormon Temple. And no, non-Mormons aren't allowed there.
Those interested in the story may also find interesting this Amazon.com list of Zacharias's books by a Mormon, a few links on Mormon love for C.S. Lewis—which may be why Utah papers are likely to call Zacharias a modern Lewis.
One more note: Several news outlets, including an earlier Christianity Today Weblog, have noted that Zacharias is apparently the first evangelical to speak at the Tabernacle since Dwight L. Moody. After Weblog's previous posting on this subject, we received more information from Ronald V. Huggins, assistant professor of historical and theological studies at Salt Lake Theological Seminary:
D.L. Moody's 1871 appearance in the Salt Lake Tabernacle is mentioned in the

Salt Lake Deseret Evening News

(Sat. June 3, 1871, p. 3 and Mon., June 5, 1871, p. 3), which has Moody appearing there with the singer Philip Phillips and Dr. J.H. Vincent, editor of the

Teacher's Journal

.
Moody preached a sermon entitled "Salvation for All." A dual correction is called for in relation to Weblog's statement: "Ravi Zacharias has reportedly become the first evangelical invited to speak in the Mormon Tabernacle since Brigham Young extended an invitation to Dwight L. Moody in 1871."
First, the claim that Brigham Young extended an invitation to Moody is an unsubstantiated embellishment that has arisen in the process of circulating the story about Ravi's coming to Salt Lake. No evidence is known to exist suggesting that he invited Moody.
Second, Moody's 1871 visit cannot be the last time an evangelical spoke in the Mormon Tabernacle. Moody himself spoke there again on Sunday, April 2, 1899 (See

Deseret Evening News

, Mon. Apr. 3, 1899, p. 8).
The account of Moody and Sankey's 1880 visit to Salt Lake City in Ira Sankey's

Life and the Story of the Gospel Hymns

(p. 78-79), with its inaccurate statement that afterward "Mr. Moody never visited Salt Lake City again," has naturally given rise to confusion.
Update
The "unnamed pastor" in The Deseret Morning News was actually Craig Hazen, Director of the M.A. Program in Christian Apologetics at Biola University. And the "bigger place right across the street" he was referring to was apparently a 21,000-seat conference center, not the Mormon Temple. Sorry for the confusion.
More articles
Child Sacrifice? | Religion & politics | Secular Left | Democrats | GOP | Evangelicals & Politics | James Dobson | Jerry Falwell | Catholics & Politics | "Moral Values" | Religion & Culture | Supreme Court | Arlen Specter | Free Speech | Education | Church & state | Los Angeles County Cross | Homosexuality | Marriage & Family | Iraq | War & Terrorism | Islam | Sudan | Presbyterians | Episcopalians | Clergy Unions | Missions | Ministry | Charitable Giving | Church Life | Catholicism | Catholic Bishops | Closing Parishes | Abuse | Life Ethics | | 'God Gene' | Books | Television & Film | Alfred Kinsey | Da Vinci Code | Art | People | Business | Fraud & Crime | Spirituality | More Articles
Couple arrested for wanting to sacrifice child:
Religion & politics:
The secular left:
Secularism is not inevitable or desirable | Nothing is served by crude caricatures: the secular view of religion as irretrievably fanatical, or the religious view of secular culture as irredeemably decadent and effete. The real question for all of us is whether we can make space for difference, for the one who is not like us (Jonathan Sacks,

The Times

, London)


The potent mix of faith and politics | Some reflection is needed, especially in three areas: the stereotyping of religious people, the interpretation of the doctrine of separation of church and state, and the alliance of pseudo-religious organizations and political campaigns, as seen in this month's U.S. election (Rick Anderson,

Toronto Star

)


Convert or be damned | The secular left's attitude to religion is as fundamentalist and flawed as anything you hear in Riyadh or Utah (Gary Younge,

The Guardian

, London)


Religious-right straw men | Our intellectual class finds it easier to create religious-right straw men, then blame their stereotypical creation for all their woes. (Tom Purcell,

Pittsburgh Tribune-Review

)


Democrats & religion:
The Long view | A roundup of this week's Church bulletins (Rob Long,

National Review

)


Republicans & religion:
Evangelicals:
Evangelicals & politics:
What evangelicals want:
James Dobson:
Jerry Falwell:
Falwell wants to make sure conservatives are a majority | The goal of Jerry Falwell's new Faith and Values Coalition is to add 10 million conservative, evangelical and voting Christians (

The Roanoke Times

, Va.)


Stretching Falwell's vision of morality | I don't see how you make a list of moral priorities that doesn't put responsibility to your neighbor somewhere near the very top (Margaret Edds,

The Virginian-Pilot

)


Welcome to the resurrection | Will the Rev. Jerry Falwell's new organization, 'The Faith and Values Coalition,' become a 21st Century Moral Majority? (Bill Berkowitz, WorkingForChange.com)


Catholics & politics:
Groups merging on political theology | Conservative Catholics, white evangelicals and black Protestants - who haven't always seen eye to eye on issues - converged this election season on certain moral values to create a formidable political tide (

The Hartford Courant

, Conn.)


Catholics may turn political tide | The judicial and legislative challenges to traditional Catholic values may yet result in the development of a more predictable Catholic bloc which has been elusive and uncertain in past elections. (Frank R. Mazzaglia,

MetroWest Daily News

, Framingham, Ma.)


Liberalism now reigns in Spain | In the six months since voters put them in office, Spain's Socialists have set in motion a dramatic public policy turnabout on what American voters might call moral issues, infuriating the Catholic Church and underscoring the diminishing influence of Christianity in European political life (

The Philadelphia Inquirer

)


"Moral values":
Religion & culture:
Supreme Court:
Arlen Specter:
Free speech:
Anti-abortion advocates sue city | Protest permit policy unconstitutional, they say (

The News-Press

, Fort Meyers, Fla.)


'Friends' makes an enemy | Bawdy banter in the writers' room offended an employee, whose case pits free speech rights against sexual harassment laws (

Los Angeles Times

)


Christian group's parade float irks Clovis resident | What angered Joe Christopherson most was to see the word "God" crossed out and replaced with "man." The most prominent text on the float read "One nation under man," a play on words taken from the Pledge of Allegiance (

Clovis News Journal

, N.M.)


School Bible program under fire:
Homeschooling:
Education:
Teaching evolution and intelligent design:
Church & state:
Los Angeles County cross:
L.A. group demands cross back on county's seal | A group of outraged Angelenos is gathering signatures to restore a tiny cross to the county seal after the board of supervisors recently voted to remove it. (

The Washington Times

)


A Jew fights for the cross | I am asked why, as a Jew, I have led this fight to keep the cross on the county seal. (Dennis Prager,

Los Angeles Times

)


Seriously folks, this is not a laughing matter | Any symbol of faith that's used as an element of an official seal of a governmental body violates the spirit and the letter of the Constitution (Ramona Ripston,

Los Angeles Times

)


Same-sex marriage:
Gays regroup after election:
Homosexuality & religion:
Marriage & family:
Persecution in Iraq:
War & terrorism:
Pope urges transparent elections in Iraq | Pope John Paul II told Iraq's new ambassador to the Vatican on Monday that national elections planned for January must be "fair and transparent" if the country hopes to build an authentic democracy (Associated Press)


Missionary groups flee violence in Africa | Missionaries from Northern Ireland are among those who have been evacuated from the Ivory Coast due to the eruption of violence in the west African country (

The Belfast Telegraph

)


Military plans cross-out | The military plans to remove the Maltese cross from the caps of its chaplains. The Defence Department, which hired its first Muslim chaplain a year ago, says it's time the military reflected Canada's multi-faith society (

The Ottawa Sun

)


Islam:
Muslims say their faith growing fast in Africa | Zafran Mukanwali put down her rosary and embraced Islam a decade ago out of disgust with ethnic murders committed by Catholics, including priests, in Rwanda's 1994 genocide (Reuters)


Faith, friendship and peace | Christians and Muslims need to be encouraged to have real dialogue in their communities, especially during Ramadan, and as Osama bin Laden and al Qaeda try to threaten our societies (Akbar S. Ahmed and J. Douglas Holladay,

The Washington Times

)


Islam in the Netherlands:
Sudan:
Presbyterians leave posts after Hezbollah meeting:
Two leave Presbyterian posts | They had met with Hezbollah (

The Courier-Journal

, Louisville, Ky.)


Embracing ignorance not effective plan for peace | The apparent termination of two officials of the Presbyterian Church (USA) is an unfortunate testament to the hurdles confronted by those seeking a peaceful solution to the violent conflict in the Middle East (Editorial,

The Decatur Daily

, Ala.)


Presbyterians threatened with arson attack:
Presbyterian Church receives arson threat | The Presbyterian Church (USA) has stepped up security at its headquarters and advised its churches to be on alert after receiving a letter threatening arson attacks because of its policies in the Middle East (Associated Press)


Presbyterian churches get more security | A letter sent to the Presbyterian Church's national headquarters threatening the institution with arson for its decision to divest from companies supporting Israel's occupation of the West Bank and Gaza Strip led Chicago-area church leaders to step up security in their houses of worship (

Chicago Tribune

)


Episcopal Church:
Clergy unions:
Missions:
Ministry:
The political conversion of New York's evangelicals | Evangelism is flourishing not just in the red states of the nation's heartland, but in the urban, liberal stronghold of New York City, where thousands of evangelical churches are anchored in working-class neighborhoods (

The New York Times

)


Young adults urged to serve | Heather Mercer, a missionary rescued from imprisonment in Afghanistan, won cheers Saturday as she urged more 2,000 people -- most ranging in age from 20 to 30 -- to serve God and pursue their deepest passions (

Ft. Worth Star-Telegram

, Tex.)


Charitable giving:
Church life:
Mercy mission or mammon? | The Church of Scotland's elegant hotel in Israel now offers every comfort, but does it fulfil its ambitions? (Leora Eren Frucht.

The Times

, London)


Houses of worship embrace new ways to communicate | Once little more than plain buildings marked by religious symbols, today's prayer houses look more like conference centers with state-of-the-art equipment. (

The Virginian-Pilot

)


Historic Cuban church begins construction | Following a procession through the streets of the city's historic district, religious figures and Cuban government officials on Sunday laid down the first stone of what will become the island's first-ever Russian Orthodox church (Associated Press)


Catholicism:
Conference of Bishops picks Spokane's William Skylstad:
Other events at the bishops' meeting:
As bishops meet, legal troubles still loom | Catholic leaders try to regain trust amid continuing lawsuits and financial challenges (

The Christian Science Monitor

)


Silenced priest warns of gay crisis | Starting today, 290 of the nation's Catholic bishops will meet at the Capitol Hyatt for their yearly business meeting and to tie up loose ends on the massive sexual-abuse crisis that has shaken the U.S. Catholic Church to its core in the past two years (

The Washington Times

)


Closing Catholic parishes:
Abuse:
Life ethics:
Stem cell research: Hope or hype? | How to find cures for the nearly 150 million Americans who suffer from diseases and handicaps like multiple sclerosis, Parkinson's disease, diabetes and spinal cord injury is surrounded by a cloud of controversy in which politics and big business play as large a role as science (

Foster's Sunday Citizen

, Dover, N.H.)


The attack on adult stem cells | Almost "every other week there's another interesting finding of adult [stem] cells turning into neurons or blood cells or heart muscle cells," notes molecular biologist Eric Olson at the University of Texas Southwestern Medical Center in Dallas. Unfortunately, it seems every other week there's also another article in the popular press claiming adult stem cells range from nearly worthless to utterly worthless (Michael Fumento,

The Washington Times

)


Company to pass on stem cells for free | In a world first, embryonic stem cells will be given away without commercial restriction by a Melbourne company (

The Age

, Melbourne, Australia)


Australia stops abortion inquiry:
'God gene':
Books:
Television & film:
'Ryan' viewers complain to FCC | Groups affiliated with the American Family Association., a conservative Christian group that monitors the airwaves, pledged Thursday to flood the FCC with complaints about the language and violence in Steven Spielberg's film (Reuters)


Document: File an indecency complaint against ABC for 'f' word and 's' word | File a formal complaint against ABC for airing indecent language during the November 11 ABC movie, Saving Private Ryan (Action Alert, AFA)


A noir departure | How is it that people persist in obsessions that will kill them? Pedro Almodóvar turns his attention to such questions in 'Bad Education' (

Los Angeles Times

)


Alfred Kinsey:
The Kinsey effect | The pioneering researcher's sexual revelations enlightened and shocked a nation. His legacy is controversial yet powerful (

Los Angeles Times

)


The war on Kinsey | A new biopic reinvigorates Christian right's old battle against sexologist (

The National Post

)


Da Vinci Code:
Da Vinci code priest is dug up, hidden from 'rapacious' relic hunters | The mayor of a French village besieged by Cracking the 'Code' | The duo behind 'A Beautiful Mind' have picked a star for their 'Da Vinci' adaptation—Tom Hanks (

Newsweek

)


The Da Vinci connection | Rosslyn Chapel near Edinburgh has long been a source of mystery and legend, but with the success of Dan Brown's

The Da Vinci Code

, the bestselling novel in which it features, visitor numbers are going through the roof (

Sunday Herald

, Glasgow)


Hanks, Howard do "Da Vinci" | Tom Hanks is cracking the code (E!)


Hanks to hunt for Holy Grail in Da Vinci code blockbuster | Hollywood is attempting to turn the biggest-selling adult fiction book of all time, The Da Vinci Code, into a screen blockbuster, with Tom Hanks as the globe-trotting Harvard professor in pursuit of the Holy Grail (

The Telegraph

, London)


obsessive fans of The Da Vinci Code has been forced to dig up the body of a mysterious priest and encase it in a concrete mausoleum to deter rapacious treasure hunters (

The Telegraph

, London)


Art:
Letting the sunshine in | At this Needham studio, stained-glass artisans give new meaning to window treatment (

The Boston Globe

)


A ministry of storytelling | Playwright and director Phyllis Tucker-Wicks has enlisted her twin, Philetha Tucker-Johnson, to help with her latest play, a story about Jesus' mother (

St. Petersburg Times

, Fla.)


People:
Business:
Fraud & crime:
Slain missionary flown to Charlotte | Drew Rush was doing his life's work in the Latvian capital of Riga when he was murdered during an apparent robbery (

The Charlotte Observer

, N.C.)


Britain say 'miracle baby' was a fraud | An infertile Nigerian couple who believed a self-styled preacher's claim that their child was miraculously conceived were really the victim of greedy international child traffickers, a British judge ruled Friday (Associated Press)


Spirituality:
More articles of interest:
Related Elsewhere:
Suggest links and stories by sending e-mail to weblog@christianitytoday.com
Check out Books & Culture's weekly weblog, Content & Context.
See our past Weblog updates:
November 12 | 11 | 10
November 5 | 3b | 3a | 2 | 1
October 29 | 28 | 27 | 26 | 25
October 22 | 21b | 21a | 18b | 18a
October 15 | 13 | 12 | 11
October 8 | 7 | 6 | 5 | 4
October 1 | September 30 | 29 | 28 | 27
Weblog
Launched in 1999, Christianity Today's Weblog was not just one of the first religion-oriented weblogs, but one of the first published by a media organization. (Hence its rather bland title.) Mostly compiled by then-online editor Ted Olsen, Weblog rounded up religion news and opinion pieces from publications around the world. As Christianity Today's website grew, it launched other blogs. Olsen took on management responsibilities, and the Weblog feature as such was mothballed. But CT's efforts to round up important news and opinion from around the web continues, especially on our Gleanings feature.
Ted Olsen is Christianity Today's executive editor. He wrote the magazine's Weblog—a collection of news and opinion articles from mainstream news sources around the world—from 1999 to 2006. In 2004, the magazine launched Weblog in Print, which looks for unexpected connections and trends in articles appearing in the mainstream press. The column was later renamed "Tidings" and ran until 2007.
Previous Weblog Columns: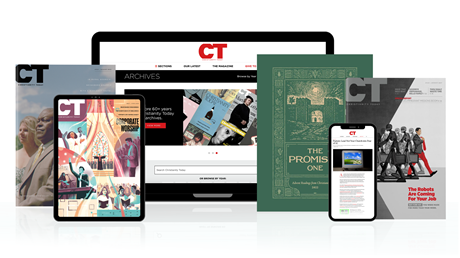 Annual & Monthly subscriptions available.
Print & Digital Issues of CT magazine
Complete access to every article on ChristianityToday.com
Unlimited access to 65+ years of CT's online archives
Member-only special issues
Subscribe
Ravi Zacharias, Rich Mouw Speak in Mormon Tabernacle
Ravi Zacharias, Rich Mouw Speak in Mormon Tabernacle