For the past 20 years, Heidi Neumark has been the pastor of the Transfiguration Lutheran Church in the South Bronx, a bilingual congregation of Hispanics and African Americans. She is also a founding member of South Bronx Churches, an ecumenical community organizing group that has trained local leaders, built hundreds of low-cost homes, and established a top-ranked public high school. She is also the founder of Transfiguration Community Life Center, Inc., an organization providing after-school and job-training programs for youth, HIV, and domestic violence education and support, among other services. Over the course of her ministry, she has kept a diary, called, "An inner life in the inner city." She has now published her story and reflections in a book, Breathing Space: A Spiritual Journey in the South Bronx (Beacon Press).
You describe South Bronx as a ground zero of urban blight. I didn't realize the degree to which it was due to poor urban planning.
A lot of people have this idea that the Bronx is a place of all these problems. But a lot of it had to do with urban planning that was very destructive. Robert Moses was a New York state and city official who did a lot of public works in the city. One of the things he did was build the Cross Bronx Expressway. And in order to build it, there were 60,000 families that were displaced. It went through an area that was filled with homes and businesses that were all in good condition, and they were just ripped out.
At the same time that was going on, he wanted to build some new housing in an area of Manhattan where there were poor residents, and they were moved out in what he called a "slum clearance project." They were moved into the South Bronx. So as housing was being destroyed, more poor people were moving in, and it just created social havoc.
Then in 1976, Roger Starr, who was then working for the city as the administrator for housing and urban development, came up with a policy responding to the devastation. His response was something called "planned shrinkage." It was to cut back on basically all public services, schools, fire services, ambulance, police, and hospitals. And the quote he said about that was, "to accelerate the drainage" in the worst areas of South Bronx.
You talk about the God of Molech, and he is uniformly condemned in the Old Testament because he practiced child sacrifice. One of the ways you get at our sensitivity and our responsibility about the poor is to show the degree to which our policy decisions and our neglect actually result in the sacrifice of children.
I've seen it in the South Bronx in a lot of different ways, but one of the ways was education. The schools in the South Bronx year after year are functioning on a very low level, and yet there is no administrative change. As we began organizing was there was a system of school boards that was completely corrupt. They were controlling millions of dollars, and the school boards near us were flying to Honolulu, Bermuda, for meetings. People were misappropriating money for special education to buy furniture for their homes, electronic equipment. Fortunately these people were prosecuted, but not before thousands of children's education were tremendously disserved.
At the same time that the schools were performing terribly millions of dollars were spent in building a prison not far from the church for 10 to 15-year-olds. The prison was going to be put there because it would save money on transportation. It was built for children from all over New York City, but most children would come from that neighborhood so it should be put there.
The study showed that children that were coming out of schools that were not being educated, were more likely to end up in prison. So instead of improving the schools, the money went into building the prison, which is called New Horizons—really a sinister kind of irony. There was a school right across the street from this prison where $6,000 to $7,000 a year is spent per pupil. In the prison it's a little over $130,000 a year per pupil.
Incarceration is very popular among conservatives, and yet many conservatives are Christians who don't often make the connection between the amount of money we're spending to incarcerate people versus the amount of money it would take to do preventative work and get a good education.
You talk about a lesson that you learned from Miss Ellie from St. Johns Island. It was one of the most wonderful examples of how we in the modernized, fast-paced world have lost the nature of being human. And it had to do with something you did for Miss Ellie that you thought was going to help her, and you came to learn a lesson.
Miss Ellie lived on Johns Island off of Charleston, South Carolina, way out in an area without electricity and just dirt roads. She lived out on her own. She was old, almost 100 years old, cutting her own firewood. And she had a good friend named Netta that she would go to visit. But to reach Netta she had to walk miles through thick, tall grass and, I used to feel really sorry for her. There were snakes in the grass and it was really hot.
Actually her friend didn't live that far away, but there was a stream that cut across her path. And she had to go pretty far to find a place where it narrowed enough that she could go across. So I came up with this great idea. I thought of building a bridge to make a shortcut for her. I found an area where it was really narrow but very deep, and she couldn't go across. I got the wood and cement to build this little bridge. And I went to see her and I was all excited. So we went off, and I showed it to her.
I had expected her to look all excited. And she said, "Well, what's this?" And I said, "This is a shortcut for you to visit Miss Netta." And she looked at me like I was the one that needed pity. She started telling me about all the friends and people she'd visited and the friends she'd made on her way to visit her friend. And the person she'd give some quilts scraps to and someone that she brings biscuits and they give her some raisin wine, and all the relationships she developed along the way. And then she just looked at me and said, "Child, if you want friends in this world, if you want love, there are no shortcuts."
What is your hope from this book, now that you're in a different ministry?
When I was on sabbatical for a few months, which is when I did part of the writing of the book, I visited a church in Manhattan one Sunday where the gospel text was Jesus calling Peter to get out of this boat. And it just was one of those moments where it felt that God was speaking and saying, "Heidi, get out of your boat."
That was a very threatening kind of thing to me. But it turned out that I really did feel God was calling me to a new ministry. And it was not, it was something I resisted but, in fact, it's how I felt God calling me. I guess in my book I'm hoping to call all of us to get out of our boat a little bit and to get into a boat with our sisters and brothers and see things in a new way.
Related Elsewhere:
Breathing Space is available from Amazon.com and other book retailers.
More information is available from the publisher.
Last month, Neumark discussed her book on PBS's Newshour.
The Lutheran has published several articles on Transfiguration Lutheran Church
Recent Dick Staub Interviews include:
Serving God Without God | The author of Running on Empty discusses his life in ministry with and without a walk with God. (March 2, 2004)
Article continues below
China's Christian Syndrome | David Aikman, author of Jesus in Beijing, says in 20 years Christians could have a major impact on China, and that could change the world. (Feb. 18, 2004)
The Gospel According to Tupac Shakur | Why do kids relate so well to hip-hop artists Eminem or Tupac? And what can a preacher learn from these modern-day prophets? (Feb. 10, 2004)
Craig Detweiler Finds Faith in Film | The co-author of A Matrix of Meanings talks about spirituality on screen. (Feb. 03, 2004)
Walter Wangerin Finds God Everywhere | The author of The Book of God discusses his newest novel—an ancient story with modern relevance. (Jan. 27, 2004)
Lauren Winner's Faith Still a Bit Jewish | The author of Girl Meets God discusses the Jewish habits that inform her Christianity (Jan. 20, 2004)
Ravi Zacharias's Wonderful World | The author of Jesus Among Other Gods explores God's gift of awe. (Jan. 13, 2004)
Michael Card Discovers St. Peter | In A Fragile Stone: The Emotional Life of St. Peter, Card says sinking is more important than walking on the water. (Dec. 16, 2003)
Mary Poplin Calls Claremont Her "Calcutta" | After seeking God through telepathic spoon bending exercises, this professor found God, and with the help of Mother Teresa, her calling. (Dec. 10, 2003)
Gordon Smith Hears the Voice of Jesus | The author of The Voice of Jesus talks about listening to God with discernment. (Nov. 18, 2003)
John Eldredge Is Wild at Heart | The author of Wild at Heart and The Sacred Romance discusses rediscovering the Gospel through a ransomed heart. (Nov. 11, 2003)
Pursuing God and Community | A self-described nerd says pursuing God and community is possible through commitment (Nov. 4, 2003)
Francis Bok Is Proof that Slavery Still Exists | After spending 10 years in slavery, the young Sudanese man is telling his story to the world. (Oct. 28, 2003)
Philip Yancey, the Rumor-Monger | The author's latest is written not for Christians, but for those on the "borderlands of belief" (Sept. 30, 2003)
The Dick Staub Interview
Dick Staub was host of a eponymous daily radio show on Seattle's KGNW and is the author of Too Christian, Too Pagan and The Culturally Savvy Christian. He currently runs The Kindlings, an effort to rekindle the creative, intellectual, and spiritual legacy of Christians in culture. His interviews appeared weekly on our site from 2002 to 2004.
Previous The Dick Staub Interview Columns: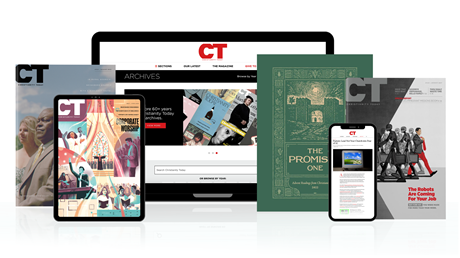 Annual & Monthly subscriptions available.
Print & Digital Issues of CT magazine
Complete access to every article on ChristianityToday.com
Unlimited access to 65+ years of CT's online archives
Member-only special issues
Subscribe
Heidi Neumark Transfigures the Bronx for some Breathing Space
Heidi Neumark Transfigures the Bronx for some ...