Gregory Wolfe is publisher and editor of what Annie Dillard calls "one of the best journals on the planet," Image journal. Wolfe is also writer-in-residence at Seattle Pacific University, and author and editor of a number of books including Malcolm Muggeridge: A Biography, Sacred Passion: The Art of William Schickel and his latest collection of editorial statements from Image called, Intruding Upon the Timeless: Meditations on Art, Faith, and Mystery.
Wolfe has published essays, reviews, and articles in numerous journals, including Commonweal, First Things, National Review, Crisis, Modern Age, and New Oxford Review. He was educated as a political conservative, but Wolfe's love for literature led him to pursue an M.A. in English literature from Oxford University before founding Image in 1989.
You talk about some of the standards that were set for Image journal: aesthetic excellence, the public square, and a place where those who are settled in their religious faith and struggling with religious faith would find a home. What is the importance of putting all that together?
We looked very carefully at past efforts in this area, and we were very disheartened by the temptation of many Christians to create what I would call a subculture, and to create a Christian ghetto where there is some separate track of publishing companies and record labels, which have some good housekeeping stamp of approval on them. The danger of that realm of safety is that people are not challenged to live up to their highest, not pushed towards the bleeding edge of life and experience and artistic excellence. Preaching to the choir becomes the name of the game.
As far as the whole issue of those who are more settled in their faith and those who I call grapplers—I use the word grappler because I think the word seeker has been so trivialized that it's almost a meaningless term. Grappler to me is somebody who is in some serious, agonized engagement with faith, and therefore they're not just using faith in their works of literature as background wallpaper, they're using it as the central means by which to come to grips with the meaning of life.
We wanted a balance where people could come together in a forum, those who had found peace and some identity within the faith, and those who were still not quite there.
You have a chapter in which you describe yourself as a conscientious objector in the culture war. How do you take culture seriously and remain a conscientious objector to the culture war?
I try to make clear in that piece that I don't consider that the issues over which the battles are fought are of no interest. They're of profound interest. But what bothers me about the whole culture war as a phenomenon within the church and within the larger public square is that politics has a way of sucking the oxygen out of the atmosphere, of becoming an all-encompassing phenomenon, and becoming more ideological. Faith is not about ideology, it's not about us versus them. It's often looking for the good in others and trying to build on that. And art is good at doing this. We have become so obsessed by the us versus them mentality that it has made our minds more dumb, more crude, more monolithic at a time when we need to be more subtle, more nuanced, more aware of just how complicated the world is.
Ultimately, culture, the stories that we tell, the symbols that we are moved by, shapes politics. Politics lives off of culture. But if it becomes so all encompassing that it starts to dry out and poison the cultural base, in the end there'll be nothing to fight over.
You talk about the degree to which within the Christian subculture there's been this imitative nature that is missing the transformative power of imagination. What do you see going on there?
Christians have been tempted to say, well, pop culture is a huge phenomenon and it's incredibly cool in its way. Why don't, instead of we rejecting pop culture, let's get on the pop culture bandwagon, let's just place the message inside the vehicle of the pop culture medium, whether it's the romance novel that is being used or the techno-thriller or rap music.
Here's the danger. The great Marshall McLuhan once said, "The medium is the message." And the danger with pop culture is that it is naïve that you can somehow insert some idea about faith or the faith itself into this vessel and simply transmit it and it be opened up and received in some pure way. The very nature of pop culture is to dumb things down, to make things more special-effects oriented, more in terms of spectacle than demanding exercises of heart and mind that high art and traditionally mainstream art has called us to employ. The danger is that what the young Christian listening to as he rocks his head to the Christian grunge rock is grunge rock and not the faith at all.
When you talk about aesthetic and art usually the stuff of Image journal is considered elitist within that definition of popular culture. You describe it in such a way that one would conclude that you think that if we took our faith more seriously that serious art would be popular. Is that true?
Absolutely.
So you think popular culture is, in fact, the child of superficial, shallow theology?
It's a vicious circle. In great folk culture, great popular culture there has always been a spectrum and a whole series of linkages along that spectrum: Shakespeare being able to play both to the plebs below and the people in their booths above. In the modern era we've tended to force those parts of the spectrum further and further apart from each other to the detriment of both. I think part of what we're trying to do is to work in a particular vineyard. We're not saying it's the only vineyard.
And in the end I think even Christian humanism, which seems to be about being highly sophisticated and highly erudite, I would argue it doesn't have to be seen just that way. There's an intimate relationship between the balance of Christian humanism at this intellectual level and what I would call common sense.
I've known a lot of people who are not scholars and not artists, they're just people who live a full life and try to find their way through the culture in their faith and the church. They've said to me "I resonate with what you mean because I've always felt that these extremes of political edges are wrong and the truth is somewhere in between."
I've seen a younger generation of Christians who are taking their faith seriously but who are being led to believe that post-modernism has to be embraced in order to communicate within it. But this ends with a focus on personal story and the loss of master Story, doesn't it?
Image is about nothing else if it isn't about the idea that the faith needs to be made incarnate in the forms of the present day. And those forms are post-modern for the moment in which we live. But here's the thing. So many Christians tend to say, "let's get on the bandwagon and imitate what's already going on" rather than what I would call transformative. And that would be to take what is the form of the day and bring about through a real effort of mind and heart a transformation of the form into something new, into something that isn't just tagging along but something dynamic, something that others would want to look to and imitate themselves.
Related Elsewhere:
Intruding Upon the Timeless is available from Amazon.com and other book retailers.
Image journal has more information about Wolfe as well as content from the journal and its activities.
Article continues below
Recent Dick Staub Interviews include:
Heidi Neumark is Transfiguring the Bronx | After spending 20 years as pastor of a church in the Bronx, Heidi Neumark realized that sometimes people just need some Breathing Space (March 09, 2004)
Serving God Without God | The author of Running on Empty discusses his life in ministry with and without a walk with God. (March 2, 2004)
China's Christian Syndrome | David Aikman, author of Jesus in Beijing, says in 20 years Christians could have a major impact on China, and that could change the world. (Feb. 18, 2004)
The Gospel According to Tupac Shakur | Why do kids relate so well to hip-hop artists Eminem or Tupac? And what can a preacher learn from these modern-day prophets? (Feb. 10, 2004)
Craig Detweiler Finds Faith in Film | The co-author of A Matrix of Meanings talks about spirituality on screen. (Feb. 03, 2004)
Walter Wangerin Finds God Everywhere | The author of The Book of God discusses his newest novel—an ancient story with modern relevance. (Jan. 27, 2004)
Lauren Winner's Faith Still a Bit Jewish | The author of Girl Meets God discusses the Jewish habits that inform her Christianity (Jan. 20, 2004)
Ravi Zacharias's Wonderful World | The author of Jesus Among Other Gods explores God's gift of awe. (Jan. 13, 2004)
Michael Card Discovers St. Peter | In A Fragile Stone: The Emotional Life of St. Peter, Card says sinking is more important than walking on the water. (Dec. 16, 2003)
Mary Poplin Calls Claremont Her "Calcutta" | After seeking God through telepathic spoon bending exercises, this professor found God, and with the help of Mother Teresa, her calling. (Dec. 10, 2003)
Gordon Smith Hears the Voice of Jesus | The author of The Voice of Jesus talks about listening to God with discernment. (Nov. 18, 2003)
John Eldredge Is Wild at Heart | The author of Wild at Heart and The Sacred Romance discusses rediscovering the Gospel through a ransomed heart. (Nov. 11, 2003)
Pursuing God and Community | A self-described nerd says pursuing God and community is possible through commitment (Nov. 4, 2003)
Francis Bok Is Proof that Slavery Still Exists | After spending 10 years in slavery, the young Sudanese man is telling his story to the world. (Oct. 28, 2003)
The Dick Staub Interview
Dick Staub was host of a eponymous daily radio show on Seattle's KGNW and is the author of Too Christian, Too Pagan and The Culturally Savvy Christian. He currently runs The Kindlings, an effort to rekindle the creative, intellectual, and spiritual legacy of Christians in culture. His interviews appeared weekly on our site from 2002 to 2004.
Previous The Dick Staub Interview Columns: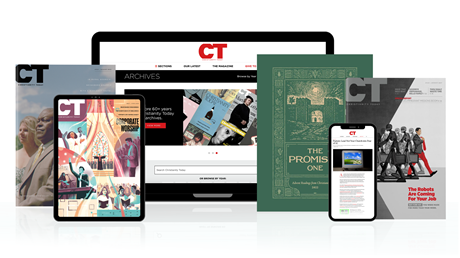 Annual & Monthly subscriptions available.
Print & Digital Issues of CT magazine
Complete access to every article on ChristianityToday.com
Unlimited access to 65+ years of CT's online archives
Member-only special issues
Subscribe
Transforming Culture into God's Image
Transforming Culture into God's Image