After spending 25 years with Young Life, Fil Anderson discovered he was too busy working for God to spend time with God. In his book, Running on Empty: Contemplative Spirituality for Overachievers, Anderson describes his situation as an airplane that from the ground looks fine as it flies across the sky, but is running out of fuel. At a conference, Anderson met Brennan Manning, who asked Anderson about the condition of his soul. Anderson realized he needed spend more time taking care of his spiritual life and less time running his ministry.
Anderson is now executive director of Journey Resources in Greensboro, NC. He offers spiritual direction and directs retreats and workshops around the country. Anderson is a graduate of Fuller Theological Seminary and the Graduate Program in Spiritual Guidance at the Shalem Institute for Spiritual Formation in Bethesda, Maryland.
What were you doing and what was happening that you didn't nourish your soul as you were trying to nourish the souls of others.
There's an old expression that perhaps you've heard, "You can't take someone to places you haven't been." I think it suggests that to be effective in ministry, to take people to God, you've got to be maintaining your own relationship. I believe there's a bit of truth in that, but I think it betrays the whole truth. I had known God, I'd had some kind of relationship with God, but there had never been a real deep intimacy. There certainly had not been an ongoing sense of connection with God. I prayed, I read the scriptures, I spent time with other believers, but those spiritual disciplines, as we call them, had become for me more a way of maintaining my ministry than my own soul's relationship with God. When I prayed it was usually ministry-related. When I read the scriptures it was usually looking for something to say.
Would you say that your condition really is probably the rule rather than the exception in Christian ministry today?
I hope that's not the case, but I suspect it is. I can remember before this encounter with Brennan being so ashamed and so afraid of what might happen if I was discovered. Naturally I never was looking for an opportunity to speak with anyone about the condition of my soul. But there's another old expression, "It takes a crook to catch one." And after I began to enter into this season of recovery, which I'm still in, I began to detect things in my conversation with others that led me to at least wonder, Are they suffering the same malady that I was suffering from?
The truth of the matter is great things can occur in spite of our own soul's condition. I remember the late Tom Skinner years ago saying, "Don't ever judge the condition of my soul by the quality of my preaching."
What were some of the symptoms that there was a problem underneath your success?
I saw that I was doing things for God rather than with God. I was always busy, never able to be still. In my case, working for God, but without a sense of God's nearness. I became aware of the fact that I know a lot of things about God, but it doesn't feel like a relationship.
You also talk about needing to overcome a life that made you sick. You say Americans all risk "death by meltdown." And you make reference to C.S. Lewis's Turkish Delight story. How is it that we're in a life that makes us sick?
We live in a toxic world, a world that is-is absolutely driven. And I think the damaging effect of living in the kind of society that we're living in that's filled with values and so much stress on achievement, can really work on our souls. And the truth of the matter is we all want approval. We all want recognition. God has all that we need to offer, but I believe it's very easy for us to get hooked by what the world is offering in that same vein.
And the thing about busyness for me was it kept me from having to face things that I preferred ignoring. It allowed me to not pay attention to some of the deeper issues in my life that were troubling and even haunting.
Why is solitude important, and why it is so difficult for us to attain in today's life?
I think most folks fear solitude. Kierkegaard said, "If you want to know how society feels about solitude, look at the way they punish." Solitary confinement is one of the worst forms of punishment, it seems. And I think some of that has to do with when you come to stillness, when you get alone and quiet, you really are left with yourself. I believe that in a lot of our lives there are things that we just don't want to face, things within ourselves. I think also our view of God has a lot to do with it. If God is demanding, if God is someone who's always bringing to our attention the shameful things we've done, then why in the world would we want to be in a quiet place alone with God and with ourselves?
You left your busy life and started a new ministry that has given you the opportunity to spend more time in quietness. I need to ask, is it possible for people who lead busy lives to stay in that active ministry and build a healthier life? Or do a lot of them have to think about making some radical changes?
Although I have made a vocational change, in part for the purpose of having more control of my time, it still can become intensely difficult for me to stop and live the way I really want to live. I think the most important thing for me to mention is how vital it is for us to give attention to our desires. I believe ultimately we do a lot of the things that we really desperately want to do. I find a way to read the newspaper just about every day. When my favorite team is playing ball, I just find a way to watch the game. And so I'm not sure there's anything more important for us to be honest about than what is our desire? How much do we really long for God?
One of the things you talk about in developing your soul, is understanding how sorrow is part of life and how it enriches our soul. How did you come to learn those kinds of lessons?
I tell my friends I have a severe allergic reaction to sorrow, to disappointment, to pain. I guess most folks would say the same. I began to notice in the lives of people around me a richness, an intimacy with God that I longed for. And almost in every case I would discover this is a person who has become very acquainted with sorrow. This is a person who has known disappointment and pain. And it's been living into and through that difficulty that has brought them the intimacy that I ultimately long for. So I began to experiment and try to embrace some of life's difficulties and disappointments. And I discovered that I was right. It is in sorrow that sometimes we experience most profoundly the nearness of God.
You end your book by talking about joy. In what sense is joy a byproduct of a healthy soul and a growing spiritual life?
I think it's first crucial for a person to understand the difference between happiness and joy. Happiness usually is a result of something that happens. But joy seems to be more about a choice, and the choice is often made to be joyful even in the most difficult of times. It's based on a fundamental belief that God is absolutely crazy about me. God's hopelessly in love with me, loves me so much that he would even allow me to endure sorrow for the purpose, often times, of drawing nearer to him and experiencing this intimacy that ultimately my heart longs for most.
Related Elsewhere:
Running on Empty is available from Christianbook.com and other book retailers.
Article continues below
More on Fil Anderson is available from the Journey Resources web site.
Recent Dick Staub Interviews include:
China's Christian Syndrome | David Aikman, author of Jesus in Beijing, says in 20 years Christians could have a major impact on China, and that could change the world. (Feb. 18, 2004)
The Gospel According to Tupac Shakur | Why do kids relate so well to hip-hop artists Eminem or Tupac? And what can a preacher learn from these modern-day prophets? (Feb. 10, 2004)
Craig Detweiler Finds Faith in Film | The co-author of A Matrix of Meanings talks about spirituality on screen. (Feb. 03, 2004)
Walter Wangerin Finds God Everywhere | The author of The Book of God discusses his newest novel—an ancient story with modern relevance. (Jan. 27, 2004)
Lauren Winner's Faith Still a Bit Jewish | The author of Girl Meets God discusses the Jewish habits that inform her Christianity (Jan. 20, 2004)
Ravi Zacharias's Wonderful World | The author of Jesus Among Other Gods explores God's gift of awe. (Jan. 13, 2004)
Michael Card Discovers St. Peter | In A Fragile Stone: The Emotional Life of St. Peter, Card says sinking is more important than walking on the water. (Dec. 16, 2003)
Mary Poplin Calls Claremont Her "Calcutta" | After seeking God through telepathic spoon bending exercises, this professor found God, and with the help of Mother Teresa, her calling. (Dec. 10, 2003)
Gordon Smith Hears the Voice of Jesus | The author of The Voice of Jesus talks about listening to God with discernment. (Nov. 18, 2003)
John Eldredge Is Wild at Heart | The author of Wild at Heart and The Sacred Romance discusses rediscovering the Gospel through a ransomed heart. (Nov. 11, 2003)
Pursuing God and Community | A self-described nerd says pursuing God and community is possible through commitment (Nov. 4, 2003)
Francis Bok Is Proof that Slavery Still Exists | After spending 10 years in slavery, the young Sudanese man is telling his story to the world. (Oct. 28, 2003)
Philip Yancey, the Rumor-Monger | The author's latest is written not for Christians, but for those on the "borderlands of belief" (Sept. 30, 2003)
Ken Gire's Lord of the Dance | Patch Adams and T. S. Eliot teach us to twirl with Jesus, says the author (Sept. 23, 2003)
The Dick Staub Interview
Dick Staub was host of a eponymous daily radio show on Seattle's KGNW and is the author of Too Christian, Too Pagan and The Culturally Savvy Christian. He currently runs The Kindlings, an effort to rekindle the creative, intellectual, and spiritual legacy of Christians in culture. His interviews appeared weekly on our site from 2002 to 2004.
Previous The Dick Staub Interview Columns: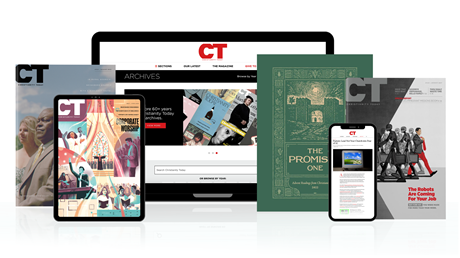 Annual & Monthly subscriptions available.
Print & Digital Issues of CT magazine
Complete access to every article on ChristianityToday.com
Unlimited access to 65+ years of CT's online archives
Member-only special issues
Subscribe
Serving God Without God
Serving God Without God