This isn't what they mean by balancing the scales of justice
Where's Victor Hugo when you need him? Two nations this week came up with two radically different solutions to the age-old question of whether starving people are justified in stealing food to feed themselves and their families.
Venezuela has not yet wholly decriminalized the act, but Supreme Court Judge Alejandro Angulo Fontiveros is in charge of drafting changes to the country's penal code, and has proposed a clause allowing the hungry to steal food and medicine.
"This is a guide for judges to avoid injustice," Fontiveros told Reuters. "They lock up for years a poor person who lives in atrocious misery and what they need is medicine." (It's not the only controversial change, Reuters notes: Other proposals would allow abortion and euthanasia.)
It goes without saying that critics argue such a move would encourage theft, even if it applies only to nonviolent crimes.
About 20 percent of Venezuela's 25 million population can't afford basic food needs, says the government. Private analysts say the figure is even higher.
In North Korea, however, nearly the whole country is starving. "Hundreds of thousands" have died in the country's famine, Amnesty International reported this week—and not all of them as a direct result of malnutrition.
"Some North Koreans, who were motivated by hunger to steal food grains or livestock, have been publicly executed," Amnesty International researcher Rajiv Narayan told the Associated Press. "Public notices advertised the executions, and school children were forced to watch the shootings or hangings."
The Amnesty International report says the group "has received reports that indicate that public executions have declined" since the famine's peak in the late '90s, "but there is concern that executions are still taking place secretly in detention centers."
Yikes. Surely there must be some just solution between licensing theft and executing the hungry. What we could really use is the wisdom of Solomon. Hey! What do you know? Here he is: "People do not despise a thief if he steals to satisfy his appetite when he is hungry, but if he is caught, he will pay sevenfold; he will give all the goods of his house."
Pundits on The Passion
We're still a month away from The Passion of the Christ's arrival in theaters, so Weblog isn't going to comment on every single piece of Passion commentary that comes down the pipe. Two must-reads today, however, are conservative Catholics on the dueling comments from Pope John Paul II's personal secretary and Mel Gibson's publicity department.
As it turns out, this is much more than "he said/he said." An e-mail sent to Gibson's folks bore the name and address of Joaquin Navarro-Valls, the official papal spokesman. Not only did it support the story that Pope John Paul II responded to the Passion with the comment, "It is as it was," but the e-mail encouraged the dissemination of the quote, ""I would try to make the words 'It is as it was' the leit motif in any discussion on the film," the e-mail said, according to Dallas Morning News columnist Rod Dreher, who received a copy. "Repeat the words again and again and again."
But Navarro-Valls says the message was a fake. "I can categorically deny its authenticity," he said in an e-mail message to Dreher. The Dallas columnist went to Wall Street Journal columnist Peggy Noonan, whose December 17 column most publicized the reported papal endorsement. In reporting that story, Noonan received a message from Navarro-Valls's e-mail address that seemed to support the quote—and certainly did not deny it, when Noonan had asked for more information on it.
"[Dreher and I] did some checking on Dr. Navarro-Valls's e-mail to me," Noonan writes today. "It was sent via an e-mail server in the Vatican's domain, and the IP address belongs to a Vatican computer."
Both Dreher and Noonan note that their implications—that several Vatican officials are lying—is no small deal. "While to some this may seem a tempest in a teapot, it is not. It is an important story," Noonan writes. "he truth matters. What a pope says matters. And what this pontiff says about this film matters"—especially, she notes, with the controversy over whether it is anti-Semitic.
Wither top officials of Mel Gibson's production company are manipulative deceivers or the top aide to Pope John Paul II and the papal spokesman is," writes Dreher. "Here's what I think: The pope was quoted accurately, but, for some reason, Vatican officials became uncomfortable with it. So they changed their official story. If doing so makes honorable filmmakers and journalists, Catholics among them, come off as sleazebags or dupes—well, that's life. If that's the game the Holy See is playing, that's a crying shame."
More on The Passion of the Christ:
More articles
Roe v. Wade at 31:
Cardinal says gays perverted:
Marriage:
Religious freedom:
French headscarf (and beard) ban:
Religion in Europe:
Anti-Christian violence in Iraq:
The Bible:
Church visits to Cuba:
Related Elsewhere:
Suggest links and stories by sending e-mail to weblog@christianitytoday.com
Check out Books & Culture's weblog, Content & Context.
See our past Weblog updates:
January 21 | 20 | 19
January 16 | 15 | 14 | 13 | 12
January 9 | 8 | 7 | 6 | 5
January 2 | December 31 | 30 | 29
December 26 | 23 | 22
December 19 | 18 | 17 | 16 | 15
and more, back to November 1999
Weblog
Launched in 1999, Christianity Today's Weblog was not just one of the first religion-oriented weblogs, but one of the first published by a media organization. (Hence its rather bland title.) Mostly compiled by then-online editor Ted Olsen, Weblog rounded up religion news and opinion pieces from publications around the world. As Christianity Today's website grew, it launched other blogs. Olsen took on management responsibilities, and the Weblog feature as such was mothballed. But CT's efforts to round up important news and opinion from around the web continues, especially on our Gleanings feature.
Ted Olsen is Christianity Today's executive editor. He wrote the magazine's Weblog—a collection of news and opinion articles from mainstream news sources around the world—from 1999 to 2006. In 2004, the magazine launched Weblog in Print, which looks for unexpected connections and trends in articles appearing in the mainstream press. The column was later renamed "Tidings" and ran until 2007.
Previous Weblog Columns: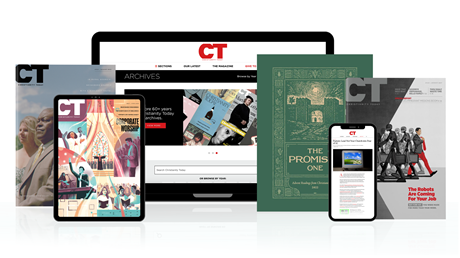 Subscribe to Christianity Today and get access to this article plus 65+ years of archives.
Home delivery of CT magazine
Complete access to articles on ChristianityToday.com
Over 120 years of magazine archives plus full access to all of CT's online archives
Subscribe Now
Misérables Solutions to 'Famine Theft'
Misérables Solutions to 'Famine Theft'