Gerson: Bush doesn't claim he's God's instrument
Chief White House speechwriter Michael Gerson spoke to about 20 reporters last week at a conference organized by the Ethics and Public Policy Center. The talk was off the record, but The Washington Post got permission to hit many of Gerson's points in a Sunday article, which is worth reading all the way through. It begins:
Like many evangelical Christians, President Bush believes that God is at work in his life. But he has avoided claiming that God is behind his presidency or U.S. foreign policy, his chief speechwriter said.
"The important theological principle here, I believe, is to avoid identifying the purposes of an individual or a nation with the purposes of God," Michael Gerson said. "That seems a presumption to me, and we've done our best to avoid the temptation."
Among Gerson's points: Bush, not he, wrote the line, "Freedom is not America's gift to the world, it's the almighty God's gift to all humanity." Gerson says the line proves that Bush doesn't believe that the U.S. is God's special instrument. And, Gerson made clear, "The President is not reading Tim LaHaye for his Middle East policy."
Also, Gerson said, there's no secret code Bush has used to speak to evangelicals. Religious and biblical references, he said, are "not code words; they're our culture. It's not a code word when I put a reference to T.S. Eliot's 'Four Quartets' in our Whitehall speech [in London on Nov. 19, 2003]; it's a literary reference. Just because some people don't get it doesn't mean it's a plot or a secret."
The bottom line: Bush's religious language really isn't anything special.
It's true that Bush's "zealotry" has been overblown in the media, and that accusations that his foreign policy is driven by premillennial dispensationalism are spurious. But aspects of Bush's public faith are unlike those of his predecessors. Case in point: This year's Christmas card is reportedly the second presidential Christmas card in history to include a Bible verse. And what a verse Psalm 95:2 is: "Let us come before him with Thanksgiving and extol him with music and song." It's worth noting, however, that the First Lady is chiefly responsible for choosing the annual card. The first White House Christmas card with a Bible verse? Bush's 2001 card, which said, ""Thy face, Lord, do I seek: I believe that I shall see the goodness of the Lord in the land of the living!"
U.S. News covers prayer
The cover of this week's U.S. News & World Report is "The Power of Prayer," led off by a surprisingly short article by Jeff Sheler. He's a very good religion reporter—he's even president of the Religion Newswriters Association—but the article is shockingly short on news.
A second article on what we pray for hits the big prayer story that's all over the news right now: the debate over a Journal of Reproductive Medicine article that said prayers (even those of strangers) could double the success rate of in vitro fertilization pregnancies. (See the second item here for the Journal's most recent take. The Chronicle of Higher Education has a piece on the controversy today, but the article is only available to subscribers. The Orange County Register recently summarized the news in a piece that was widely published over the weekend. The news is also in Time this week, in a column by Leon Jaroff.)
But there's other prayer news this week, too, but it doesn't make the magazine. Canada just had to change its rules on prayer in the military, the debate over town council prayers is heating up nationwide and may soon go to the Supreme Court, atheist Antony Flew was revealed to have accepted a belief in God, but not one you can pray to, Bush just prayed at a Menorah lighting, and prayer has become protest in Boston and Columbia, S.C. There's even a new documentary film out about prayer.
If U.S. News wanted to just concentrate on whether prayer works, there's big news there, too. Jeanna Giese just became the first person ever recorded to survive rabies without a vaccine—her family credits worldwide prayer. Meanwhile, the Kansas City Star reports that prayers for the Chiefs aren't working. Out in a British town, police are hoping prayer can reduce crime.
But none of this news appears in U.S. News & World Report. Instead, we're told that people pray, they pray for a lot of different things, and that they've been doing so for a long time. Even its survey results are worthless, since they're the result of an unscientific online poll. Oh well, at least it's not an attack on core doctrines of the faith.
More articles
Science | Evolution | Education | Sex ed. | Same-sex marriage | Abortion | War, Terrorism, and Security | 'Moral values' | Religious Right | Politics | Church & State | Buttiglione in America | Religious Freedom | Persecution | Britain | Beckham nativity | Christmas | December Dilemma | Salvation Army | Missions & Ministry | UCC Ad | Church Life | Protestant vs. Catholic Images | Church Buildings | Catholicism | Mormonism | Other Religions | Abuse | Money & Business | The Passion | Media and Pop Culture | History | Other Articles
Creation & evolution:
Education:
Sexual education & abstinence:
Same-sex marriage:
Rally in Atlanta:
Canadian same-sex marriage:
Abortion:
War, terrorism, and security:
'Moral values':
Religious right:
Politics:
Church & state:
Buttiglione in America:
Religious freedom:
Persecution:
Britain's religious freedom bill:
How Christian is Britain?:
Beckham nativity:
Christmas:
December dilemma:
Salvation Army:
Missions & ministry:
UCC ad:
Church life:
Protestant vs. Catholic images:
Church buildings:
Catholicism:
Mormon author 'disfellowshipped':
Other religions:
Abuse:
Money & business:
The Passion:
Media and pop culture:
History:
Other articles of interest:
Related Elsewhere:
Suggest links and stories by sending e-mail to weblog@christianitytoday.com
Check out Books & Culture's weekly weblog, Content & Context.
See our past Weblog updates:
December 10 | 9 | 7 | 6
December 3 | 2 | 1
November 24 | 23 | 22
November 19 | 18 | 17 | 16
November 12 | 11 | 10
November 5 | 3b | 3a | 2 | 1
October 29 | 28 | 27 | 26 | 25
Weblog
Launched in 1999, Christianity Today's Weblog was not just one of the first religion-oriented weblogs, but one of the first published by a media organization. (Hence its rather bland title.) Mostly compiled by then-online editor Ted Olsen, Weblog rounded up religion news and opinion pieces from publications around the world. As Christianity Today's website grew, it launched other blogs. Olsen took on management responsibilities, and the Weblog feature as such was mothballed. But CT's efforts to round up important news and opinion from around the web continues, especially on our Gleanings feature.
Ted Olsen is Christianity Today's executive editor. He wrote the magazine's Weblog—a collection of news and opinion articles from mainstream news sources around the world—from 1999 to 2006. In 2004, the magazine launched Weblog in Print, which looks for unexpected connections and trends in articles appearing in the mainstream press. The column was later renamed "Tidings" and ran until 2007.
Previous Weblog Columns: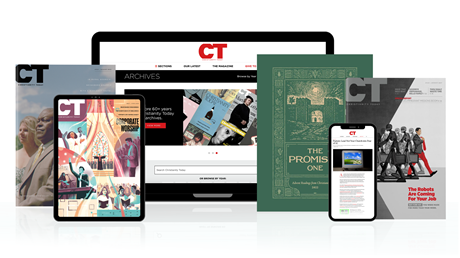 Annual & Monthly subscriptions available.
Print & Digital Issues of CT magazine
Complete access to every article on ChristianityToday.com
Unlimited access to 65+ years of CT's online archives
Member-only special issues
Subscribe
White House Speechwriter Talks About the Bush Code
White House Speechwriter Talks About the Bush Code