Sheila Walsh communicates her Christian faith through broadcasting, singing, writing songs, writing books, and speaking at conferences, most notably Women of Faith. In her books, such as Honestly and Living Fearlessly, she revealed her own journey of faith in an unusually unguarded way. Her latest is titled All That Really Matters (Waterbrook).
In your books and speaking, you've been very honest about your struggles. How have people responded?
Well, it's really important for me, Dick. I mean, it was 12 years ago that I was in the psychiatric hospital, but this year at all the Women of Faith Conferences I talk on Friday night about the fact that, you know, many of you know I went through that experience and struggle with that. But what you might not know is I'm still on medication. It's an ongoing battle for me. I'm not fixed.
But I find that really delightful that God uses our brokenness to be a bridge to other people. A number of people who have written to me, after conferences and said, Look. I've tried to be okay. I came off my medication. I've been really in trouble. How do you talk? The thing that surprises people is you could be involved in something. God can still use you when you're not perfect.
Why does the church have such a difficult time handling honesty?
There's this little echo inside where you think, if you knew the real me, I wouldn't belong here. That, to me, is such a shame. We should be able to be the most honest people, the most vulnerable, the most transparent.
We know that we come to the cross because we've blown it, because we're sinners, because we're hopeless. And then we spend the rest of our life trying to prove to God he probably didn't need to do that anyway because we've got our act so together.
The first chapter of your new book, All That Really Matters, focuses on moving from a performance mindset to understanding what really matters to God.
Two thousand years ago a man asked Jesus a question that, if we understood it, would transform the way we are living our life right now. This guy said to Jesus, What's the one thing? What's the one thing, amongst all the things out there, that really matters? And Jesus said, Look. There's only one thing. Love God with everything you have and are, and love your neighbor as yourself.
We want to think there's something we could do, or one speaker that we could hear, or one church that we could go to where it seems like God's doing something special—then suddenly we would get it. All the little things in life that are not working would suddenly fall into place.
It's settling for so much less than Jesus actually, the plan that he offered for us. The thing I think is outrageous about God is that he looked down and saw that we have no idea what he's like. You know, even in our best moments we don't have a shadow of a glimpse of what he's like. So the God of the universe entered our stage in the womb of a teenage girl to show us. Everywhere Jesus went, he was saying, Look at me. This is what God is like. This is what it looks like, to love God with everything, and to love your neighbor as you love yourself.
Where do we go from there, once we recognize that we're on the wrong track?
Part of it in my own life has been getting to know who God actually is as opposed to who I think he is. My father died when I was young and it was a fairly traumatic experience for me. And I projected all those ideas and pictures onto God. And so one of the ways I began, just a couple of years ago, was I actually studied and asked, "God, what have you told us about who you are? What have you revealed about who you are?"
Because in my own strength I can't change anything about me. I totally get what Paul said when he said, "There's nothing good in me." I totally get it. So my only hope is to ask God to pull back the curtain a little bit and let me see who he is because that will make me want to change. We think, we'll give people a bunch of rules and that will pull their heart along.
How did your understanding of who God was change as you began trying to get a clearer picture of him?
The whole way through the New Testament you hear talk of what it's going to be like at the end of the age. Paul tells us, at some point, every knee will bow and every tongue confess that Jesus is Lord. But John got, for a minute, to see what it's going to look like. He saw the last paragraph and absolutely, totally changed the way that he lived his life. Because he saw that every single person above the earth and below the earth was doing one thing, and that was that they were worshiping.
That would not always have been good news for me. Because I've never quite got worship. My picture of heaven was of bunches of people kind of jockeying to get a better position to see Jesus on the throne and singing kumbaya one more time. So I can't honestly say I ever used to look forward to heaven because that just sounds incredibly boring to me.
But what I discovered is that worship actually changes everything about who we are. It came through a very simple thing. I had to go for a routine heart scan. I get one every couple of years because my father had a massive heart attack in his 30s. And my last scan came back good, but my doctor called me back and said, Look, we've picked up a spot on your liver, and you need to be at the hospital tomorrow at 6 a.m. And so I went through the usual CAT scans and all that kind of stuff. I had nursed my mother-in-law through liver cancer, and I knew that it was not a good prognosis. And I couldn't come up with anything that was helping me. So when I got home and went through this waiting process—which I just hate—I began to worship.
Initially I think I did it because I thought If I'm really good at it, God might keep me around for a bit longer. But worship changed me because I began in just simple ways. I did what the Old Testament people used to do. I got the Psalms and I walked from my bedroom and I read them out loud. And when I came to ones that were praise psalms, I praised them out loud. And when I came to ones where David's heart was breaking, I found myself on the floor weeping along with him.
And I began to sing and to say what I believed to be true in the matter what I could see in my own heart. And I realized the more you get to know God, perfect love casts out fear. In fact, the more God fills your heart with his love, there's not that much room left for fear and dread.
It doesn't mean that everything changes, but it means that you have this bigger picture of who God is. So no matter whether you get the good answer or the bad answer, I was very blessed. It turns out I have a birthmark on my liver.
But the process absolutely made a huge impact on me that continues to this day. Worship is now a huge part of my everyday life, because I know it's the only way that I can live in this world.
What are you learning about the needs of American women by speaking at the Women of Faith Conferences?
How incredibly lonely women are. I mean they're very busy, very overcommitted, and that's why I think Women of Faith is very different than Promise Keepers. Women don't need to be asked to commit to one more thing. But so often they feel disconnected and as if they're not meeting anyone's standards—not their own, not their husband's or kids', not the church's, and certainly not God's.
We get criticized at Women of Faith for not making more bold statements — Here's ten things you should do. We refuse to do that. We say come to the throne of grace and let God love you. And if he's got something to say to you about some issue in your life, or me about some issue, he's well able to do that.
Visit DickStaub.com for audio and video of his radio program (4-7 p.m. PST), media reviews, and news on "where belief meets real life."
Dick Staub interviewed Os Guinness last summer about faith journeys.
Recent Dick Staub Interviews include:
Trusting in a Culturally Relevant Gospel | Os Guinness says that evangelicals have never strived for relevance in society as much as they do now. Ironically, he says, they have never been more irrelevant (Aug. 26, 2003)
The Long War About Science | Larry Witham, the author of Where Darwin Meets the Bible and By Design, talks about faith, science, and how the battle has evolved. (Aug. 19, 2003)
Kevin Leman Talks About Sex, Baby | The author of The Birth Order Book looks at the private lives of Christian couples in Sheet Music: Uncovering the Secrets of Sexual Intimacy in Marriage. (Aug. 12, 2003)
Why God is like Jazz | Donald Miller, author of Blue Like Jazz, talks about why Christians need writers who honestly deal with their faults and why penguin sex is an apt metaphor for believing in Christ. (Aug. 5, 2003)
A Gerontologist Gets Older | David Petty, author of Aging Gracefully, has long taught about the process of aging. Now, he is personally learning that one of the most important aspects is the spiritual side. (July 29, 2003)
Carmen Renee Berry's Unabashedly Consumerist Handbook to Ecclesiology | The author of The Unauthorized Guide to Choosing a Church helps seekers find their best congregational fit. (July 22, 2003)
Are Darwinists Immoral? | Benjamin Wiker says Darwinism isn't science per se: it's just a reiteration of a 2,300-year-old philosophy (July 1, 2003)
J. Budziszewski Knows That You Know What You Know | Even though you may not know it yourself. (June 24, 2003)
How Dan Allender Broke on Through (to the Other Side) | A former drug dealer who evangelized before he was a Christian talks about his efforts to bring healing from sexual abuse (June 10, 2003)
Paul Elie on 'the Holy Ghost School' | The author of The Life You Save May Be Your Own talks about the personal journeys of Flannery O'Connor, Thomas Merton, Dorothy Day, and Walker Percy and what we learn from them today (June 3, 2003)
Why We Are Drawn to The Matrix | Chris Seay, coauthor of The Gospel Reloaded, says the first movie was about finding belief and the second looks at walking that path. (May 27, 2003)
Remembering Francis of Assisi, the Crazy Genius | CT managing editor Mark Galli finds someone who lived the Sermon on the Mount. (May 20, 2003)
John Ortberg's Freak Show | Churchgoers' attempts to be average are killing them, says the Willow Creek pastor. (May 13, 2003)
The Dick Staub Interview
Dick Staub was host of a eponymous daily radio show on Seattle's KGNW and is the author of Too Christian, Too Pagan and The Culturally Savvy Christian. He currently runs The Kindlings, an effort to rekindle the creative, intellectual, and spiritual legacy of Christians in culture. His interviews appeared weekly on our site from 2002 to 2004.
Previous The Dick Staub Interview Columns: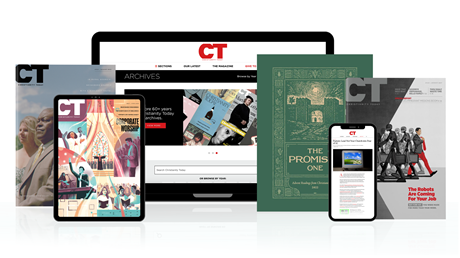 Annual & Monthly subscriptions available.
Print & Digital Issues of CT magazine
Complete access to every article on ChristianityToday.com
Unlimited access to 65+ years of CT's online archives
Member-only special issues
Subscribe
Sheila Walsh Says Stop
Sheila Walsh Says Stop