Politics and law:
First Amendment:
Ovadal's beach rant ruled unconstitutional | A minister crossed the line of constitutionally protected free speech in a confrontation with a woman who had gone to a southern Wisconsin beach that allows nude sunbathing, a state appeals court ruled Tuesday (Associated Press)


Campaign-finance, theology cases to be watched closely | Among the nearly 50 cases the Court has already docketed for the coming term, only two are direct First Amendment cases (Tony Mauro, First Amendment Center)


Song raises ire of local atheist | Sherman threatening lawsuit (

Wheeling Countryside

, Ill.)


Marriage laws:
Till the divorce law becomes legal | What have Malta, the Philippines, and Chile got in common? (BBC)


Gay-marriage foes lose fight | Top court turns down their appeal bid; religious, family groups undaunted (

The Toronto Star

)


Also: Same-sex appeal refused (Canadian Press)


Religious displays:
Mark Paschall's rules for jurors:
Juror 'rule book' raises alarm | Jefferson County Treasurer Mark Paschall will continue distributing booklets that urge jurors to consider religious teachings in reaching their verdicts, even if he has to take county commissioners to court (

Rocky Mountain News

)


Rights group: 'Extremism' behind Jeffco official's guide | Anti-Defamation League protests (

The Denver Post

)


Paschall pamphlets shameful | Elected officials like Paschall and Baker are the reason the recall process is written into the Colorado Constitution (Editorial,

The Denver Post

)


Crime:
Funeral for slain pastor to be Friday | More than 100 people gathered Thursday night to remember the Rev. Johnny C. Reynolds at a small Kirkwood church a block from the sanctuary where the revered pastor was gunned down by a member of his flock (

The Atlanta Journal-Constitution

)


Differing impressions of priest charged in obscene-call case | Faces eight counts of second-degree aggravated harassment and one count of second-degree harassment, all misdemeanors (

The New York Times

)


Pope decries 'scandalous' clergy behavior | "The scandalous behavior of a few has undermined the credibility of many," he said in English in an address to Philippine bishops. (

The Washington Times

)


Priest quits in porn case | A former Cambria County priest resigned yesterday after being charged by the FBI with Internet pornography involving young boys (

The Tribune-Democrat

, Johnstown, Pa.)


Religious liberty abroad:
Turkmenistan: Survey reports on lack of religious freedom | A new report on religion in Turkmenistan shows a complete lack of freedom to practice any faiths except for Sunni Islam and Russian Orthodox Christianity. All of the country's other religious communities are de facto banned and their activities punishable (Radio Free Europe)


Proposed cow slaughter ban stirs discord in India | Many Muslims and Christians are opposed to a bill pushed by Hindu nationalists (

Los Angeles Times

)


Iraq:
Missions and ministry:
On this they do agree | Evangelicals take the lead in human-rights activism (Allen D. Hertzke,

The Wall Street Journal

)


Religious groups aid flooded residents | Interfaith disaster relief organizations are forming to help flood victims who have exhausted known local resources (

St. Petersburg Times

, Fla.)


Anglican troubles:
AIDS:
Amid all the horror of devastation caused by Aids, there's reason to celebrate | Among us are thousands of saints, living with such compassion that it takes one's breath away (

Cape Times

, South Africa)


Vatican: Condoms don't stop AIDS | A senior Vatican spokesman backs the claims about permeable condoms, despite assurances by the World Health Organisation that they are untrue (

The Guardian

, London)


Also: Vatican in HIV condom row | The Catholic Church has been accused of telling people in countries with high rates of HIV that condoms do not protect against the deadly virus (BBC)


Film:
Hollywood's

Luther

| From 95 Theses to 112 silver-screen minutes (Thomas Hibbs, National Review Online)


Will movie spark talk of Christian values? | Would Jack Chick's views dissuade you from seeing his film or screening it for your congregation? Religious leaders respond (

Los Angeles Times

)


Spreading the 'Light' | Chick Publications produces film showing paintings of biblical events (

San Bernardino County Sun

, Calif.)


Media:
Chief seeks to ease ITV's religious burden | Nigel Pickard, director of programmes since February, said the channel's annual commitment to 104 hours of religious programming may be "too much" in an increasingly competitive environment (

The Guardian

, London)


FCC gives Bono a pass on cursing at awards | When it comes to cursing, the government says, it's all in the delivery (Associated Press)


Falsani Fridays: God, Bono, the Cardinal, and the Cubs | Cathleen Falsani manages to be silly, humorous, thoughtful, intelligent, and spiritual (

Chicago

)


Church life:
Amish seek help from machines after storm | Amish bishops can be flexible on rules about electricity and other modern conveniences, especially involving medical or other emergencies (Associated Press)


Portable religious beliefs | Expats face faith challenges (

Sofia Echo

, Bulgaria)


Pat Robertson:
Pat Robertson's 'nuke' idea draws protest | State Dept. spokesman: 'Idea is despicable' (CNN)


Also: State department protests televangelist's remark (Reuters)


Robertson out on a Limb-augh | TV preacher Pat Robertson pulled a Rush Limbaugh move yesterday when he tried to defend the embattled right-winger-and wound up insulting actor Morgan Freeman (

New York Daily News

)


Jonathan Edwards:
Is Jonathan Edwards history? | The contested legacy of the great Puritan?and what it tells us about religion in America today. (John Wilson, Beliefnet)


Hell, yes | There's more to Jonathan Edwards than "Sinners in the Hands of an Angry God." (Editorial,

The Wall Street Journal

)


Other stories of interest:
Related Elsewhere:
October 10a | 9 | 8 | 6
October 3 | 2 | 1 | September 30 | 29
September 25 | 24 | 23 | 22
September 19 | 18 | 17 | 16 | 15
September 12 | 11 | 10 | 9 | 8
September 5 | 4 | 3 | 2
August 29 | 28 | 27 | 26 | 25
and more, back to November 1999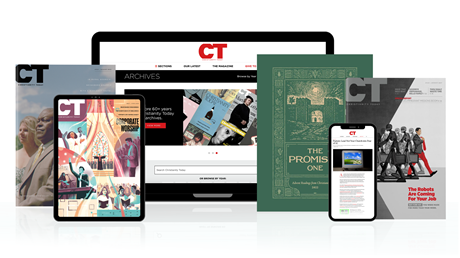 Annual & Monthly subscriptions available.
Print & Digital Issues of CT magazine
Complete access to every article on ChristianityToday.com
Unlimited access to 65+ years of CT's online archives
Member-only special issues
Subscribe
Weblog Bonus: Bible Use in Sentencing Gets Case Reconsidered
Weblog Bonus: Bible Use in Sentencing Gets Case Reconsidered