Not everybody on the Nobel Committee loves Raymond Damadian
While today's Nobel Peace Prize announcement will no doubt reignite discussion over whether Islam is a religion of peace, and may cause some to ask what happened to the buzz that Pope John Paul II would win, others are still discussing the controversy over this year's Nobel Prize in medicine.
The Nobel Committee on Monday announced that the prize would be awarded to Paul C. Lauterbur and Peter Mansfield, for their discoveries concerning magnetic resonance imaging, or MRI scans.
But when you ask Google who invented the MRI, the most common answer is Raymond V. Damadian. What's up? The controversy has been percolating, and The Wall Street Journal reported last year that "a ferocious battle in the scientific community over who gets credit" probably held up an MRI-related Nobel for years.
A full-page ad in yesterday's The Washington Post said the Nobel committee was "attempting to rewrite history" and "did one thing it has no right to do: It ignored the truth."
Likewise, Damadian told Newsday, "I can't escape the fact that I started it all. … My concern is the distortion by the Nobel Committee to write me out of the history of the MRI. Every history book from now on will say the MRI is Lauterbur and Mansfield."
"I know that had I never been born, there would be no MRI today," he told The Washington Post.
Many scientists agree, but some suggest that Damadian's self-promotion may have hurt him. He's "sometimes flamboyant," NPR science correspondent Richard Knox told All Things Considered yesterday.
But Knox, along with Reason magazine's Ronald Bailey, suggested another reason Damadian may have been disregarded: He's a devout Christian (see this 1997 profile in Christianity Today sister publication Christian Reader) who believes in creationism. In fact, he's on the Technical Advisory Board for the Institute for Creation Research, and on the reference board for Answers in Genesis's upcoming Creation Museum.
"He's identified by many web sites as a prominent creation scientist," Knox said. "I have no first-hand knowledge of his beliefs, but it's fair to say that most scientists are not creationists and tend to look askance at scientists who believe that way, but it's really impossible to know if the Nobel Committee took that into account."
Bailey similarly writes, "I have no inside information, but I wonder if the committee was swayed by the fact that Damadian, although a brilliant inventor, is apparently a creation science nut. In ironic contrast, Lauterbur's current research is on the chemical origins of life."
The Nobel Committee, meanwhile, says it doesn't talk about why certain people don't receive the prizes. It only talks about why winners do.
Watch this space
Lots of links below, but come back this afternoon for even more, along with fresh news and commentary. It's a busy religion news day, so we couldn't fit it all in this morning.
More articles
Faith-based initiatives:
Free to worship at home:
"Honor killings":
Christianity and Judaism:
The Passion:
Other religions:
Religious protests
Bible:
Missions and ministry:
Money and business:
Music
40 Days of Purpose:
Ten Commandments:
AIDS:
Jonathan Edwards:
Suggest links and stories by sending e-mail to weblog@christianitytoday.com
Check out Books & Culture's weblog, Content & Context.
See our past Weblog updates:
October 9 | 8 | 6
October 3 | 2 | 1 | September 30 | 29
September 25 | 24 | 23 | 22
September 19 | 18 | 17 | 16 | 15
September 12 | 11 | 10 | 9 | 8
September 5 | 4 | 3 | 2
August 29 | 28 | 27 | 26 | 25
and more, back to November 1999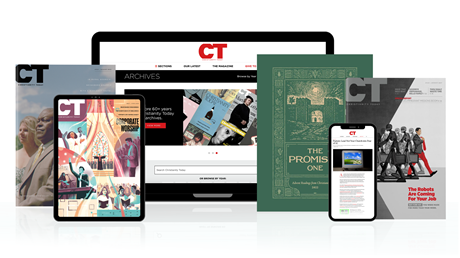 Annual & Monthly subscriptions available.
Print & Digital Issues of CT magazine
Complete access to every article on ChristianityToday.com
Unlimited access to 65+ years of CT's online archives
Member-only special issues
Subscribe
Did Nobel Committee Ignore MRI Creator Because of Creationism?
Did Nobel Committee Ignore MRI Creator Because of Creationism?