Leaders of the American Anglican Council (AAC) have spoken for much of this year about a possible realignment of the Anglican Communion. During their "Place to Stand" conference Wednesday at the Wyndham Anatole hotel in Dallas, AAC leaders began to put more flesh on the skeleton of that concept.
Bishop Robert Duncan of the Diocese of Pittsburgh delivered the most solemn address of the day as he described what themes he anticipates from the primates—particularly from outspoken orthodox archbishops in Africa, Asia, and South America.
Duncan, a soft-spoken bishop who has often taken risks in defending besieged conservative clergy, predicted that any realignment of the Anglican Communion will be messy and will require patience. "All of us in this place are having a hard time waiting just now," Duncan said.
The 38 primates (archbishops) of the Anglican Communion will meet on Oct. 15 and 16 in London to discuss responses to the Episcopal Church's approval of an openly gay bishop and of widespread blessings for same-sex couples.
"God willing, the defining battle for the soul of Anglicanism will be fought next week," Duncan said.
Rowan Williams, the Archbishop of Canterbury, "will require the wisdom of Solomon so that the true mother of the living child may take him away to raise him," Duncan said. "In his humanity, his grace will surely seek a compromise. But compromise will just as surely rend the baby into two pieces."
If the primates do not confront the Episcopal Church with a godly rebuke and a call to repentance, "the Archbishop of Canterbury would become little more than the titular head of a declining American, Canadian, British, and Australian sect," Duncan said. "For Rowan Williams, the last British Empire is his to lose."
But even if the primates do issue a call to repentance, Duncan is confident it will prompt an arrogant American response. Duncan called on the more than 2,700 conference participants to keep their eyes on what he called "Magnificat truths."
"Like the fall of the Soviet Union, the Lord will cast the mighty from their thrones and will lift up the lowly," he said. "Count on it."
As the Episcopal Church rebuffs calls for repentance, Duncan said, a network of confessing parishes and dioceses will emerge. Funding will flow into that network, just as bishops will flow from it.
Duncan said members of this network will be accountable and submitted—both to one another and to their fellow Christians in the Global South. And it will be "irrepressibly missionary," he said. "If our first concern in this movement is not to share the gospel of Jesus Christ, then let's quit now."
Earlier in the morning, the Rev. Canon Bill Atwood of the Ekklesia Society described what he has heard while building relationships with primates across the world.
He quoted one archbishop: "When the missionaries came here, they introduced us to Jesus. Now we do not have to travel to the west to ask him what he thinks."
And another: We cannot be in a position of condoning evil."
And another: "ECUSA [the Episcopal Church USA] will have to repent and become fully, biblically faithful—or a new ECUSA will just have to emerge."
In case a new ECUSA indeed has to emerge, AAC leaders offered sessions that encouraged on redirecting funds away from the Episcopal bureaucracy and preparing for possible separation from liberal bishops.
Speakers discouraged parishes from declaring themselves out of communion with the Episcopal Church, or taking any other action before consulting the AAC's legal task force.
Atwood reminded participants that the costs are higher on poor dioceses from the developing world, which in past years have faced financial repercussions for opposing the Episcopal Church.
"This realignment is not without cost. And yet again and again I've heard people with very sparse resources say the gospel is not for sale," Atwood said.
He quoted Bishop Benjamin Kwashi of the Diocese of Jos, Nigeria: "You can't make a pile of money so big that it will insulate me from the fires of hell."
Douglas LeBlanc is an associate editor for Christianity Today.
Related Elsewhere
See also yesterday's dispatch from the conference, "Conservative Episcopalians Challenge Church Politics as Usual."
The American Anglican Council and Christ Episcopal Church offer more information about the conference, including an agenda and news releases.
The AAC also has a draft document that includes an appeal to the primates of the Anglican Communion to "create a new alignment for Anglicanism in North America."
The Classical Anglican Net News weblog offers many links to mainstream news sources, denominational press pieces, and other Anglican blogs.
Other recent stories on the conference include:
Episcopalians seek reversal on gay stance | Participants planned a Thursday vote on a formal appeal to the international Anglican Communion (Associated Press)
Conservative Episcopalians urge return to orthodoxy (The Boston Globe)
Episcopalians make plans to reach out to gays | Participants in the three-day gathering say they do not want to leave people with the impression that their church doors are closed to gays and lesbians (Ft. Worth Star-Telegram, Tex.)
Article continues below
Accepting gays will draw world rebuke, bishop says | A conservative Episcopal bishop predicted yesterday that world Anglican leaders will rebuke the American branch of the church for its acceptance of homosexuality (The Washington Times)
Episcopal group may withhold money (The Birmingham News, Ala.)
Pittsburgh bishop sees war in church | He urges Anglican primates to rebuke U.S. Episcopalians (Pittsburgh Post-Gazette)
Episcopalian lawyers add legal view of split | Parishes cautioned not to leave national church (Houston Chronicle)
Rightwing aims 'fuel gay bishop campaign' | Vociferous opponents of US Anglican appointment attract UK and African allies, stepping up pressure on Archbishop of Canterbury (The Guardian, London)
Bishop predicts trouble for Episcopal Church (The Star-Ledger, Newark, N.J.)
Gay bishop opponents meet in US | US evangelicals opposed to the election of their church's first openly gay bishop are gathering in Dallas, Texas, today to plan a strategy that may precipitate a schism within the Anglican communion and put pressure on leaders of the church meeting next week in London (The Guardian, London)
Gay rights issue at heart of battle for a church's soul | The Episcopal Church — the church of the Founding Fathers and 11 U.S. presidents, the one with a sanctuary standing tall on thousands of Main Streets — may be heading for a theological civil war (USA Today)
Conservative Episcopalians gather to discuss gay bishop | Some Alabama Episcopalians, even those who opposed Robinson, are wary of the American Anglican Council's "A Place to Stand" conference in Dallas (The Birmingham News, Ala.)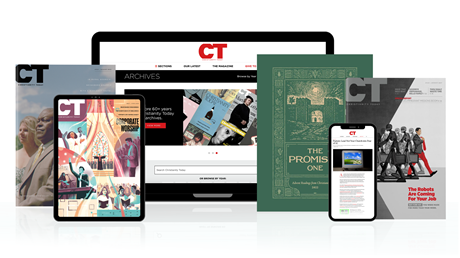 Annual & Monthly subscriptions available.
Print & Digital Issues of CT magazine
Complete access to every article on ChristianityToday.com
Unlimited access to 65+ years of CT's online archives
Member-only special issues
Subscribe
Reimagining Anglican Bonds of Affection
Reimagining Anglican Bonds of Affection