In a courtyard of the Wyndham Anatole hotel near downtown Dallas sit two tall, graffiti-strewn panels from the former Berlin Wall. ACT UP! NOW, says a spray-painted slogan on the left panel. SMASH NORMALE POLITIX, says the right panel.
Smashing normal politics, at least those of the Episcopal Church, has drawn nearly 2,700 Episcopalians to the Wyndham Anatole for a meeting that began at noon Tuesday and continues through noon Thursday.
"A Place to Stand," a conference sponsored by the American Anglican Council, is part unofficial church convention, part communiqué to the 38 primates (archbishops with national or transnational duties) of the Anglican Communion, and part pep rally for orthodox Episcopalians.
The Episcopal Church's General Convention, meeting in August, approved Gene Robinson, an openly gay priest, as the bishop-elect of the Diocese of New Hampshire, and decided that "local faith communities" are functioning "within the bonds of our common life" when they bless same-sex couples. Conference speakers did not make frequent reference on Tuesday to those presenting issues, but criticisms of those votes met with thunderous applause and some standing ovations.
Presiding Bishop Frank Griswold and House of Deputies President George Werner unsuccessfully asked to send four observers to the gathering, along with a letter Griswold had written to the gathering.
"We have had those who've tried to make this an official meeting by sending representatives or observers, and we've said no thanks," said the Rev. David Roseberry, rector of Christ Episcopal Church in the Dallas suburb of Plano.
The Rev. David Anderson, AAC's president and CEO, wrote to Griswold that anyone attending the conference must register as a participant, which includes affirming the theological statements in "A Place to Stand," the founding document of the AAC. That document commits its signatories to resist the Episcopal Church when it permits or authorizes "teachings and practices contrary to Scripture."
The conference did, however, welcome "ecumenical observers" from Eastern Orthodoxy and from "continuing Anglican churches"—bodies that have broken away from the Episcopal Church in past decades because of revisions to The Book of Common Prayer and General Convention's decision, in 1976, to authorize ordaining women to the priesthood. Those observers are from communions to the theological right of AAC, and they would have no trouble affirming the theology of "A Place to Stand."
Conference leaders also rejected media credentials for Louie Crew, founder of Integrity, the gay caucus within the Episcopal Church, and Katie Sherrod of Episcopal Women's Caucus. Both Crew and Sherrod write frequently for The Witness, a monthly magazine published by liberal Episcopalians.
'We cannot move with you'
Tuesday's sessions included a panel discussion by AAC leaders, a passionate address by the Rev. Kendall Harmon of the Diocese of South Carolina, and a solemn procession by the 46 deacons, 799 priests, and 46 bishops.
"In Minneapolis this summer, something moved," Roseberry said Tuesday morning, describing General Convention as a star moving off course from a beautiful constellation. "We are here today to say with solemnity and sorrow, We cannot move with you. … We belong to the wider Anglican Communion, and we will not depart from that."
Bishop Robert Duncan said he approached the House of Bishops on August 5, the day it approved Robinson's election as a bishop, "feeling as though I was facing my own execution." That feeling, he said, clarifies the mind, tears the heart, and frees the spirit.
Duncan spoke of standing in line with his fellow bishops for the central Eucharist of General Convention and knowing he would not stand with them again. "We knew we would never be in that line again, and the heartbreak was immense," he said.
Duncan also mentioned looking into the eyes of bishops from Pakistan, central Africa, and south India and seeing both their love for Episcopalians and their sorrow about General convention's votes.
Kendall Harmon, perhaps the most vocal conservative in the House of Deputies this summer, preached a fiery message about how orthodox Anglicans are identified as catholic, charismatic, and canonical. He compared those qualities to the votes of General Convention.
"This is not catholic. It will not stand," he said of the convention's refusal to heed the counsel of other Anglicans.
Harmon also expressed concerns about the liturgies of The Book of Common Prayer, 1979, which downplayed traditional Anglican themes of God's righteousness and human sinfulness.
"We have a theology and practice in the Episcopal Church that moves straight from creation to redemption" and is wholly universalist, Harmon said.
"We have moved from sinners in the hands of an angry God to clients in the palm of a satisfied therapist."
Douglas LeBlanc is an associate editor for Christianity Today.
Related Elsewhere
The American Anglican Council and Christ Episcopal Church offer more information about the conference, including an agenda and news releases.
Article continues below
The AAC also has a draft document that includes an appeal to the primates of the Anglican Communion to "create a new alignment for Anglicanism in North America."
The Classical Anglican Net News weblog offers many links to mainstream news sources, denominational press pieces, and other Anglican blogs.
Other news stories on the "A Place to Stand" conference include:
U.S. Episcopal conservatives gather in Dallas (Reuters)
Episcopal Church faces split over gays (Associated Press)
Episcopal group opposed to gay bishop signals split | Conservatives meeting in Dallas say they must 'take a stand now,' but some undecided on how (The Dallas Morning News)
Earlier: Episcopal leaders in Dallas to talk possible split | The controversy over the elevation of openly-gay Episcopal Bishop Gene Robinson will be debated in Dallas. (The Dallas Morning News)
Dissident Episcopalians send message | An excited and determined band of conservative Episcopalians rallied here yesterday, sending a clear message to the denomination's leadership that the church was far too liberal for them to accept. (The Washington Times)
Conservative Anglicans rally to reorganize church power | In a further sign of fracture in the Episcopal Church over the ordination of an openly gay bishop, thousands of conservative American Anglicans rallied here on Tuesday at a conference that advocated radically reorganizing church authority. (The New York Times)
Episcopal conference solidifies opposition | Conservative Episcopalians upset with denominational approval of a gay priest as bishop and national church blessing for same-sex couples will begin drafting "a new alignment for Anglicanism in North America" today. (Houston Chronicle)
Episcopal conservatives plan protest | Declaring that they have tolerated 25 years of encroaching liberalism but now must draw the line, conservative Episcopalians gathered Tuesday to begin planning how to dramatically protest the approval of the church's first gay bishop. (Ft. Worth Star-Telegram, Tex.)
Earlier: Gay issues spark church conference | Spurred by their church's decision to recognize gay bishops and same-sex marriages, more than 2,600 Episcopalians will meet in Dallas for the next three days to discuss their religious future, including possibly taking the first steps toward splitting the second-largest church in the world. (Ft. Worth Star-Telegram, Tex.)
Article continues below
A battle for a church's soul | U.S. Episcopalians may split over gay bishop, same-sex marriages (USA Today)
Also: Episcopalian groups war over gay clergy issue (USA Today)
Episcopal group ponders split | At a gathering in Dallas, conservatives decry the election of a gay bishop. They seek a parallel, orthodox church. (Los Angles Times)
Episcopalians draft grievance | Faction wants U.S. church wrested from liberal leaders (Chicago Tribune)
Conservatives meet to realign Episcopal church | Pittsburgh bishop calls leaders 'deaf' (Post-Gazette Pittsburgh, Pa.)
U.S. protest over gay bishop | Conservative Christians in the US have begun a large protest meeting in Dallas, Texas, over the election of the US Episcopal Church's first openly gay bishop. (BBC)
Episcopal right has its day in Dallas | Election of gay bishop spurs move to supplant church (The Atlanta Journal-Constitution)
In South, Episcopal schism pondered | Sundays haven't been quite the same at Christ Church Greenville since the Episcopal Church USA approved the election of a gay bishop in faraway New Hampshire. (The Boston Globe)
Angry Anglicans push for split over gay bishop | Still seething over the impending installation of an openly gay bishop in the Episcopal Church, more than 2,500 conservative clergy and parishioners will convene Tuesday in Dallas to implore international Anglican leaders to disown their liberal brethren in the United States.
Episcopalians 'stand' against gay bishop | A council of war for conservative Episcopalians gets under way today, when 2,200 of them meet in Dallas to consider ways to protest the recent confirmation of a practicing homosexual priest as the new bishop of New Hampshire. (The Washington Times)
Plano priest a 'most unlikely' crusader | Plano rector a leader in push for split in Episcopal Church (The Dallas Morning News)
No welcome for observers at Texas meeting of conservatives (Episcopal News Service)
Opinion pieces on the meeting include:
A rift worse than schism? | The crisis in the Anglican Communion seems to foreshadow a rift worse than a schism for world Christianity. (Uwe Siemon-Netto, UPI)
Schism would amount to copout | Ever since the Episcopal Church decided this summer to affirm the election of an openly gay man to the office of bishop, there has been talk of schism. Homosexuality has been a bitterly contentious topic for the church. (William B. Lawrence, The Dallas Morning News)
Matters of faith aren't resolved by walking out | As the controversy regarding the election of an openly gay man as bishop of the Episcopal Diocese of New Hampshire has swirled around the world the last few weeks, I often have thought of a phrase from the Episcopal Church's Book of Common Prayer. (Liz Oliphant, The Dallas Morning News)
Looming Schism: Anglican split is between First, Third Worlds | The lobby of a Dallas luxury hotel filled with Anglicans isn't many people's idea of a revolutionary cell, but that's exactly what it is. (Editorial, The Dallas Morning News)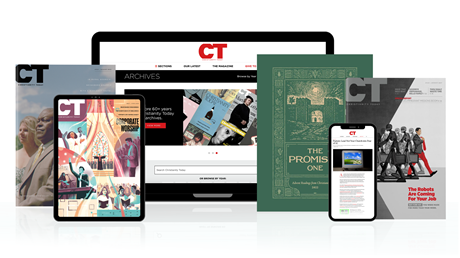 Annual & Monthly subscriptions available.
Print & Digital Issues of CT magazine
Complete access to every article on ChristianityToday.com
Unlimited access to 65+ years of CT's online archives
Member-only special issues
Subscribe
Conservative Episcopalians Challenge Church Politics as Usual
Conservative Episcopalians Challenge Church Politics as Usual