Bankruptcy auction boosts price of Bob the Tomato and Larry the Cucumber
As expected, the assets of Big Idea Productions, the Christian company that created the popular VeggieTales video series, were sold at auction yesterday to Classic Media LLC, which owns such characters as "Rocky and Bullwinkle," "Lassie," "The Lone Ranger," and "Rudolph the Red-Nosed Reindeer."
Unexpected, however, was how much Classic Media ended up paying for the rights to Bob, Larry, and the rest of the animated cornucopia. Classic Media and Big Idea initially agreed on a $7.5 million deal, but bids by six other parties pushed the final price to $19.3 million, the Chicago Tribune reports.
Charles Schulman, Big Idea's bankruptcy attorney, said the final price means that, once the deal is completed in December, creditors will see payments "that no one in their wildest dreams thought would be possible." That's good news for the creditors: Big Idea has listed only $8 million in assets against more than $43 million in liabilities.
Big Idea COO Terry Pefanis says Classic Media "will continue the brand and continue to support the mission of the company." The specifics, including whether the creative team will stay on board, are still unclear.
More articles
Christianity and Halloween:
Terri Schiavo:
Recovering from a 'persistent vegetative state' | Disability rights activist Rus Cooper-Dowda, who had once been diagnosed as being in a "persistent vegetative state," shares her perspective on the Terri Schiavo case (

Day to Day,

National Public Radio)


Terri Schiavo's parents seek stake in lawsuit | A group founded by Pat Robertson has joined with Bob and Mary Schindler to help keep their daughter alive (

St. Petersburg Times,

Fla.)


Life, death, and silence | Why the media elites won't tell the full story on Terri's prognosis and Michael Schiavo (Wesley J. Smith,

The Weekly Standard

)


Politics and law:
U.S. NGOs attacks Bush foreign assistance policy | InterAction, which represents 160 groups doing overseas relief work, was scathing in its criticism, particularly of the U.S. government's tendency to view foreign assistance "through a national security lens" (Reuters)


Prayer groups proliferate on Capitol Hill | Before they debate issues that affect millions of Americans' lives, many legislators meet for informal prayer sessions and Bible studies (Religion News Service)


Senate Democrats filibuster on Pickering | Mississippi judge Charles Pickering on Thursday became the fourth of President Bush's judicial nominees to be filibustered by Democrats, continuing a two-year struggle tainted with religious, racial and electoral politics over the directions of the federal appellate court (Associated Press)


Homophobic attacks to be 'hate crimes' | Judges and magistrates can hand down longer sentences if an offence is motivated by racial or religious hatred (

The Independent,

London)


Seniors sue after city stifles sermons at community center | 'And here I've got old and useless, they say, and I ain't got no freedom no more,' says WWII veteran Barney Clark, one of 16 plaintiffs suing Texas city (Associated Press)


Education:
Baptist school to appeal rejection from voucher program | Denver officials denied private school's application because school would expel homosexuals; principal says decision is unfair, contradicts purpose of voucher plan (Associated Press)


School ignores Christ's spirit with expulsion | Jupiter Christian School seems to be crushing a human spirit in mistaken obedience to the Holy Spirit. If so, that makes a mockery of everything Jesus taught and is about as terrifying as a Christian community can get (Steve Gushee,

Palm Beach Post

)


Faith-based partnerships:
Religious leaders, public school teachers join forces to boost literacy | "Reading summit" that attracted more than 100 educators and representatives of faith-based organizations (

Pioneer Press,

St. Paul, Minn.)


White House wants churches to settle immigrants | The Bush administration plans to deepen its collaboration with religious groups by recruiting the Roman Catholic Church and other organizations to help set up a mentoring program for new immigrants, a U.S. official said on Wednesday (Associated Press)


Religious displays:
General Boykin:
Islam:
German minister calls for reference to Islam in the Constitution | According to Austrian media reports, interior minister Otto Schily yesterday said that the influence of the Islamic tradition on European civilisation could be put in the Constitution (EU Observer)


Bush and Muslims | Islam may have a lot of things, but contrary to what the president said, it does not have "a commitment to religious freedom." (Diana West,

The Washington Times

)


Other religions:
Return to Waco | In 1993, 80 members of the Branch Davidian sect died when US agents stormed their compound in Waco. Ten years on, the Davidians have regrouped, rebuilt their church and are still in the thrall of their dead leader (

The Guardian,

London)


Celebrity cult of vampires can turn into real-life evil | Vampirism is a rapidly growing youth cult and its followers are increasing in numbers (

The Observer,

London)


Anglican woes:
The

Guardian

profile: Gene Robinson | He was born paralyzed and not expected to live. Now Canon Robinson believes the love of God that touched him then is with him as he rides the storm that threatens to tear the Anglican communion apart (

The Guardian,

London)


Persecution:
Protests help release Chinese Christian | Police asked: 'How did you get your story on the Internet?' (WorldNetDaily)


Indian legislator 'proud' of Australian missionary killer | Bidhu Bhusan Praharaj told the Orissa state Legislative Assembly this week that convicted murderer, "Dara Singh is not a killer, but an idealist. I am proud of him." (

Daily Times,

Pakistan)


Sudan:
An opportunity for peace in Sudan | Today we stand on the brink of an agreement to end Sudan's cruel civil war and bring one of the greatest and longest-running humanitarian tragedies in the world to an end (Colin L. Powell,

Los Angeles Times

)


U.S. pledges Sudan more aid on condition of peace | The United States pledged on Thursday to increase aid to Sudan to help rebuild the divided country but warned that help hinged on the implementation of a peace deal ending 20 years of civil war (Reuters)


Crime:
Sniper victims:
Comforted by faith and forgiveness | Husband of woman believed slain by sniper vows to soldier on (

The Washington Post

)


'It brought me closer to God' | The youngest victim in last October's sniper attacks yesterday testified in front of the man accused of orchestrating the shooting, describing the near-fatal incident and how it affected him (

The Washington Times

)


Sniper victim prayed 'God would not let me die' | Va. survivor testifies against Muhammad (

The Washington Post

)


Abuse:
Ex-priest again is target in 2 lawsuits | Michael Harris, the former cleric who headed Mater Dei and Santa Margarita high schools, is accused of sexual abuse (

Los Angeles Times

)


Church life:
The shul of hard knocks | The Presbyterians are taking a step backwards by starting a Jewish congregation (James Rudin,

Jewsweek

)


No landmark status for St. John the Divine | Council members essentially taking an all-or-nothing approach (

The New York Times

)


Race and church:
Sacred Mysteries: Britain's growing churches | The growth of black majority churches is partly a cultural thing (Christopher Howse,

The Daily Telegraph,

London)


Light on a divided church | Prodded by a black congregant and a white reverend, a 50-year stain of racism in the Seattle Presbytery is acknowledged at last (

Los Angeles Times

)


Fighting against segregated Sundays | For a brief period last summer, Bishop Fred Caldwell was perhaps the most-discussed clergyman in the land (Jabari Asim,

The Washington Post

)


Missions, ministry, and giving:
Film:
Bollywood plans film on murdered Australian missionary Graham Staines | The film, "Murder of Missionary", will be made in English and Hindi and focus on the life and work of Staines during his stay in India (AFP)


More pop culture:
Books:
Earlier: Love?and then some | With a handful of spin-off genres, inspirational romance just got a whole lot trickier to shelve (

Publishers Weekly

)


Holy Land Christians
In Christian Jerusalem | Beyond a small group of well-intentioned activists, most Israelis know nothing about the Christian minorities living among them, bemoans interfaith activist Daniel Rossing (

The Jerusalem Post

)


Plenty more fish in the Dead Sea? | A group of unnamed devout Christians from England is reportedly trying to persuade the head of the Civil Administration, Brig. Ilan Paz, to grant them a permit to fish in the Dead Sea (

The Jerusalem Post

)


Spirituality:
Australians less religious, more living alone | The biggest change in people's religious affiliation was the emergence of those who class themselves as having no religion at all: 25.3 per cent of the population. (

The Australian

)


A second Reformation? | Has anyone noticed that Christianity is declining in the West while it's growing in the Southern Hemisphere? (Jay Ambrose, Scripps Howard News Service)


Potential to be saintly lies within | All of us can easily and readily relate to what it means to be a sinner, but a saint is yet another matter (Patrick Bergquist,

Fairbanks News- Miner,

Alaska)


Deaths:
Messy Mike: A tribute to a great man | Mike Yaconelli's passion was for spreading the gospel, and equipping youth workers to reach children and teach them of God's endless grace and love (Will Johnson, Thunderstruck)


Scott Bauer, pastor of Church on the Way, dies at 49 | Died Friday in Northridge Hospital from the hemorrhage of an aneurysm that caused him to collapse last Wednesday as he completed his church's midweek prayer meeting (

Los Angeles Times

)


Archbishop Gilbert McDowell, leader of United Anglican Church, dies at 66 | Based in Palm Harbor, Fla., McDowell headed the conservative group, which 30 years ago severed ties with the Episcopal Church (

Los Angeles Times

)


Business:
Believers unite, sweat at America's first Christian sports club chain | At Lord's Gym, clients work out to Christian rock music, against walls painted with biblical frescos (AFP)


Business owners proud of beliefs | A show of faith at local companies (

Times Record News

, Wichita Falls, Tex.)


Religious events hot commodity for cities | Religious conventions are a hot commodity for Charlotte, other mid-size cities (Associated Press)


Catholicism:
"Property of Rome"? | Does the Vatican have exclusive rights to the word "Catholic"? (Michael McGough,

Slate

)


Bishops oppose same-sex marriage benefits | The state's Roman Catholic bishops reaffirmed their opposition to gay marriage and benefits for same-sex couples Thursday, saying the media misinterpreted comments Worcester Bishop Daniel P. Reilly made at a legislative hearing on a gay marriage bill (Associated Press)


Other stories of interest:
Related Elsewhere:
Suggest links and stories by sending e-mail to weblog@christianitytoday.com
Check out Books & Culture's weblog, Content & Context.
See our past Weblog updates:
October 30 | 29 | 28 | 27
October 24 | 23 | 22 | 21
October 17 b | 17a | 16 | 15 | 13
October 10 | 9 | 8 | 6
October 3 | 2 | 1 | September 30 | 29
September 25 | 24 | 23 | 22
September 19 | 18 | 17 | 16 | 15
and more, back to November 1999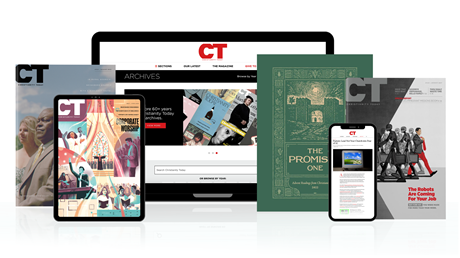 Annual & Monthly subscriptions available.
Print & Digital Issues of CT magazine
Complete access to every article on ChristianityToday.com
Unlimited access to 65+ years of CT's online archives
Member-only special issues
Subscribe
VeggieTales Sold for $19.3 Million
VeggieTales Sold for $19.3 Million