Popular Christian writer, speaker, and youth ministry leader Mike Yaconelli died early yesterday following an auto accident early the previous night. Yaconelli, 61, was cofounder of Youth Specialties, a ministry to youth and youth workers, and for over 40 years had ministered to thousands of people through extensive speaking engagements, and his many books and articles. Yaconelli was also a cofounder and longtime editor of the satire magazine The Door (formerly The Wittenburg Door), which sought to poke fun at evangelicalism while encouraging Christians in their faith.
Yaconelli was driving between Medford, Oregon, and his home in Yreka, California, in his father's truck when, for still unknown reasons, he veered off Interstate 5 and struck a light post. He and his wife, Karla, were helping his father move to Yreka. Yaconelli's father recently had surgery, and the family wanted to be closer to him. His wife and father were in a separate car several miles behind Yaconelli's truck.
Yaconelli was airlifted to Redding, California's head trauma unit, but reportedly died before he reached the hospital. He is survived by his wife, Karla, his father, five children, and four grandchildren.
Last year, Yaconelli wrote in his latest book, Messy Spirituality, "I just want to be remembered as a person who loved God, who served others more than he served himself, who was trying to grow in maturity and stability. I want to have more victories than defeats, yet here I am, almost 60, and I fail on a regular basis.
"If I were to die today, I would be nervous about what people would say at my funeral. I would be happy if they said things like 'He was a nice guy' or 'He was occasionally decent' or 'Mike wasn't as bad as a lot of people.' Unfortunately, eulogies are delivered by people who know the deceased. I know what the consensus would be. 'Mike was a mess.'"
Two years ago, Yaconelli appointed Mark Oestreicher as president of Youth Specialties. Yesterday, CT online assistant editor Rob Moll talked to Oestreicher about his employer and friend.
What did Mike mean to Youth Specialties?
He was the soul of the company. Especially in these later years, he has very much become a pastor to our staff. They just really, really love him.
His passion was to tell the truth to the church. To tell the truth of the gospel, to tell the truth about what it means to be a follower of Jesus Christ, in all of the messiness that truth usually is, rather than prepackaged, saccharine answers.
His passion was telling the truth. That was a phrase he used all the time. For him, what that means is not taking a bold stand. His interpretation was Let's be honest about our brokenness and our need for God. Let's soak in the endless mercy and grace of our God. He was gritty. He embodied the titles of two of his books, Messy Spirituality and Dangerous Wonder. That was very much his life message.
What did that mean for all the people he touched?
It meant that they could believe what he said because it was so clearly true in his own life. There was no pretense when Mike spoke, whether it was before a group of 5,000 people or one on one. I saw him many, many times exercise what I would consider a very strong prophetic gift, in the sense that he was very able and willing to humbly challenge the church or to speak directly into someone's life about what God was saying in a way the rang true. But it came from a place of humility in Mike's own life.
That's part of why I'm here. It's true for a lot of people at Youth Specialties. We're kind of an oddball collection of employees, and yet even at our staff meeting this morning, where we were all praying and crying together, everybody was saying this is the one place where oddballs aren't that odd. I am absolutely at Youth Specialties because of Mike. He has spoken into my life on multiple occasions.
What kind of responses have you received in the last 24 hours?
One guy said, "I told Mike recently how he has been one of the few and one of the most important mentors in my life, even though much of it was from a distance. When I told him that, he cried, and so did I. That's one of the reasons I loved him—his passion. I had about ten defining moments with Mike that where transformational. Mike Yaconelli made me more than a better youthworker. He made me a better man and a follower of Jesus."
Another guy said, "I've been doing youth ministry for 33 years. Part of the reason I'm still doing this after 33 years was and is Mike Yaconelli. What a huge loss to you, to YS, to youth ministry, and to the kingdom of God everywhere."
He related to youth, but he was 61 years old.
He really had an uncommon ability to relate to lots of ages, youth included. In recent years, he had started to doubt his ability to communicate with youth, but every time he got in front of a group of teenagers and spoke, they loved him. He would always come back from those opportunities saying, "I was just surprised that it seemed like it still worked. I don't know why they still accept me, but they still do." And really what it boiled down to was that teenagers are just not used to people speaking so honestly to them. They just loved Mike's honesty, but also his passion for life.
So much of what I've said so far would make him sound like a soft, gentle grandpa with a prophetic heart, but that would be to really miss a part of him. He was an extremely playful guy, very funny, loved to enjoy life in every way, loved a good laugh, good times with friends. That's an important part of him, too.
He does still communicate with teens well, but he also found that he had this great voice to pastors and adult Christians. He was moving into a stage of life where his voice was going to be less to youth ministry and more to the broader church. It could be witnessed by his last two books.
What was he working on?
In a broader sense, he was working at retooling his life. He wanted to move into a partial retirement, where he was able to pull himself out of the day-to-day operations of Youth Specialties. He appointed me president two years ago, and we've been on this gradual road of him handing off more and more responsibilities. He would say over and over again that he really wanted to spend more time with Jesus.
He's a water lover; he has a boat here in San Diego that he lives on when he's in town. He loves being on the water and writing, spending time with his wife, spending time with Jesus. That was his life.
Specifically, he was under contract with Zondervan for his next book, which was tentatively called Impersonating Ourselves. He had just recently resigned from his role as teaching pastor at Grace Church in Yreka, after being in that role for many, many years. He felt that that church needed to spread its wings a little without relying on him, and he also felt like he needed a little bit more freedom to not always to fly up to Yreka on weekends.
What did he think the church needed? What was his role in that capacity?
He thought that the church needed to get over itself, stop taking itself so seriously, and focus more on being in love with Jesus. He had very low tolerance for bureaucracy and red tape and process and committees. Institutionalism was very frustrating to him. He would regularly talk about his desire that a church staff meeting would be about talking about Jesus rather than about programs and calendars and carpeting.
He's very willing to mix it up. He wrote a column for Youthworker Journal for the last three or four years. It was the one thing that we consistently got the most angry mail about. He would speak very hyperbolically in a wonderful way that would really push people, because he wanted them to examine their beliefs and assumptions.
Related Elsewhere
Youth Specialties has posting more information about Yaconelli and his death, including a forum to post comments, on their website.
Other articles on Yaconelli's death have appearead in Yreka's Siskiyou Daily News and the Herald and News of Klamath Falls, Oregon.
Dick Staub interviewed Yaconelli after the publication of Messy Spirituality.
Yaconelli's books, including Messy Spirituality, Dangerous Wonder, Keep 'Em Talking, and The Disciple Experiment, are available at ChristianBook.com, Amazon.com, and other book retailers.
Zondervan has more information about Yaconelli and his books, especially Messy Spirituality.
In 2001, Yaconelli wrote for CT sister publication Leadership Journal about losing and finding his soul. Several articles by Yaconelli are available at the National Pastors Convention website (which was sponsored by Leadership Journal with Zondervan and Youth Specialties). They include "Speakaholics," "A Conspiracy of Grace," "Self-evaluation or Self-absorption?" and "The 'Trouble' with Youth Ministry."
CT online managing editor Ted Olsen recently wrote about why The Door was better when Yaconelli was publishing it.
Mars Hill Review published an interesting interview with Yaconelli in 1995.
Eastern University has audio of three messages Yaconelli gave during the school's Spiritual Emphasis Week in 1999. (Audio: Message 1 | Message 2 | Message 3).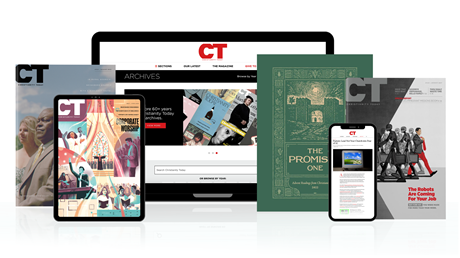 Annual & Monthly subscriptions available.
Print & Digital Issues of CT magazine
Complete access to every article on ChristianityToday.com
Unlimited access to 65+ years of CT's online archives
Member-only special issues
Subscribe
Mike Yaconelli Dies in Truck Accident
Mike Yaconelli Dies in Truck Accident