Reuters: Methodist ad can appear on our Times Square billboard
It's rare to see the United Methodist Church and liberal mainliners like the National Council of Churches complaining about having their religious viewpoint excluded from the public square. That's something that's more often left to conservatives—unless it's liberals complaining about the attention paid by the media to the religious right.
But this week, the mainliners have been mobilized against the Reuters news agency after it went back on a $30,000 contract to air ads for the United Methodist Church on its 7,000 square-foot electronic billboard in New York City's Times Square. The news agency explained that it does not allow "pornographic, political, religious, libelous, misleading, or deceptive" ads on its billboard.
Of course, the mainliners cast the debate in different terms than evangelicals would have, had, say, a Southern Baptist Convention ad been rejected. "The public square is becoming increasingly like private property, overtaken by larger and larger corporations who control more and more of our channels of communication, from cable to broadcast networks to newspapers to billboards," the NCC lamented.
If we get to the point where a handful of corporations can buy up the walls of the town square and rule that certain topics, like religious faith, cannot be expressed there—even when those who wish to speak are willing to pay for the opportunity—American democracy will truly be at risk. … Are we afraid that hearing these voices could change the agenda of the conversation from consumption to conscience? … If religious speech is banned from the public marketplace, the remaining dialogue will revolve solely around getting and spending.
This week, the cries of outrage were heard by Reuters CEO Thomas H. Glocer, who had been traveling during the mounting controversy.
"You state on your website that your church should be given the same access and opportunity to speak in the commercial marketplace as corporate advertisers. On reflection, I believe that you are right," Glocer said in a letter to UMC communications head Larry Hollon. "Consumers have become more sophisticated over recent years, and I think there is little likelihood of an advertisement being viewed as the opinion of a news gatherer such as Reuters. Provided it is made clear that the material in question is paid advertising and that there is no possibility of confusion with our news output, I believe you should have the same access to commercial space as any other organization."
Hollon said that the agency's policies are changing, but that not all religious advertising would be accepted. "For example, we would not permit advertising that maligned another religion," he said.
The Methodist ads will now run 10 times daily during Thanksgiving week, one of the busiest shopping times of the year.
Had this happened to an evangelical denomination or church, conservatives probably would have merely decried "liberal media bias." Perhaps this argument about religious speech vs. the message of consumerism is worth exploring and using further. Especially if it works.
More articles
Terri Schiavo:
Partial-birth abortion ban:
More life ethics stories:
Adoption and homosexuality:
Gay marriage:
Other sexual ethics issues:
Politics and law (U.S.):
Church and state
Bush and faith-based initiatives:
Politics (non-U.S.):
Christianity and Islam:
Pledge of Allegiance:
10 Commandments:
Christian group sues U. Minn over gay rule:
Education:
Survey says:
Theology
Books:
Church of Scotland's first female moderator:
Related Elsewhere
Suggest links and stories by sending e-mail to weblog@christianitytoday.com
Check out Books & Culture's weblog, Content & Context.
See our past Weblog updates:
October 29 | 28 | 27
October 24 | 23 | 22 | 21
October 17 b | 17a | 16 | 15 | 13
October 10 | 9 | 8 | 6
October 3 | 2 | 1 | September 30 | 29
September 25 | 24 | 23 | 22
September 19 | 18 | 17 | 16 | 15
and more, back to November 1999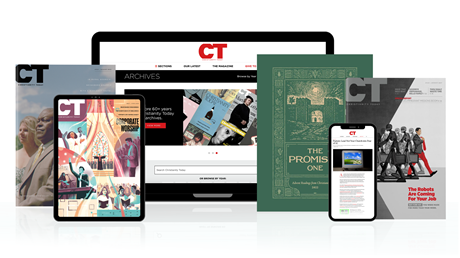 Annual & Monthly subscriptions available.
Print & Digital Issues of CT magazine
Complete access to every article on ChristianityToday.com
Unlimited access to 65+ years of CT's online archives
Member-only special issues
Subscribe
Reuters Will Take Methodists' Ad After All
Reuters Will Take Methodists' Ad After All