A 20-year civil war in Sudan has pitted the Muslim majority north against the Christian majority south. An estimated two million people have been killed in the conflict. In 1986, Muslim invaders attacked the village where Francis's mother had sent him on an errand. Francis was 7 years old, and he spent the next 10 years in slavery, where he worked on a farm. He's now telling his story in the new book, Escape from Slavery (St. Martin's Press).
What happened that day you were taken, in 1986?
We went to the market, and I sat underneath the big tree where a lot of people come from all different villages, selling and buying. And while I was sitting there, I heard adults saying that they saw smoke and pointing toward the village that we came from. Some other adult said he heard guns shooting. I wasn't really aware what happened right away after we left the village until when I saw a lot of people start leaving the markets—and then I also looked behind me and I saw all these horsemen, people who dressing differently, with machine guns. They surrounded the market and started shooting.
I stood up and tried to run, and one of the horsemen came toward me, grabbed my hand, and was speaking a strange language I couldn't understand at that time because I didn't speak Arabic. And I was very confused and very, very afraid. I thought maybe he was going to kill me.
They just destroyed everything in the market. And after they finished, they stole some of the stuff. They marched us all over to the north. I witnessed a 12 year-old-girl shot on the way because she was screaming. She couldn't stop crying, and one of the militiamen told her to stop and she couldn't. The guy just took her out of the group and he shot her in the head.
That hurt me a lot actually when I saw a little girl get shot. I said, This danger now is not only for a man or adults, this also can happen to any one of us kids. And I saw a lot of kids who were very quiet—and learned to be quiet in that moment.
What happened to the adults that were in the village?
I went to this guy's farm, and I began seeing a lot of girls who been brought from southern Sudan and women working. I never had a chance to ask them what did [their captors] really force them to do, but I heard the story that a lot of young women were being forced for sex.
And let me just tell you this story, what happened when I first arrived on his farm. Giemma, who was my master, took me to his home. He actually called the whole family to meet me. And his three children had sticks. And they started beating me. And they were chanting to say abeed, abeed. That is Arabic is black slave—that was my welcome.
After kids got tired, Giemma told me to follow him to show me where I'm going to be sleeping. There was a little shelter close to the animals, a lot of horses and a lot camels and a lot of cows. And I had to stay there, and he sent his children to come whenever they wanted to amuse themselves by saying abeed or beating me. And I remember his wife, too, she come and stood in front of me and said that if my husband would allow me, I would shoot you.
This was a Muslim family. Was their Islam important to them?
Very, very important. When I first come there my master tried to convert me. He always said, "You need to pray with us when we pray." I didn't even know what to say, because you've got to say something when you're praying. But they forced me to do that, and I accepted because he scared me by saying to me if I couldn't, he would hurt me.
When you just talked about the Muslim desire to convert, you also talked about the Arab desire to Arabize. And there's also the economic driver of cheap labor because you basically were providing labor for these Muslims. How can we understand what the mix of motivation is for what the north is doing to the south? Some people deny that it's even happening. But others who agree that it's happening disagree about why. Some of them will say it's racially driven. Some of them will say it's economically driven. Others will say it is driven by religion. How do you react to that?
I believe that one of the main conflicts in my country is they want to make everyone Muslims in the country. Number two is economic because we have oil in southern Sudan. And number three is racism because people look different color in my country. In the south they are very dark skins. And in the north they are lighter skin. They consider themselves white.
From the age of 7 until 17 years of age you were with this family. You worked hard everyday. You were a slave. Did you try to escape?
When I first decided to escape when I was 14, he actually saw me, and he recaptured me back. And he brought me back and beat me. And he said to me, "If you try it again, I'm going to kill you."
But in my heart I didn't give up. I said I'd rather die than be a slave.
I saw other slaves were treated badly. So I stayed a few days, and then I escaped again the second time. When he caught me the second time, he tied me up and beat me very hard. Then he said, "Tonight is going to be your last day on the earth." It was a very, very scary moment to me. I wasn't looking at his face, I just closed my eyes and I said, God, please don't let him kill me. I love my parents and I have hope in the future.
So he changed his mind a few hours later. And he said to me, "Next time if you try to escape again, I'm not going to talk to you. I'm just going to shoot you."
And I promised him and swore that I was not going to do it again. That's when I realized to wait a couple more years. And I waited three more years until I was 17, then finally decided it was time to get away from this man, time to do whatever it takes to get away.
And at 17, you escaped and ended up in Cairo and were helped by Christians. And then the INS got involved, and you were sent to Fargo, North Dakota, where you were taken in by a group of Lutherans. That must have been a really radical transition.
Yes, it was very funny. The good thing is because that's how I came here in '99. I didn't speak the language. I couldn't speak English. And I didn't even know anything about America. And I came from where it's always 120 degrees. Fargo, North Dakota, is very, very cold, and it was shock to me.
Tell me about this American Anti-Slavery Group in Boston that contacted you. Who are these people and what do they do?
Well, I will start with how they discovered me. I was in Fargo for five months, from August until January 1, 2000. I decided to move because I didn't like the weather, I didn't know anybody. I decided to move, and I met Dr. Charles Jacobs, president of American Anti-Slavery Group. And he actually said to me that we wanted to come and work with us. And I said to him, you know what, I'm not in slavery anymore. I'm fine now. I have a wonderful job, working two jobs actually. I want to save money and go to school some day. So the guy didn't give up, he kept calling me until I decided to move to Boston. He said that we would help me when I moved to Boston to go to school, and to tell my own experience.
And now you've gone from imprisonment in Sudan to the White House.
Absolutely. 27 to 28 million people are slaves worldwide today. Most people in this country believe that slavery ended over 200 years ago in 1865. I tell them if you think slavery ended, think again. It's still alive today.
My goal is to raise the public awareness to remind everyone that slavery is still alive. I'm trying to remind everyone to do something about this.
How is it that you have retained that faith and commitment to God?
A lot of people say that sometimes when bad things happen to you and God doesn't help you say that God abandoned me. But in my case, and a lot of others, I believe that God is watching us. And in particular God was watching me. Because for all these years I've been with this person and I never saw a doctor. And I never got really sick. And nothing bad has ever happened to me. I saw a lot of kids who were hurt, who had lost their arms or lost their legs, but I talk to God every day and every night and he's with me. And he eventually delivered me.
Related Elsewhere
Visit DickStaub.com for audio and video of his radio program (4-7 p.m. PST), media reviews, and news on "where belief meets real life."
The American Anti-Slavery Group's website has information about their activities as well as a bio of Francis Bok, a sample chapter, and information for booking Francis as a speaker.
Other CT articles on Sudan include:
Weblog: Powell Predicts Sudan Peace by the End of December (Oct. 23, 2003)
Submitting to Islam—or Dying | Ceasefires and peace talks bow to greater powers in Sudan. (Oct. 08, 2003)
Sudan Peace Process Criticized | Bush acknowledges country's military activity, but does not impose threatened sanctions. (May 21, 2003)
Sudan Peace Act 'Has Teeth' | But Sanctions are at President's discretion. (Nov. 26, 2002)
Christians Push For More Progress in Sudan | Observers say there's a long road to go for peace. (Sept. 04, 2002)
Christian History Corner: Legacy of an Ancient Pact | Why do Christians still chafe under restrictions in some Muslim nations? It all started with Umar. (July 26, 2002)
Books & Culture Corner: A Cry for Help | Sudanese Christians gather in Houston and ask for U.S. support. (June 17, 2002)
Justice Delayed | Sudan Peace Act may be a casualty of the war on terrorism. (Nov. 2, 2001)
Finding Homes for the 'Lost Boys' | They've seen their parents shot, their villages burned, and their homeland recede in the distance as they escaped. Now these Sudanese youth build a new life in suburban Seattle. (July 20, 2001)
No Greater Tragedy | What you can do to help persecuted Christians in Sudan. (June 25, 2001)
Freedom Panel Alleges Genocide | U.S. Commission on International Religious Freedom makes suggestion on Sudan's worsening abuses. (May 04, 2001)
Turn Off Sudan's Oil Wells, Say Canadian Church Visitors | Christian leaders say they are "outraged" that a Canadian oil company is paying huge royalties to Sudanese government. (April 20, 2001)
Article continues below
Sudan Loses Election for U.N. Security Council Seat | Sanctions continue to plague the African nation's bid for international acceptance. (Oct. 12, 2000)
Religious Freedom Report Rebukes China, Others | State Department finds many nations' religious freedoms deteriorating, but some are improved. (Sept. 07, 2000)
China Should Improve on Religion to Gain Permanent Trade Status, Commission Says | Religious liberty in Sudan and Russia also criticized. (May 08, 2000)
Southern Sudan Bombed Despite Cease-fire Promise | Details sketchy from town of Yei, near Democratic Republic of the Congo. (May 08, 2000)
Sudan Relief Operations Endangered | Rebel demands cause agencies to curtail efforts. (Week of April 3, 2000)
Bombs Continue to Fall on Ministry Hospitals in Sudan | Samaritan's Purse hit for fourth time, two killed in Voice of the Martyrs bombing (Week of March 20, 2000)
Confronting Sudan's Evils | Western Christians and governments should press Khartoum on multiple fronts. (April 3, 2000)
Mixing Oil and Blood | Sudan's 'slaughter of the innocents' toughens religious freedom coalition. (April 3, 2000)
Recent Dick Staub Interviews include:
Philip Yancey, the Rumor-Monger | The author's latest is written not for Christians, but for those on the "borderlands of belief" (Sept. 30, 2003)
Ken Gire's Lord of the Dance | Patch Adams and T. S. Eliot teach us to twirl with Jesus, says the author (Sept. 23, 2003)
Jerry Jenkins's Solo Apocalypse | His new novel, Soon, imagines a world where religion, blamed for war, is banned (Sept. 16, 2003)
Why Frederica Mathewes-Green Loves Icons | Yes, we ask the saints to pray for us, she says. They are still living members of the church after all. (Sept. 9, 2003)
Sheila Walsh Says Stop | The author, singer, and popular speaker talks about learning to put praise above performance (Sept. 2, 2003)
Trusting in a Culturally Relevant Gospel | Os Guinness says that evangelicals have never strived for relevance in society as much as they do now. Ironically, he says, they have never been more irrelevant (Aug. 26, 2003)
The Long War About Science | Larry Witham, the author of Where Darwin Meets the Bible and By Design, talks about faith, science, and how the battle has evolved. (Aug. 19, 2003)
Kevin Leman Talks About Sex, Baby | The author of The Birth Order Book looks at the private lives of Christian couples in Sheet Music: Uncovering the Secrets of Sexual Intimacy in Marriage. (Aug. 12, 2003)
Article continues below
Why God is like Jazz | Donald Miller, author of Blue Like Jazz, talks about why Christians need writers who honestly deal with their faults and why penguin sex is an apt metaphor for believing in Christ. (Aug. 5, 2003)
A Gerontologist Gets Older | David Petty, author of Aging Gracefully, has long taught about the process of aging. Now, he is personally learning that one of the most important aspects is the spiritual side. (July 29, 2003)
Carmen Renee Berry's Unabashedly Consumerist Handbook to Ecclesiology | The author of The Unauthorized Guide to Choosing a Church helps seekers find their best congregational fit. (July 22, 2003)
The Dick Staub Interview
Dick Staub was host of a eponymous daily radio show on Seattle's KGNW and is the author of Too Christian, Too Pagan and The Culturally Savvy Christian. He currently runs The Kindlings, an effort to rekindle the creative, intellectual, and spiritual legacy of Christians in culture. His interviews appeared weekly on our site from 2002 to 2004.
Previous The Dick Staub Interview Columns: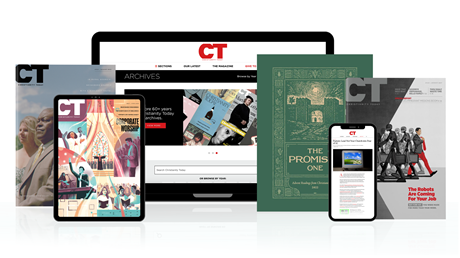 Annual & Monthly subscriptions available.
Print & Digital Issues of CT magazine
Complete access to every article on ChristianityToday.com
Unlimited access to 65+ years of CT's online archives
Member-only special issues
Subscribe
Francis Bok Is Proof that Slavery Still Exists
Francis Bok Is Proof that Slavery Still Exists