true
Women stormed the theatres this week, playing central roles as an investigative journalist, a young woman struggling to cook her first Thanksgiving dinner, and a single mother with a terminal illness. And yet, moviegoers showed they are far more interested in seeing clueless sex objects on the run from chainsaw-wielding serial killers.
Cate Blanchett masters another accent in Veronica Guerin
Of the featured women in this week's new releases, Veronica Guerin is the one with Oscar buzz. Screenwriters Carol Doyle and Mary Agnes Donoghue have adapted the life of an Irish journalist into a thriller and a tribute of sorts. The movie, directed by Joel Schumacher (Batman and Robin, Phone Booth), stars Cate Blanchett (The Lord of the Rings' Galadriel) in a role many say will earn her an Oscar nomination.
As with Luther, Ali, A Beautiful Mind, and most biopics, viewers have quickly raised questions of historical accuracy. For some, the liberties taken with the facts have a detrimental effect on the film. But several critics are bothered more by the style of the work than how it strays from the historical truth.
Guerin, in the mid '90s, wrote about controversial issues like pedophilia in the Catholic Church. But her investigative reporting on the increase in illegal drug trafficking and its impact on young people became to her more than just a news story. Her personal efforts to identify and bring to justice those responsible for the problem led to a tragedy that became the stuff of headlines.
Movieguide's critic calls it "a tough, sobering look at an evil system and the fight it took to overcome an established system of crime. As opposed to the steady stream of desensitizing action thrillers Hollywood has been feeding the public in recent years, the loss of life in this movie is a realistic event felt at a visceral, emotional level. In the end, Ms. Guerin, even if unknowingly, put the words of the Apostle Paul to Titus into practice: 'And let our people also learn to engage in good deeds to meet pressing needs, that they may not be unfruitful.'"
For David DiCerto (Catholic News Service), the film is "ultimately engaging," but not entirely successful. He explains: "The story also is not well-served by the filmmaker employing visuals and music that seem to cue the audience to the desired emotional response. Such manipulative attempts to manufacture emotion, rather than trusting in the narrative's inherent drama, diminish the film's overall cathartic impact."
Mainstream critics are divided over the picture. Many approve of it for Blanchett's fine work, but others are discouraged over the liberties taken with the story.
Critics recommend picking up a ticket for Pieces of April
Funny, realistic, sad, and sweet, director Peter Hedges' Pieces of April is a comedy about a fractured family trying to have a happy Thanksgiving. Katie Holmes (TV's Dawson's Creek) stars as the daughter who decides to invite the family to her apartment for the holiday in spite of their difficult relationship. Unfortunately, the stove is one of many things that turn against her.
Steven D. Greydanus (Decent Films) was surprised at his own response to the film. "Slyly, disarmingly, this bittersweet comedy-drama got past my defenses and got me in its corner, caring about its flawed, wounded characters, wanting to see them heed their better angels and overcome the legacy of their past mistakes and disappointments. It's about having faith in other people, giving one another the benefit of the doubt, putting family first, and living in community. In our fragmented culture of divorce and social alienation, it's a feel-good parable about taking steps in the right direction."
David DiCerto (CNS) writes, "While at first glance the simple premise appears not to have enough narrative stuffing to prove engaging … Hedges elicits good performances from his ensemble cast, serving up an emotionally satisfying feast. Pieces of April imparts a poignant message about love and forgiveness, using the celebration of a meal as a poetic—almost sacramental—symbol of the sacred bond shared by family members."
The film opened in a limited release this week. Film Forum will link to more reviews as other critics turn them in.
Early reviews from mainstream critics can be found here.
Single mother grapples with mortality in My Life Without Me
As she moves through what doctors tell her will be her final days, an ailing young wife and mother reassesses her life in My Life Without Me, a new drama from director Isabel Coixet that has some mainstream critics praising it and others calling it an overly ponderous downer. The acclaimed young actress Sarah Polley (Guinevere, Go, The Adventures of Baron Munchausen) is drawing raves for her performance.
Anne Navarro (CNS) says, "The movie's strength is that it does not revert to mawkish sentimentality or turn into a disease-of-the-week telefilm. However, watching working-class Ann try to continue on with her life in her tiny trailer park, kissing her girls' foreheads or making them special pancakes, is nonetheless a dismal experience. It … makes one reflect on how dismal the prospect of death is in the absence of faith."
Texas Chainsaw Massacreslays box office competition
Could it be that, with such acclaimed new releases as Mystic River and Veronica Guerin, people would still prefer to spend money to revisit The Texas Chainsaw Massacre?
Sadly, the answer is "Yes." In fact, Marcus Nispel's lousy, bloody re-make topped the box office this week, slashing a $28.1 million dollar gash in moviegoers' wallets.
The film is, as you probably know, a re-make of a 1974 cult classic by Tobe Hooper. We're introduced to a crowd of kids who are used to bait Leatherface, a notorious freak with a chainsaw, out of the backwoods of Texas. And, of course, one by one they are sawn to pieces because their car won't start, their truck won't start, or their brains just won't kick into gear.
David DiCerto (Catholic News Service) finds nothing to salvage from the gore. "Formulaic and without a stitch of socially redeeming value, the film not only assaults viewers with an unremitting barrage of gratuitous gore, but does so in a way that treats such dehumanizing violence as entertainment—even going so far as using suicide as an occasion for self-indulgent camerawork."
Joseph L. Kalsco (Movieguide) says it's "mediocre even for its genre. Although good acting is forthcoming from the entire cast, with very effective set design and direction … the continuous hemorrhage, no pun intended, of obscenities, profanities, juvenile lust, gore, drug usage, lying, smoking, drinking, and graphic killing, makes [the movie] highly hazardous even to diehard horror movie fans."
Mainstream critics found some technical qualities of the film to praise, but most of them were similarly unimpressed by the tiresome genre piece. Roger Ebert (Chicago Sun-Times) was especially incensed, calling it "a contemptible film: Vile, ugly and brutal. There is not a shred of a reason to see it. Those who defend it will have to dance through mental hoops of their own devising."
Movieguidecritic compares John Grisham's Runaway Jury to Nazi propaganda
From director Gary Fleder (Don't Say a Word, Kiss the Girls) and screenwriters Brian Koppelman and David Levien comes yet another John Grisham novel to the big screen. (There can't be many left, can there?) Runaway Jury is yet another "legal thriller," but this time Grisham turns his attention away from the accused and focuses instead on the dirty machinations of jury tampering. John Cusack plays a juror struggling with a man famous for manipulating jury verdicts. Hackman plays the malevolent "fixer", and in the film's most talked-about scene, he goes head-to-head with a lawyer played by Dustin Hoffman. The two actors, once roommates, share screen time for the first time in their careers in a confrontation over courtroom ethics.
But is there more to the movie than one memorable scene?
Marie Asner (Phantom Tollbooth) calls it "a tightly woven story … that shows what big money can do to the American judicial system. You don't have to [read the book] in order to enjoy the film."
Steven Isaac (Plugged In) says, "Despite its inclination to pull the trigger on a heated handgun debate, there's very little here that sets this Grisham film apart from any other."
Gerri Pare (CNS) says, "Although … Fleder sets a fast pace and has a great cast at his disposal, these characters simply aren't emotionally involving enough to make us care deeply. The sense of urgency isn't there, so the suspense isn't sizzling. The ending is far too easily accomplished to be very credible, with its morally ambiguous characters shown in a more favorable light than deserved."
Kenneth Morefield (Christian Spotlight) writes, "Runaway Jury is a briskly moving suspense-mystery that will probably win more Christian fans for its lack of sex, nudity, or heavy profanity than it will for its subject matter. Indeed, one of the more curious elements of the film is that it is even more sanctimonious than the novel upon which it is based."
Some critics' opinions go far beyond mere dissatisfaction.
Movieguide's critic calls it "a left-wing propaganda movie that is absolutely shameless in the way it makes all the characters opposed to its radical message look as bad as possible." The reviewer clearly feels very intensely about his right to own guns. "[The movie is] nothing more than a leftist diatribe against gun ownership … an abhorrent movie that deserves our righteous condemnation. Apparently, the leftist elitists in Hollywood can't make a political movie without setting up a bunch of straw men. This will only hurt them in the long run, because it weakens their filmmaking skills and alienates them from the average moviegoer in America's heartland."
The critic isn't through. As if concerned that his objections have not been heard, the reviewer continues blasting away at the filmmakers, saying that we are seeing "exactly what happened in Germany when Adolph Hitler and his National Socialist demagogues used movies … to convince the German people that murdering Jews, handicapped people, sickly senior citizens, and unborn children was a good idea. The pro-abortion, pro-gun control leftists in Hollywood are the rightful heirs of these socialist monsters."
If I may quote Keanu Reeves: "Whoa."
Holly McClure (Crosswalk) is also upset about the film. "I despise the political message in this film and the way they went about showing it. To blame the sin and horrible act that one man commits (against several innocent people) on a gun manufacturer just because it was their gun that he used is ridiculous. If we take away accountability for our actions in society and to each other, then we have nothing of real value left."
But Michael Elliott (Movie Parables) disagrees with these politically aggravated reviewers: "The message that the film delivers actually has very little to do with the subject of the trial. The debate over gun laws and gun registration barely gets a hearing. This film is an entertaining indictment of the judicial process and the legal shenanigans that occur when a great deal of money is at stake." He concludes that the film is ultimately "implausible, formulaic, and unchallenging … [but] nevertheless well acted and extremely well made."
Mainstream critics are responding to it as though it is a typical Grisham adaptation, along the lines of The Firm, The Rainmaker and The Client.
Critics' catch-up: The DaVinci Code's heresies, Intolerable Cruelty, Luther, Good Boy!, Kill Bill—Vol.1, Mystic River, Bowling for Columbine
A detailed examination of the bestselling thriller The DaVinci Code is available now at Planet Envoy. The book is being turned into a film by director Ron Howard. (Two weeks ago, Film Forum explored why this is a rather unnerving development.)
Meanwhile, Terry Mattingly (Gospelcom.net) is talking about what goes on when Christian film critics are invited by Hollywood publicists to see movies early and interview the stars. This mysterious process takes place in what director Peter Jackson calls "The God Room."
Some Christian critics are catching up with recent hits that Film Forum has already featured.
Mike Parnell (Ethics Daily) calls Intolerable Cruelty "wickedly funny … a rollercoaster ride through the slimy underbelly of the rich and famous' proclivities of marriage and divorce. The two stars give the movie much of its bounce, and they are so engaging that you cannot take your eyes off the screen."
Josh Hurst (The Rebel Base) calls it "one of the year's funniest pictures … it stands beside the Coens' best work. It's got the same sharp writing, brilliant music, and whimsical spirit that made Raising Arizona and The Hudsucker Proxy such beloved classics. And it actually has some meaningful things to say. It more than makes up for some of the intolerable cruelties that I've endured at the Cineplex earlier this year."
Chris Monroe (Christian Spotlight) says, "This film has something previous Coen Brothers' comedies haven't had since Raising Arizona: heart. Dealing with an assortment of ugliness in bad marriage relationships, the film ultimately celebrates trust and unconditional love."
David Hogg (Crosswalk) asks "Is Luther True to History?" He addresses the various complaints that have been made against the film's historical accuracy with a contrary argument: "This film is not intended to replace historical research … [but instead] to provide a third dimension to the books Christians ought to read, to add color to their knowledge and to infuse passion into the page."
Reviewing Good Boy!, Caroline Mooney (Christian Spotlight) says, "My family thoroughly enjoyed the tale of dogs from outer space. And isn't it funny to imagine dogs talking? I believe the makers of Good Boy! send a positive message to families today … obey and honor your parents, avoid bitterness, keep your word, accept responsibility for your actions, choose your friends wisely, and be a loyal friend. Like the dogs, it seems Hollywood isn't too old to learn new tricks either."
Michael Elliott (Movie Parables) calls it "sweet, sentimental, and full of doggie treats to please young and old alike. Good Boy! is not a great film but it is a good one."
Cliff Vaughn (Ethics Daily) says Bowling for Columbine, now available on DVD, is still worth seeing. Michael Moore's documentary about the problems of gun ownership, violence, and fear in America has drawn a lot of criticism, and some of his information has proven faulty. However, Vaughn writes, "Whether viewers agree with Moore's conclusions, they are sure to be engaged by his style and his stance. The DVD's special features … reveal a Michael Moore in touch with Scripture." He elaborates on some challenging questions Moore raises that reflect some level of familiarity with the Bible.
Alan Willcox (Movies Matter) takes on Tarantino's Kill Bill—Vol. 1, and offers viewers a caution: "Although Tarantino's violence isn't as cheap or vulgar as, say, Arnold Schwarzenegger films, it's still gory, and viewers with serious aversions to violence should avoid the film." Still, he is impressed with the director's stylish, nostalgic revenge flick: "Kill Bill is a completely derivative work that is totally original—and that is Tarantino's niche, if not his brilliance."
Holly McClure (Crosswalk) calls Mystic River "an adult murder mystery that is dark, depressing and probably not for everyone. While the ending is understandable, I found it to be … disturbing, leaving me with mixed emotions at how justice was served."
"Eastwood's biggest error is in not ending the film once the murder is solved," says Michael Elliott (Movie Parables). "Instead, he drags out the story for another 20 minutes where it takes such an implausible turn that we have no choice but to utterly dismiss it as ludicrous."
D. J. Williams (Christian Spotlight) disagrees, finding it "a real jewel of a movie. Eastwood has put together a fantastic piece of work. It may be a difficult swim, but this is one River certainly worth seeing."
Patricia Paddey (Faith Today) investigates how the movie manifesting The Gospel of John came into being.
Finally, Mike Hertenstein (Cornerstone), the brains behind the Cornerstone festival's film program Flickerings, sums up some of the films he saw at the Chicago Film Festival.
Next week:Radio, Beyond Borders, Scary Movie 3, and "Trilogy Tuesday." Have you bought tickets to the all-day Lord of the Rings movie marathon? Have you pre-ordered The Two Towers—Extended Edition DVD? Are you concerned about how Peter Jackson will handle The Return of the King? Tell me your Middle-Earth-related thoughts.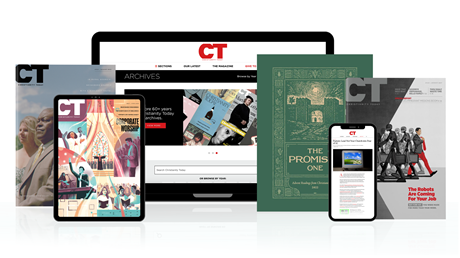 Annual & Monthly subscriptions available.
Print & Digital Issues of CT magazine
Complete access to every article on ChristianityToday.com
Unlimited access to 65+ years of CT's online archives
Member-only special issues
Subscribe
"Film Forum: Big-Screen Women Wrestle with Injustice, Mortality, Family Dynamics, and Chainsaws"
"Film Forum: Big-Screen Women Wrestle with ...