Last Thursday afternoon, roughly 2,700 Episcopalians who gathered in Dallas asked Anglican primates to rebuke their church for rejecting historic Christian teaching on sexual morality. Their spirits boosted by two days of confrontational, humorous, and (it now appears) overly confident speeches, these Episcopalians expected the primates would live up to their offices and exercise leadership.
Instead, the primates responded with the tepid language one expects from mid-level bureaucrats committed to protecting their turf.
Rowan Williams, the Archbishop of Canterbury, announced the meeting of 38 Anglican primates (37 made it to Lambeth Palace in central London) even before the Episcopal Church's General Convention had adjourned in early August. He did so in response to General Convention's confirmation of the Rev. Canon Gene Robinson, a noncelibate gay man, as the Episcopal Church's next bishop of New Hampshire.
Yesterday afternoon, one week after the triumphant speeches heard in Dallas, some Episcopalians might have expected Ashton Kutcher to spring around some corner and shout, "Yo, Anglican dudes, you just got punk'd!"
Would that this were only an elaborate practical joke between celebrity pals. In reality, it appears, members of the American Anglican Council and other orthodox Anglicans just got clobbered.
It's not that anyone expected Episcopal leaders to feel the sting of a primatial rebuke. Only the terminally optimistic would expect anything to shame the Episcopal Church into forsaking the gay liberation it has described as prophetic, a new revelation, an inbreaking of the Spirit, and an evangelistic opportunity.
"If [Robinson's] consecration proceeds," the primates' statement says, "we recognize that we have reached a crucial and critical point in the life of the Anglican Communion and we have had to conclude that the future of the Communion itself will be put in jeopardy." What's with that if? Does any primate expect Robinson's consecration not to proceed? While meeting at Lambeth Palace, they sat alongside the very man—Presiding Bishop Frank Griswold of the Episcopal Church—who likely will be Robinson's chief consecrator on Sunday, November 2. (Griswold has indicated his intention to attend the service, and his not presiding would be a hollow gesture given his unflinching support, to date, of Robinson's election and consecration.)
What do the primates make of the jeopardy they expect Robinson's consecration would pose for the Anglican Communion? We cannot know. The primates merely acknowledge this impending jeopardy. Heaven forbid that they attempt to prevent it.
Further, the primates passively observe that Robinson's consecration "may lead to further division on this and further issues as provinces have to decide in consequence whether they can remain in communion with provinces that choose not to break communion with the Episcopal Church."
Goodness gracious, what an organizational nightmare! Could someone not convene a blue ribbon task force within the next two weeks? Shouldn't Anglicans develop a protocol, a flow chart, or pointers on good etiquette for provinces forced to "decide in consequence" how they will relate to other provinces?
Well, no. The firmest action the primates mustered was to call for a different type of blue ribbon task force: a commission that would "consider [the Archbishop of Canterbury's] role in maintaining communion within and between provinces when grave difficulties arise." Recognizing the gravity of such a charge, the primates ask that the commission take a year to form its conclusions. Such courage in the face of an Anglican Communion most likely in jeopardy!
Maybe the primates have in mind the biblical principle that a thousand years are as a day in the sight of the Lord. But battle-scarred evangelical Episcopalians could offer the primates this warning: Convene a church commission with a vague charge, especially on anything to do with sex, and you've just created the weapon for your next political thrashing.
The Rev. Martyn Minns of Truro Episcopal Church advised the conservative Episcopalians meeting in Dallas to be patient. Let Global South primates address this controversy in their own voice, not in an American spirit that demands instant answers to long-term problems, he said. Fair enough. Amen, even.
But the accents in the primates' statement sound rather too clearly American and British. If we do not soon hear the lyrical voices of African primates, some of us believe today's Episcopal Church will be tomorrow's Anglican Communion. That is not news of joy and glad tidings.
Douglas LeBlanc is an associate editor of Christianity Today and a lifelong, though conflicted, Episcopalian.
Related Elsewhere
Last week, LeBlanc filed dispatches from the American Anglican Council meeting in Dallas. His dispatches included "Conservative Episcopalians Challenge Church Politics as Usual," "Reimagining Anglican Bonds of Affection," and "Florida Bishop Defies Episcopal Church Head."
Article continues below
Christianity Today's other recent articles on the Anglican crisis include:
Anglican Leaders Criticize Episcopal Church, Canada's New Westminster Diocese on Homosexual Actions | Future of the Anglican unity "in jeopardy," they say, but don't break communion—yet (Oct. 16, 2003)
Anglicanism's Communion of Saints | Under the somber portraits of their predecessors, Anglican archbishops will discuss the fractious issues of the church and homosexuality (Oct. 15, 2003)
Weblog: Where Else to Go for News and Analysis of the Anglican Primates' Meeting | The best (and worst) articles and sites monitoring the breakup of the world's third-largest Christian body (Oct. 15, 2003)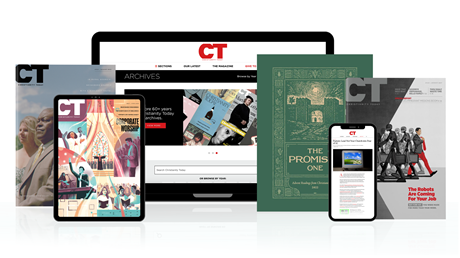 Annual & Monthly subscriptions available.
Print & Digital Issues of CT magazine
Complete access to every article on ChristianityToday.com
Unlimited access to 65+ years of CT's online archives
Member-only special issues
Subscribe
Dispatch: Conservatives Just Got Clobbered
Dispatch: Conservatives Just Got Clobbered