It's a tradition!
Ah, Christmas in mid-November. A time when stores are pushing aisles of decorations and Bing Crosby CDs but haven't yet started playing the yuletide tunes over the PA system. A time when forward-thinking Midwesterners string up the lights while they clean out the gutters. And a time when Samaritan's Purse again faces criticism for its popular Operation Christmas Child. Actually, criticism of Samaritan's Purse is becoming like Christmas at Hallmark stores: It's not just a seasonal thing anymore.
Frankin Graham's organization already saw some backlash last month, when the South Wales Fire Service dropped its support, saying the program was too religious.
Now, from merry olde England, come complaints that up the ante: the problem with Operation Christmas Child isn't that it's religious, critics say, it's the particular kind of religion that Samaritan's Purse promotes.
"A particularly toxic version of Christianity it is," Giles Fraser, a Church of England vicar and Oxford philosophy lecturer, wrote in Monday's edition of The Guardian. "This is the same outfit that targeted eastern Europe after the fall of the Berlin Wall and was widely condemned for following US troops into Iraq to claim Muslims for Christ … Across the U.K., children in multicultural schools are being encouraged to support a scheme that is, quite understandably, deeply offensive to Muslims." The relief effort, he says, amounts to nothing more than " promoting Christian fundamentalism through toys."
Elsewhere in England, Unitarian minister Vernon Marshall called Graham's beliefs "an intolerant and racist form of Christianity" and similarly called for a boycott of Operation Christmas Child.
Samaritan's Purse has faced this kind of thing before. Last Christmas the debate was largely limited to Calgary. In March 2001 The New York Times criticized the charity, wrongly saying it mixed government aid funds with "seek[ing] converts among people desperate for help. And over the last year, Samaritan's Purse was the focus of much vitriol for its efforts to bring aid to Iraqis (see CT's recent article on what really happened when the ministry went to the country).
This latest round of attacks seems to be the most venomous yet. In a letter to the Guardian, Muslim Association of Britain spokesman Anas Altikriti called Operation Christmas Child "emotional and humanitarian blackmail." And Weblog has never seen SP accused of racism before.
It's all complete nonsense. Leftists' attempts to make Graham and Samaritan's Purse into anti-Islam boogeymen would the equivalent of trying to claim that Mr. Rogers was a radical gay activist.
Graham hasn't commented yet, but Samaritan's Purse U.K. executive director David Vardy earlier told the BBC that the ministry goes "to strenuous lengths" to make sure that evangelistic literature isn't included in the more than 6 million gift-filled shoeboxes sent to children in 95 countries. "Our leaflets which we give to anyone who wants to send a shoebox, contain specific guidelines on what to put into a box and what not to put into a box," he said.
Very clearly we tell people not to put in any literature that is of a political, religious, or racial nature. Furthermore, we actively check every box we receive and remove any such literature which we find.
Where it is appropriate, and in approximately half of the distributions it is not, a booklet of Bible stories, in the language of the country is offered separately from the shoebox. There is no obligation whatsoever on any child to receive a booklet.
The shoeboxes are given without discrimination and unconditionally to children regardless of their nationality, political background or religious beliefs.
At least one local Operation Christmas Child organizer, Bob Evans of Tameside, Manchester, is fighting back more directly against the accusations. Here's what he told the Tameside Advertiser:
We're not a fundamentalist organization, and I am insulted by the claims that our annual appeal is racist. Every shoebox is given unconditionally to children no matter what their ethnic background.
Our Christian partners in some countries do offer a small booklet with each shoebox but the youngsters are under no obligation to take it.
By spreading these rumors, people like Mr. Marshall are trying to deprive these underprivileged children of the only Christmas gift they're likely to receive this year.
I'm not a bitter person but this kind of whispering campaign does upset me. Our volunteers work hard to put a smile on the face of children who have suffered a great deal of pain and loss in their lives so far. There is no ulterior motive.
Samaritan's Purse's explanation is true, but that doesn't mean the lies about the organization will stop. There are still 41 more criticizing days until Christmas.
Mixing root beer and religion
One of the joys of Colorado ski country—apart from, you know, the great snow and runs—is the constant witness of an A&W stand along I-70 in Fresco. For the last several years, the restaurant has posted Bible verses on its 30-foot sign. A few weeks ago, however, the sign went blank.
"We were going to post the message, "Why was this sign blank last week?' but we chose not to get into that," said Donna Drebenstedt, who owns and runs the A&W franchise with her husband, Reuben.
But they are getting into it, and told the Summit Daily News that the reason it went blank (and now simply says "open") is that the A&W headquarters told the couple to stop quoting Scripture.
"We're in the restaurant business. We sell hamburgers and hot dogs and don't want to offend any of our customers, and we expect the same from our franchisees," A&W spokeswoman Virginia Ferguson told the paper.
The Drubenstedts are complying—for now. They say the verses will soon return, saying there is nothing in the franchise agreement barring such messages, nor prohibiting the Messianic Jewish evangelistic literature inside.
"We're not going to give up our Constitutional and religious freedoms," said Reuben, who is also pastor of Congregation HaShem, the local Messianic Jewish community. "I don't make my living selling hamburgers, that's just an aside to why I am here. It's not just about the money. This is God's restaurant."
They take that concept seriously: Profits go to missions, and employees are encouraged to engage in evangelism (and are given time off for Bible study, worship services, and other Christian activities).
The paper suggests that the corporate office was responding to complaints from local Jewish residents, and the local Anti-Defamation League says it has raised the issue over whether "the business fall[s] under the laws regarding public accommodation" and is "concerned for the rights of the employees who work there." (It could be worse: At least one pundit is suggesting that Messianic Jews be sued for "fraud.")
Synagogue of the Summit president Heidi Dickstein, however, says some of her parishioners are overly sensitive. "We've certainly noticed the Bible quotes, but most of the people I know have mostly just giggled over them," she said. "They have the freedom of speech and freedom of religion, just like everyone else in this country. We as Jews see evangelism as a sin, but we will support to the ends of the Earth the Messianic Jewish people's rights guaranteeing their freedom of religion and their freedom of speech."
Uh, yay? By the way, perhaps some other Jews can weigh in on that whole "evangelism is a sin" thing. Was Jonah right all along?
More articles
Politics and law:
Education:
Corporal punishment:
Crime:
Persecution:
Interfaith relations:
Islam:
War on terrorism:
Terri Schiavo:
Life ethics:
Sexual ethics:
Anglicanism:
Church life:
Missions & ministry:
Theology:
Bible:
Books:
The Da Vinci Code:
Music:
Pop culture:
Money and business:
Gambling:
Catholicism:
Other stories of interest:
Related Elsewhere
Suggest links and stories by sending e-mail to weblog@christianitytoday.com
Check out Books & Culture's weblog, Content & Context.
See our past Weblog updates:
November 12 | 11 | 10
November 7b | 7a | 6 | 5 | 3
October 31 | 30 | 29 | 28 | 27
October 24 | 23 | 22 | 21
October 17 b | 17a | 16 | 15 | 13
October 10 | 9 | 8 | 6
October 3 | 2 | 1 | September 30 | 29
and more, back to November 1999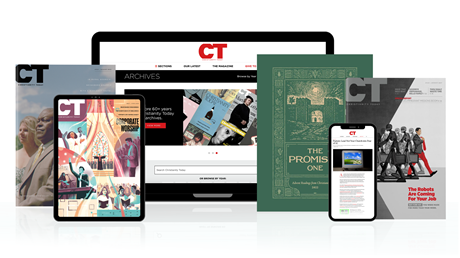 Annual & Monthly subscriptions available.
Print & Digital Issues of CT magazine
Complete access to every article on ChristianityToday.com
Unlimited access to 65+ years of CT's online archives
Member-only special issues
Subscribe
Season's Beatings
Season's Beatings