John Eldredge is the best-selling author of Wild at Heart, The Sacred Romance, and a new book, Waking the Dead: The Glory of a Heart Fully Alive. He is the founder of Ransomed Heart Ministries, which describes itself as part monastery, part military outpost, and part Red Cross unit for the soul. It hosts boot camps and retreats for men and women. His books are written to help men rediscover their masculinity in the image of God, but the have been popular with both men and women. Wild at Heart has sold over a million copies.
After being involved in the Los Angeles drug culture and kicked out of high school, Eldredge was looking for a "worldview." After exploring other religions, Eastern mysticism, Lao-Tzu, and New Age spirituality, he discovered the writings of Francis Schaeffer, who he calls one of the best philosophers of the 20th century. Through Schaeffer, Eldredge came to Christ and later to the church. He eventually got a master's degree in counseling and practiced in Colorado Springs before working for Focus on the Family.
How was Ransomed Heart Ministries born?
I started working at Focus on the Family doing debates and media and cultural studies. It was the whole Schaeffer thing, that if Christianity is true it ought to affect all of culture.
The early Celtic Christians called the Holy Spirit "the wild goose." And the reason why is they knew that you cannot tame him. But if you follow his haunting call, he'll take you on an adventure. Well, that's what it was. I just sensed that I have a mission, I have a call to speak, to write, to do sort of deep-heart surgery in people's lives.
Talk about the wild goose. We often hear of a "wild goose chase."
That derogatory phrase shows you how much we in Western culture hate mystery. We want a plan. . And I'm telling you, you don't get that.
You've got a computer, and a vision. Is that basically where you start? You then write Wild at Heart?
Yep. We had written Sacred Romance when I was at Focus. It had done okay. My publisher called and asked, "What else do you want to do?" I said, "I've got something on my heart to say to men. And I lay out the whole thing of Wild Heart, a 20-minute, impassioned speech." The publisher says, "Nah, books for men don't sell. What else have you got?" Well, it's sold a million copies now.
So meanwhile, Sacred Romance did fairly well. Wild at Heart is wildly successful. Now tell us about Waking the Dead. This is a book that's about the heart. And it starts with this: "There are few things more crucial to us than our life, few things we are less clear about." Talk about the significance of those two sentences.
Isn't it true? I mean most of us live in a fog. It's like life is a movie we arrived to 20 minutes late. You know something important seems to be going on. But we can't figure out the story. We don't know what part we're supposed to play or what the plot is. They look like bad guys and they look like good guys.
It's that sense of universal lost-ness, fog, confusion. We all share that. With the things that go wrong in our life, we think either that I'm blowing it somehow or that God's holding out on me.
Or we get in the category of living by faith, because the promise that I see is not a reality, but it's the thing hoped for yet not seen.
Now, that's the thing that's really going to punch my buttons. We put the entire offer of the Christian life off onto heaven. But Jesus doesn't do that.
First off, we have to recognize that we've lost the gospel. I heard it again yesterday on Christian radio that the gospel is this: Jesus died so that you can be with him forever in heaven. But Jesus doesn't describe the gospel just as heaven. He says, "I have come that you may have life. And have it to the full." He says, "It is not just later, but there is a Kingdom of God that you can enter into now, there's a life that is available now." A little humility will make us say, "You know what? Somewhere along the line we lost that. Let's get that back."
What's the significance of a ransomed heart?
First off, the new covenant says your heart is good. Most Christians are still living with an Old Testament view of their heart. Jeremiah 17:9 says, "My heart is deceitfully wicked." No, it's not. Not after the work of Christ, because the promise of the new covenant is a new heart. For example, in Luke 8 in the parable of the sower, Jesus says, "But the seed that fell on good soil stands for those with a noble and good heart." It's just mind blowing. We have really lost the gospel.
So if I have such a good heart, why do I, like Paul, find that I do the things I don't want to do and I don't do the things I want to do?
Twice in Romans 7, do you know what he says? It's absolutely incredible. He says, "So this is not me. It's my battle with sin, but this is not my true heart." And this will make a huge difference as people battle with flesh, sin, and temptation. You're walking down the hall and there's a gorgeous woman. The evil one says, you want that. My good heart says, No, I don't. That's a lie.I desire the things of God.
The restoration of your heart is primarily what God's up to. Jesus first day in the synagogue, the first sermon he gives announcing his ministry, he goes back to Isaiah 61, which says, "I've come to heal the brokenhearted and set the captive free." We are all the brokenhearted. Life will shatter your heart from childhood on up with disappointment, loss, abuse, and setback. It's not just sin (although sin is such an issue that the Son of God had to die for it). It's also brokenness.
What's astounding is that any time Jesus gets hold of a person, no matter what their difference, what he does is always the same. The blind see, the lame walk, the deaf hear. He restores them. So this is the other half of Christianity: not just pardon, not just forgiveness, not just heaven. God restores the human being How does he restore the image-bearers that he created? Well, four strands, I think: healing, counseling, deliverance, and discipleship.
These four strands have long existed in different places in the church, but really need to flow together in order for us to see people genuinely restored, which is what we're about. I want to see people restored as image-bearers of God.
How did you come to understand these things personally in your own life?
First off, let's take discipleship. Most people hear the term and, like me, for years I thought, "Oh, that's a program. I need to memorize Bible verses, or I need to take a class on evangelism." But you look again at the Scriptures and discipleship is simply walking with God. It is the most simple and beautiful gift of the Christian life. You get to walk with God.
What I am not saying is the new prosperity gospel. When we opened, the very first weekend of our men's ministry my best friend was killed in a rock climbing accident, at the retreat. So I know suffering.
What did that suffering mean to you?
Well, doesn't everything at that moment say quit? I knew right away that I could have one of two things: understanding or God. I can demand that he explain to me why that happened, but you don't get an explanation. But we can have Isaiah 61, the healing of your broken heart. I believe what Jesus primarily came to do was give us back our hearts and set us free to be his intimate ones. It's a real simple test. You shall know them by their fruits. Do you want life? Do you want freedom? Well, here's the way. You want to try the programs, the formulas, all of that stuff that we've bought into in Christianity, which is really godlessness at its base, it's really our way of living without radical dependence on God. We don't want to live in a way that God has to show up.
Related Elsewhere
Also posted on our site today is a review of Wild at Heart and Waking the Dead.
Visit DickStaub.com for audio and video of his radio program (4-7 p.m. PST), media reviews, and news on "where belief meets real life."
The publisher offers a book excerpt.
Recent Dick Staub Interviews include:
Pursuing God and Community | A self-described nerd says pursuing God and community is possible through commitment (Nov. 4, 2003)
Francis Bok Is Proof that Slavery Still Exists | After spending 10 years in slavery, the young Sudanese man is telling his story to the world. (Oct. 28, 2003)
Philip Yancey, the Rumor-Monger | The author's latest is written not for Christians, but for those on the "borderlands of belief" (Sept. 30, 2003)
Ken Gire's Lord of the Dance | Patch Adams and T. S. Eliot teach us to twirl with Jesus, says the author (Sept. 23, 2003)
Jerry Jenkins's Solo Apocalypse | His new novel, Soon, imagines a world where religion, blamed for war, is banned (Sept. 16, 2003)
Why Frederica Mathewes-Green Loves Icons | Yes, we ask the saints to pray for us, she says. They are still living members of the church after all. (Sept. 9, 2003)
Sheila Walsh Says Stop | The author, singer, and popular speaker talks about learning to put praise above performance (Sept. 2, 2003)
Trusting in a Culturally Relevant Gospel | Os Guinness says that evangelicals have never strived for relevance in society as much as they do now. Ironically, he says, they have never been more irrelevant (Aug. 26, 2003)
The Long War About Science | Larry Witham, the author of Where Darwin Meets the Bible and By Design, talks about faith, science, and how the battle has evolved. (Aug. 19, 2003)
Kevin Leman Talks About Sex, Baby | The author of The Birth Order Book looks at the private lives of Christian couples in Sheet Music: Uncovering the Secrets of Sexual Intimacy in Marriage. (Aug. 12, 2003)
Why God is like Jazz | Donald Miller, author of Blue Like Jazz, talks about why Christians need writers who honestly deal with their faults and why penguin sex is an apt metaphor for believing in Christ. (Aug. 5, 2003)
A Gerontologist Gets Older | David Petty, author of Aging Gracefully, has long taught about the process of aging. Now, he is personally learning that one of the most important aspects is the spiritual side. (July 29, 2003)
The Dick Staub Interview
Dick Staub was host of a eponymous daily radio show on Seattle's KGNW and is the author of Too Christian, Too Pagan and The Culturally Savvy Christian. He currently runs The Kindlings, an effort to rekindle the creative, intellectual, and spiritual legacy of Christians in culture. His interviews appeared weekly on our site from 2002 to 2004.
Previous The Dick Staub Interview Columns: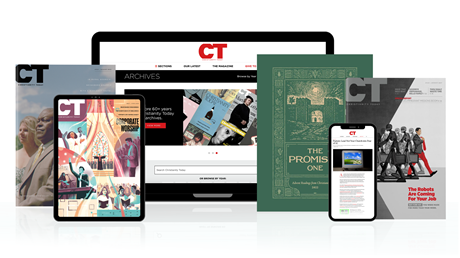 Annual & Monthly subscriptions available.
Print & Digital Issues of CT magazine
Complete access to every article on ChristianityToday.com
Unlimited access to 65+ years of CT's online archives
Member-only special issues
Subscribe
John Eldredge Is Wild at Heart
John Eldredge Is Wild at Heart