true
In director Andrzej Batkowiak's new action film Cradle 2 the Grave (Warner Brothers), a jewel thief (Earl "DMX" Simmons) gets in2 serious trouble when his latest diamond heist goes wrong and his daughter is kidnapped. This God-fearing crook reluctantly agrees 2 help a Taiwanese government agent (Jet Li) track the kidnappers in hopes of saving the girl's life.
The action-packed Cradle topped the box office this week, in spite of reviewers' attempts 2 send it 2 a box office grave. (Okay. Enough.)
Michael Elliott (Movie Parables) describes the film as "all style and no substance … immediately entertaining but ultimately disappointing. There's even a vain attempt at relevance by making superthief DMX a religious man whose love for his daughter borders on the divine. Sorry, but praying to angels to keep one's daughter safe while engaging in criminal activity that puts her in harm's way seems … hypocritical. The makers … try to cater to both sides of man—the sinner and the saint. In doing so, they give nothing of value to either."
Gerri Pare (Catholic News Service) declares, "For all its headache-inducing sound and fury with vicious violence, Cradle … deserves to be buried, the sooner the better."
Pare agrees that the religiosity of the thief makes little sense: "The fact that Tony eagerly steals [is] … downplayed. His tenderness seems to suggest he's really a good guy just trying to make a living, and once his daughter is snatched his determination to rescue her practically puts him in heroic territory."
Shaun Daugherty (Preview) declares, "Any self-respecting person will avoid this film at all costs!"
But conservative critic Michael Medved has a different view: "Cradle … so far exceeds all reasonable expectations that it certainly commands praise. [DMX] could probably handle the sort of substantive assignments most regularly reserved for the likes of Denzel Washington and Cuba Gooding Jr. [The film has] irresistible visual flair … the action scenes unfold with perfect pacing and unexpected immediacy."
Roger Ebert (Chicago Sun-Times), is not so impressed: "The film itself is on autopilot and overdrive at the same time: It does nothing original, but does it very rapidly. I can see that this movie fills a need. I have stopped feeling the need. The problem with action movies is how quickly state-of-the-art becomes off-the-shelf. We yearn for wit and intelligence, and a movie like Shanghai Knights looks sophisticated by comparison."
Another Chicago critic, Robert K. Elder (Chicago Tribune) says, "Most poor-quality cinema simply wastes your time and money, but [this movie] seems to go out of its way to insult your intelligence and social sensibilities. Storytelling like this makes most video game plots look like Moby Dick."
Amélie star impresses critics again
Audrey Tautou, who charmed audiences in the fantastical romantic comedy Amélie, is back in another unusual French concoction. In writer/director Laetitia Colombani's new film He Loves Me, He Loves Me Not (Goldwyn), Tautou plays an art student named Angelique. Angelique's interests reach beyond her painting—she has a crush on Dr. Loic (Samuel Le Bihan), a married cardiologist. In spite of the efforts of an admirer (Clement Sibony) to dissuade her, Angelique stokes the fires of her dream by convincing herself that the marriage will fall apart. When it does not, her passion leads to dismaying extremes. Sound like a routine story of jealousy and unrequited love? Hardly. Just when you think you know where things are going, the 26-year-old Colombani casts the story in a whole new light, confounding all expectations.
Geri Pare (Catholic News Service) is impressed: "Although neither Angelique nor Loic is particularly sympathetic, the filmmaker manages to hold interest for the most part with the way the script twists and turns in the second half. And although there is violent content, it doesn't sink to the level of over-the-top melodrama. Instead, in somewhat the manner of The Sixth Sense, viewers will find themselves reviewing the first half in their minds as they leave the theatre, which makes it an intriguing thriller overall."
Darrell Manson (Hollywood Jesus) calls it "a wonderful story. Tautou does a wonderful job in this role. She once again shows the endearing vulnerability that characterized Amélie, but here she also shows a darker side with just as much authenticity." He concludes, "He Loves Me … challenges us to look deeper before we judge someone else. As we watch the film, we make our judgments about this poor, lovelorn artist and the caddish doctor … only to have to rethink our perspectives and opinions."
Several mainstream critics heap superlatives on the film. James Berardinelli (ReelViews) raves, "It's difficult to overstate how much of a rare find this movie is. Colombani and her cast remind us that the best thrillers are built upon superb writing and strong acting." And Mick LaSalle (San Francisco Chronicle) says, Colombani's first time in the director's chair "represents about as assured a debut as they come."
Chattaway's top ten of 2002
Peter T. Chattaway, film critic for Books & Culture, The Vancouver Courier, and other publications, turns in a review of his favorite films of 2002 this week.
First, he offers a disclaimer: "This is not intended as a list of 'Christian' films, since I have no idea what such a term would mean. I think Changing Lanes and Frailty could be good discussion-starters for those who want to explore faith issues, perhaps in small groups, but neither film was top 10 material; and a number of films that were hyped in the Christian press, such as Signs and A Walk to Remember, were disappointingly mediocre. However, I myself am a Christian, and these are the films that stuck with me this year—films that impressed me, haunted me, entertained me or forced me to think deeper about art and faith and life in general."
Chattaway's list includes such critical favorites as The Lord of the Rings: The Two Towers and Punch-Drunk Love, but his top choice is a surprise—one that most moviegoers have not yet discovered.
For Chattaway's year in review, click here.
Christian media critics mull over war films
In the absence of other significant new releases, religious press critics shifted their focus to some of current releases that concern themselves with timely issues of war and peace.
Holly McClure (Crosswalk) caught up with Brian Godawa's film about faith during wartime, To End All Wars (GMT Pictures). She writes, "I salute [the filmmakers] for telling a story that needed to be told in the dramatic, realistic way that it occurred. This is a powerful example of the triumph of the human spirit over inhumanity and a valuable lesson about the courage and faith it takes to forgive our enemies in the midst of persecution. A lesson we might be forced to learn in the not so distant future."
Bob Waliszewski (Focus on the Family) calls Ron Maxwell's Gods and Generals (Turner Pictures) "fascinating history, but you'd better like your movies long. And you'd better not be adverse to embracing the Southern psyche as a means to an end." Also disappointed in the film, Denny Wayman and Hal Conklin (Cinema in Focus) turn in a review: "Maxwell's intentions are to create a film which is concerned with the theology of war. Taking this enterprise seriously has caused him to create a film which takes itself too seriously, as evidenced by requiring an almost four-hour commitment from the viewer and presenting a regrettable lack of personality or passion on the part of the 'generals.'"
Steven D. Greydanus (Decent Films) is impressed with The Quiet American (Buena Vista): "Phillip Noyce's film adaptation, one of the most faithful screen adaptations of Greene's novels, eliminates the last traces of Greene's religious motifs and focuses entirely on political and interpersonal themes. Yet these are at the heart of Greene's story, so as an adaptation this film is successful where Neil Jordan's recent The End of the Affair failed."
Kristen McCarty (Relevant Magazine) calls Quiet American "one of the most intelligent, beautiful and thought-provoking movies around in months. [It] succeeds in being both a political allegory remarkably relevant to our time and the story of a love triangle. The beauty of the film lies in that it does so much with so little. Caine … is masterful."
McCarty poses a question to those who may call the film "anti-American": "Is there a difference between being anti-American and being a thoughtful critic of your country and culture? Can we admit, as Americans, that we have made mistakes in the past and may make mistakes in the future? I hope so. I found the movie deeply thought provoking, but in no way offensive. It seems to be a gentle, thoughtful plea to remember and study our past, in order that we may more wisely guide our future."
While Dark Blue (United Artists) is not technically a war film, it examines racial conflicts that erupted surrounding the Rodney King trial in L.A. David Bruce (Hollywood Jesus) summarizes its main theme: "Sometimes it takes awhile for us to realize fully our own racism and break with such family traditions. We all have some degree of prejudice within us. We need to be free. Dark Blue is a story of that journey to be free."
Readers write in with mixed feelings about honoring
Pianist

director

Last week, Film Forum featured links to news stories about the controversy over whether Oscar-nominated director Roman Polanski deserves to be honored for his powerful film about a Holocaust survivor—The Pianist. Polanski has been living in France for 25 years, refusing to return to the U.S. where he might be arrested for the rape of a 13-year-old girl. Polanski's former victim Samantha Geimer is publicly calling for people to see that Polanksi as suffered enough for the crime he committed, many are saying it is an injustice to give the man any accolades for his work. Others say it will be an injustice if the film does not take home the Oscar for Best Picture.

I asked readers to write in with their opinions on what should be done about Polanski and his movie.

A university English professor who wishes to remain anonymous submits these thoughts: "The relationship between artist and art is complex. As a medievalist, I deal with many texts that are anonymous, so the biographical issue is moot—the text must speak for itself. That may have been, at least in part, what D.H. Lawrence meant when he said, 'Trust the tale, not the teller.' We're pretty sure that Sir Thomas Malory was a rapist who also committed several other crimes for which he was imprisoned at the time he wrote Le Morte D'Arthur. Anyone want to argue we shouldn't read it because of Malory's sinful past?

"I have yet to see The Pianist, but from all accounts, it's another tale that transcends its teller. There are hundreds of examples of art that was more glorious and graceful than the lives of the artists that produced it.

"In some cases, actions speak louder than words. I expect my pastor to live, if not a perfect life (none of us can do that), at least one not in direct contradiction to his sermons. But a work of fiction, such as The Pianist (even though it's based on history and biography) should not be judged by its author's personal failings or worthiness as a person."

Kerry Oren of Leo, Indiana, says: "Thirty-some years ago, Beatles albums were burned because of John Lennon's comments about Jesus Christ. Sinead [O'Connor] destroyed a picture of the Pope on national television years later. Art in our fallen world is a product of fallen artists, and it would seem to be pretty hard to only honor the art of the God-honoring artists.

"But it seems to me this is different—this is a man who committed a crime, and who has never been held accountable for it—not to mention that it was a heinous crime against a child. I absolutely do not believe we should be honoring this man."

Should we pay attention to Polanski's crimes when judging his work? From the Netherlands, Rick de Geier, who writes film and music reviews for a Dutch magazine similar to Christianity Today, wrote in. "My answer is 'No.' It's usually nice to know stuff about the artist when enjoying art. It might enrich the experience, as it did for me when I watched The Pianist. Knowing Polanski was partly telling about his own childhood … made it even more tragic and powerful for me. On the other hand, I believe it is never absolutely necessary to know about the artist. Good art speaks for itself. A cynical or perverted yet gifted artist may be capable of making beautiful things in spite of himself.

"I don't believe you need to be a Christian to be inspired. My favorite movies, books, and music are made by people who undoubtedly have committed horrible sins. (Haven't we all?) Maybe the inexplicable magic of art … is the fact that it is lifted above whoever made it. It becomes something in itself."

I agree to an extent. Art, no matter whose hands craft it, is something that has a life of its own. It often means more—or even differently—than its creator intends. Great art throughout the ages has come from people both morally responsible and irresponsible; all human beings are flawed, and their art will always reflect that to some extent. If an artist had to pass some test of behavior for their art to be treated with respect, we would probably not be blessed with the works of such talents as Mozart, Van Gogh, or Dostoyevsky. How many great poets and artists enhanced their imaginations with harmful substances?

The Pianist is the most meaningful and artful film I saw in 2002, and many other critics agree. Academy members should not only feel free to honor it but if they feel it is indeed a work of surpassing excellence they have a responsibility to acknowledge that. (It is certainly superior to the current favorite, Chicago, which gleefully celebrates the corrupt behavior of its heroines.)

However, a work of art that deserves high praise does not in any way give the artist a free pass when it comes to justice. We are not at liberty to choose our own criminal punishment, no matter how much we assure others that we will not commit the crime again. If Polanski views his longtime absence as a self-imposed exile, it should not excuse him from a judge's ruling.

Here's a question: Could the Academy celebrate The Pianist by awarding the film its highest honor, and yet withhold the award from the director's hands until he has paid his debt to the community he so severely wronged? This would deliver a two-edged affirmation of artistic excellence and legal responsibility.

How much sweeter Polanski's success would have been if he had crafted such a work after paying his debts to society. Whatever the outcome, I agree with the anonymous professor who writes, "I don't think anyone can really 'hide from justice,' since 'Vengeance is mine, I will repay,' says the Lord."

Note: Last week's Film Forum indicated this week would feature reviews of Spider. However, no religious press reviews of Spider have been posted yet.

Next week: Steve Martin in Bringing Down the House and Bruce Willis in Tears of the Sun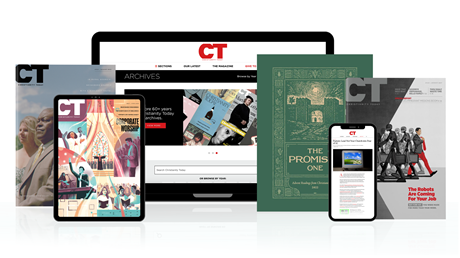 Annual & Monthly subscriptions available.
Print & Digital Issues of CT magazine
Complete access to every article on ChristianityToday.com
Unlimited access to 65+ years of CT's online archives
Member-only special issues
Subscribe
Critics Would Send Cradle 2 an Unmarked Grave
Critics Would Send Cradle 2 an Unmarked Grave