true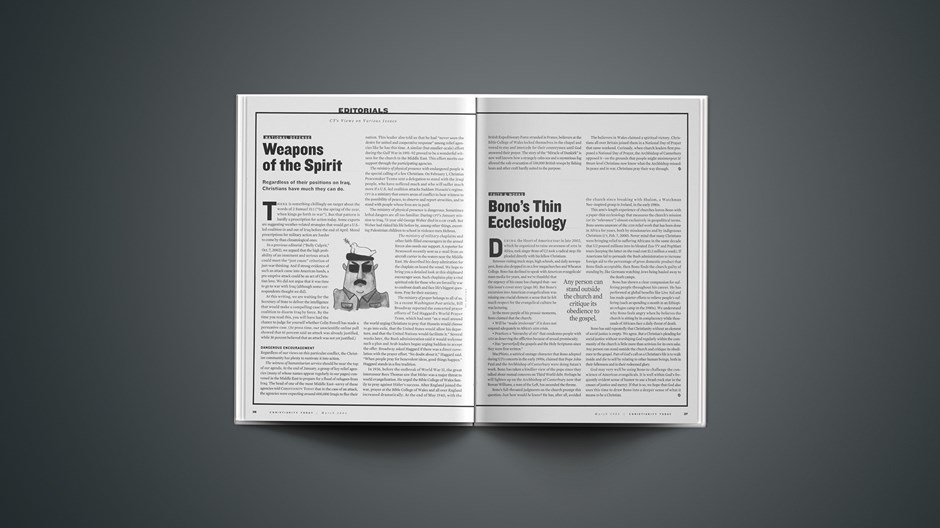 During the Heart of America tour in late 2002, which he organized to raise awareness of aids in Africa, rock singer Bono of U2 took a radical step: He pleaded directly with his fellow Christians.
Between visiting truck stops, high schools, and daily newspapers, Bono also dropped in on a few megachurches and Wheaton College. Bono has declined to speak with American evangelicals' mass media for years, and we're thankful that the urgency of his cause has changed that—see this issue's cover story (page 38). But Bono's excursion into American evangelicalism was missing one crucial element: a sense that he felt much respect for the evangelical culture he was lecturing.
In the more purple of his prosaic moments, Bono claimed that the church:
Will be "made irrelevant" if it does not respond adequately to Africa's aids crisis.


Practices a "hierarchy of sin" that condemns people with aids as deserving the affliction because of sexual promiscuity.


Has "pervert[ed] the gospels and the Holy Scriptures since they were first written."


MacPhisto, a satirical onstage character that Bono adopted during U2's concerts in the early 1990s, claimed that Pope John Paul and the Archbishop of Canterbury were doing Satan's work. Bono has taken a kindlier view of the pope since they talked about mutual concerns on Third World debt. Perhaps he will lighten up on the Archbishop of Canterbury now that Rowan Williams, a man of the Left, has ascended the throne.
Bono's full-throated judgments on the church prompt this question: Just how would he know? He has, after all, avoided the church since breaking with Shalom, a Watchman Nee-inspired group in Ireland, in the early 1980s.
This arm's-length experience of churches leaves Bono with a paper-thin ecclesiology that measures the church's mission (or its "relevance") almost exclusively in geopolitical terms. Bono seems unaware of the aids relief work that has been done in Africa for years, both by missionaries and by indigenous Christians (CT, Feb. 7, 2000). Never mind that many Christians were bringing relief to suffering Africans in the same decade that U2 poured millions into its bloated Zoo TV and PopMart tours (keeping the latter on the road cost $1.3 million a week). If Americans fail to persuade the Bush administration to increase foreign aid to the percentage of gross domestic product that Bono finds acceptable, then Bono finds the church guilty of standing by, like Germans watching Jews being hauled away to the death camps.
Bono has shown a clear compassion for suffering people throughout his career. He has performed at global benefits like Live Aid and has made quieter efforts to relieve people's suffering (such as spending a month in an Ethiopian refugee camp in the 1980s). We understand why Bono feels angry when he believes the church is sitting by in complacency while thousands of Africans face a daily threat of death.
Bono has said repeatedly that Christianity without an element of social justice is empty. We agree. But a Christian's pleading for social justice without worshiping God regularly within the community of the church is little more than activism for its own sake. Any person can stand outside the church and critique its obedience to the gospel. Part of God's call on a Christian's life is to walk inside and die to self by relating to other human beings, both in their fallenness and in their redeemed glory.
God may very well be using Bono to challenge the conscience of American evangelicals. It is well within God's frequently evident sense of humor to use a brash rock star in the causes of justice and mercy. If that is so, we hope that God also uses this time to draw Bono into a deeper sense of what it means to be a Christian.
Related Elsewhere
Also appearing on our site today:
Bono's American Prayer | The world's biggest rock star tours the heartland talking more openly about his faith as he recruits Christians in the fight against AIDS in Africa.
'Pop Music with Brains' | From the beginning, U2 has engaged spiritual questions.
The official website for Bono's organization DATA explains its purpose, lays out the issues, and has a series of Bono's diary entries from the Heart of America Tour.
Steve Stockman's Walk On: The Spiritual Journey of U2 is available at Christianbook.com. Christianity Todayinterviewed the author in April.
Previous Christianity Today articles about Bono and U2 include:
'A Rock Band That's Good for Something' | The author of Walk On: The Spiritual Journey of U2 talks about why politicians listen to Bono. (April 19, 2002)
Bono Tells Christians: Don't Neglect Africa | He urges evangelicals to take a lead in fighting AIDS and poverty. (April 19, 2002)
Inside CT: Bono's Burning Question | Evangelicals and the U2 front man try to figure each other out. (April 19, 2002)
Honest Prayer, Beautiful Grace | The messianic and passionate U2 sounds like itself again. (Feb. 8, 2001)
Previous Christianity Today articles on AIDS in Africa include:
Article continues below
U.S. Blacks Preach Abstinence Gospel | Mission workers testify that Christ helps control sexual urges. (March 27, 2002)
Mercy Impaired | Let's shock the world by reversing our apathy toward African sufferers. (September 27, 2001)
Kenyan President Suggests Hanging for 'Knowingly' Infecting Others with AIDS | Church organizations criticize use of capital punishment as solution to epidemic. (July 19, 2001)
Dying Alone | Baptist women seek out and care for ashamed, abandoned AIDS patients. (June 15, 2001)
Few to Receive Generic AIDS Medicines | Pharmaceutical companies drop suit against South Africa, but problems remain. (May 18, 2001)
Zambia's Churches Win Fight Against Anti-AIDS Ads | Church leaders are concerned that condom promotion encourages promiscuity. (Jan. 12, 2001)
Mandela, De Klerk, and Tutu Join to Fight AIDS | South Africa's men of peace call for end of silence and stigmatization. (Dec. 14, 2000)
Speaking with Action Against AIDS | A report from the Thirteenth International AIDS Conference. (July 19, 2000)
'Have We Become Too Busy With Death?' | As 4,900 people die each day from AIDS, African Christians are faced with the question. (Feb. 4, 2000)
'Sexual Revolution' Speeds Spread of HIV Among Africans | An interview with World Relief's Debbie Dortzbach. (Feb. 4, 2000)
Books & Culture Corner: An Open Letter to the U. S. Black Religious, Intellectual, and Political Leadership Regarding AIDS and the Sexual Holocaust in Africa (Jan. 24, 2000)
Africa: Fidelity Urged to Fight AIDS (July 12, 1999)
Global Death Rates May Skyrocket (May 24, 1999)
I Am the Father of an AIDS Orphan (Nov. 17, 1997)
For more articles on AIDS in Africa, see allAfrica.com and Yahoo Full Coverage.
Have something to add about this? See something we missed? Share your feedback here.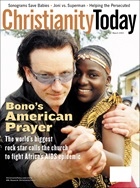 This article is from the March 2003 issue.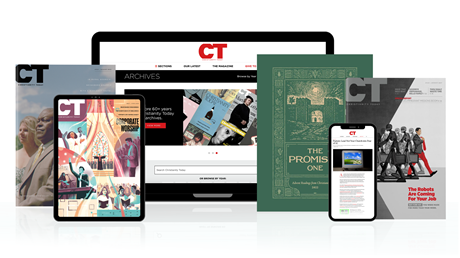 Annual & Monthly subscriptions available.
Print & Digital Issues of CT magazine
Complete access to every article on ChristianityToday.com
Unlimited access to 65+ years of CT's online archives
Member-only special issues
Subscribe
Bono's Thin Ecclesiology
Bono's Thin Ecclesiology