Israel's Antiquities Authority unanimously calls James Ossuary inscription a forgery
A committee of archaeological experts organized by Israel's Antiquities Authority has unanimously concluded that the inscription on the James Ossuary is a forgery.
The inscription on the bone burial box, which says "James, son of Joseph, brother of Jesus," "appears new, written in modernity by someone attempting to reproduce ancient written characters," the Antiquities Authority said in a statement. In addition, the archeologists said the stone of the box is more likely to have come from Cyprus or northern Syria than ancient Israel.
"The ossuary is real, but the inscription is fake," Shuka Dorfman, director of the Antiquities Authority, told Reuters after a Jerusalem press conference yesterday. "What this means is that somebody took a real box and forged the writing on it, probably to give it a religious significance."
Gideon Avni, one of the archaeologists, told CBS News that he believes "this forgery was done sometime in the last decades, maybe in the last years." (A recent Jerusalem Post review runs down other ossuary problems.)
Oded Golan, owner of the ossuary, stands by its authenticity. "I am certain the ossuary is real," he told the Associated Press. "I am certain the committee is wrong regarding its conclusions."
But Golan probably isn't the person to listen to on this issue. First of all, he's admittedly a collector and amateur, not an expert. Second, his dealings with the ossuary have been very secretive. Third, he has treated both the ossuary and another of his supposedly priceless artifacts, a small tablet corroborating the biblical account of Solomon's Temple, so shabbily that both items were significantly damaged. And fourth, according to Jerusalem television news stations (via Canada's CTV), Israeli police found possible forgery tools in Golan's warehouse. Israeli police are still investigating whether Golan's acquisition of the ossuary was illegal.
And more bad news for Golan and his supporters—the Antiquities Authority says that the tablet, known as the Joash Tablet, is a fake, too. Biblical language professor Avigdor Horowitz says the inscription's wording is anachronistic. "The person who wrote the inscription was a person who thinks in modern Hebrew," he told reporters. "A person thinking in biblical Hebrew would see it as ridiculous." (The Geological Survey of Israel had earlier said it was authentic.)
We're really waiting to hear from Biblical Archaeology Review editor Hershel Shanks, and, more importantly, Asbury Seminary New Testament scholar Ben Witherington III. The two have been the biggest cheerleaders for the ossuary, recently publishing a book on it.
Homosexuals will soon be allowed to marry in all of Canada
Canadian Prime Minister Jean Chrétien and Justice Minister Martin Cauchon said yesterday that they will not appeal last week's Ontario Court of Appeal ruling allowing homosexuals to marry.
"Not to appeal means that we have recognized the definition that has been developed by the courts," Cauchon said.
In the next few weeks, the federal government will draft a bill extending gay marriage to the rest of the country. Chrétien promised that the bill will exempt religious groups  from having to perform same-sex weddings, but it's unclear what the law will mean for religious organizations where employment law is concerned.
"What is important for me is the freedom of the churches to interpret according to their faith," said the Prime Minister.
Still, religious groups aren't happy.
"The Court unilaterally has altered an institution of vital social significance, and the government apparently has conceded the issue to the Court by not appealing," Bruce Clemenger, president of the Evangelical Fellowship of Canada, said in a press release. "It is not the role of the Court, nor an appropriate use of the Charter, to redefine pre-existing social, cultural and religious institutions. Despite the existence of bills of rights in most Western countries, not one has ruled that the recognition of marriage as being the union of one man and one woman to the exclusion of all others is unconstitutional or in violation of any norm of human rights."
Focus on the Family Canada Vice President Derek Rogusky called the decision " an abdication of responsibility and a huge blow to democracy."
Both religious groups expressed dismay that Canada's courts, not Parliament, have been the driving force in redefining marriage. And leaders of both groups, along with several others signed a letter this week asking the government to find a compromise other than marriage. "The commitment of Canadians to fairness, equality, and tolerance may entail the extension of legal recognition to various kinds of relationships beside that of marriage; indeed it has already done so," said a letter published in Toronto's Globe & Mail. "But that commitment will not be served by expropriating and reconfiguring an historic institution designed to meet the unique challenges and complexities of opposite-sex conjugal relationships."
More on gay marriage in Canada:
More articles
American Medical Association backs human cloning for research:
Southern Baptists meet:
New Senate chaplain:
Church abuse scandal:
Phoenix bishop resigns after hit-and-run charges:
Crime and persecution:
Racism:
Dead Sea Scrolls:
Books:
Related Elsewhere
Suggest links and stories by sending e-mail to weblog@christianitytoday.com
Check out Books & Culture's weblog, Content & Context.
See our past Weblog updates:
June 17 | 16
June 13 | 12 | 11 | 9
June 6 | 5 | 4 | 3 | 2
May  29 | 28 | 27
May 23 | 22 | 21 | 20 | 19
May 15 | 14 | 13 | 12
May 9 | 8 | 7 | 6 | 5
and more, back to November 1999
Weblog
Launched in 1999, Christianity Today's Weblog was not just one of the first religion-oriented weblogs, but one of the first published by a media organization. (Hence its rather bland title.) Mostly compiled by then-online editor Ted Olsen, Weblog rounded up religion news and opinion pieces from publications around the world. As Christianity Today's website grew, it launched other blogs. Olsen took on management responsibilities, and the Weblog feature as such was mothballed. But CT's efforts to round up important news and opinion from around the web continues, especially on our Gleanings feature.
Ted Olsen is Christianity Today's executive editor. He wrote the magazine's Weblog—a collection of news and opinion articles from mainstream news sources around the world—from 1999 to 2006. In 2004, the magazine launched Weblog in Print, which looks for unexpected connections and trends in articles appearing in the mainstream press. The column was later renamed "Tidings" and ran until 2007.
Previous Weblog Columns: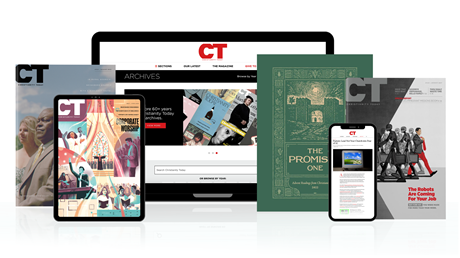 Subscribe to Christianity Today and get access to this article plus 65+ years of archives.
Home delivery of CT magazine
Complete access to articles on ChristianityToday.com
Over 120 years of magazine archives plus full access to all of CT's online archives
Subscribe Now
Israeli Officials Say James Ossuary, Joash Tablet are Fakes
Israeli Officials Say James Ossuary, Joash Tablet are Fakes