Mary Poplin is a professor of education and Dean of the School of Educational Studies at Claremont Graduate University. After attending a Methodist church as a child, Poplin began searching other spiritual traditions, including Buddhism, Transcendental Meditation, even telepathic attempts to bend spoons. She began teaching at Claremont, where a Christian friend encouraged her spiritual journey. Eventually in 1993, she became a Christian. Poplin then sought to integrate her faith with her teaching and academic career following a trip to work with Mother Teresa and the Sisters of Charity in 1996. She is now working on a book to tell her story.
You were raised in a Christian home and experimented with Zen. You were into anything except what was familiar. What was it about Christianity that was a non-starter for you?
I was working in the area of liberation, education of the poor, education of people of color, and so I just accepted that what I'd been told—Christianity was terrible for women. It never occurred to me to look around the world and see where women were the freest and note that those were countries dominated by Christianity. But I didn't think that way.
What moved you towards a different and more compelling view of Christianity?
One of the main reasons was a graduate student who I knew. He lived his life differently. First of all, he prayed for me for eight years. And he would say irritating things like, "If you ever want to do anything with your spiritual life, I'd like to help you." That was irritating because I thought I was doing plenty with my spiritual life. You know, I was bending spoons.
And the other, more distressing thing is, he would ask me questions like, "Do you believe in evil?" And I would realize that I couldn't answer the question consistently.
He worked at our university as a professor for a year on a sabbatical, and when he left I had a dream. I still felt empty and confused, and in the dream I was in a long line of people suspended in the air. The line seemed eternal on both ends. Jesus was standing greeting us in line.
When I looked at Jesus, I knew immediately what I was seeing. I couldn't even look at him, but for a second. I fell down to his feet and started weeping, and the only way I can describe the feeling I had in the dream is that I could sense every cell in my body, and I felt total shame in every cell. Then Jesus grabbed my shoulders and I felt total peace, like I had never felt in my life. I woke up and I was crying.
So I go to the phone and I call this gentleman. He had never told me he was a Christian. But I called him and said, "I think I need to talk to you about my spiritual life." And he said, "Let's meet for dinner." At dinner, he said to me, "Why do you think you have to do something with your spiritual life now?" And out of my mouth came something I'd never thought about. I said to him, "I have some black thing in my chest. And I don't know what it is." He just nodded, and I told him the dream. I said, "What do I do?" And he said, "Do you have a Bible?" He made sure I had one before we split up that night. He said to me, "You could read five Psalms a day and one book of Proverbs." And I thought, well okay, I'm going to do it. I mean, I'm really going to do it this time. And then he said, since Jesus was the one in your dream, you might even read the New Testament. And that's how casual he was about that.
I began to read them, and we began to meet in a town between our cities about once a week. That was November to January.
In January my mother wanted to go to North Carolina to where she had grown up. We went to this little Methodist church, not because she was religious, she just wanted to see her friends.
When we got there, I was really moved to just go up to the altar and give my life to the Lord. It wasn't even an altar call. It was a communion call. The guy said, you don't have to be a member of any church to take communion. You just have to believe that Jesus Christ lived, that he died for your sins, and you have to want him in your life. And when he said that, I was so powerfully moved that I actually thought, even if a tornado rips through this building, I'm going to get that communion.
I took the communion, and I didn't even listen to the guy. I knelt down and I said, "Please come and get me. Please come and get me. Please come and get me." And when I took the communion and I said that, I felt free. I felt like tons of things had been lifted off of me. And I began to have an insatiable desire to read the Bible.
Romans 1 says God is obvious to everyone and people's minds who deny him become darkened. And though they think themselves wise they're actually foolish. That was me. But the Scriptures began to heal my mind so I could actually think again.
How did you end up at Mother Teresa's, and how did that radicalize you?
I saw a film in this monastery about Mother Teresa. She said her work wasn't social work—it was religious work. And I knew my work was social work. I just kept feeling I had to intellectually understand the difference, and the only way I could do that is to work there. So I wrote her a letter.
I went there and worked for a little over two months. And I would work from 5:30 in the morning 'til about 1:00 in the afternoon, primarily with sick babies. Then I would go to the room I rented and study the Scriptures.
I didn't realized how radicalized I had become until I went back to the university after that experience. I would begin to prepare my classes to teach in September and I would start to weep. I'm not really an emotional kind of person. I'd get myself together, go to class and things would be fine. That happened for about two months. Then I was invited to speak at a school administrators' meeting up north.
The women's school administrators invited me to speak about Mother Teresa at a breakfast. A woman stood up during the question and answer session and said, "Did you have any trouble coming back from Mother Teresa's?" And I started to weep again.
Because I was so stunned that he finally showed me why I was weeping, I just blurted it out in front of this group. I said, "You know, I have now seen radical, or the real, Christianity lived. I know what it is. I totally believe it. And now, when I go to prepare my class I know that I'm teaching something else. And I feel like a liar."
When I realized what it was, there was a sense of relief. I was teaching only secular theories. I wasn't telling the students what I would call the whole truth about poverty, about Christ. And so I began to struggle. I had prayed to the Lord to take me out of Claremont. He hadn't done it. And I needed to learn how to stay there. I needed to learn how to integrate.
How would you describe what you're learning about doing this integrative work at Claremont?
Initially my first response was to think that all secular theories were false. And they're not. They're only partially false. Because evil cannot create anything, so evil can't create a philosophy. It wouldn't stand if it were totally false.
So I began to try to develop a class on Judeo-Christian thought and education. We'd take a philosophy or theory that's impacted education and we'd line out its principles. Then we'd line out the Scripture that either matches or doesn't match with it so we can see where it works and where it doesn't work. I also began to take the intellectual problems that I care about, and think of how Jesus would have approached this issue.
So I took, for example, the poor in education. And I began to realize that in the university we were doing all these social justice things, often Marxist critical theory, and I was teaching it. But we weren't making any real progress with the poor. They were still not learning to read, not learning to do mathematics. They weren't getting into better jobs. You have public policy makers concerned with accountability, and they don't talk about social justice. The social justice people reject the accountability movement.
I began to realize that's exactly what the Lord has always told us would happen. This was a manifestation of how evil works to keep human beings from making progress.
And how is that being received within the academic community?
Well, our program has decided to do that. But in general, in the university it's not well received because they don't really want to deal with issues of accountability in any serious way.
How is this change in your life being received by students?
It's pretty well-known I'm a Christian. There was a huge revolt when I first took over the directorship of the teacher-ed program again after having not done it for five years. We even had to have plain-clothes security guards. About half-way through the revolt the ringleader said, "We hate this Christian stuff." And I said, "What Christian stuff?" Because I wasn't even teaching the group, I was directing the program. I'd not had anybody read anything Christian. And she couldn't answer. At that point, some of the other students in the room got the idea. A young African American woman said, I'm not putting up with this anymore. I see where you're coming from. And the whole place broke up after that.
So what are you learning about the nature of your calling?
Personally, I really need to understand the mind of Christ and how it works. And that I've got to get through Scripture. I believe that it is revealed in Scripture. The struggle is to bring the Christian worldview back to the intellectual table. That's really what it is all about. Christians don't have a place at the intellectual table. If you say something about a Christian response or a Christian construct about an issue in the university, you can just feel the walls go up and ice in the room.
That does not happen with any other worldview. Not any other ideology. I think it's dangerous for a country or a group of intellectual institutions like universities to actually say, "There is one worldview we're not going to deal with." I think it's why we're not making a lot of progress. And on the other hand, I think a lot of Christian colleges aren't doing it either. They have chapel and then they may have a required Bible class. But it doesn't go into the science class or the history class.
So you're feeling the level of calling around being involved in that kind of work.
Mother Teresa used to say, "You have to find your own Calcutta." And you know, when I came back and I had had this crisis of starting to weep when I put the classes together I thought, well, there it goes. I found my own Calcutta.
Related Elsewhere
Recent Dick Staub Interviews include:
Gordon Smith Hears the Voice of Jesus | The author of The Voice of Jesus talks about listening to God with discernment. (Nov. 18, 2003)
John Eldredge Is Wild at Heart | The author of Wild at Heart and The Sacred Romance discusses rediscovering the Gospel through a ransomed heart. (Nov. 11, 2003)
Pursuing God and Community | A self-described nerd says pursuing God and community is possible through commitment (Nov. 4, 2003)
Francis Bok Is Proof that Slavery Still Exists | After spending 10 years in slavery, the young Sudanese man is telling his story to the world. (Oct. 28, 2003)
Philip Yancey, the Rumor-Monger | The author's latest is written not for Christians, but for those on the "borderlands of belief" (Sept. 30, 2003)
Ken Gire's Lord of the Dance | Patch Adams and T. S. Eliot teach us to twirl with Jesus, says the author (Sept. 23, 2003)
Jerry Jenkins's Solo Apocalypse | His new novel, Soon, imagines a world where religion, blamed for war, is banned (Sept. 16, 2003)
Why Frederica Mathewes-Green Loves Icons | Yes, we ask the saints to pray for us, she says. They are still living members of the church after all. (Sept. 9, 2003)
Sheila Walsh Says Stop | The author, singer, and popular speaker talks about learning to put praise above performance (Sept. 2, 2003)
Trusting in a Culturally Relevant Gospel | Os Guinness says that evangelicals have never strived for relevance in society as much as they do now. Ironically, he says, they have never been more irrelevant (Aug. 26, 2003)
The Long War About Science | Larry Witham, the author of Where Darwin Meets the Bible and By Design, talks about faith, science, and how the battle has evolved. (Aug. 19, 2003)
Kevin Leman Talks About Sex, Baby | The author of The Birth Order Book looks at the private lives of Christian couples in Sheet Music: Uncovering the Secrets of Sexual Intimacy in Marriage. (Aug. 12, 2003)
Why God is like Jazz | Donald Miller, author of Blue Like Jazz, talks about why Christians need writers who honestly deal with their faults and why penguin sex is an apt metaphor for believing in Christ. (Aug. 5, 2003)
The Dick Staub Interview
Dick Staub was host of a eponymous daily radio show on Seattle's KGNW and is the author of Too Christian, Too Pagan and The Culturally Savvy Christian. He currently runs The Kindlings, an effort to rekindle the creative, intellectual, and spiritual legacy of Christians in culture. His interviews appeared weekly on our site from 2002 to 2004.
Previous The Dick Staub Interview Columns: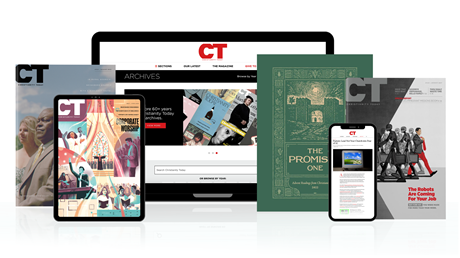 Annual & Monthly subscriptions available.
Print & Digital Issues of CT magazine
Complete access to every article on ChristianityToday.com
Unlimited access to 65+ years of CT's online archives
Member-only special issues
Subscribe
Mary Poplin Calls Claremont Her Calcutta
Mary Poplin Calls Claremont Her Calcutta