Some see the GOP's strong showing in this week's national election as evidence of public support for a wartime president. Which begs the question: Is this truly wartime?
In some externals it may not seem so. No ground war rages. No biological or nuclear weapons have been unleashed. But a sense of foreboding looms. Since Sept. 11, 2001, the stock market has been unsteady, as uncertainty has palled our long-term plans. Many have struggled personally, facing dark fears, finding it hard to focus on the task at hand.
Focus. Persistence. Perseverance. Even at the best of times, as Oswald Chambers once said, "it does require the supernatural grace of God to live twenty-four hours of every day as a saint." We need grace daily "to be exceptional in the ordinary things of life, and holy on the ordinary streets, among ordinary people."
In a time that at least feels like wartime, such persistent holiness seems somehow more difficult. This, not only in daily life, but also in such ordinary charities as helping the poor, being salt in our schools and neighborhoods, and giving to ministries. The "causes" that are always with us seem now to require even more grace than before.
One place such grace may always be found is in the stories of the "ordinary saints" of the past. Some of these folks showed supernatural bravery in the face of extraordinary crises. But most were simply, by the grace of God, "exceptional in the ordinary things of life."
Such an ordinary saint whose life deserves to be reclaimed today is William Wilberforce.
You may recognize the name. He was the British evangelical Christian who, in the late 1700s and early 1800s, persisted in Parliament for several long decades, against every kind of opposition, to see the slave trade ended.
Ordinary? Contemporaries agreed that Wilberforce, a wealthy man renowned for his rhetorical skill and social graces, could have succeeded his friend William Pitt as Britain's prime minister. In fact, by the tender age of 21 he was well along that road, enjoying a Parliamentary seat and dreams of future greatness.
But then a harder, holier calling intervened. At 25, he heard the message of the Christian gospel and converted. And at 27, he made up his mind to spend his life serving his Lord—by serving the lowest and most ill treated among humans.
Most famously, this resolve led him into a life-long legislative struggle against the slave trade. Also, just as tenaciously and sacrificially, he joined his friends of the "Clapham sect" in a multitude of reforming efforts to uplift those crushed under the machinery of the Industrial Age.
Despite his extraordinary gifts, after his conversion Wilberforce was in most respects an ordinary career politician—sitting through many an interminable debate and shaking many a hand on the campaign trail. He also had ordinary failings; among them, an overindulgence in the pleasures of the table and of trivial socializing. Repeatedly he had to bring these to his Lord, asking for forgiveness and strength under temptation.
Nor did he fly easily to the pinnacle of success, like some sanctified superhero. On the contrary, his twin campaigns were continually frustrated by brutal political opposition and by his own precarious health. A diminutive man (James Boswell once called him a "shrimp"), Wilberforce suffered all his life from poor eyesight, digestive problems, and a weak spine. A doctor once announced that this "little fellow with the calico guts" wouldn't last out the following year. He recovered, only to draw near death on two other occasions.
But through it all, Wilberforce persisted. The Abolition of the Slave Trade Act, passed March 25, 1807, is a vivid fulfillment of Paul's promise to the Galatians, "And let us not be weary in well doing: for in due season we shall reap, if we faint not" (Gal. 6:9; KJV).
No less impressive—though less easy to quantify—were the results of Wilberforce's efforts on behalf of the working classes and the destitute. Some historians believe that these efforts helped avert the kind of revolutionary uprising in England that ravaged France. Many also see the voluntary charitable societies he and his circle pioneered, which soon numbered in the hundreds, as lifting Britain from the moral decay of the Regency era (the time of Wilberforce's youth) to the public-spiritedness of the Victorian era (beginning just after his death).
Kevin Belmonte, author of the recently released Hero for Humanity: A Biography of William Wilberforce (Navpress, 2002), draws a parallel between today's world and the world in which Wilberforce slogged through his long campaigns for the slaves and the poor. In a recent letter to Christian History, Belmonte said,
Wilberforce's most productive years as a reformer were those in which Britain was fighting for her national survival in the world war against Napoleon's France that endured from 1793-1815 (save for a brief peace in 1801). The abolition of the slave trade, educational and prison reforms, public health initiatives, legislation to better the lives of the poor and efforts to improve working conditions in factories—all these and more were pursued against the backdrop of war.
The reforms pursued by Wilberforce and his colleagues among the Clapham circle provide the most sterling of models for us as we find ourselves living in the midst of a new and frightening kind of war. Yet amidst the uncertainty of such a scenario is the wonderful reality that we can serve God, honor him through our callings and be blessed of him—this though the way may be hard and at times deeply discouraging. I find this tremendously heartening, and I suspect that your readers may as well.
Injustices such as those Wilberforce fought are always with us—in wartime as in peacetime. They are, in this fallen word, sadly ordinary. But as we seek to play our own parts against them, the grace of the "ordinary saints" is always available to us, too—if we will take the time to get to know them.
Chris Armstrong is managing editor of Christian History magazine.
Related Elsewhere
More Christian History, including a list of events that occurred this week in the church's past, is available at ChristianHistory.net. Subscriptions to the quarterly print magazine are also available.
For more on Wilberforce, see Christian History issue #53, "William Wilberforce and the Abolition of the Slave Trade."
For more on Oswald Chambers's wisdom about life in wartime, see J. I. Packer's excellent Christianity Today article, Wisdom in a Time of War.
Christian History Corner appears every Friday at ChristianityToday.com. Previous editions include:
Just War, Just Nation? | World War II preacher points America back to the nation's soul. (Nov. 1, 2002)
No Sex (Before Marriage), Please … We're Christian | Miss America preaches a 2000-year-old message. (Oct. 25, 2002)
The King Is Coming, Eventually | What if you announced the rapture, but God didn't show up? (Oct. 18, 2002)
Timeline of the Spirit-Gifted | Before Moody, Finney, Edwards, and Mather came a long line of Catholic and Orthodox believers reputed to enjoy "the promise of the Father." (Oct. 11, 2002)
Do Non-Charismatics 'Do' Holy Spirit Baptism? | Ask D. L. Moody, Charles G. Finney, Jonathan Edwards, or Cotton Mather. (Oct. 4, 2002)
Standing Alone for Unity | The attempt to bring European Christians together forced one reformer, Caspar Schwenckfeld, straight to the fringe. (Sept. 20, 2002)
9/11, History, and the True Story | Wartime authors J. R. R. Tolkien and C. S. Lewis help put 9/11 in perspective. (Sept. 13, 2002)
Article continues below
Evangelicalism's Decades of Fire | New historical survey highlights twentieth-century evangelicalism's impassioned middle decades. (Sept. 6, 2002)
A Protestant Bishop Speaks Out on the Stakes of Public Education | Why concerned parents should read the 17th-century Moravian educational reformer Jan Amos Comenius. (Aug. 30, 2002)
Spurgeon on Jabez | What history's most prolific preacher said, in 1871, about the Prayer of Jabez (Aug. 23, 2002)
History in a Flash | A new CD-ROM offers quick access to the facts of church history, plus interactive quizzes. (Aug. 16, 2002)
How the Early Church Saw Heaven | The first Christians had very specific ideas about who they would meet in the afterlife (Aug. 9, 2002)
Divvying up the Most Sacred Place | Emotions have historically run high as Christians have staked their claims to the Church of the Holy Sepulchre (Aug. 2, 2002)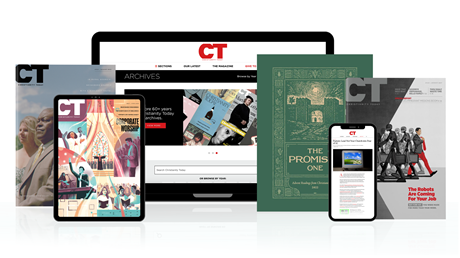 Annual & Monthly subscriptions available.
Print & Digital Issues of CT magazine
Complete access to every article on ChristianityToday.com
Unlimited access to 65+ years of CT's online archives
Member-only special issues
Subscribe
An 'Ordinary Saint' in Wartime
An 'Ordinary Saint' in Wartime