Election 2002: What happened? What's next?
With Republicans grasping control of the Senate, expanding their House majority, and holding down anticipated state Governor gains by Democrats on Election Day, religious activists and mainstream newspapers are focusing on Christian and prolife influence at the polls.
The Washington Times says religion and life ethics issues played a huge role in the Republican wins: "A mobilized conservative religious vote probably swept Republicans to victory in Georgia and the Carolinas [and] prolife Catholics and Protestants made the difference for the GOP in Missouri."
FoxNews exit polls showed that 16 percent of voters were in the "conservative Christian political movement." Political observers told the Times that strong motivating topics for voters were marriage and abortion.
"Once again, those who expected the pesky Christian conservatives to go away have been shocked," wrote Marvin Olasky in World magazine. "The funeral for Christian influence in American politics is still a long way off. Providentially, millions of Bible-oriented voters did not listen to those who advised giving up on politics."
Sandy Rios, president of Concerned Women for America (CWA), said in a press release that regardless of party lines, "the prolife stand was a decisive factor in the Republican takeover of the Senate." CWA's vice president for government relations said prolife issues were not important to Republican voters alone. Michael Swartz said in a press statement: "If that were the case, you would not have seen prolife Democrats like Tim Holden (D-Pennslyvania) and Mike Michaud (D-Maine) winning … while pro-abortion Republicans like Connie Morella (R-Maryland) were going down."
At least one Democrat candidate has left the party over the abortion issue. Jesse Quakenbush lost a state representative race in Texas but says his own party worked against him because he is prolife,. "They say they are an open party and they are accepting of anyone that wants to be a member of their party and then they have a viable candidate in myself and actively campaign against me because of my stance on abortion," Quakenbush told Amarillo television station KAMR.
The CWA also said that American voters were frustrated by Democrat obstruction in judicial appointments. A press release said, "Seizing the day will require holding Senate Democrats to their words and preventing them from repeating their guerilla tactics."
Ron Torossian, media director for the Christian Coalition, told the Washington Times that his organization played a part in the win. The group widely distributed voter guides (mainly through the Internet) and takes credit for getting many Christians to the polls. "Many of the races were so close that I think people wanted to get out and make a difference," Torossian said.
Some Christian activists and tactics were directly employed in the Republican victories this week, most notably former Christian Coalition director Ralph Reed. The Washington Post demonstrates why the Republican Party did so well by using Georgia, where Reed now heads the state GOP, as an example. Democratic incumbents were defeated in the House, Senate, and the Governor's mansion. The Post explains that one major part of Reed's strategy was to convince Republican candidates they had a better chance of winning as a team than they did running individual races.
Others are directly blaming the Democrats for their own loss. In his roundup of media thoughts on the election, Howard Kurtz of The Washington Post wrote that there are two schools of thought on why the Republicans' big day happened. One theory is that the Democratic Party ran a bad national campaign. "The other," Kurtz writes, "is that they ran such a horrifying, inept, intellectually dishonest and soulless campaign that they have dug themselves into a dark pit from which they may not emerge for decades."
He writes that the Democrats were hurt by not addressing two major issues: Iraq and the Bush tax cut. In addition, Kurtz says the party's "moderate, nonoffensive, blur-the-differences strategy was a flop."
Jim Wallis of Sojourners magazine strongly agrees, saying the Democrats lost because they had no vision to share with the American people. They didn't offer a clear alternative to the Bush administration. "Many people who wanted to vote against war or for economic fairness didn't really know who to vote for in most races," Wallis wrote. "Who will raise a prophetic voice for social and economic justice, or for peace? Never has there been a clearer role for the churches and religious community."
Salon's Joe Conason says the Democrats can only blame themselves. "Bland and compromised Democratic candidates were unable to motivate their own base," he wrote. Many observers, such as Dick Morris in the National Review, say the win can be attributed to a strong wartime president. Democrat Nita Lowey of New York even called the elections "a referendum on a popular wartime president."
World magazine said that President Bush worked for Tuesday's wins. "More than any other president in history, Mr. Bush had wagered an enormous amount of his own political capital by campaigning in 23 states this mid-term election," Bob Jones writes. "Again and again he asked voters to show their support for his agenda by backing his local surrogates." That work paid off.
What will happen now?
AgapePress, a service of the American Family Association, reports that Senate Majority Leader Trent Lott of Mississippi said the "logjam" of bills will be cleared. "We will move the partial-birth abortion bill through [the Senate]," Lott told AgapePress. "I will call it up, we will pass it, and the president will sign it. I'm making that commitment. You can write it down."
Other reports say Republicans activity will adhere to a more moderate agenda. "Republicans [are] determined not to repeat the mistakes of the 'Republican revolution' of 1994, when a more overtly conservative agenda played into the political hands of Bill Clinton and helped secure his 1996 reelection," reports The Washington Post.
In World, Olasky urges the GOP to capitalize on their wins. "And now Republicans, with both Senate and House majorities, need to remember that politics is a collision sport," he said. "Bush now has the opportunity to put together a second-half victory by getting the economy moving again with a pro-growth economic plan that builds on his first-half tax cut. They can end federal discrimination against faith-based charities and stay the course on welfare reform. This is a time to hit hard."
Benny Hinn event in England produces injuries and illness
Last Saturday, about 19,000 people showed up to see faith healer and televangelist Benny Hinn in Manchester, England. The problem: the arena only holds 17,000. At least seven gatecrashers were injured.
"A 30-year-old woman who was five months pregnant and was involved in the crush was taken to hospital as a precaution, a 42-year-old woman suffered a fractured leg, a 60-year-old person who was a diabetic collapsed and was taken to hospital," said a spokeswoman for Greater Manchester Ambulance Service. "In addition a 32-year-old man was treated for heat exhaustion at the scene, a 66-year-old woman fractured a wrist, a 35-year-old man was taken to hospital after suffering an asthma attack, and another man with a history of chest pains was taken to hospital after suffering a suspected heart attack. In a totally separate incident, man who was already inside the arena, and in his seat suffered a fatal heart attack."
The ambulance service called it "a major incident."
Steve Goddard, editor of the Christian website Ship of Fools, told The Daily Record of Scotland, "There was a panic in the air and it was absolute chaos. … It was incredible nobody was more seriously hurt."
The problem, said the arena's general manager, is that organizers issued "guest passes." But while those who held them thought "guest pass" meant "ticket inside," organizers intended them to mean "invitation." Tickets were separate.
It's not an isolated incident for the Hinn crusades. Last month between 3,000 and 5,000 people were turned away at a Lakeland, Florida, crusade. Several of those packed inside suffered dehydration.
More articles
The James Ossuary:
Crime:
Politics and law:
Church and state:
Boy Scouts:
Bioethics:
AIDS:
Persecution and violence:
Interfaith relations:
Missions and ministry:
Christian Legal Society:
Media:
Film:
Music:
Sports:
More pop culture:
Bible and theology:
Denominational controversies:
Zimbabwe:
Labor:
Sexual ethics:
Clergy abuse:
Spanking:
Other stories of interest:
Related Elsewhere
Suggest links and stories by sending e-mail to weblog@christianitytoday.com
See our past Weblog updates:
November 7 | 6 | 5 | 4
November 1 | October 31 | 30 | 29 | 28
October 25 | 24 | 23 | 22 | 21
October 18 | 17 | 16 | 15 | 14
October 11 | 10 | 9 | 8 | 7
October 4 | 3 | 2 | 1 | September 30
September 27 | 26 | 25 | 24 | 23
September 19 | 18 | 17 | 16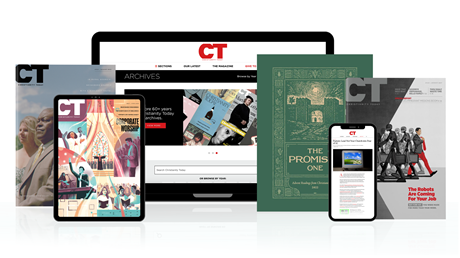 Annual & Monthly subscriptions available.
Print & Digital Issues of CT magazine
Complete access to every article on ChristianityToday.com
Unlimited access to 65+ years of CT's online archives
Member-only special issues
Subscribe
Religion, Abortion Keys to Republican Wins and Agenda, Say Pundits
Religion, Abortion Keys to Republican Wins and ...