true
Largely unknown Christians who direct imaginative, story-driven films will enjoy wider audiences because of the annual Damah Film Festival, which met on October 10 to 12 at the Seattle Art Museum.
Some winning films stream on the festival's website and others are available on two DVDs sold on the website. Others will join a touring festival (tentative cities for the 2002-03 tour are Boston, Boulder, Chicago, Madison, Minneapolis, Portland, St. Louis, Washington, D.C., and Birmingham, England).
Damah, festival organizers say, is "an ancient Hebrew word that means a metaphor that transforms." The festival is the brainchild of a seven-member board. All board members are Christians, but they do not limit entries to films by Christians. Indeed, Damah welcomes entries under a theme of "spiritual experiences in film."
Damah's board watches all the submitted films, decides which to show during the festival, and nominates a shorter list (24 this year) to a jury of 11 film-industry professionals. The jury, consisting of both Christians and non-Christians, then selects winners in these categories:
Up to 60 Seconds ($500 prize).


Up to 5 Minutes ($2,500).


Up to 15 Minutes ($2,500).


Up to 30 Minutes ($2,500).


Best of Show ($7,000).


This year's jurors included film critic Michael Medved, an observant Jew; New Age producer Stephen Simon (What Dreams May Come); and Scott Derrickson (Hellraiser: Inferno and Urban Legends: Final Cut) a graduate of Biola University and the University of Southern California.
All faiths welcome
Damah is designed to encourage storytellers, regardless of their beliefs, and build community among them. Films featured at Damah offer sympathetic (and even some proselytizing) perspectives on Buddhism, Hinduism, Judaism, and Sufism.
One director, Sanjiban Sellew, makes humorous films about his New Age beliefs. In "The Fight That Never Ends" (streaming; DVD, Vol. 1), Sellew dons boxing gloves to fight God, pounds away at a large, upturned tree stump, and ends up on his back with a bloody nose. "Me Against You" (DVD, Vol. 2) consists entirely of four bloody self-flagellants and terrorists, all identified merely as "Fanatic" in the credits, chanting the title phrase. Sellew's intensely personal films drew laughter and lively applause during Damah screenings.
Many of the winning films reflect Christian beliefs:
Audience With God

by Travis Reed (Winner, Up to 5 Minutes). On-the-street interviews achieve new depth as people describe what they would tell or ask God if they knew they had his ear. The prevailing themes: "Help me," "Thank you," and "Relieve our suffering." Even when people declare in this film that God doesn't exist, they sound wistful about it.


A Few Anomalies
Damah defines "spiritual values in film" so broadly that it welcomes some films expressing hostility toward faith (when they acknowledge it at all). The Blue Black Hours, for instance (streaming; DVD, Vol. 1), offers vulgar dime-store maxims about life on the streets, murmured in the style of singer-songwriter Tom Waits. The narrator refers to a world "ruled by a man hanging on a stick" as we see a Day of the Dead skeleton on a cross. This toxic film's spiritual true north is the Burning Man festival or Matthew Fox's Techno Cosmic Mass.
At Low Resolution, nominated in the Up to 15 Minute category (DVD, Vol. 2), is the story of a voyeur who videotapes a woman until she discovers his tape collection. He nearly strangles her, but she escapes, and his attention then turns to his next fantasy lover. (At Low Resolution is so derivative of sex lies and videotape; that Stephen Soderbergh should receive a credit.) Director Jake Davis described his protagonist as being on a spiritual journey, but it's one without a destination.
Two films were admitted to the festival but somehow were not considered as worthy as At Low Resolution or The Blue Black Hours for further attention. Turning Toward the Morning is a heart-wrenching documentary by the mother-son team of Cindy and Andy Pickard. The Pickards, who have worked with death-and-dying guru Elisabeth Kübler Ross, tell stories of parents who have lost children to death. This film makes the parents' remarks more moving by not having them talk on camera. Instead, it relies entirely on photos, subtitles, creative typography, and music.
Chalk by Michael Heiny (Fearless Motion Pictures) builds on the urban legend about a bullying college professor who claims to disprove God's existence by dropping a piece of chalk to the floor and defying God to prevent its breaking. Heiny's characters aren't as full-bodied as those of some other Damah films, but Heiny gives the professor one tantalizing trait: He is excited that one young Christian student stands up to him. Keep an eye on this developing talent.
Another Festival, Another Director
Michael C. Brown of Wauconda, Illinois, is among the directors who take a more explicit approach to Christian themes. He was a featured speaker at the third annual WYSIWIG Film Festival in San Francisco.
Brown is a first-time director who spent $160,000 (mostly for equipment) to make The Calling. The film enjoyed a successful two-week theatrical run in Chicago's western suburbs, and Brown hopes to distribute the film to other theaters during the next year. It's available on DVD or VHS through Brown's Testimony Pictures.
The Calling depicts a pastor who feels God tell him to walk across several states, praying for miracles along the way. The story will appeal primarily to Christians who believe in God's readiness to heal afflictions. Indeed, William Jennings (played by Assemblies of God pastor Herbert Porter) shows impatience with any fellow cleric who suggests that Christians accept anything less than divine healing.
The Calling sometimes feels like a tract for Word of Faith teachings, but it's also an affectionate parody of church authorities. Radio host Hal Bindercroft, whom Brown describes as a modern-day Pharisee, spends most of his time as a scenery-chewing villain, but Brown does not leave him there.
The Calling does not enjoy the production values of Left Behind or anything from Billy Graham's World Wide Pictures, but Brown shows nascent talent as a storyteller and a visual stylist. When Pastor Jennings prays for a woman to walk again, the moment crackles with supernatural power (the scene won a "best God moment" award at the WYSIWIG festival). And Jennings is fearless when facing down a menacing young pimp.
Brown shows sympathy for people who experienced Jesus' mercy: prostitutes, the poor, the sick—and even those exceptional Pharisees (like Nicodemus) who seek God.
Douglas LeBlanc is an associate editor of Christianity Today.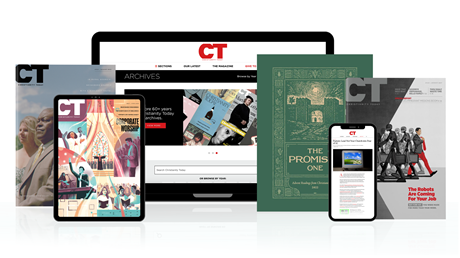 Annual & Monthly subscriptions available.
Print & Digital Issues of CT magazine
Complete access to every article on ChristianityToday.com
Unlimited access to 65+ years of CT's online archives
Member-only special issues
Subscribe
Let's Get Metaphysical at the Damah Film Festival
Let's Get Metaphysical at the Damah Film Festival