true
Santa is the box office champion this week at your local theaters, and it's not even mid-November yet. Tim Allen reprises his role as that jolly old elf in The Santa Clause 2, a sequel to the smash holiday comedy of 1994.
Religious media critics are making the usual criticisms about Santa overshadowing Jesus during the holiday season. About the film itself, they say this installment in the franchise is funnier than the first, but others complain that the film's message goes against everything the nature of the holiday's namesake.
Phil Boatwright (Movie Reporter) writes, "The Santa Clause 2 outshines its predecessor. It is a true delight … a nice lesson about faith."
But others see a problem. Steven D. Greydanus (Decent Films) argues, "The film actually suggests that if Santa Claus isn't able to deliver presents, it will mean no Christmas. Didn't Dr. Seuss teach us all a long time ago that even if you stop the presents, you don't stop Christmas?"
Michael Elliott (Movie Parables) agrees: "Where the film goes astray is in its implied message. It would appear that to the large posse of credited screenwriters, Christmas is all about the gifts. Receiving them … not necessarily giving them. The film implicitly gives a selfish message directed to the 'me' generation. It may be wrapped in tinsel and glittering lights but when we open this package, it's empty inside."
Ed Blank (Catholic News) gives it a mixed review: "The picture makes a good point about adults cherishing the child in themselves, but, as in the original, the sequel is limited to a secular view of Christmas."
Movieguide's critic is troubled by something different. He calls it "one of the better-produced holiday-oriented family offerings from Hollywood in the last few years. The sets are colorful, the story is exciting, and Tim Allen is very funny. Despite positive messages about responsibility and grace, however, the movie contains some objectionable pagan elements, including references to Mother Nature, and an attitude that, were it not for Santa Claus, the meaning of Christmas is diminished."
(I would argue that it is encouraging to see a family film that groups Mother Nature in with Santa Claus and the Tooth Fairy as fantasy characters that we learn to recognize as mere fictions.)
Steven Isaac (Focus on the Family) calls it "fun, romantic, sentimental and warm, all the things a Christmas movie should be." Holly McClure (Crosswalk) likes the film's focus on "believing in parents having a good relationship with their kids and the strength of family and love. This is a great way to kick off the Christmas season with some funny reminders about how much fun it is (as a kid) to pretend that there's really a man in a red suit who brings us presents." Michael Medved says, "This counts as that rarest of movie sequels that in every way outdoes the original hit that inspired it."
Paul Bicking (Preview) claims it "doesn't quite live up to the magic and humor of the original film."
Most mainstream critics were unenthusiastic about the film, but Roger Ebert says that compared to the first Santa Clause, "it's more engaging, assured and funny, and I liked it more." Lisa Schwarzbaum (Entertainment Weekly) says it's "as snappy and well reinforced as Santa's pajamas."
* * *
More Titles Hot from the Oven
From the guy with the red hat to the woman with the monobrow …
Frida opened this week to a mix of praises and protests from critics. (Film Forum offered initial reviews last week.) The film covers the entire life of Frida Kahlo, from childhood to the many years of her tempestuous courtship, marriage, divorce, and remarriage to the famous politically passionate painter Diego Rivera.
Kahlo is played by Salma Hayek in a spirited, feisty performance which is matched, perhaps even surpassed, by the marvelous Alfred Molina as Diego. While viewers should be cautioned that director Julie Taymor portrays their promiscuous, reckless, amoral lifestyles unflinchingly, the lesson of the tale emphasizes the value of marital fidelity and the healing power of forgiveness. In fact, Frida stands out more as a film about marriage than about art or politics. (My full review is at Looking Closer.)
Mike Hertenstein (Cornerstone) says, "The irresistible challenge in making films about artists is to convey something of the visual style of the artist in the film: here, bright colors and dream sequences and visions help give life to Frida's work, but the translation from simple, iconic forms to three dimensions enforces a literalization and conventional narrative that in some ways works against the power of the original work. Still, this is an engaging biopic that tells a story which would be unbelievable if it were fiction."
Gerri Pare (Catholic News) writes, "The film celebrates Frida's life's struggle without judging her promiscuity or bisexuality. This is troubling, yet what clearly emerges is how harmful marital infidelity was to both Frida and Diego. In showing the unhappy consequences of adultery, the movie offers a cautionary note and suggests that the old chestnut that artists are not bound by traditional morality doesn't mean they won't suffer as a result."
Paul Bicking says the film "gives insight to the surrealistic images in [Kahlo's] works. Art lovers will undoubtedly embrace Hayek's performance." But he calls the graphic representation of Kahlo's sexual infidelities unfortunate.
* * *
I Spy, a new comedy loosely based on the classic television series, is being widely condemned by mainstream critics in spite of their praise for stars Eddie Murphy and Owen Wilson. But director Betty Thomas (The Brady Bunch Movie) finds some fans among religious media critics.
Michael Elliott writes, "The filmmakers captured the essence of what made I Spy so successful: a great chemistry between the two actors who play the leads. Screenwriting by committee can often lead to disastrous results, but the four credited writers for I Spy have managed to deliver a script [that] steers clear of any major potholes which might have sunk the project. The film contains a fair number of laughs, a logical story line, and just enough homage to give tribute to the show from which it was derived."
Steven D. Greydanus (Decent Films) writes, "There are bad scenes … [but] I laughed repeatedly. I Spy never rises to real comic greatness, but it doesn't go seriously off the rails until the climactic scene."
Phil Boatwright positively raves: "This is the funniest movie I've seen in years. Often I find myself bored with the overused opposites-who-must-partner theme, as well as the continuous action sequences done by second-unit casts and directors. But I was captured by this one from the first scene on."
Michael Medved also praises the movie: "This slick espionage thriller emphasizes bonding rather than Bond, and in the process delivers more humor, richer characters, and better plotting than recent adventures with 007. The appealing and easy going camaraderie between Eddie Murphy and Owen Wilson easily beats showy stunts when it comes to providing pure pizzaz."
But Loren Eaton (Focus on the Family) asks, "Do you have fond memories of I-Spy on TV? Keep them that way by avoiding this movie. Boorish behavior, crude language, and violent drama consume every onscreen minute." Similarly, Paul Bicking complains of "frequent crude slang and obscenities. Check out cable TV nostalgia channels rather than the theater for I Spy."
Movieguide's critic nearly agrees: "I Spy captures the exciting, humorous spirit of the classic TV show … [but it] is not the family-friendly movie it could have been."
Gerri Pare (Catholic News) also pans it: "The movie is all sound and fury, signifying nothing less than Hollywood's bankruptcy of creativity."
Many mainstream critics ranked it among the worst films of the year. Lisa Schwarzbaum (Entertainment Weekly) complains, "There's nothing undercover in this obvious comedy; there's not even anything skin-deep." Ebert (Chicago Sun-Times) is not amused: "This is a remake by the numbers, linking a halfwit plot to a series of standup routines in which Wilson and Murphy show how funny they could have been in a more ambitious movie. When they riff with each other, there's an energy that makes us smile. When they slog through the plot, we despair. Does anyone other than a Hollywood producer believe that in an Eddie Murphy movie the audience cares about special effects, action sequences, and desperate struggles to save the world?"
* * *
Side Dishes
Heaven is the latest film from director Tom Tykwer, but it bears an important distinction: it is based on one of the unfilmed screenplays of the great Krzysztof Kieslowski, director of The Double Life of Veronique, the Three Colors trilogy (Blue, White, and Red), and an acclaimed series of dramas about the Ten Commandments—The Decalogue.
Frequent Books & Culture contributor Peter T. Chattaway (Vancouver Courier) says, "The pairing of Kieslowski and Tykwer seems like a match made in, well, you know where. The intricately plotted scenes of escape and entrapment are pure Tykwer, but he builds the suspense at a slower, Kieslowskian pace, and he has a knack for finding haunting, enigmatic images that absorb you in the story even when the script doesn't quite work. Heaven isn't about finding escape from the flaws of this world so much as it is about looking within yourself and facing your own flaws, while hoping there is something worth loving in there all the same—a worthy theme for a film that's flawed in its own way, yet possesses a certain undeniable magic." Chattaway adds that the heroine's "desperate need to atone for her sins yet somehow bring the dealer to justice gives Blanchett an opportunity to deliver one of her most complex performances yet."
* * *
Waking Up in Reno, a new film directed by former comedian Jordan Brady, stars Billy Bob Thornton, Patrick Swayze, Charlize Theron, and Natasha Richardson. It's a sort of marital demolition derby when two couples travel to a monster truck show in Little Rock, Arkansas, and infidelity is exposed.
Movieguide's critic writes, "The foul language is deplorable … as are the sex scenes. In the end, the movie tells viewers that all the infidelity is OK. What baloney!" Paul Bicking says, "Along with the frequent sexual material, the dialogue is thick with crude, obscene and profane comments. Waking Up in Reno is not the place to be."
Holly McClure (Crosswalk) writes, "Not everyone will appreciate this comedy and its brash look at how far friendship goes between two couples. But the story will have you laughing at human nature, being moved by a few emotional moments, pondering if you could forgive your best friend for sleeping with your spouse, and leaving with a smile on your face because of the happy ending that redeems it all."
* * *
Bloody Sunday documents the nightmarish events of January 30, 1972, when British soldiers opened fire on Irish protesters in the Northern Ireland town of Derry, killing 13 and wounding 14 more. (Many readers probably learned about this violent day from the U2 song "Sunday Bloody Sunday.") Director Paul Greengrass stages a shockingly realistic recreation of the massacre, putting the camera right in the middle of the action. While viewers are unsettled, the film leaves most critics deeply moved and highly impressed—religious critics included.
Mike Hertenstein (Cornerstone) says, "Many films have employed a documentary style for key moments; here is an attempt to maintain the effect for the entire film. It works for the action sequences, but the expository sequences sometimes seem a little forced." Still, he concludes, "Any quibbles with style dissipate as the film reaches the climactic moment … we find ourselves joining U2's mournful plea, 'How long must we sing this song?'"
* * *
The Weight of Water is an adaptation of a highly praised novel by Anita Shreve. The story follows a photographer determined to solve an 1873 double murder case. Her investigation is disrupted by her suspicions that her spouse is having an affair. Director Kathryn Bigelow (K-19: The Widowmaker) has a strong cast, including Sean Penn (Sam I Am), Catherine McCormack (Spy Game), Sarah Polley (The Sweet Hereafter), Elizabeth Hurley (Bedazzled), and Josh Lucas (Sweet Home Alabama), but critics are not impressed with the results.
Gerri Pare (Catholic News) says, "Bigelow's murky drama continually crosscuts between the past crime and the present investigation as the twin narratives proceed to their violent conclusions. As the characters in the contemporary story don't have a lot to say, and the fact-based 19th-century tale is one-note grim and gloomy, the movie isn't terribly satisfying."
Movieguide's critic calls it "a riveting tale, beautifully filmed and cleverly crafted." But the reviewer condemns the film because it "seems to argue that Christianity is repressive and, therefore, dangerous."
* * *
The Grey Zone is based on a true story of a suicidal uprising by the "Sonderkommandos," who were Nazi-appointed overseers of concentration camps and helpers at the Auschwitz death camp in October of 1944. The film has not had much promotion, but its reputation is spreading after it found high praise at film festivals. Writer-director Tim Blake Nelson is gaining high praise from some of the nation's most respected mainstream critics for the realism and artful storytelling of his movie.
Dave Wilker (Catholic News) says, "The movie conveys its horrors to fearsomely real effect and in minute detail. As the title implies, the death camps created a moral gray zone. Knowing that not everyone was offered a choice by the Nazis to live or die, the more disturbing question left for the audience to answer is: Faced with that awful choice, what would any of us do and what price would we be willing to pay? Unfortunately, The Grey Zone may be avoided by the general movie-going public for all the reasons that make it so compelling and important."
Marie Asner (The Phantom Tollbooth) writes, "The Grey Zone is thought provoking and numbing to watch. The human mind, it seems, has a near-infinite ability to rationalize events into something it can process without breaking."
Mainstream critics are hailing it as one of the year's best films. Stanley Kauffmann (The New Republic) applauds it as "Ironic, taut, [and] acted and directed with more than persuasive realism."
* * *
Still Cooking
To End All Wars, a World War II film about soldiers whose Christian faith helped them endure captivity, continues to draw praise from religious media critics. (Film Forum featured coverage of the film a few weeks back. Christianity Today's Douglas LeBlanc reviewed it for the July issue.)
Movieguide's critic is deeply impressed. The reviewer writes that the story "teaches valuable lessons, has brilliant acting, and deserves the awards it's winning. In spite of the violence and foul language, mature people of faith and values need to support this profound movie."
* * *
Jackass: The Movie continues to draw the scorn of Christian media critics. The immature antics of its self-destructive practical jokers are described not only as reprehensible but also dangerous for impressionable young viewers.
Dale Wilker (Catholic News) counts "three dozen short incidents of pranks, practical jokes, vandalism, self-torture, abuse, mutilation and other violent acts too repulsive to describe. Clearly there is a perverse youth culture out there that this film seeks to reflect and exploit. Many in the audience laughed uproariously at Jackass or groaned in amused revulsion. Paramount, MTV, and Viacom executives who financed and marketed this trash should be ashamed of themselves. For films of this ilk, perhaps Paramount should exchange its now-meaningless pinnacle trademark for some more appropriate corporate symbol, such as a garbage dump."
Josh Sorensen (Christian Spotlight) says, "Unfortunately, in seeking their own fame, they are bringing down a generation to their level of degrading shame. And whether we like to hear it or not, there will be many young boys who will likewise try to seek attention in the same ways."
* * *
As Film Forum demonstrated last week, Auto Focus, the film about the rise of Hogan's Heroes star Bob Crane and his decline into sexual addiction, is drawing negative reviews from religious media critics. This week, Michael Elliott says, "What we … have is a film involving characters about whom we don't care performing acts which we don't care to see. Not much there to recommend, is it?"
* * *
The Truth About Charlie, also covered last week, drew some positive responses this week from David Bruce (Hollywood Jesus). But Phil Boatwright calls it "a silly, completely unnecessary rip-off. This isn't merely a lightweight version of a classic. It's a soulless, pale imitation."
* * *
Future Menu
While religious press reviews are pending, some U.K. publications are giving readers a sneak peek at Harry Potter and the Chamber of Secrets. Their rave reviews guarantee the film will be a force to be reckoned with when it opens on November 15. Film Forum will be watching closely as more reviews (and controversies) pop up.
John Hiscock (The Telegraph) says, "Wisely, scriptwriter Steve Kloves and director Chris Columbus once again are faithful to the book, although Columbus, more confident this time, deftly takes advantage of Rowling's wildly imaginative story to add some visual touches and twists of his own. The dark and grimly topical tale … gives Columbus the chance to indulge himself with fascinatingly realistic special effects and riveting action sequences."
Lizzie Rusbridger (The Guardian) says, "Children and adults around the country, breathe easy—the magic of Harry Potter is as potent as ever in film. Secrets is darker, funnier and finer than its forerunner. Parents, be warned—this film is quite long, although probably not long enough for the absolute Harry Potter fanatic. It has only been shortened by the brief but sickeningly cheesy Hollywood ending; the only point where we wring our hands and ask why it had not remained a perfect book."
* * *
Digest
At Crosswalk this month, Brian Godawa, director and writer of To End All Wars, is interviewed about his book Hollywood Worldviews. And at Razormouth, Godawa answers letters asking his opinion of sensuality and nudity in the movies.
* * *
Next week:8 Mile is a Rocky for rappers. But what does Eminem's big-screen debut say to its audience of enthusiastic young fans? Plus: Brian DePalma's Femme Fatale.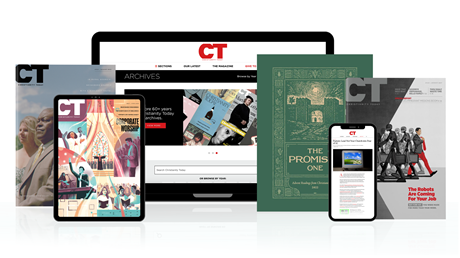 Annual & Monthly subscriptions available.
Print & Digital Issues of CT magazine
Complete access to every article on ChristianityToday.com
Unlimited access to 65+ years of CT's online archives
Member-only special issues
Subscribe
No Presents, No Christmas?
No Presents, No Christmas?