Evangelical leaders join criticism of Chevrolet's sponsorship of Come Together & Worship Tour
Two weeks ago, when Weblog covered Chevrolet's sponsoring of the Come Together and Worship tour with Michael W. Smith, Third Day, and Max Lucado, the critics were Jewish watchdog groups like the Anti-Defamation League and the American Jewish Committee. Publishers Weekly's Phyllis Tickle was a critic, too, but the main voice was the AJC's James Rudin.
But the Anti-Defamation League, American Jewish Committee, and Tickle were all responding to reporters' questions. They didn't take the initiative as critics. Now, however, some voices are proactively criticizing the Chevrolet sponsorship. And — surprise — they're evangelical leaders.
Perhaps most critical is Christian singer Steve Camp. "Undiscerning believers think it a profound ministry strategy to join forces with unregenerate people in forwarding the gospel," he wrote in a six-page open letter to the contemporary Christian music community. "Unwittingly, they harness Jesus Christ, the Worthy One, with Belial or Satan, the worthless one, in an unholy alliance—the very essence of being unequally yoked. … Allowing the world to sponsor and partner in the work of the ministry is foreign to any biblical writer. I don't know of any other singular event that has allowed the world to conduct its business or trade where the worship of the Lord is to be given and the gospel proclaimed. … Has the church traded the great theme of 'Holy, Holy, Holy' and adopted as their new song of praise, 'Like a rock'?"
But Camp isn't just critical of the sponsorship. He's upset with the tour itself; specifically, that it's charging an admission fee. "We have now actually digressed to charging people money to worship the Lord," he complains.
Surprised by Camp's reaction? You don't know Camp. The Encyclopedia of Contemporary Christian Music notes that he has always been an activist and a critic of the Christian music world, but in recent years has stepped up his criticisms. On Reformation Day (Oct. 31), 1998, he famously (infamously?) issued 107 Theses for reforming the industry. "Most biblical scholars and Christian theologians would regard Camp's arguments … as certainly sectarian and probably unscriptural," wrote encyclopedia author Mark Allan Powell, professor of New Testament at Trinity Lutheran Seminary.
But Camp isn't alone. Not by a long shot. The Evangelical Environmental Network (EEN) has put together an open letter to automobile executives, signed by more than "100 heads of denominational and senior religious leaders," and will even run television, radio, and print ads in Detroit criticizing the company and tour.
"Through this gospel tour, Chevrolet is promoting certain vehicles that get very low gas mileage and produce significant pollution, harming human health and the rest of God's creation. Is this loving your neighbor?" says EEN executive director Jim Ball in a press release. "The real problem is the cars, not the concert. If Chevrolet wants to promote family values, then they should start by creating a healthier environment for our children to play in. … We're asking the artists and audiences to take a good look at what's happening here, and to ask, 'What Would Jesus Drive?'"
So the EEN has launched WhatWouldJesusDrive.org. The organization's Call to Action statement is there, but so far there's no list of those denominational and religious leaders. For that, apparently, we have to wait until the ads are revealed November 20. Nor does the site include the EEN's letter to the band Third Day, which says, "We think it would be a shame if many of your fans were influenced by this tour to buy such Chevrolet vehicles."
Meanwhile, others are defending the tour. "Corporations have the right to target specific groups that will use their product," says an editorial in The Oklahoman. "We haven't heard the same kind of outrage at 'corporate America' for courting other customers categorized into specific groups. For example, Bridgestone/Firestone has focused its products in markets for homosexuals and lesbians, African-Americans, Asians and Hispanics. … Thankfully, Chevrolet didn't cave in to unreasonable pressure and pull out."
And USA Today quotes pastor Max Lucado, who is speaking on the tour. "Corporate America, not necessarily Chevrolet, has gotten behind events that were violent or more controversial in nature. For them to get behind something nourishing in nature is refreshing. … But, the line that I won't cross, and I haven't been asked to cross: At no time has any advertiser told us what to say or to sing at the event."
Ossuary owner breaks his silence
After being called an idiot for packing a 2,000-year-old bone box that may be the most exciting New Testament archaeological find ever in cardboard and bubble wrap, and after being accused of trying to smuggle the priceless treasure out of Israel, and after being accused of dealing in looted artifacts, ossuary owner Oded Golan has come out of hiding to defend himself. The front-page story in Toronto's Globe and Mail has several notes that contradict what has been previously reported:
After its exhibition at the Royal Ontario Museum, the ossuary will return to Israel, but not to Golan's home. (Museum authorities wonder if it will be able to withstand another transport after the damage it received going from Israel to Canada.)


"From an archeological point of view this is not so important a finding," Golan says. "[But] from a religious and emotional point of view it is a completely different issue." (Many archaeologists would disagree on that point.)


When buying the James ossuary from an Arab antiques dealer in the 1970s, Golan says he chose it over other artifacts because it was one of the few he could afford.


Golan may allow DNA testing on the bone fragments that had been inside the ossuary after all. "It might be possible to see if someone in the world today is related to James," he told the

Globe and Mail.

(He earlier told Time he wouldn't allow the bone fragments to be displayed for examination. Instead he'd keep them in a Tupperware container.)


Golan says he personally supervised the packing of the ossuary "by one of the most reputable shippers of highly valued artifacts in Israel" as it was wrapped "in at least 10 layers" of bubblewrap. He doesn't say why it wasn't packed in a double wooden crate.
Golan also spoke to the Tel Aviv paper Ha'aretz. A few items from that article:
Golan isn't upset about the ossuary's cracks. "There was some sort of negligence here. I haven't seen it, I want to know what happened. But I believe there is a way to fix it," he says.


He has insured the ossuary for $1 million, though other reports say it's worth $2 million. Others say it's priceless.


He has great knowledge of archaeology. (The press conference announcing the ossuary discovery portrayed him as an uninformed hack.)


Golan says he bought the ossuary "from an authorized dealer," but doesn't remember from whom. "A long time has passed. I was a young boy then," he said. "You don't expect me to remember from whom I bought each of my items."


The Israeli Antiquities Authority made him sign a document promising to return the ossuary to Israel in February. But the IAA says it "will probably not be declared a national asset, which will enable Golan to sell it to the highest bidder abroad."


His dog, which has been with him for 20 years, just died. (The dog, says Oded's brother, had musical talent.)
The Associated Press also tried to track down Golan, but only got an Arab antiques dealer who may or may not have sold the ossuary.
Also, today's Globe and Mail has commentary from television host Lorna Dueck. More importantly, she quotes Paul Maier, professor of ancient history at Western Michigan University. He gives the ossuary an authenticity rating of only six on a 10-point scale. He says the only conclusive evidence would be "finding a crushed skull that may have rested in the ossuary." Still, he says, we don't really need it to know that Jesus really existed. "Evidence outside the Bible in first-century sources for the history of Jesus is overpowering," he says.
More articles
War:
Church and state:
Church life:
Books:
Catholic abuse policy revised:
Sex abuse cases:
Catholicism:
Related Elsewhere
Suggest links and stories by sending e-mail to weblog@christianitytoday.com
See our past Weblog updates:
November 6 | 5 | 4
November 1 | October 31 | 30 | 29 | 28
October 25 | 24 | 23 | 22 | 21
October 18 | 17 | 16 | 15 | 14
October 11 | 10 | 9 | 8 | 7
October 4 | 3 | 2 | 1 | September 30
September 27 | 26 | 25 | 24 | 23
September 19 | 18 | 17 | 16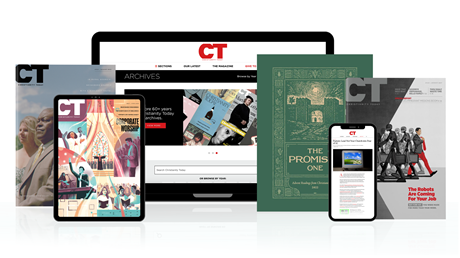 Annual & Monthly subscriptions available.
Print & Digital Issues of CT magazine
Complete access to every article on ChristianityToday.com
Unlimited access to 65+ years of CT's online archives
Member-only special issues
Subscribe
Evangelical Leaders Criticize Chevrolet's Worship Tour Sponsorship
Evangelical Leaders Criticize Chevrolet's Worship ...