The church is a body, not a machine or a corporation. The church is not an army of Christian soldiers. An army functions by forcibly restricting the complexity of human interaction and programming it into a strict chain of command. An army is an unnatural community—very effective for one purpose, but not for building a healthy community. [38]
The church's fundamental mission to God is worship. This truth, however, can become a cliché that actually subverts mission. Worship, so-called, can become a diversion from mission, especially in postmodern North America, where "worship" may mask considerable self-centeredness. Too often worship is more consumer-centered than God-centered. [50]
[T]he New Testament says nothing about "joining the church." When the Bible speaks of being a part of Christ's body, the emphasis is not on the individual's action but on God's action as he joins us to Christ, makes us part of the body, and adopts us as his children. [52]
[T]he theological richness of the church's great Trinitarian hymns is one reason why vital churches need the church's historic hymnody as well as contemporary praise songs. [55]
How do we know when a congregation has grown too large? Try the name-tag test. When you have to have name tags to know everyone, the church is too big—and probably community is too weak. [65]
Historically, … "dead" structures have often proved to be the incubators of fresh forms of renewal. Renewal movements do not spring from nowhere; they arise from within (though often at the periphery of) the "institutional church." [69]
[B]usiness models have very little, if anything, to teach the church as church. It is important to note, however, that creative, effective business organizations do have a lot to teach about how Christian organizations can function—as human organizations, not as church. [71]
[T]he genius of the early church's growth and witness was not its strategy or organization but its embodiment of Christian virtue in countercultural yet culturally engaged community. [79]
Authentic worship leads to mission. Worship that does not lead to mission is worship of a passionless, purposeless God. [90]
Metaphors and models are powerful. Think of the church as a building, and it becomes building centered and architecture dependent. Think of the church as an organization, and it becomes preoccupied with organizational forms and programs. Think of the church organically, and it focuses on what makes for healthy life. [90]
Preaching, counseling, planning, and all else should be tested by this central principle: Does it help the whole church to be in ministry, an active agent for the kingdom of God?
This central focus for leadership rejects the clergy/laity distinction as heretical. To be a Christian is to be a minister. [91]
[T]ake care to avoid the twin dangers of "sacralizing" structures so they can't be changed or modified as necessary, or of "secularizing" them, forgetting that structures, though purely functional, do reinforce values and worldview assumptions. [93]
Life truly grounded in Jesus cherishes the earth as good and worth caring for. But it opposes misunderstanding humans as nothing but one more species in the ecosystem. [135]
The church in its speech is to mirror God's grace. Why? First, because to do so reflects the character of God himself. But also because Christian relationships are the laboratory for Christian life in society—public discipleship. [170]
Without repentance, faith, and discipleship, a woman or man is not morally and psychologically capable of experiencing God's love in its redemptive and transforming power. Without such a response, what a person feels in relation to God is something less than God's love. It may be relief, psychological peace, or even a (false) sense of security. But it is not God's transforming love and, therefore, not salvation. If this is believed to be salvation, it is a deception. [173]
Economics is a spiritual issue because it is all about relative value. [175]
Related Elsewhere
Decoding the Church: Mapping the DNA of Christ's Body, by Howard A Snyder with Daniel V. Runyon, is this month's selection for the Christianity Today Editor's Bookshelf. Elsewhere on our site, you can:
Editor's Bookshelf
David Neff was editor in chief of Christianity Today, where he worked from 1985 until his retirement in 2013. He is also the former editor in chief of Christian History magazine, and continues to explore the intersection of history and current events in his bimonthly column, "Past Imperfect." His earlier column, "Editor's Bookshelf," ran from 2002 to 2004 and paired Neff's reviews of thought-provoking books and interviews with the authors.
Previous Editor's Bookshelf Columns: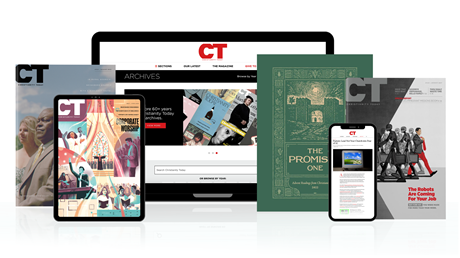 Annual & Monthly subscriptions available.
Print & Digital Issues of CT magazine
Complete access to every article on ChristianityToday.com
Unlimited access to 65+ years of CT's online archives
Member-only special issues
Subscribe
The Name-Tag Test
The Name-Tag Test