Leading human rights groups have urged the Indian National Human Rights Commission to take urgent steps to safeguard the rights of Christians in the western state of Rajasthan.
"The rights of the [Christian] community have been violated. They have been forced to live in terror," said Kavita Srivastava, general secretary of the Rajasthan unit of People's Union for Civil Liberties, which has petitioned India's human rights commission on behalf of the Christian community. 
The civil liberties union, India's oldest and largest human rights organization, and a dozen other rights groups released a report last week on the plight of Christians in the Ajmer district of the state, said Srivastava.
Tensions began when a Catholic priest was accused of molesting a Christian boy at St Martin School at Bhawani Kheda, the report said. Some Hindu groups used the alleged incident to run a "hate campaign" against the state's tiny Christian community, according to the report.
The accusation against the priest should have been treated like any other criminal allegations, Srivastava said, but was instead "communalized."
"The event was used to terrorize the local Christian population, tarnish the image of the institutions run by them for decades and also get the re-conversions carried out," said Srivastava, referring to pressure applied to Christian families to return to the Hindu fold.
Fundamentalists led a Hindu family boycott, withdrawing 231 students from the Catholic school and forcibly locking up a hostel. Seventy-five poor students staying in the student housing were unable to enter.
Later, leaders of the Hindu fundamentalist Vishwa Hindu Parishad (World Hindu Council) visited the area and converted dozens of Christian families back to Hinduism, after threatening them with a social boycott.
Catholic Bishop Ignatius Menezes of the diocese of Ajmer-Jaipur said: "Our people are under great pressure to reconvert." Christian families that have refused to sign a declaration of re-conversion "cannot enter some [Hindu] shops or even buy vegetables," the bishop said.
The state of affairs in Bhawani Kheda was not an isolated situation, Menezes asserted, but part of a "consistent hate campaign" being carried out against Christians in remote villages throughout the desert state. Christians make up less than half a percent of the state's 55 million population.
"We are living in fear," said the bishop.
Related Elsewhere
Previous Christianity Today articles on religious tensions in India include:
Article continues below
Indian State Bans Conversion | Christians say Tamil Nadu ordinance threatens relief work. (October 11, 2002)
Hounded, Beaten, Shot | What you can do to help persecuted Christians in India. (June 11, 2002)
Critics Assail Dialogue with Hindu Radicals | But some Christians see talks as an opportunity to build bridges in times of persecution. Critics Assail Dialogue with Hindu Radicals. (May 14, 2002)
New Curriculum 'Tampering' with History, Indian Churches Protest | Christian leaders allege that a current education proposal promotes Hindu nationalism. (Dec. 12, 2001)
Law Could Curb Foreign Donations To Churches, Indian Christians | Worry Stringent legislation is aimed at cutting off terrorist funding, but could hurt non-government organizations. (Nov. 9, 2001)
Christians Encouraged as 50,000 Dalits Leave Hinduism | Low-caste Hindus see conversion as their only escape from oppression. (October 11, 2001)
India's First Dalit Archbishop Holds 'No Grudge' Over Predecessor's Attack | Once "untouchable" Dalits make up bulk of country's Christians. (May, 11, 2001)
Plans to Resolve India's Interfaith Tensions Face Delays and Accusations | Did India's National Commission for Minorities plan a meeting to discredit Christians? (July 20, 2000)
Foes Claim BJP is Using Arms Training to Win Crucial Election in India | Fears mount that reason for camps is to galvanize support for temple construction. (June 29, 2001)
Bomb Explosion During Mass Stirs Fear, Public Outcry in Bangladesh | Suspects linked to rash of attacks. (June 25, 2001)
India Election Results Rattle Ruling Nationalists | Hindu BJP "getting irrelevant day by day" say rivals. (June 13, 2001)
Despite Tensions, Indian Churches Agree to Talks With Hindu Groups | Mainline churches will join talks, but other Christians say "partisan" meeting is dangerous. (Apr. 11, 2001)
India Relief Abuses Rampant | Radical Hindus hijack supplies in quake intervention. (Mar. 20, 2001)
In Orissa, You Must Ask the Government If You Want to Change Religion | Christian church leaders say they're trying to ignore the controversial law, but police aren't doing the same. (Mar. 12, 2001)
Churches Angry that Indian Census Ignores 14 Million Christian Dalits | Only Hindu, Sikh, and Buddhist members of "untouchable" caste being counted. (Mar. 2, 2001)
India's Christians Face Continued Threats | We must preach what we believe in spite of Hindu pressure, says Operation Mobilization India leader. (Feb. 15, 2001)
Christianity Today's persecution archive has more articles on religious discrimination and violence from around the world. The World Report section allows readers to search for past articles by country (see articles on India).
For more articles, see Yahoo's full coverage on India.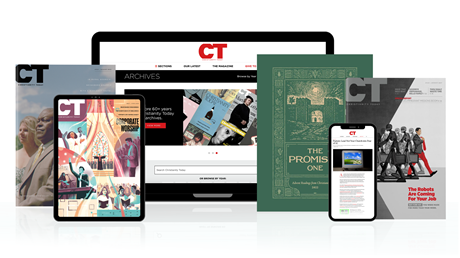 Annual & Monthly subscriptions available.
Print & Digital Issues of CT magazine
Complete access to every article on ChristianityToday.com
Unlimited access to 65+ years of CT's online archives
Member-only special issues
Subscribe
Indian Christians 'Living in Terror,' Rights Groups Report
Indian Christians 'Living in Terror,' Rights Groups Report