Conservative religious organizations: "This was a significant victory"
So far, few Christian political organizations on the right or left have offered analysis of yesterday's election. Two notable exceptions are Focus on the Family and the Family Research Council. "On balance, this was a significant victory for our pro-family issues," says council president Ken Connor in his daily Washington Update. "Prospects for the pro-family and pro-life legislative agenda, and confirmation of President Bush's judicial nominations, should improve. But there But there will still be plenty of heavy lifting to do in the Senate, where Democrats can be expected to exploit the rules to block pro-family legislation. Among the states, several ballot initiatives of interest were decided. Medical marijuana measures failed in several states, and Nevada passed a defense of marriage constitutional amendment for the second time. Gambling measures, unfortunately, passed in several states."
Focus on the Family's CitizenLink rounds up several comments that organizations haven't put online yet, including Phyllis Schlafly's Eagle Forum, Gary Bauer's Campaign for Working Families, and American Renewal (Family Research Council's partisan political action committee).
Everyone seems to agree that it's a big victory for the prolife movement.
"What this means is that the pro-family, pro-life legislation that was blocked in the Senate this session can be brought up next session with the knowledge that they will pass both houses and be signed by President Bush," Focus on the Family public policy issues analyst David Varnam says. "That means that we can get a partial-birth abortion ban, confirm conservative judges and not allow bad legislation to come up. … Pro-family voters should be very proud tonight because they were the swing votes in many key races across the nation."
Focus also mourns Tennessee's repeal of a statewide lottery ban. "You are going to see states that have said 'no' to this legislatively being pressured to put it on a ballot," Focus quotes National Coalition Against Legalized Gambling spokesman Tom Grey saying. "As religious leaders, we should be asking how faithful our people are at being our brother's keeper, because obviously we are willing to sacrifice the addicted and the poor in our communities so that we might derive a benefit, which is our kids being educated."
For a different evangelical perspective on things, Weblog wouldn't be surprised to see Sojourners have something later today, but there's no election analysis yet.
James ossuary may not go on display as scheduled
Delays in fixing the damage to the limestone box that probably once held the bones of James, the brother of Jesus, may mean the ossuary won't be displayed at Toronto's Royal Ontario Museum as scheduled. Dan Rahimi, the ROM's director of collections management, told the Toronto Globe and Mail that the museum ""really, really has to start repair work by Monday" if it is going to start showing it November 16. But the museum hasn't heard from the owner's insurers. "If we don't hear … by this weekend, it does place the 16th in jeopardy," the museum's director of media relations told the paper. "And we'd have to schedule, then announce a new date."
Speaking of the crack, The National Post of Canada reports that the owner packed the priceless artifact (it is valued at $2 million) "in a cardboard box lined with plastic bubble wrap." It should have been packed in a double wooden crate.
Meanwhile, observers continue to question the ossuary inscription's veracity. John Lupia, editor of the Roman Catholic News, told the Globe and Mail he "immediately knew the inscription was a fake."
The paper also has an op-ed by historian Claude Cohen-Matlofsky, who says the inscription may have a kind of ancient typo. He says it wouldn't be the only one: "There are numerous examples of inscriptions containing grammatical or spelling errors, or that have misshaped letters due to the inability of the craftsmen to accurately follow instructions." But does he believe it's really evidence of Jesus' existence? "It may be, but much of the historical and archaeological evidence is not yet in," he says.
More articles
Life ethics:
Atheism:
Church life:
Sexual ethics:
Other stories of interest:
Related Elsewhere
Suggest links and stories by sending e-mail to weblog@christianitytoday.com
See our past Weblog updates:
November 5 | 4
November 1 | October 31 | 30 | 29 | 28
October 25 | 24 | 23 | 22 | 21
October 18 | 17 | 16 | 15 | 14
October 11 | 10 | 9 | 8 | 7
October 4 | 3 | 2 | 1 | September 30
September 27 | 26 | 25 | 24 | 23
September 19 | 18 | 17 | 16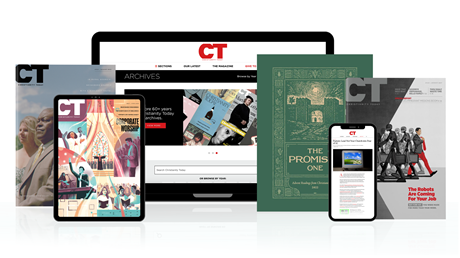 Annual & Monthly subscriptions available.
Print & Digital Issues of CT magazine
Complete access to every article on ChristianityToday.com
Unlimited access to 65+ years of CT's online archives
Member-only special issues
Subscribe
Prolife Organizations Declare 'Significant Victory' in Elections
Prolife Organizations Declare 'Significant Victory' in Elections