Anti-missionary sentiment runs high after Lebanon murder
After the murder of American missionary Bonnie Penner (which news sources have seemed to settle on as her last name instead of Witherall or Weatherall), one would be justified in expecting some sort of backlash. After all, officials are trying to figure out whether she was killed out of general anti-American sentiment or if she was specifically targeted as a missionary—but in either case the culprit is almost certainly a Muslim. As it turns out, the backlash continues to be against evangelical Christians, not extremist Muslims.
In Lebanon, the influential Muslim magazine The Pulpit of the Calling editorialized against the Christian and Missionary Alliance, Penner's sending agency. "They destroy the fighting spirit of the children, especially of the Palestinian youth, by teaching them not to fight the Jews, for the Palestinians to forgive the Jews and leave them Jerusalem," the article said, according to The New York Times. The magazine also claimed that the C&MA tells children and young men that it can arrange an education in the United States—but only if they convert to Christianity.
Sheik Maher Hammoud, a Sunni Muslim cleric in the town where Penner was killed, said that the Unity Center where she worked promotes Judaism more than Christianity. That's just an outright lie to inspire anti-Jewish hatred against Penner's coworkers.
But it's not just Lebanese Muslims who are condemning Penner's missionary work. Bishop George Kuweiter of the Greek Catholic Church likened the missionaries to terrorists, saying they operate in "cells" under the guise of Christianity. "Even we wonder who is behind them, who brought them and in whose name they operate," he told the Associated Press.
Bishop George Kwaiter, acting archbishop for the Roman Catholic diocese (who may in fact be the same person as the Bishop George Kuweiter named above, but the AP and New York Times differ on spelling on and church affiliation), has also criticized Penner and her fellow missionaries. "She was in the habit of gathering the Muslim children of the quarter and preaching Christianity to them while dispensing food and toys and social assistance," he complained to the Times.
The New York Times explains that missionary work isn't just a religious matter in Lebanon. "Religious affiliations are more than a matter of personal faith here because they define political power, with specific posts reserved for the once-dominant Maronite Christians, then the Sunni and the Shiite Muslims," Neil MacFarquhar wrote in yesterday's edition. "The system, constructed in 1943, emerged shaky but intact after the civil war. The fact that it no longer reflects demographic reality—Muslims became the majority in Lebanon by the 1960s—makes all groups even more sensitive about conversion. Changing someone's religious denomination affects factions' numbers and influence."
But Christian missionaries won't be deterred. "So many people think my wife's death was a waste … but we believe that coming here with the message of Jesus would never be a waste," Penner's husband, Gary Witherall, said at her memorial service Sunday (photos). "It is a message worth laying our lives down for."
And that message has consequences, he said, sobbing: "Whoever did this crime, I forgive them. It's not easy. It took everything that I have but I can forgive these people because God has forgiven me."
(A slightly different version of Witherall's message was reported in the Lebanese press. The Daily Star quotes Witherall as saying during the service, "We did not come here to convert people; I now study the Koran because I love Muslims." The AP report suggests he made this statement in a meeting with some Muslims in a side room before the service.)
Future missionaries aren't deterred either, reports The New York Times. "I've talked to several students since we've heard this news, and it really has not changed their desire to go overseas as missionaries," Becky Scott, spokeswoman for Penner's alma mater, Moody Bible Institute, said. "If anything, they realize that the task is all that more important, to do what they're called to do. And any student who is here training as a missionary knows that there are risks involved with that. They receive some training in what to do in risky situations. But then it's a matter of just trusting in the Lord and trusting his will for their lives."
 "If they want to kill us all, we are ready to die," says Sami Dagher, director of the Unity Center and head of the Christian and Missionary Alliance churches in Lebanon. "But we are not going to close either the clinic or the church."
He told The Daily Star that he didn't know why anyone would even suggest closing the clinic (as many have). "We provide medical and educational services to a large number of people in addition to a range of spiritual services. Let them come to us and say what mistake we have made. We do not force anyone to come here. As for me, this is my city and I am ready to wash their (citizens') feet."
And that's the crucial point that Penner's critics don't understand, an unnamed friend of the missionary told The Daily Star: "Since Arabs are not taking care of them, they can't understand why Americans would."
More articles
James Ossuary:
AIDS:
Interfaith Thanksgiving:
Religious freedom in Israel:
Books:
Related Elsewhere
Suggest links and stories by sending e-mail to weblog@christianitytoday.com
See our past Weblog updates:
November 25
November 22 | 21 | 20 | 19 | 18
November 15 | 14 | 13 | 12 | 11
November 8 | 7 | 6 | 5 | 4
November 1 | October 31 | 30 | 29 | 28
October 25 | 24 | 23 | 22 | 21
October 18 | 17 | 16 | 15 | 14
October 11 | 10 | 9 | 8 | 7
October 4 | 3 | 2 | 1 | September 30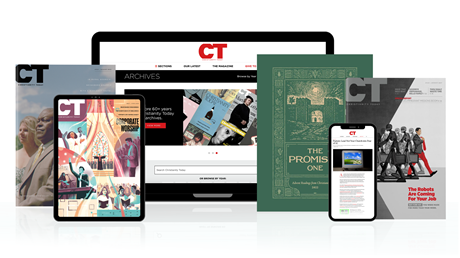 Annual & Monthly subscriptions available.
Print & Digital Issues of CT magazine
Complete access to every article on ChristianityToday.com
Unlimited access to 65+ years of CT's online archives
Member-only special issues
Subscribe
Muslims, Christians Blame American Missionary For Her Own Murder
Muslims, Christians Blame American Missionary For Her Own Murder