Last Friday, the Church of England announced a new "national youth strategy." This strategy, backed by a new fund, officially blesses "alternative forms of youth worship" in hopes of drawing back to Anglican churches some of the young people who are now staying away in droves. The church is now willing to sponsor such novel events as one cathedral's "raves in the nave." (Explains one online dictionary, a rave is "an all-night dance party, especially one where techno, house, or other electronically synthesized music is played.")
In America, land of the open religious market, such efforts seem less surprising. Even an all-night dance party for the Lord would fail to raise many eyebrows in this country, where massive youth rallies focused around contemporary music have been standard methodology for more than a generation.
More eyebrow-raising, perhaps, is that the elder statesman of world evangelism, Billy Graham, played a part in creating this pop-culture style of youth ministry.
Set aside for a moment the vision of Graham as the wise grandfather figure who commands the respect of the world (The Ladies Home Journal once ranked Billy as second in religious achievements only to God.) Imagine instead a younger, brasher, risk-taking Graham, who became a power in the rising youth-evangelism scene of the 1940s with a personal style akin to that of the day's zoot-suiters.
Far-fetched? When Graham and a youth ministry team, en route to England on a 1946 evangelistic tour, became stranded by weather overnight at a Newfoundland air force base, the base's social director gave them the once-over and concluded they were a vaudeville act. (Ever eager for an opportunity to preach the gospel, Billy and the team accepted the invitation to entertain the troops. When a few minutes into their "act" the base commander realized their true purpose, he flew into a rage and threatened to lock them up.)
Graham's flashy, energetic style and his tireless advocacy of relevant youth ministry helped propel what may have been the most influential Christian youth movement of American history.
Of course, Graham did not invent Christian efforts geared to adolescents and young adults. In 1844, the British-based Young Men's Christian Association (YMCA) set out to reclaim for Christ a generation of young people. These were the adolescents who, in search of work, poured out of England's and America's small towns (the YMCA began its American spread from Boston in 1851) into the cities. In seedy downtowns whose taverns, brothels, and gambling dens promised pleasures and delivered dissipations that have never changed, YMCA chapters offered havens of healthy Christian camaraderie. Thus they did not so much create a youth culture as offer shelter from the underworld of the big city—and with remarkable success.
By the 1920s and 1930s, however, Protestant youth activities had entered a doldrums. Evangelicals of that era critiqued the mainline churches for their lack of fervent witness to the youth. Even their own once-powerful institutions were failing. Quipped one Philadelphia Baptist pastor in 1925, "You can take the 'C' out of the YMCA and nobody would ever notice the difference."
Over against this downward trend, such fundamentalist youth groups of the 1930s as the New England Fellowship's Surrendered Life League emerged. In the battle for adolescent souls, these groups worked in the idioms of popular culture. They "tuned their old-time faith to the new sounds and images of the popular entertainment world."
This new, younger breed of ministers broke out of the self-consciously conservative, even throwback evangelistic style of a fundamentalism that identified itself as "old-time religion" and spread its messages through such outreaches as radio's Old Fashioned Gospel Hour. Such 1930s evangelical leaders as ex-ad exec Lloyd Bryant pioneered pace-setting activities like rallies and radio programs that became the formula for youth-ministry success.
It was not until the 1940s, however, that consumer marketers created "youth" as a separate demographic category. These were the early days of the cult of the teenager. With fathers off to war and mothers working long hours on the home front, teens also entered the labor force and picked up pocket cash. Madison Avenue noticed, and began promoting youth music, youth clothes, and youth crazes. Jukeboxes blared the latest tunes, and teens jitterbugged their Saturday nights away. Boys donned their broad-shouldered zoot suits and girls their baggy sweaters and bobby sox. At the end of the decade, television entered the scene, further accelerating youth culture.
Youth leaders who had begun to emerge in the 1930s, like Philadelphia's Percy Crawford and New York's Jack Wyrtzen, picked up on these trends. Clothes became brighter, music more energetic and sophisticated, and the pacing of evangelistic meetings more split-second. And youth ministries reaped the rewards, their rallies soon outgrowing all but the largest halls and stadiums.
The biggest and most influential network of such ministries in the 1940s and beyond was Youth For Christ (YFC), whose motto was (and still is) "Geared to the Times, Anchored to the Rock." YFC's first full-time employee and most energetic promoter was the young Billy Graham. Wearing loud ties and bright suits, backed by girl trios and swing-band instrumentals, Graham joined other evangelists of the day in galvanizing teen-packed rallies with crackling talks delivered in the clipped, staccato manner of such radio personalities as Walter Winchell. 
Thousands poured into rallies, Bible clubs, boat tours, and other innovative events. William Randolph Hearst and President Truman praised these efforts as effective tools against the day's newest social problem—juvenile delinquency. Soon even such venues as Madison Square Garden couldn't hold all the young people who came. The Memorial Day 1945 youth rally at Soldier Field in Chicago drew some 70,000.
As YFC's field representative, Graham in 1945 visited 47 states with youth campaigns. In the winter of 1946-47, Graham toured England, speaking at 360 separate Youth for Christ meetings—often packed, despite some British observers' considerable amusement at these brash, loud Americans.
Daring to wed, as Joel Carpenter has put it, "born-again religion to the style as well as the media of the entertainment industry," the leaders of these new youth rallies were "borrowing from the very dens of the devil—Hollywood and Radio City—to accomplish the Lord's purposes." And Billy Graham was in the midst of it.
This was not the last time Graham would provide a significant spark to contemporary-styled Christian youth work. In next week's newsletter we will look at the decades of the 1960s and 1970s, during which Graham, struggling at home with his own rebellious, "liberated" teenager, joined the Jesus People in urging that generation to "tune in, turn on to God."
Chris Armstrong is managing editor of Christian History magazine.
More Christian History, including a list of events that occurred this week in the church's past, is available at ChristianHistory.net.Subscriptions to the quarterly print magazine are also available.
On the recent Anglican youth initiative, see the Daily Telegraph's "Church backs raves to bring in young people."
For more on Graham's role in the early Christian youth movement, see such biographies as John Pollock's Billy Graham: The Authorised Biography.
Article continues below
Also covering the rise of these ministries are Joel Carpenter in his Revive Us Again: The Reawakening of American Fundamentalism and, in capsule form, Steve Rabey and Monte Unger, Milestones: 50 Events of the 20th Century that Shaped Evangelicals in America (chapter 9: "Beyond Kid Stuff: Youth for Christ and the Youth Ministry Revolution).
Christian History Corner appears every Friday at ChristianityToday.com. Previous editions include:
From Swamped Creatures to Separated Brethren | Non-Catholics' spiritual status improved dramatically from Unam Sanctam to Vatican II, but where are we now? (Nov. 15, 2002)
An 'Ordinary Saint' in Wartime | William Wilberforce saw two long charitable campaigns through, even in war's distracting shadow. (Nov. 8, 2002)
Just War, Just Nation? | World War II preacher points America back to the nation's soul. (Nov. 1, 2002)
No Sex (Before Marriage), Please … We're Christian | Miss America preaches a 2000-year-old message. (Oct. 25, 2002)
The King Is Coming, Eventually | What if you announced the rapture, but God didn't show up? (Oct. 18, 2002)
Timeline of the Spirit-Gifted | Before Moody, Finney, Edwards, and Mather came a long line of Catholic and Orthodox believers reputed to enjoy "the promise of the Father." (Oct. 11, 2002)
Do Non-Charismatics 'Do' Holy Spirit Baptism? | Ask D. L. Moody, Charles G. Finney, Jonathan Edwards, or Cotton Mather. (Oct. 4, 2002)
Standing Alone for Unity | The attempt to bring European Christians together forced one reformer, Caspar Schwenckfeld, straight to the fringe. (Sept. 20, 2002)
9/11, History, and the True Story | Wartime authors J. R. R. Tolkien and C. S. Lewis help put 9/11 in perspective. (Sept. 13, 2002)
Evangelicalism's Decades of Fire | New historical survey highlights twentieth-century evangelicalism's impassioned middle decades. (Sept. 6, 2002)
A Protestant Bishop Speaks Out on the Stakes of Public Education | Why concerned parents should read the 17th-century Moravian educational reformer Jan Amos Comenius. (Aug. 30, 2002)
Spurgeon on Jabez | What history's most prolific preacher said, in 1871, about the Prayer of Jabez (Aug. 23, 2002)
History in a Flash | A new CD-ROM offers quick access to the facts of church history, plus interactive quizzes. (Aug. 16, 2002)
How the Early Church Saw Heaven | The first Christians had very specific ideas about who they would meet in the afterlife (Aug. 9, 2002)
Divvying up the Most Sacred Place | Emotions have historically run high as Christians have staked their claims to the Church of the Holy Sepulchre (Aug. 2, 2002)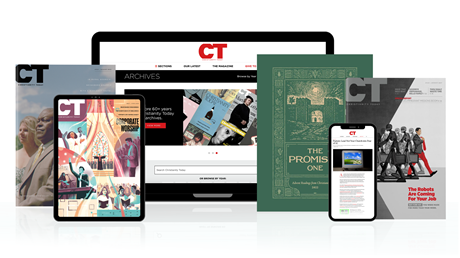 Annual & Monthly subscriptions available.
Print & Digital Issues of CT magazine
Complete access to every article on ChristianityToday.com
Unlimited access to 65+ years of CT's online archives
Member-only special issues
Subscribe
Dig that Billy Graham Cat!
Dig that Billy Graham Cat!