Murder in Lebanon: Are Falwell and Robertson to blame?
More details are emerging about the death of the American missionary killed in Lebanon yesterday, although such key facts as her actual name are still disputed (some, such as Reuters, say Weatherall; others, like the Associated Press, say Penner. The Oregonian—probably the best source so far—says her name is Bonnie Penner Witherall).
Witherall and her husband, Gary, had been in Lebanon for two years with Operation Mobilization and the Christian and Missionary Alliance. "They were there to help people," OM president Rick Hicks told the Oregonian. "I don't know what the situation was, but it's tragic."
So far, her widower's most extensive interview appears in The Times of London. "God led us to Lebanon and we knew that we might die," Gary Witherall told the paper. "I forgive anyone who did that. It doesn't take the pain. It's a costly forgiveness … it cost my wife. I believe that … Jesus died for us, for our sins, and it was the blood of Bonnie poured over the clinic for the Palestinian women of southern Lebanon. Her brains were blown out, you know. She loved those women."
He says the two of them had a "really lovely marriage," and that his wife "absolutely, absolutely" would have forgiven her killer. "We don't care about the politics,' he said. We just wanted to put our arms around people and say 'Hey, you know what? There's hope'. The people of southern Lebanon are poor and suffering."
Meanwhile, other friends and family members are sharing recent e-mail messages sent from Witherall. "Every morning I take a walk along the boardwalk here in Saida," she wrote Sunday to Bill Perkins, a Portland-area pastor who married the couple. "I was listening to music and walking and singing along to the music. I felt this overwhelming joy in being here in this place. I have such a heart for the women in this camp and I can touch their lives through the clinic."
Portland Police Chief Mark Kroeker, a longtime friend of Witherall's father, Al Penner, also read from a recent letter. Living in the Islamic world was a mental challenge, she wrote. "It is about being prepared to be a living sacrifice daily."
Without exception, people remember her as a giver. "Bonnie always was helping people," Cheryl Newell, Bonnie's 32-year-old sister, told the Oregonian. "She worked with the homeless in Portland when she was in junior high and worked with AIDS patients in Chicago when she was going to college. She always was a compassionate person who believed in what she was doing because she felt that her life was directed by God. Bonnie was selfless."
Newell also told Portland television station KGW that her sister started a prayer group when working as a manager at the local McDonald's. "She believed that in her heart that God wanted her in that place, doing whatever He called her to do and that was basically to share her life with people," she said. "It was hard for her to walk by people who were suffering."
Bonnie's former roommate at Moody Bible Institite, 28-year-old Lori Ross, agrees. Her friend "wouldn't have been any other place," she told the Chicago Tribune. "She was very committed to Christ and wanted to share her love."
But Witheralls had also recently faced tragedy together, as Bonnie miscarried only a few months ago. "It had been a very difficult time for them, but they turned to God to get them through that period," Randy Richards, a member of the missionary board at New Song Community Church, said. "Bonnie said she had been healed of the grief by turning to God."
"It's too early in the investigation to speculate" on the motive behind the killing, Candace Putnam, the U.S. Embassy's public affairs officer, told the Associated Press today. But that doesn't stop The New York Times from literally blaming the victim and other Christians. After all, the paper suggests, she should have known that "proselytizing" would have inflamed the local Muslims. "Senior members of Muslim and Christian sects in Sidon, ever sensitive to potential sources of rift between the communities, said they had met with the organization's members to ask them to limit their activity to charity work but were rebuffed," Times reporter Neil MacFarquhar writes.
'We told her she might be vulnerable to insults or even being hit and she answered that she would consider it an honor," said Bishop George Kwaiter, the archbishop of the Roman Catholic diocese. "We don't accept this kind of preaching [her evangelism]," he said. "We reject it totally."
"One pastor who knew Mrs. Witherall said that derogatory remarks about Islam and Muhammad made by leading evangelists like the Rev. Jerry Falwell and the Rev. Pat Robertson had added to the ill feeling toward Christian evangelists working in Sidon," the Times reported, quoting the pastor of Mieh Mieh Baptist Church, where the couple was a member. "I would not think that this is our calling to say bad things about this religion," Pierre Francis said. "They just jeopardize our safety."
There's little in the Times story to suggest that maybe Sidon's Muslims, not Christians, might be the real problem. Amazingly, that reporting falls to Reuters, which strictly prohibits the use of the word terrorist in its reporting.
"A day after the shooting … a leading Sunni Muslim cleric in south Lebanon said he did not condemn her killing," the news service reports today. Sheikh Maher Hammoud said, "We do not condemn, but we want a different method than this one to show that our whole society is against the American policy and not only a small group or individual carrying out killing. We want our society to become a resistance and work against the Great Satan; the oppressive and criminal America … Actions of killing and bombings that target Americans in any place … are an expression of Muslim condemnation of U.S. policy."
Speaking of the "religion of peace," Ibrahim Hooper of the Council on American-Islamic Relations (CAIR) is clarifying remarks that suggest comments by Jerry Falwell, Pat Robertson, Jimmy Swaggart and Franklin Graham are equivalent to those made by Osama bin Laden.
He's clarifying it by saying unequivocally that in fact this is what he believes. They "have the same mentality as bin Laden" in trying to incite an "unending civilizational conflict," Hooper told WABC radio's Steve Malzberg. "It's the incitement we're talking about. It's not Jerry Falwell throwing a hand grenade into a mosque. … Given the right circumstance, these guys would do the same in the opposite direction."
None of the religious leaders cited by Hooper demanded an apology from CAIR when contacted this week, reports The Washington Times. Nor did they launch a jihad against the organization. That's something that might surprise someone who holds extremist views like the one Hooper is propounding.
More articles
Muslim-Christian riots in Nigeria:
Persecution:
Crime:
Sex abuse cases:
Spousal abuse:
Church and State:
Ten Commandments:
What Would Jesus Drive?
Thanksgiving in an age of terror:
Church life:
Interfaith relations
Sexual ethics:
Media:
Christian symbols:
Anglican church:
Lutheran church:
Education:
Money and business:
Zimbabwe:
Science:
Humor:
Other stories of interest:
Related Elsewhere
Suggest links and stories by sending e-mail to weblog@christianitytoday.com
See our past Weblog updates:
November 21 | 20 | 19 | 18
November 15 | 14 | 13 | 12 | 11
November 8 | 7 | 6 | 5 | 4
November 1 | October 31 | 30 | 29 | 28
October 25 | 24 | 23 | 22 | 21
October 18 | 17 | 16 | 15 | 14
October 11 | 10 | 9 | 8 | 7
October 4 | 3 | 2 | 1 | September 30
September 27 | 26 | 25 | 24 | 23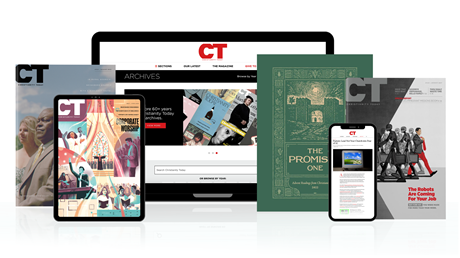 Annual & Monthly subscriptions available.
Print & Digital Issues of CT magazine
Complete access to every article on ChristianityToday.com
Unlimited access to 65+ years of CT's online archives
Member-only special issues
Subscribe
New York Times Blames Christians for Missionary's Death in Lebanon
New York Times Blames Christians for Missionary's ...