Ala. Chief Justice Roy Moore vows to appeal
Alabama Chief Justice Roy Moore says the fight over a Ten Commandments display in the state's judicial building isn't over. "I have no plans to remove the monument, and when I do, I will let you know personally," he told reporters yesterday as he stood in front of the 5,300-pound edifice. "We will lodge an immediate appeal, and if an order is issued regarding the movement of the monument, we'll take that up with a higher court."
The appeal will focus on U.S. District Judge Myron Thompson's reluctance to define religion, Moore said. "I submit that if the court can't define the word religion, it has no business telling the state of Alabama or anybody else what they can and can't do with relation to God," the chief justice said.
One of Moore's attorneys, Phillip Jauregui, further laid out the basis of the appeal: "The constitutional question is whether [the monument] establishes a religion. And in order to answer that question, you've got to know what religion is. The court has essentially said, 'I don't know what religion is, but you've established it.' We have a tremendous amount of respect for Judge Thompson—he's a federal judge—but I've got to tell you, that's shocking and that's not legal reading. It goes against everything we've done in the Constitution, it goes against history, it goes against fact and it goes against the law."
But Thompson was explicit in his decision that religion shouldn't be defined. "Indeed, the chief justice's definition of religion proves, if anything, that it is unwise, and even dangerous, to put forth, as a matter of law, one definition of religion under the First Amendment," he wrote in his decision.
Moore will also ask the 11th Circuit Court of Appeals in Atlanta to issue a stay, assuming that Thompson turns down a request to reconsider his decision.
But Richard Cohen, an attorney with the Southern Poverty Law Center (which brought the suit against the monument), says the Ten Commandments should be removed in the meantime. "He put it in one night, he can take it out in one night," he told The Montgomery Advertiser. "If by some chance the earth stops spinning on its axis, the birds stop singing and the law changes on this, he can wheel it back in."
Meanwhile, newspaper editorials and columns universally side against Moore.
"The courthouse is not a church, and those who enter it should not find themselves confronted by religious symbols of any kind," says the South Florida Sun-Sentinel. "The First Amendment protects not only freedom of religion, but freedom from religion." (It does? The Sun-Sentinel must have a different copy than Weblog does.)
The Palm Beach Post suggested that Moore is the kind of guy who would behead heretics, given half the chance. "In a land that respects law and religion, Justice Moore's arrogance shows respect for neither," the paper said.
Back in Moore's home state, the papers were a bit kinder. The Montgomery Advertiser ran editorials both yesterday and today urging its readers to see the decision not as a ruling against the Ten Commandments, but as a wise protection against government endorsement of religion. "Thompson's ruling properly rejects Moore's legal—and that's the key word—view of the relationship between God and the state," the paper says today. "None of this is meant to belittle, or even to differ with, the religious views of Roy Moore or of anyone else."
In an Advertiser op-ed, however, Morris Dees of the Southern Poverty Law Center calls Moore a demagogue, likens him to the Taliban and racists, and claims he wanted to substitute his "theology for our democracy."
The Birmingham News urges Moore to note the ruling's approval of some Ten Commandments displays and adjust accordingly. "There are ways Moore can acknowledge the law's debt to the Ten Commandments without straying outside constitutional bounds," the paper says. "Moore would do the state a far greater service by finding a way to honor the commandments without exceeding the limits of law."
Christianity Today hasn't editorialized on this latest controversy, but a March 2000 editorial did address Commandment-mania in general. "Posting the Ten Commandments lends itself to tokenism in religion," we said then. "In an era in which we are struggling to find the proper place of religion in a pluralistic society, we must be careful neither to crusade for nor to accept mere symbols." We also warned that it lends itself to totemism: "When something becomes a rallying point for a cause or an identifying symbol for a movement, it runs the danger of becoming an idol."
Is Evangelical Environmental Network's What Would Jesus Drive really evangelical?
Today, the Evangelical Environmental Network's What Would Jesus Drive campaign officially kicks off, with television and print ads and a big press conference in Detroit. Among evangelical publicity campaigns, this has got to be one of the most successful of recent years—just about every major newspaper has covered this, as have several electronic outlets. Some have even covered the campaign multiple times—and it hasn't even started yet! (Just in the last 24 hours, articles have appeared in London's Daily Telegraph, CNN, The Wall Street Journal, The Plain Dealer of Cleveland, and the Detroit Free Press, among other outlets)
Credit Fenton Communications, the campaign's publicists, for that. But Weblog wonders if the media are just taking for granted that this is an evangelical effort. After all, according to a Fenton Communications press release (not available online) titled "Evangelical Christians Announce TV & Print Campaign," the speakers at today's press conference are Bob Edgar of the National Council of Churches of Christ, David Saperstein of the Religious Action Center of Reform Judaism, Ron Sider of the Evangelical Environmental Network, Paul Gorman of the National Religious Partnership for the Environment, and Nancy Sylvester of the Servants of the Immaculate Heart of Mary. Only one of these, Evangelicals for Social Action head Ron Sider, is considered an evangelical leader. Weblog is sympathetic to this cause (full disclosure: the campaign is a CT advertiser), but since when do Reform Jews care what Jesus would drive?
More articles
Church and state:
War:
Life ethics:
Interfaith relations:
Missions and ministry:
Sex abuse scandals:
Suggest links and stories by sending e-mail to weblog@christianitytoday.com
See our past Weblog updates:
November 19 | 18
November 15 | 14 | 13 | 12 | 11
November 8 | 7 | 6 | 5 | 4
November 1 | October 31 | 30 | 29 | 28
October 25 | 24 | 23 | 22 | 21
October 18 | 17 | 16 | 15 | 14
October 11 | 10 | 9 | 8 | 7
October 4 | 3 | 2 | 1 | September 30
September 27 | 26 | 25 | 24 | 23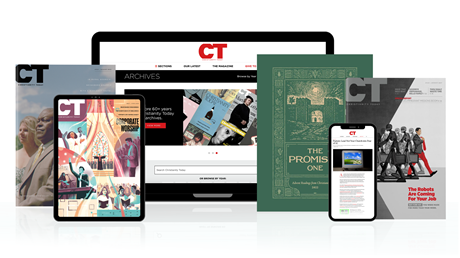 Annual & Monthly subscriptions available.
Print & Digital Issues of CT magazine
Complete access to every article on ChristianityToday.com
Unlimited access to 65+ years of CT's online archives
Member-only special issues
Subscribe
Ten Commandments Dispute Leads to Debate on Defining Religion
Ten Commandments Dispute Leads to Debate on Defining Religion