Prayers bring resurrection of faith, but not of child
A week ago, a filing cabinet fell on 2-year-old Zion Jungck and killed him as he played in the family room. But to his parents, Paul and Valerie, that wasn't the end of his story.
Zion was pronounced dead and embalmed, and the Jungcks took his body to their Silverthorne, Colorado, home and began to pray for resurrection.
 "Nothing happens if we don't ask," Paul Jungck told The Summit Daily News last Thursday. "I know confirmed stories of people who have been raised from the dead. We have really prayed for that. I know that he can bring him back to life again. We're not basing our faith on whether or not this happens."
The prayer request garnered much attention in the local media, but the parents expected it. "It's much safer for your reputation when your child dies to bury your child, do the conventional thing," Paul said. "I'm sure people who don't understand would look at us and say A, we're in denial, and B, these people are just whacked. Even when you start talking about hearing the voice of God, a red flag goes up. We're not ashamed of what we're doing."
Other Christians, however, didn't find the request so strange and joined the couple in prayer. Yesterday, more than 150 people attended a service for Zion.
"I just want to make it clear we wanted to come here tonight to praise the Lord. We're not here to raise Zion from the dead," Paul Jungck said. But resurrection was still on everyone's mind.
"I have seen great faith this week. I have been challenged by great faith this week—and stirred," pastor Russ Goodrum of Abundant Life Church said at the service. "I want to publicly thank Paul and Val for strengthening my faith … this has been healthy in so many ways, this breaking of the rules."
The Jungcks have ordered a casket, but haven't yet scheduled a burial.
Martin Burnham's parents return to Philippines
Paul and Oreta Burnham, parents of slain missionary pilot Martin Burnham, are returning to the northern Philippines village where they have ministered since 1970, translating the Bible for the Ibaloi tribe. They are both in their late 60s.
"We'll see things that will remind us of Martin and things he used to do," Paul told The Wichita Eagle. "But it will be good to be with our friends again."
They celebrated an early Thanksgiving over the weekend and left presents for Christmas.
"Doctors have asked them to slow down some," says Gracia Burnham, Martin's widow, who continues to recover and spend time with family in Rose Hill, Kansas. "I'm very proud of the way they've handled all this. I hope going back will be a really good experience."
"We'll be coming back," Paul Burnham said. "And Gracia's not ready yet, but when she is, they could come there. … We're going to miss them."
Gracia, meanwhile, continues to work on her book and spend time with her three children. She has a hard time saying no to speaking engagement requests, but has to. "If she did, she'd have to keep leaving the kids," Paul Burnham said. Some groups, he said, don't understand this.
"I'm really enjoying my Bible," she says in an update posted on the New Tribes Mission site. "I went so long without one. I'm enjoying sitting down any time I want to read it."
The family also met with Steve Saint, whose missionary father was killed in Ecuador in 1956.
Damage to James ossuary helps authenticate age
The James ossuary, which may be the oldest extratextual evidence of Jesus' existence, went on display in Toronto Friday. The cracks that appeared during shipment from Tel Aviv have been repaired—and have led to more evidence that it's as old as archaeologists say it is.
Fossils of plant roots and bacterial staining were found in the cracks, and officials at the Royal Ontario Museum also discovered a carved funereal rosette with flecks of red paint, common decorations on bone boxes between A.D. 50 and A.D. 70.
"We did get to see it up close and personal, and we're delighted that everything we see is consistent to both the antiquity of the object and the antiquity of the inscription," Dan Rahimi, the museum's  director of collections, told the CBC.
As for recent naysaying, archeologist Ed Keall says it's clearly untrue that the phrase "brother of Jesus" was added long after the original inscription. "I'm convinced that all of the criticisms voiced by people who have only photographs are without substance," he told a news conference. "You can't dismiss on grounds of paleography. Of course, that still doesn't prove that the bones were those of James, brother of Jesus. That will always be an act of faith. For me, it simply deepens the mystery and increases the challenge we face in getting to the right answer."
Colombian archbishop, priest rescued from FARC rebels
"This is an unforgettable moment," Bishop Jorge Enrique Jimenez, president of the Latin American bishops conference, said after Colombian army troops freed him from his kidnappers in a firefight. He hadn't feared for his life, he said: "I always have faith in God. … God has given me back my life so I can be of service to my country."
"The Colombian Government says the rescue … is a major triumph for its hard-line security policies," reports the BBC, but there's disagreement on that. President Alvaro Uribe was open to trading captured rebels for Jimenez and a captured priest—something the Colombian church supports but the government does not, according to the Associated Press.
Related Elsewhere
Suggest links and stories by sending e-mail to weblog@christianitytoday.com
See our past Weblog updates:
November 15 | 14 | 13 | 12 | 11
November 8 | 7 | 6 | 5 | 4
November 1 | October 31 | 30 | 29 | 28
October 25 | 24 | 23 | 22 | 21
October 18 | 17 | 16 | 15 | 14
October 11 | 10 | 9 | 8 | 7
October 4 | 3 | 2 | 1 | September 30
September 27 | 26 | 25 | 24 | 23
September 19 | 18 | 17 | 16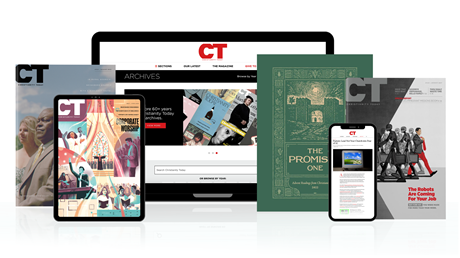 Annual & Monthly subscriptions available.
Print & Digital Issues of CT magazine
Complete access to every article on ChristianityToday.com
Unlimited access to 65+ years of CT's online archives
Member-only special issues
Subscribe
Churches Pray for Child's Resurrection
Churches Pray for Child's Resurrection