Ministry monitor Wall Watchers has issued a list of 45 Christian organizations it says "have failed to demonstrate transparency with regard to their finances." The organizations named may reap consequences from donors, the U.S. government, and accountability organizations.
The MinistryWatch Transparency Guide, says Wall Watchers founder and president Rusty Leonard, "seeks to inform donors about which ministries are failing to provide us with information about their finances. Obviously this is a red flag for donors and should be a central factor in whether a ministry is worthy of their hard-earned dollars."
Over the last 12 months, Wall Watchers has asked all of the 475 organizations in its MinistryWatch database for copies of their financial statements. Three weeks after sending a written letter, MinistryWatch says it followed up with a phone call or e-mail message, then followed up again four weeks after that. After another four weeks, MinistryWatch assigned a letter grade based on the number of requests it took to receive the information and the extent of the ministry's financial disclosure. Most organizations, 337, received an A grade. Another 32 received Bs, 9 Cs, 1 D, and 44 Fs. MinistryWatch is still assessing  the remaining 52 organizations in the database.
All of the 45 organizations on the Transparency Watch list — those receiving F and D grades — did not send MinistryWatch financial information, says Wall Watchers president Chris Hempe. "I should emphasize that a low transparency grade is simply a reflection of how the ministry responded to our requests for financial information" over the last 12 months, he said. "It is not necessarily an indication that the ministry is doing anything wrong, illegal, or even inefficient. However, this cuts to the heart of their willingness to be open and to recognize their accountability to donors and to the public at large as tax-exempt organizations."
Fines possible
But the grade may have repercussions beyond Wall Watchers' MinistryWatch. Nonprofits that do not send copies of their informational tax return (called Form 990) within 30 days of a written or e-mailed request may be fined up to $10,000 by the Internal Revenue Service, with an additional $5,000 penalty for "willful failure."
"You could argue that they are breaking the law," says Hempe. "We are certainly not interested in trying to bring that law to bear on these ministries, but it demonstrates a real problem that even when required by law to provide information, some ministries choose not to do so."
The IRS makes exceptions for churches, church organizations, church auxiliaries such as mission societies, and organizations that gross less than $25,000 in annual donations, but Wall Watchers does not.
"If we add up the donations from the 501(c)3 organizations on [Transparency Watch], it is almost $200 million," says Leonard. "But that does not include the largest ministries that are organized as churches, such as Benny Hinn Ministries, Crystal Cathedral Ministries, and Joyce Meyer Ministries. Those folks would be more than double, triple, or even quadruple that number. In terms of impact on donors, that is where most donations are given (where we cannot get any information because regulations say they do not have to provide it to anyone. We are asking them to [send information] because they are receiving money and, frankly, they are not acting as churches but are acting more like parachurch ministries)."
Peer review
Other organizations may face censure from peer accountability organizations, such as the Evangelical Council for Financial Accountability.
"We will analyze this list, and we will contact our members," says ECFA president Paul Nelson. "We have a responsibility to enforce our standard number five, which requires the disclosure of financial statements. … I suspect that our members, once they're contacted, will either say 'I didn't know that. We're sorry. We'll send it right away.' Or they'll be big-time upset, and they may be upset with us as well. But that's our business."
In fact, Nelson says, one small organization resigned from ECFA when told to send MinistryWatch its financial statements. "We have not seen the amount of animosity among a certain number of ministries as much as this whole issue has engendered," he told Christianity Today. "Even a transparency grade is seen as an extortion by some."
Thirteen of the ministries on the Transparency Watch list are members of ECFA (at least three others are former members). As of Thursday evening, one of these, the Christian Research Institute, had already contacted MinistryWatch to say it is sending along financial information. "Christian Research Institute's prompt and professional response exemplifies what we hope will be the case with many of the other ministries on the list," Hempe told CT. "Assuming we do receive their 2002 audited financial statements, their grade will improve to an A."
"Prove it"
Other organizations will be contacting MinistryWatch as well. And they aren't happy.
"We can prove that we have responded to every request we have gotten," says Norm Whitney, director of organizational development for the youth ministry Awana Clubs International. "They are going to have to prove to us that they actually requested this. We work with churches and thousands of volunteers, so this kind of information [Transparency Watch], if it is erroneous, would be a very serious thing for us."
In response to a Friday morning call from Awana's lawyers, Wall Watchers says it will remove the group from its Transparency Watch list by the end of the day, and will assign a grade after receiving more financial information.
Steven H. Aden, chief litigation counsel for The Rutherford Institute, a civil liberties organization, says that it has been in regular contact with MinistryWatch and is on the list erroneously. "Our financial staff has repeatedly sent financial documentation to MinistryWatch, and actually that information is posted on MinistryWatch's website for the most recent fiscal years available," he says. "Their assertion that Rutherford has failed to provide financial statements or to respond to their request for information is utterly false. We'll be calling on MinistryWatch to withdraw its irresponsible statements and to stop attacking this ministry."
The Rutherford Institute is not a member of ECFA, but is a member of the Better Business Bureau, which Aden says has stricter auditing standards.
"This should not be news to any ministry," MinistryWatch's Leonard said in a telephone press conference announcing Transparency Watch. "They have had plenty of time to respond to the fact that we were rating in this manner." But most organizations contacted by Christianity Today were surprised at their inclusion on the list.
Nancy Guthrie, spokeswoman for Anne Graham Lotz's AnGeL Ministries, says it has no record of a request for financial information from Wall Watchers. "It is AnGeL Ministries' policy to provide the 990 tax return and audited financials to whoever requests that information. The ministry has received only a handful of requests for that information in its 14 years, and has provided the information promptly to everyone who has requested it."
(AnGeL Ministries is not a member of ECFA, Guthrie says, "because ECFA guidelines primarily address fundraising practices, and AnGeL Ministries does no fundraising or solicitation of funds." Until last year , "AnGeL Ministries' budget has historically been far too small to be considered for membership." Guthrie notes, however, that the organization does accept donations, and that Lotz recently served on ECFA's board for two and a half years.)
Likewise, says Mohan Zachariah, administrative director for Tony Campolo's Evangelical Association for the Promotion of Education, "Nobody contacted me. I've never even heard of Ministry Watch." He says that everyone who asks for copies of audited financial statements and 990 forms receives them. "We are totally transparent. We offer all of our information out there from everybody. We've got nothing to hide," he says.
There's a chance that a written request may have been misread as junk mail, Zachariah said, but he denies receiving any letters or follow-up messages from MinistryWatch. His organization is also a member of ECFA.
Doug Beckler, the recently appointed executive director of The Trinity Forum, another ECFA member, acknowledges that the leadership training ministry may simply have missed the request. "Being without an executive director for a year, there were probably issues that just didn't make it to the surface that normally we would have addressed," he says. But Beckler takes issue with Transparency Watch's wording. "To take a broad brush and brush everybody in that category, as 'demonstrating little or no transparency in regard to their finances,' when in fact they may not know what the reason was is an unfortunate choice of words, and I think that it's disingenuous," he says.
Several church-based ministries on the list, however, say they don't send financial statements. "The Potter's House is a church and is recognized as such by the IRS," says a written statement from T.D. Jakes's organization. "Consequently, its finances, like those of many other churches in America, are not reported publicly, though we are certainly accountable to our members and our God."
Delanie Trusty, manager of the accounting departments of Life in the Word and Joyce Meyer Ministries, says it is organized as a church and may have sent an annual report to MinistryWatch, but does not make its financial statements public. "We feel our donors are very informed," she says.
Such church-based organizations are likely to stay on the Transparency Watch list. But Hempe says the list will be updated "in real time" as organizations send in financial information or are deemed nonresponsive to future requests. An organization currently receiving an F grade, if it sends in its financial statements now, "in all likelihood would move either to a B or an A depending on the nature of that response," he says.
After all, Hempe says, the point of MinistryWatch is to work with and help ministries, not to hurt them. "The big picture focus of our mission is that instilling greater confidence in donors to Christian ministries will result in greater giving to Christian ministries. The end result is to grow the kingdom of God."
With additional reporting by Todd Hertz
Related Elsewhere
Another controversial aspect of MinistryWatch's work is its efficiency ratings. Ironically, several of the organizations that received F grades for transparency scored very well on efficiency. See MinistryWatch's pages for the organizations named in this article: Awana Clubs International, The Rutherford Institute, AnGeL Ministries, Evangelical Association for the Promotion of Education, The Trinity Forum, The Potter's House, and Joyce Meyer Ministries.
More financial information on nonprofit organizations can be found at sites like Guidestar.org. Like MinistryWatch, Charity Navigator rates ministries.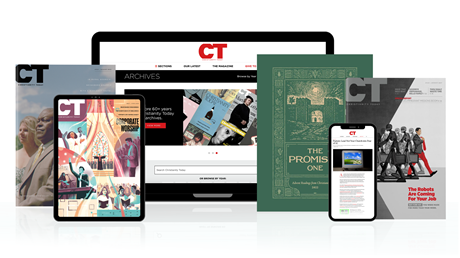 Annual & Monthly subscriptions available.
Print & Digital Issues of CT magazine
Complete access to every article on ChristianityToday.com
Unlimited access to 65+ years of CT's online archives
Member-only special issues
Subscribe
45 Ministries 'Failed to Demonstrate Financial Transparency,' Says Watchdog Website
45 Ministries 'Failed to Demonstrate Financial ...