Patrick Henry rewrites Statement of Biblical Worldview
After denying preliminary accreditation to Patrick Henry College in April, the American Academy of Liberal Education (AALE) announced this week that it has approved the 150-student school for pre-accreditation.
The Purcellville, Virginia, college, designed for homeschooled students, previously was denied accreditation because of its teaching of world origins.
Patrick Henry's Statement of Biblical Worldview said that all professors had to believe that "God's creative work … was completed in six twenty-four hour days." The AALE ruled that the position disqualified the school from pre-accreditation because it limited "liberty of thought."
After appealing the decision and rewriting a portion of the Statement of Biblical Worldview, the school was notified Wednesday of its pre-accreditation status. (A school given pre-accreditation is reviewed again after five years for full accreditation.)
In its appeal, Patrick Henry stressed that the language of its Statement of Biblical Worldview did not ban discussion of other theories. The school contended that while it upholds the ultimate truth of six-day creationism, it encourages full discussion of opposing views. According to The Chronicle of Higher Education (subscription required), administrators showed accreditors the school's biology curriculum. The same textbook is reportedly used by numerous other universities and colleges.
The school also provided AALE with a rewritten Statement of Biblical Worldview. Patrick Henry says the rewrite is a further clarification of its stance, the AALE says it was a policy change.
"This is a great example of accreditation at work," said AALE president Jeffrey D. Wallin. "They didn't meet our academic standards, so they changed their policies and submitted evidence of the change. Now, we are comfortable giving them pre-accreditation status."
Patrick Henry says the new wording only makes its original position more clear. According to a press release, the school says it "amended its Statement of Biblical Worldview to clarify that the college truly intends for all viewpoints to be discussed adequately."
The original statement said the school "does not intend to limit biblically-based discussion of this issue; provided, however, that evolution, 'theistic' or otherwise, will not be treated as an acceptable theory."
A footnote to the section further explained that professors are expected to believe in six-day creationism "while being able to teach an academically excellent science course covering all the knowledge and theories expected in the typical undergraduate course."
The new statement is more explicit:
PHC … expects its biology faculty to provide full exposition of the claims of the theory of Darwinian evolution, intelligent design, and other major theories while, in the end, teach[ing] creationism as both biblically true and as the best fit to observed data.
The Chronicle of Higher Education quoted Patrick Henry's president, Michael P. Farris, saying, "Our belief in creationism has not changed. We feel that we can comply with their beliefs of what a liberal-arts education is, without abandoning our religious principles."
Faith-based initiative bill officially dies
In the Senate yesterday, Dick Durbin (D-Ill.), Jack Reed (D-R.I.), Carl Levin (D-Mich.), Paul Sarbanes (D-Md.), and Hillary Rodham Clinton (D-N.Y.) tried to add amendments to the CARE Act, the Senate's version of the faith-based initiative bill. That killed it, says The Washington Times.
"A couple of senators stood in the way," James Towey, director of the White House Office on Faith-Based and Community Initiatives, told the paper. "The agenda of some of these interest groups blinds them to the needs of the poor. This battle's not over."
The senators wanted to add amendments that would explicitly prohibit federally funded religious organizations from hiring decisions based on religious beliefs.
"The object here was not to kill the bill," said Durbin. "I'm sure we'll pick it up again at the first of the year. That is the only realistic timetable."
The Republican sponsor of the bill, Rick Santorum (Penn.), says he'll "get on it right away" in the new session, but an unnamed administration official said that "resurrecting the legislation still will need strong bipartisan support," even with a Republican majority.
Still, CARE wasn't that significant a bill, especially compared with the House's version. Perhaps next session the Senate might actually consider expanding the range of ministries eligible to compete for government funds.
Saint Mickey
Restoration work on a 700-year-old fresco in a Malta, Austria, church produced an astounding finding: Mickey Mouse. Or at least Mickey Weasel. The image shows the creature—who looks almost exactly like the Walt Disney character—kneeling by St. Christopher, who is often depicted surrounded by animals.
"The similarity to Mickey Mouse is so astounding that Disney could lose its world-wide copyright," the manager of the city's tourism office tells The Daily Telegraph newspaper.
More articles
Interfaith relations:
War:
Life ethics:
Pope speaks to Italian parliament:
Sex, gender, and marriage:
Antiquities:
Politics and law:
Courts:
Education:
Crime and violence:
Media:
Books:
Film:
Art:
Music:
Missions and ministry:
Church of England votes down causal dress:
Church life:
Denominational meetings:
Other stories of interest:
Related Elsewhere
Suggest links and stories by sending e-mail to weblog@christianitytoday.com
See our past Weblog updates:
November 14 | 13 | 12 | 11
November 8 | 7 | 6 | 5 | 4
November 1 | October 31 | 30 | 29 | 28
October 25 | 24 | 23 | 22 | 21
October 18 | 17 | 16 | 15 | 14
October 11 | 10 | 9 | 8 | 7
October 4 | 3 | 2 | 1 | September 30
September 27 | 26 | 25 | 24 | 23
September 19 | 18 | 17 | 16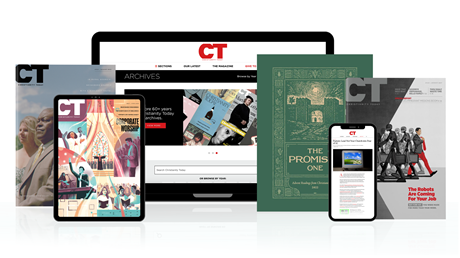 Annual & Monthly subscriptions available.
Print & Digital Issues of CT magazine
Complete access to every article on ChristianityToday.com
Unlimited access to 65+ years of CT's online archives
Member-only special issues
Subscribe
Patrick Henry College Gains Pre-Accreditation
Patrick Henry College Gains Pre-Accreditation